Thousands of years of history. Greek mythology. Gorgeous islands and beaches. Ancient ruins. Delicious food. Greece has a lot to offer! The varied landscape appeals to all types of travelers, whether you enjoy mountains or beaches, big cities or small villages. One week in Greece isn't nearly enough, but the following Greece itinerary will help you start planning a trip to this wonderful country that will hopefully make you want to come back again for more.
While the language might not be so easy for those of us who use the Roman alphabet, you will find plenty of friendly people in Greece who know a handful of English words in the touristy areas. But it's not a bad idea to learn a few useful Greek words and phrases before your trip.
How much can you see in Greece in a week? Keep reading to see our recommendations for a one week trip to Greece.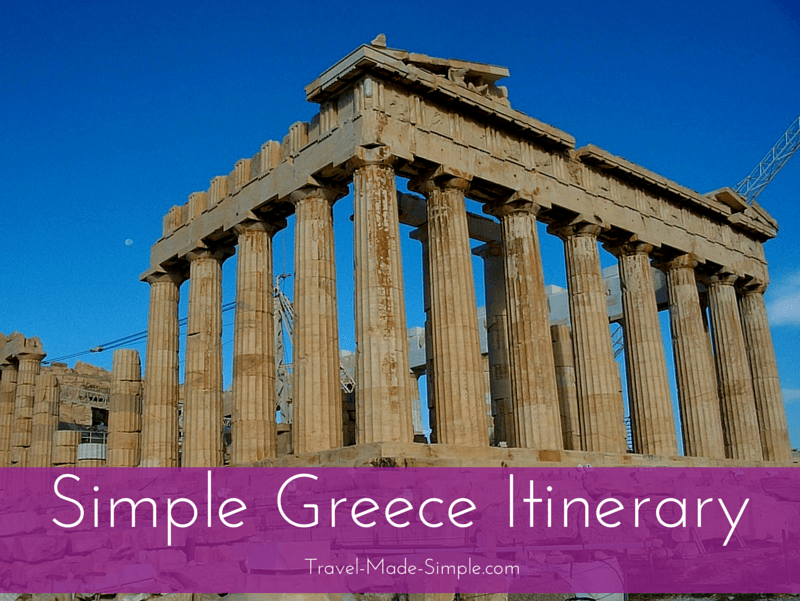 Please note that some posts contain links that earn me a small commission at no extra cost to you.
Greece sightseeing tours
Sightseeing tours and walking tours are a great way to get to know a city. An expert guide provides valuable and interesting information about the history, culture, food, and more. Here are a few tours in Greece we recommend:
Greece has a lot to offer both on the mainland and on the islands. But you can't see the whole country on one vacation, so your best approach is to pick a few places and spend a few days in each.
When visiting multiple islands, it's usually easier to stick to one island group rather than going from one group to another. Remember that it takes time to get from one city or island to the next, and work travel time into your schedule.
One week in Greece is probably enough time to explore one or two islands, visit Athens, and maybe do a day trip from Athens. Or you could visit Athens and a few other parts of mainland Greece, and maybe add in one island.
It's also important to plan according to the time of year you plan on visiting Greece and what your priorities are. The weather is hot and sunny in the summer, but you can still have a great trip to Greece in the winter if you plan accordingly.
Keep reading for more details about your options and decide what type of Greece itinerary works best for you.
Athens – 3 to 4 days
One of the oldest cities in the world, Athens is not to be missed. Spend a few days exploring impressive ruins and soaking in the history of the ancient Greeks. You'll even find some gorgeous beaches near Athens.
The first time I visited Greece was also my first solo trip. It turns out traveling solo in Athens was easy and fun. I saw the big sights, ate lots of delicious food, and took a couple of day trips.
Athens can be a good base for day trips to nearby areas. We typically recommend no more than 2 to 3 hours one way for enjoyable day trip distance, but there are exceptions. Check out hotel reviews in Athens here.
The Acropolis and Parthenon – The most iconic site in Greece, the Parthenon sits on top of a hill overlooking the city of Athens. If you do nothing else in Athens, go see the Parthenon and the Acropolis, which are two of the most famous landmarks in Greece. If you're visiting in the summer, go early or late in the day to avoid the heat.
For the full experience, consider this walking tour of Athens, the Acropolis and the Acropolis Museum, which ends with a traditional Greek dinner with a view of the Acropolis.
Ancient Agora – This was where ancient Greeks did their shopping. Today there are some interesting ruins to stroll through.
Temple of Zeus – It might just look like a few columns at first, but use your imagination and you can see how big the building once was, despite never being completed. You can also get a nice view of the Parthenon from here.
The National Archeological Museum – This museum houses the best collection of ancient Greek artifacts, displaying just how advanced Greek society was.
Plaka – This is the oldest neighborhood in Athens. Wander through the streets, stop at a cafe or shop and stumble upon more ancient ruins.
Athens highlights tour – If you're short on time, a tour that takes you to the highlights of Athens is a great way to see a lot in one day. This half day tour of Athens will teach you about the city's biggest draw, the Acropolis, along with several other attractions like the Temple of Zeus and the Greek Parliament building.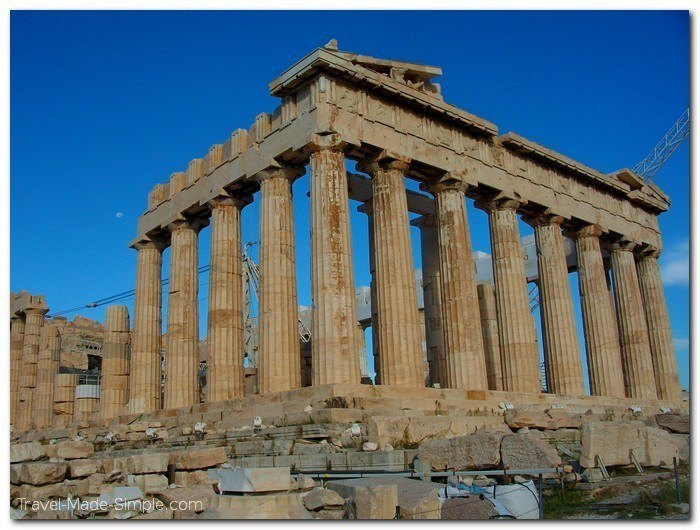 Delphi – 1 day
Want some interesting facts about Greece? Delphi was once considered the navel of the world. It's where people came from near and far to ask the Oracle for advice.
The advice was purposely vague and interpreted through a priest. There are also theories that she inhaled toxic fumes that came up from the ground while she was giving out her advice.
The ruins are impressive and the views of the surrounding mountains and valleys are breathtaking. The scenery is just as much a reason to visit as the history of the ruins.
Visiting the ancient ruins can be done as a simple day trip from Athens on your own, but I recommend taking a guided tour of Delphi to learn about its history and to avoid transport stress.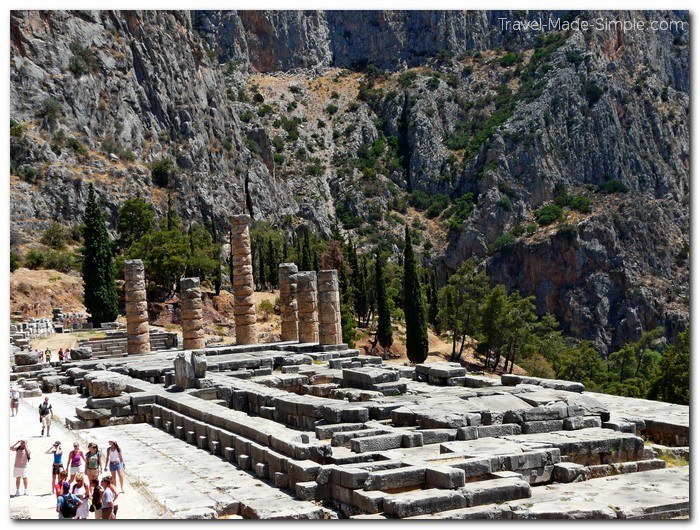 Meteora – 1 day
The area of Meteora is a series of monasteries built on top of imposingly high rocks. Monks built the monasteries during the Turkish occupation in order to protect themselves. At the time, they were only reachable by baskets pulled up by rope.
It is said that if it wasn't for these monasteries, Greek culture and history would've been lost, and modern Greece would be a reflection of the Ottoman empire.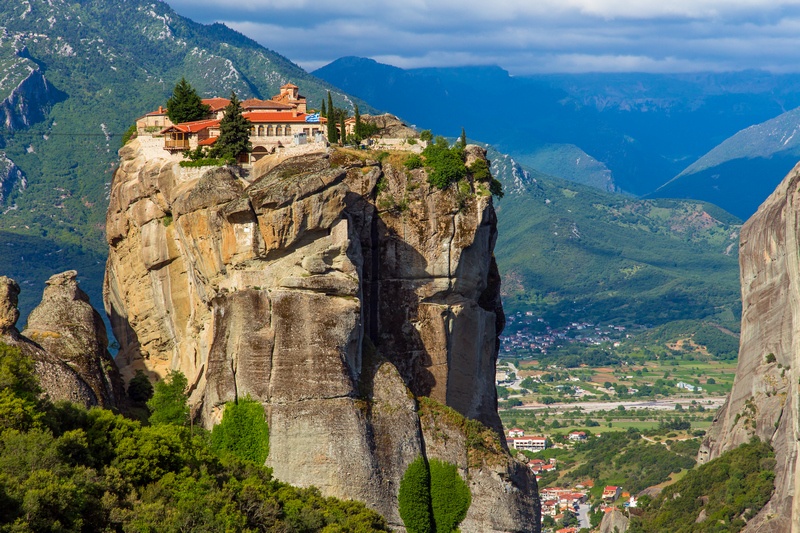 Meteora is a little far from Athens to do as a day trip, but if that's all you have, this day tour from Athens could work.
If possible, stay overnight in the nearby village of Kalabaka. You can get a taxi to the monasteries and hike back to town if you want.
If you want a more guided option, consider taking this half day tour of Meteora from Kalabaka to get a good look at the monasteries.
Another good option is to combine Meteora and Delphi with this two day tour, which starts and ends in Athens.
Santorini – 3 to 4 days
Santorini is the most famous Greek island, know for its gorgeous sunsets, white washed buildings and bright blue domed roofs. It's in the Cyclades island group, so it's fairly easy to get from Santorini to one of the nearby islands, such as Mykonos, Naxos or Paros.
It's a popular destination in the summer, but Santorini in the winter can be a great experience with fewer people around.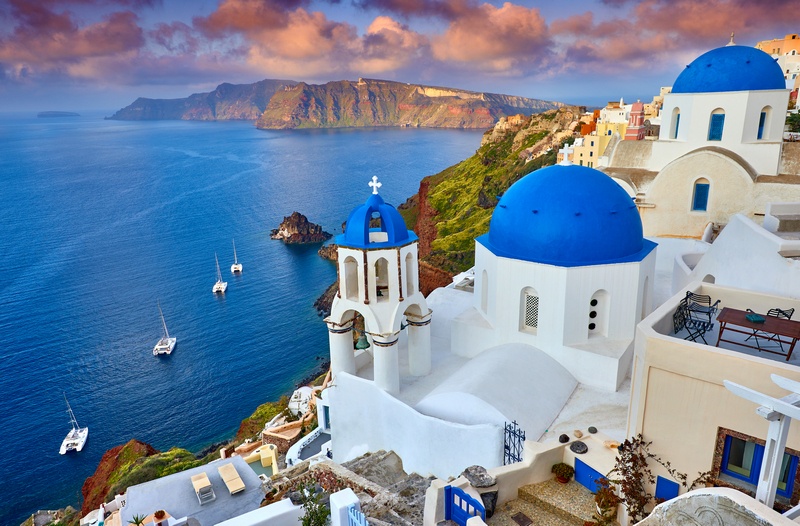 Search for a great hotel in Santorini here.
Sunset dinner cruise – Take a sunset dinner cruise for a romantic way to enjoy Santorini and its most famous attraction.
Volcano tour – A variety of different but similar tour operators will take you by boat to the volcano that shaped Santorini. They'll also take you to Thirasia (the smaller island across from Santorini), the hot springs, and then to the town of Oia to watch that famous sunset.
Oia Sunset and Villages tour – If you prefer to stay on dry land, consider a tour of some of Santorini's traditional villages and the archeological site Akrotiri, and end the day by viewing a gorgeous sunset from Oia.
Beaches – An obvious thing to do while on the island is go to the beach. Two popular ones are Perissa and Kamari, where you'll see the sand that has been blackened by volcanic eruption.
Akrotiri – This is Santorini's version of Pompeii. It's an archeological site where an entire city was preserved by a volcanic eruption. Come early to avoid the crowds.
Wine tasting and vineyard tour – All that volcanic soil makes for some amazing wine. Visit some of Santorini's wineries and taste the different varieties of local wine.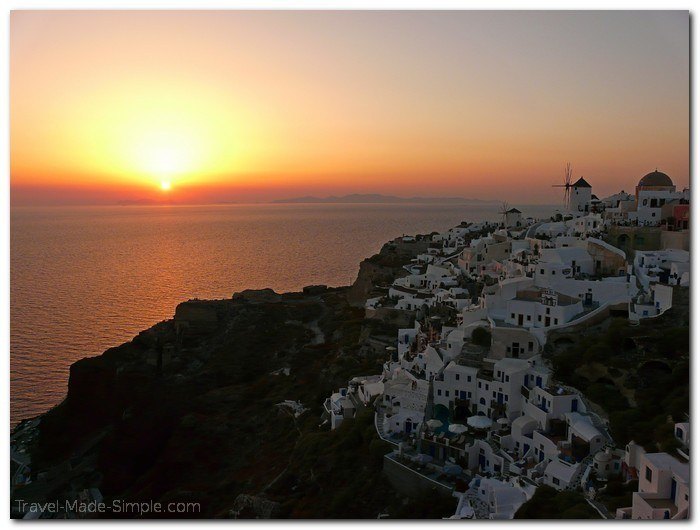 Cyclades Island Chain – 3 – 4 days
The Cyclades are an island chain in the Aegean. This is probably the most popular island chain for vacationers and party-going backpackers, but don't let that stop you from exploring. Santorini is the southern end of it and one of the gateways to the islands.
This is a short list of some of the islands. There are plenty of others each with their unique sights. White washed town streets and shady cafes looking over blue waters are standard scenery.
Ferries link most islands and there are airports on both Mykonos and Santorini. Spring and fall are the best time to come when weather is reasonable and there aren't as many tourists. Summer is hot and crowded and a lot of things are closed in the winter (including some of the ferry routes).
Mykonos – Mykonos is near the northern end of the Cyclades chain and closest to Athens of the most popular stops. It is well known for its windmills and a town full of narrow whitewashed lanes with plenty of nightlife. It's also one of the best gay-friendly places in Greece.
Naxos – Largest of the Cyclades islands with former temple ruins standing in the harbor. Exploring the island by four-wheeler is quite popular.
Ios – A well known party haven.
Koufranissia – A small island off of the main party trail of the island chain. It is a relaxing hike around the rugged island coast and a place to sleep through the afternoon siesta.
Milos – A less touristy island, Milos is just as gorgeous as its neighbors but without the crowds.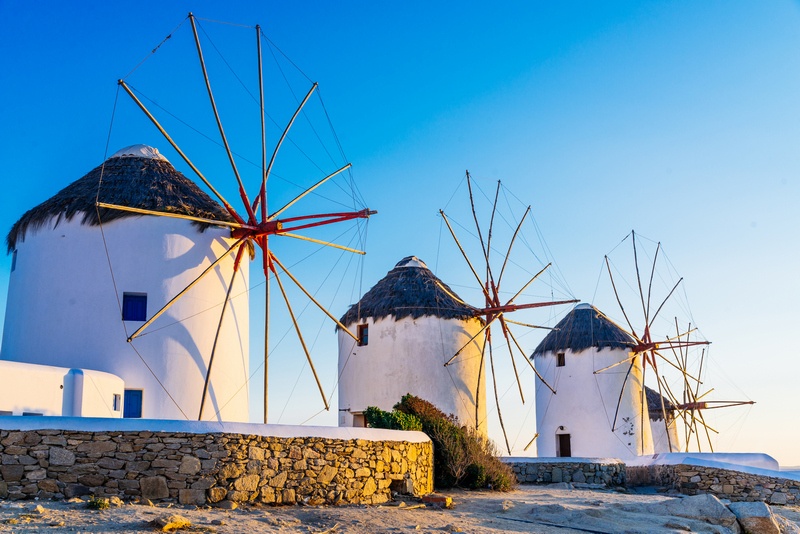 Ionian Island Chain – 3 – 4 days
The most famous islands in Greece are in the Aegean, but they are not the only islands in the country. The Ionian Chain is off the west coast of Greece, toward Italy, and you can find some of Greece's hidden gems in this area.
Corfu – An extremely popular tourist destination, Corfu island is studded with resorts. Historically Corfu has been owned more by the western European nations than by Greece and was fortified against the Ottomans. This has left a number of castles around the island and in the main city to explore.
There are a number of museums on the island as well as the various natural features of the wider island.
Zakynthos – A rugged island with beaches and cliffs. Navagio beach with a famously beautiful shipwreck is reachable only by boat from the capital city of the island. The capital, called Zakynthos just like the island, was once ruled by the Venetians and still has a castle from that era.
The island is also involved in protecting the endangered loggerhead turtle which has a breeding ground there.
Kefalonia – This is another larger island in the Ionian group that might interest you. It's a gorgeous destination, and you'll find quite a variety of beaches in Kefalonia.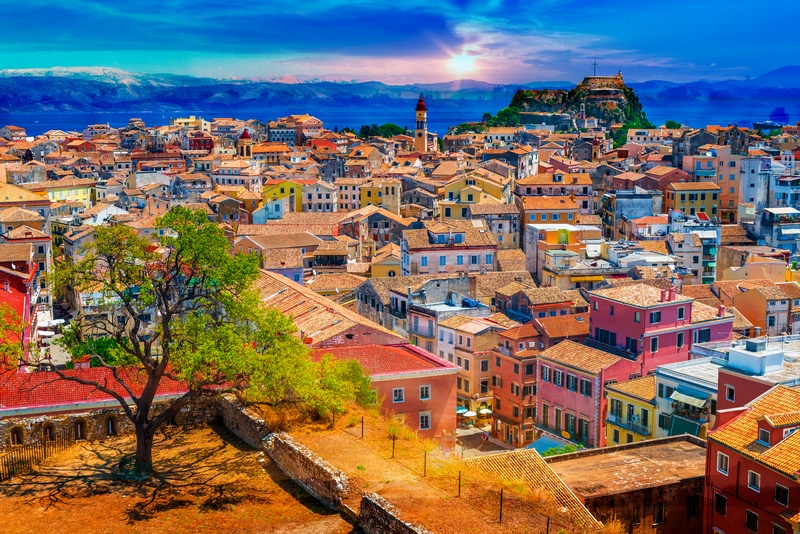 Dodecanese Islands – 3 – 4 days
These islands are in the Eastern Aegean near Turkey. This area has been ruled by different groups over the centuries, like the Turks and the Italians as well as the original Greek, and it shows in the various architectural styles.
Rhodes – The former site of the Colossus of Rhodes, one of the ancient 7 wonders of the world. It is now a island of castles, resorts, and history. Beyond the main arrival town of Rodos, check out Lindros and Monolithos for medieval castles.
Kos – Along with being the birthplace of Hippocrates, known as the father of medicine, Kos is well known for its many beaches, and charming villages like Zia on Kos will steal your heart. It too has a castle in the main city.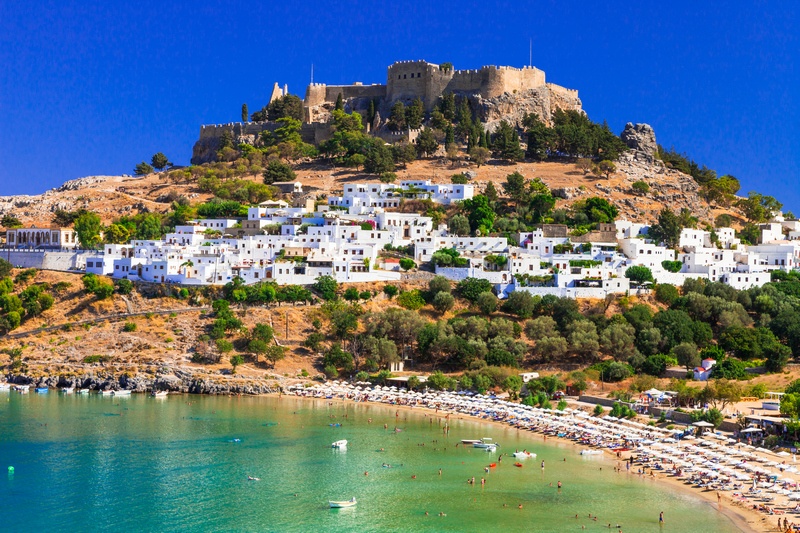 Crete – 3 days to 1 week
Greece's largest island of Crete sits south of the rest of the country in the middle of the Mediterranean. It is said that it is diverse and different enough from Greece that it could be its own country.
If you want an island place to explore but without having to get on a boat all the time, you could easily spend several days in Crete, or even an entire week in Greece on the island of Crete.
Crete was the center of Minoan civilization and the place of several myths including the Minotaur. The capitol city of Heraklion has a Venation fortress and the former Minoan palace at Knossos as well as a number of museums.
The island has many natural beauty spots and a diverse set of landscapes to explore. Beyond that, there are a number of towns with their own feels spread about the island.
The island has plenty of resorts as well, but it is worth exploring the real island even if you are there mostly for the sun and the beach.
Want to explore Crete with a tour?
Search for tours in Crete
here
. Some tours take you to parts of the island you might not normally get to on your own.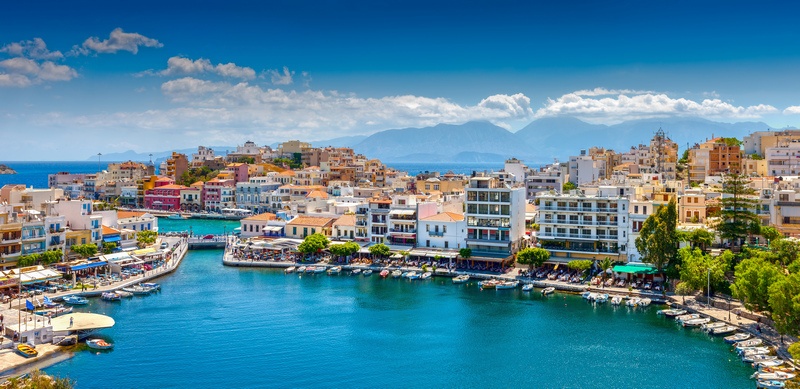 More mainland options
While the islands are very popular destinations in Greece, there are plenty of other interesting things on the mainland as well.
Thessaloniki – Greece's second largest city lies in the north of the country. It is known as a vibrant cultural center. City walls and several towers still show its medieval shape. Just explore the city or take a food tour.
Halkidiki – The hand shaped peninsula extending into the Aegean near Thessaloniki is an area of rugged cliffs, natural beauty, and beaches.
Mt Olympus – The mythical home of the Greek gods is not far from Thessaloniki.
Peloponnese Peninsula – The large peninsula south of Athens is home to a lot of the places from Greek mythology and classical history. Corinth, Sparta, Mycenae, and Olympia (home of the original Olympic games) for example. This is a pretty large region and, like the rest of Greece, has plenty of beaches and smaller towns to explore as well.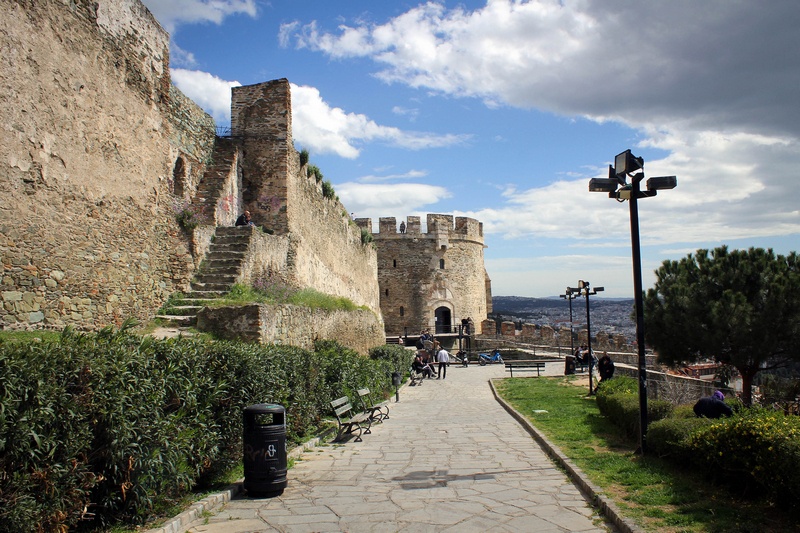 Transport
Athens is the easiest entry point into the country, so I recommend starting your trip there. You can fly to some of the more popular islands like Santorini, but there is a certain charm to going by boat. It just takes a bit longer that way, especially if you're going farther out like to Rhodes or Kos.
Many of the smaller ferry routes are more limited (or closed) in the winter. Even in the summer, schedules seem fluid in Greece. Always check ahead for ferry schedules and prices.
Pireaus is the ferry port near Athens that has links to most destinations in the Aegean. Patras is on the western coast of the mainland and has links to the Ionian chain of islands as well as overnight ferries to Italy.
Check out our post on transportation in the islands.
While exploring mainland Greece, if you don't sign up for day tours, you can get around by long distance bus or train depending on your destination. But bring your patience (and a snack) because things don't always run on schedule.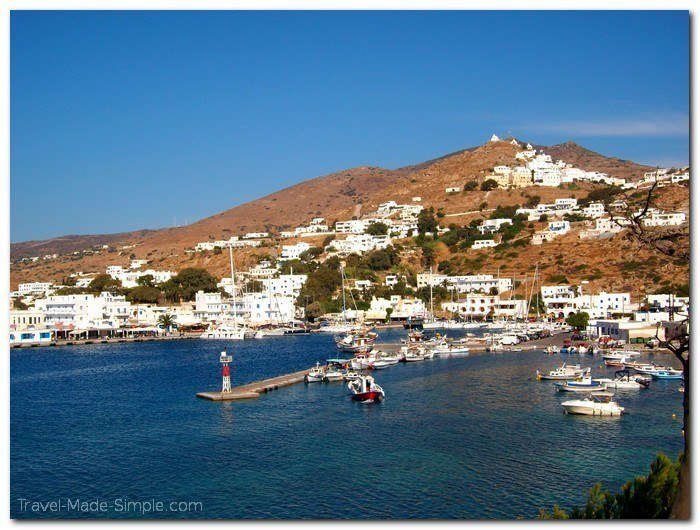 Planning a trip for one week in Greece
Choose a few destinations for your Greece itinerary and enjoy them. As always my advice is to travel slowly.
Take into account the time it takes to get from one place to the next. This is especially true in Greece.
Pretty much expect to use most of a day to move long distances, and note that certain ferry routes leave very early in the morning. Even if transport is on time and you have extra time to explore a city, it is better than missing a tour or flight.
Day trips that include bus transport can be quite helpful if you want to see a lot with your time.
If you really enjoy cities, consider adding a day or two in Athens. On the other hand, if you're more of a beach person, consider adding time to you stay on Santorini or go island hopping throughout one of the island groups.
Enjoy the beauty, the history and the food in this wonderful country!
Sample Itinerary for One Week in Greece: Islands
This is a very island focused idea of a week. You could easily stop at an additional island in the Cyclades for a night instead of 2 in Mykonos if you were willing to deal with moving around more and work with the ferry schedule to make it happen.
Read our post on island hopping in Greece.
2 Days in Athens: Explore the ancient sites.
1 Transport Day: Ferry or fly to Mykonos. The Blue Star Ferry leaves early and takes 6 hours. (Check ferry schedules and prices here.) There are several flights a day from Athens as well.
2 Days in Mykonos: Explore town with the windmills and the winding streets.
2 Days in Santorini: Head out to the Volcano one day and up to Oia the next day to catch the sunset.
Sample Itinerary for One Week in Greece: Mainlands
Alternatively you could aim to explore the mountains and sights on the mainland. Head up to Thessaloniki for a different city to explore.
2 Days in Athens: Explore the ancient sites.
2 Days in Meteora/Delphi: There is public transport that gets you to Meteora and Delphi, but they are odd schedules and long rides. It is great freedom if you have an extra few days to spend, but if you do not, look into a combination tour from Athens like this one.
3 Days in Thessaloniki: Take the express train or a long distance bus north to Thessaloniki. Explore the old buildings and food of Greece's second city and take a day out to experience the nature and beaches on Halkidiki peninsula.
Greece travel planning and inspiration
Hopefully our Greece itinerary and ideas for planning one week in Greece have been helpful.
The following posts provide more in-depth information about Greece travel, tours in Greece, and specific cities and regions. And if you're looking for a little inspiration, be sure to check out the books and movies recommended below.
Read more about traveling in Greece:
Greece tour reviews:
Greece reading, guidebooks & movies
Looking for other great destinations?