The following guide for how to spend 5 days in Switzerland in the Bernese Oberland region was written by Anna Timbrook.
One of the biggest highlights on any visit to the Swiss Alps is the Bernese Oberland. With such stunning mountains as the Eiger, Jungfrau and Monch, picture-postcard towns like Lauterbrunnen and Grindelwald, as well as enough activities to keep you busy for a week, it's certainly no wonder.
If you are planning on spending a little or a lot of time here, how should you split up your days and still see the best the Bernese Oberland has to offer?
This is how I recommend people spend five days in the Bernese Oberland region of Switzerland.
Switzerland Itinerary in the Bernese Oberland
Here are all the details for 5 days in Switzerland in the country's most popular and most beautiful region.
Please note that some posts contain links that earn me a small commission at no extra cost to you.
Tours from Interlaken
Interlaken is a great base for your trip to Switzerland, and there are lots of options for tours that will help you enjoy this region. Here are a few we recommend:
Harder Kulm cog railway: Take this epic cog railway for some fantastic views of the Eiger, Monch and Jungfrau, as well as the two lakes that give Interlaken its name.
Schilthorn: Take a series of gondolas to the top of this peak made famous by a James Bond movie.
Tandem Paragliding Experience from Interlaken: Interlaken is the adventure capital of Switzerland, and what better way to enjoy the Alps than paragliding.
Day 1: Interlaken
Interlaken is one of the best places to visit in Switzerland to base yourself in the Bernese Oberland and it also offers a range of things to see and do.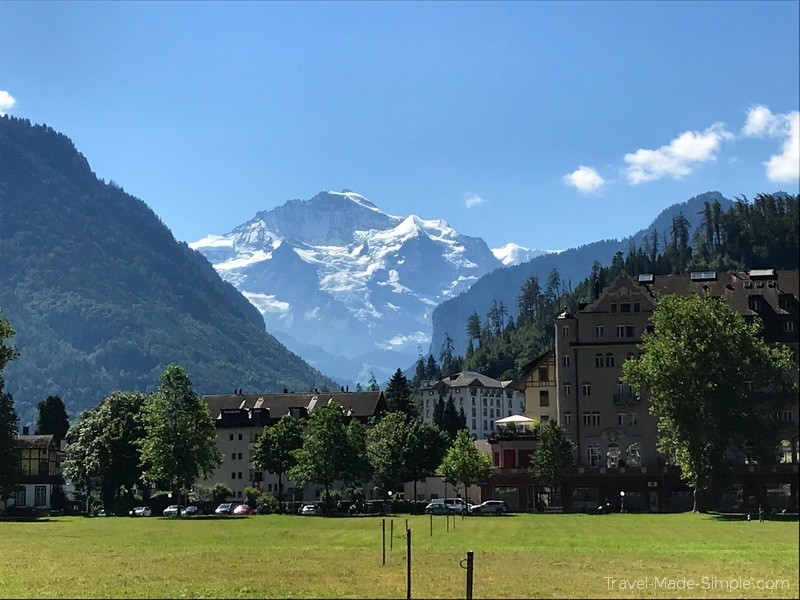 For me, the best way to get to know a place is to go on a walking tour of the top attractions on the first day, and this is what I recommend for you too.
Start with a stroll along the Hoheweg, which is right in the center of town and head towards the Schlosskirche which is one of the must-see buildings in town.
Your second port of call is the old town of Interlaken, which is called Unterseen (or "below the lakes" in German). It has the majority of the historic buildings in Interlaken and can also be combined with a walk across the beautiful covered bridge that crosses the Aare river in the middle of town.
All of that can be done in a half day, so the second half of your day can be spent further afield. Getting a view of the distant mountains is an absolute must-do, so now it's time to get a little height.
Take the cog railway up to Harder Kulm for some epic views of the Eiger, Monch and Jungfrau, as well as the two lakes that give Interlaken its name. Yes, it's called "between lakes" for a reason.
And, if you want to see some of the native animals that call Switzerland home, you can pop into the Alpenwildpark on your way to the Harder Kulm train station. It is right next door.
Also keep in mind that if you plan on doing any adrenaline pumping activities in Switzerland, this is the place to do it. Anything from bungee jumping, paragliding or canyoning can be organized right downtown in Interlaken. This is also a great area for a campervan trip in Switzerland.
Day 2-3: Grindelwald & The Jungfraujoch
Now that you have whetted your appetite for the mountains at Harder Kulm, it's time to get up close and personal with the Bernese Alps.
Take a train to Grindelwald, which is only 33 minutes from Interlaken, and start the next part of your adventure here. There are a huge range of things to do in Grindelwald, so let's not waste any time.
First Ski Resort
One your first morning here I would head up the gondola to the top of the First Ski Resort and take in the stunning views of the Eiger, Monch and Jungfrau.
You have a few choices here, starting with the First Cliff Walk which is a short, but breathtaking walk along the cliffs below the gondola station.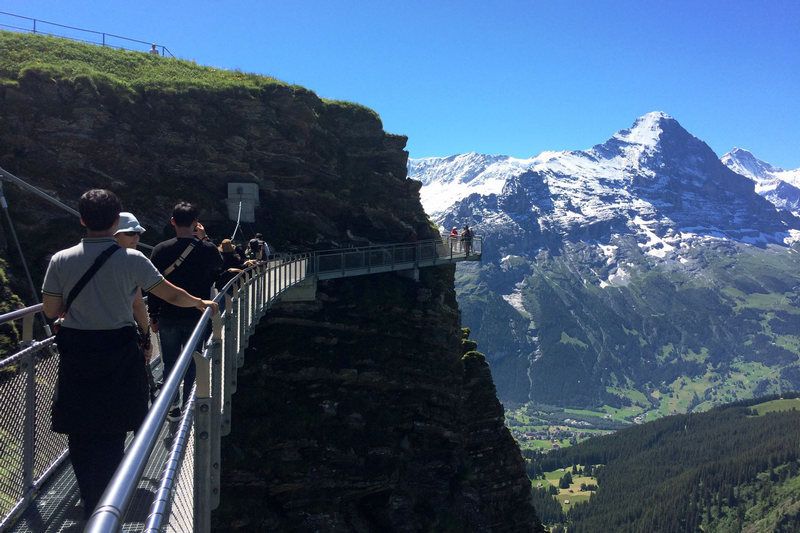 Next, I recommend you head for a two hour (less if you walk fast) return hike to the Bachalpsee, where you get a beautiful reflection of the mountains in the mountain lake (just check out the image below). Those wanting a longer hike can head up to the Faulhorn hut for lunch and even more jaw-dropping views down the other side.
Now, depending on how adventurous you are, you have a few options. You can try the First Flyer, for a little adrenaline rush. Or, something a little more sedate, a cart ride down to Grindelwald. The kids will love it!
Gletscherschlucht
If you still have some time on your first day, this is a great way to spend the afternoon. Head on a hike up the Gletcherschlucht (Glacier Canyon) for not only a little cooling off, but also some fun on the hanging cable net which is 7m (21 feet) above the valley floor. This is one of the valleys that feeds from the Eiger and Jungfrau and will get you in the mood for the big day tomorrow.
Jungfraujoch
The absolute highlight of any trip to this area is the Jungfraujoch. It is the highest railway station in Europe located at 3,454 metres (11,332ft) above sea level. But more than that, it is one of the highest and most spectacular locations you can get to in the Alps.
You can actually start the complete trip in Interlaken, but most routes go via Grindelwald, so you can also start here. The train first climbs up to Kleine Scheidegg, and then actually dives right into the side of the Eiger mountain.
There are a few highlights along the way including windows through the rocks and a stop to see a glacier along the way. However, the finale is the Jungfraujoch itself which has enough things to keep you busy for the day:
Snow park
Ice cave with sculptures
Observation deck
Hiking
Swiss chocolate experience
You can also do longer hikes here down the Aletsch glacier, which rolls off the back of this area for miles and miles into the distance. It is a day out you will never forget, so be sure to do it in great weather.
Are you interested in visiting other parts of the country? There are lots of Zermatt Switzerland attractions to enjoy, or you could explore the areas near Geneva.
Day 4: Lauterbrunnen
One of the most stunning valleys in the Alps is Lauterbrunnen. It is almost as if someone carved a huge chunk out of the alps and left vertical walls with 72 waterfalls coming down their sides. The walls here are so vertical that base jumpers love to throw themselves off them, so keep your eyes skywards while you are here!
Lauterbrunnen is again only 21 minutes train ride from Interlaken, so it's easy to reach. And there are a number of things to do here which make for a great day out.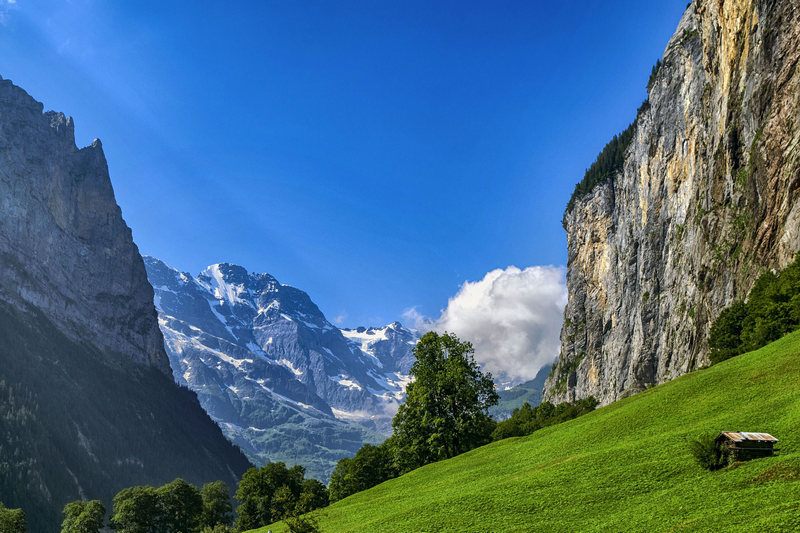 Staubbach Falls
I recommend starting with a hike up to the Staubbach falls, which are the most iconic and obvious falls above Lauterbrunnen. It takes 2-4 hours and is a bit of an ascent, so if it is not your cup of tea, then you can just enjoy it from a distance or at least hike to the base and get a little spray!
Trummelbach Falls
Another must-see area a little down the valley is Trummelbach Falls. It is a paid attraction that takes you deep into a canyon winding through various tunnels and past a variety of waterfalls. It's a great way to experience the true power of the water churning down from the mountains above.
The Schilthorn
The last stop on your day out in Lauterbrunnen is the Schilthorn. It is a 2790m (9974ft) peak right at the end of the valley that can be reached via a series of gondolas.
It was made famous by its inclusion in the James Bond movie: On Her Majesty's Secret Service and has been high on people's must-see list ever since. It offers you epic views of the big three from a different side, as well as an opportunity to live a little like James Bond did!
Other Options in Lauterbrunnen
For those that want to experience even more from Lauterbrunnen, there are dozens of great hikes here. You can also take the train up and over via Wengen and check out the area where the Swiss leg of the Ski World Cup takes place – Lauberhorn. It is also an alternative way up the Jungfrau as you can connect with it at Kleine Scheidegg from here.
Day 5 or More: Lake Thun & Lake Brienz
The above are the main areas to visit in the Bernese Oberland, and certainly the biggest highlights. However, if you have some more time, there is certainly a lot more to see.
The two main lakes bounding Interlaken also have a lot to offer, so let's start with Lake Thun.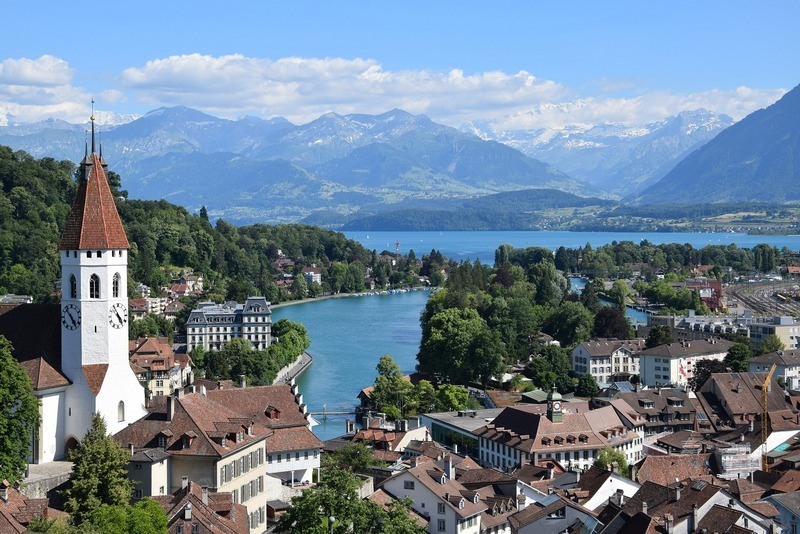 Around Lake Thun
There are quite a few marvellous castles to visit on this lake. The most often visited is Thun Castle, at the far end of the lake in Thun. You can also stop halfway along in Spiez and check out their castle too.
For those that like caves, there is an easy side trip from Interlaken to the Beatus Caves as well. And if you want yet another gondola ride and view, you can head up to the Niederhorn and even make a day of it by hiking back down.
Around Lake Brienz
Lake Brienz is a stunning aqua blue, so seeing it from above is definitely worth doing. This can be done via the train up to the Brienzer Rothorn, which is itself a historic steam train and worth checking out.
You can also head out for a stand-up paddle board on Lake Brienz from the Böningen, something that is still on my bucket list.
If you have a car or want a scenic train ride then head for the day to Lucerne, over the Brunigpass. The views are amazing.
Or, you can head to Meiringen and head up to the infamous Reichenbach Falls where Sherlock Holmes fell to his death. In the final book of the series.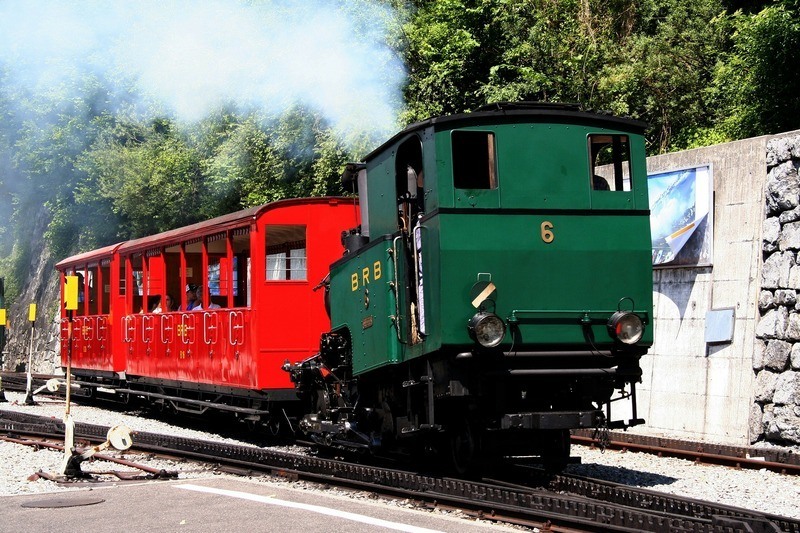 When To visit Switzerland's Bernese Oberland region
The best time to visit Switzerland and the Bernese Alps in general is in summer, which is July – September. However, it is very busy during these times. So, shoulder seasons are a good alternative, especially October – November, because the snow has gone and the weather is usually quite sunny.
If you come here in winter, some of the activities will not be possible, like hiking and other outdoor activities. However, all the gondolas and trains are running, and the views are still the same, just a bit whiter!
Of course, you can also try other winter sports like skiing, snow shoeing, tobogganing, winter walking and ice skating. Switzerland does not sleep, even in the winter!
Getting There And Away
Arriving in Switzerland by plane lands you in either Zurich, Geneva or Basel. Each is only a few hours from Interlaken by train, which is the preferred method of getting around here.
Driving is often busy and parking difficult, so unless you have a compelling reason to rent a car, save yourself the headache! All the places you will visit once you are here are way easier to get to by train.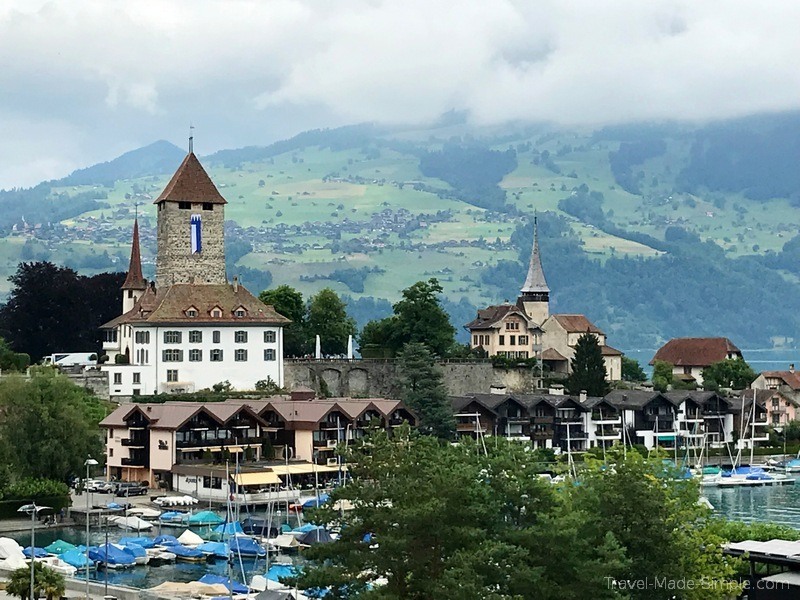 Where To Stay
There are lots of options in and around the Interlaken area, so don't be afraid to stay outside the town. Everything is well connected by public transport.
Editor's note: Ali recently stayed at
Hotel Lötschberg
in Interlaken and loved it. Comfy bed, great breakfast, helpful and friendly staff, and access to a kitchen area in case you want to save money by making a few meals instead of eating out. Book a room
here
.
Other popular towns to stay in include Grindelwald, Lauterbrunnen and other small towns dotted around the valleys here like Murren and Wengen. You can also go as far out as Thun, Spiez or Brienz, just be aware that getting into the valleys will take you over an hour or more, instead of 20-30 minutes, so it's a compromise you will have to decide on.
I hope this helps you plan your itinerary for five days Switzerland in the Bernese Oberland region!
About the author: Anna was born to travel the world having studied languages all her life. Although she has traveled the world, she now calls Switzerland home and spends her time writing about her experiences on her travel blog with her husband. When she is not working she can always be found happily strolling in the Alps!
You might also enjoy: