I talk about packing a lot on Travel Made Simple. I try to travel carry-on only whenever possible because I love the freedom of having less stuff to carry around with me. But you might be wondering what I pack when I travel that helps me go carry-on only. Below is a widget that shows some of the staple items I usually include on my carry-on only packing list. This isn't a complete list, but it will get you started.
Click on an item for more info. To look at any of the items in more detail, please right click on the link and select "open in a new tab" that way you'll be able to stay on this page and keep reading.
Please note that some posts contain links that earn me a small commission at no extra cost to you.
About the carry-on only packing list
Toiletries
Since I almost always travel carry-on only, I have to limit the liquids I pack. I bring bar soap instead of shower gel, and in place of perfume or other liquid scents, check out these solid perfume options. Tiger Balm is great for bug bites, headaches, and a million other things. I don't know how it works for such a wide variety of ailments, but it's wonderful. I also bring non-liquid laundry detergent sheets on trips when I think I might need to wash a couple pairs of underwear in the sink.
Other toiletries, such as shampoo, conditioner, contact solution, toothbrush and toothpaste, are not in the widget. For a closer look at traveling with non-liquid options, check out this post.
I also tried out this solid bug repellent and this solid sunscreen on a trip to the tropics, and they both worked really well. I love having a few more options that reduce the amount of liquids I have to pack!
Electronics
I need my laptop to work, and I often work while traveling, so I probably pack more electronics than you might need. The items in the widget are probably the bare essentials for most travelers. I love my Kindle because it allows me to bring as many books as I want without adding lots of weight to my bag. I can't imagine traveling without a camera to take pictures, and an extra memory chip is worth the tiny space it takes up. Plug adapters are vital if you're traveling to a country that has different electrical outlets than your home country.
Clothing
I feel strongly that about a week's worth of clothing is sufficient even if my trip is longer than that. The reason is I wear things more than once and I do laundry on the road. I generally pack about seven shirts (short- or long-sleeved depending on the weather and destination), a pair of jeans, one or two pairs of shorts if I'm going someplace hot, eight to 10 pairs of underwear, four to five pairs of socks, and some kind of sweatshirt or jacket. I also pack sandals for warm weather destinations, flip-flops, and sneakers/walking shoes.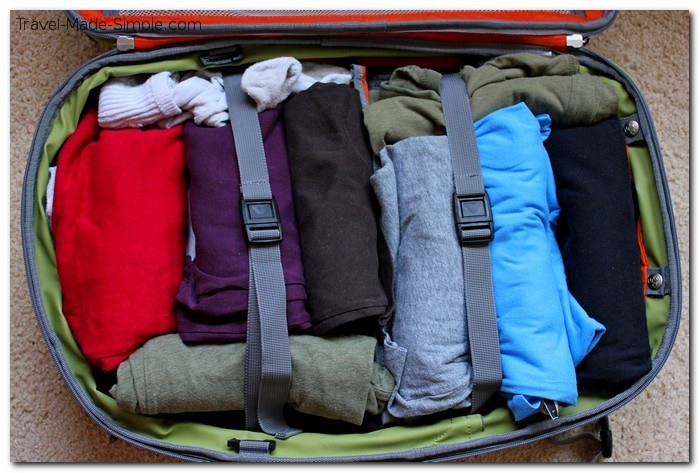 Packing it all up
One of the most important parts of traveling carry-on only is making sure your luggage is small enough.
I love this eBags luggage because it holds so much while still managing to stay within the carry-on luggage size restrictions of most airlines. It doesn't have a good hip belt though, so I wouldn't use it on a trip where I'll be walking around a lot while wearing the backpack. I also tried their packing cubes, and I was amazed at how helpful they are. Learn how to use packing cubes to pack light so you can fit everything you need into your carry-on bag.
My other backpack is the REI Trail 40. (They have a men's version too.) I've taken it on many trips and never had a problem bringing it on the plane as a carry-on bag. It holds everything I need and has great support from the straps and hip belt. Another great bag I never travel without is my REI Stuff Bag, which folds up into itself. It works great as a day pack and can be packed up into my main bag when I'm not using it.
As I mentioned earlier, I have to limit my liquids, so I use containers that are 3.4 ounces (100ml) or smaller, like these from GoToob, and pack them in a quart-sized zip top bag. It's a good idea to bring a few extra bags in case one rips. I also love toiletry bags for small non-liquid items so they don't get lost in my luggage.
The full carry-on only packing list
This is not my full packing list. There are so many other things I pack when I travel, and I couldn't fit them all in here. But I've compiled my packing list into a PDF to share with you! Sign up for the Travel Made Simple newsletter here, and you'll get a link to download my detailed packing list.
Other Travel Made Simple readers have purchased this luggage:

Read more about packing here:
Big thanks to Round the World Experts who made this fun carry-on only packing list widget for me!