I'm a bit obsessed with packing. I always want to find ways to pack less and travel with a smaller bag. So when Arcido reached out to me about reviewing their backpacks, I was excited to see how well they fared with my carry-on only style of travel.
Andy and I decided to test out the 35L Akra backpack and the 20L Vaga backpack on our most recent 6 week trip to Italy and Spain. Here's my review of the Arcido Akra 35L backpack.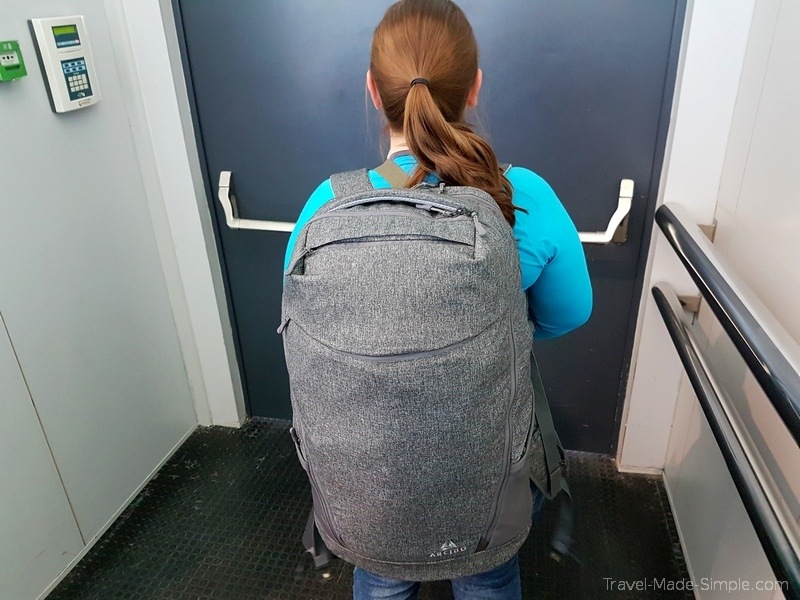 Arcido Akra 35L Backpack
Normally I aim for 40L for a backpack. It's usually the biggest size that will still comply with most airlines' carry-on luggage size allowances. So I was curious to see how I would do with a few less liters.
I was easily able to take this backpack as my carry-on item on an Alitalia flight from Rome to Malaga, while other people were being forced to gate-check their wheelie bags. I also had no problems taking it as carry-on for an EasyJet flight from Alicante to Berlin.
Please note that some posts contain links that earn me a small commission at no extra cost to you.
Size and structure of the Akra backpack
It turns out, the structure of this bag allowed me to pack the same amount of stuff as I usually pack in my 40L REI backpack. I was pretty excited about that! The Akra definitely hit my goal of traveling with a smaller bag.
The backpack opens wide, similar to a suitcase, which means it's really easy to get into. I'm not a fan of top loading backpacks, so this type of opening is much better for me.
It means I can easily find what I'm looking for, even if it's towards the bottom, and I don't have to unpack everything to get to the stuff at the bottom.
Since it opens like a suitcase, I found that it held more than I thought it would, even though it seemed full while laying flat.
Once you get most of your stuff packed in it, zip it up most of the way, stand it up, and your things will shift in and down. This gave me a little more space for a few more items at the top.
It's gray and sleek-looking. It's made of water-resistant materials, so I never had to worry about my stuff getting wet on rainy travel days.
The Akra fits most airlines' carry-on size restrictions since is dimensions are 21.5″ x 13.5″ x 8.5″ (55 x 35 x 20cm), and it's a light weight bag at 2.4 pounds (1.3 kg).
Laptop sleeve
The Arcido Akra backpack has a specific compartment with a laptop sleeve, which normally isn't a priority for me since I have a smaller laptop (13 inch). But when we flew, it was much easier to get my laptop in and out of the bag at security, so maybe Arcido has converted me into a laptop sleeve person!
I was also able to put a few thin items in the compartment where the laptop sleeve is. I stored my external hard drive and a small notebook in one of the pockets, and that worked well.
Originally I put my laptop cord back there too, but it's really not designed for something that bulky, and I spent a 20 minute walk with the brick digging into my back.
The laptop sleeve on the Akra is detachable and can be put into the Vaga daypack, which I thought was pretty cool. For a lot of our travel days in Spain, we had to take a bus, which meant putting our bigger bags underneath in the luggage hold.
I refuse to put my laptop down there, so Andy and I put the laptop sleeve into the Vaga. We put his laptop in the sleeve itself (his laptop is a 15 inch) and mine went in loose.
>>Read my review of the Arcido Vaga 20L backpack here.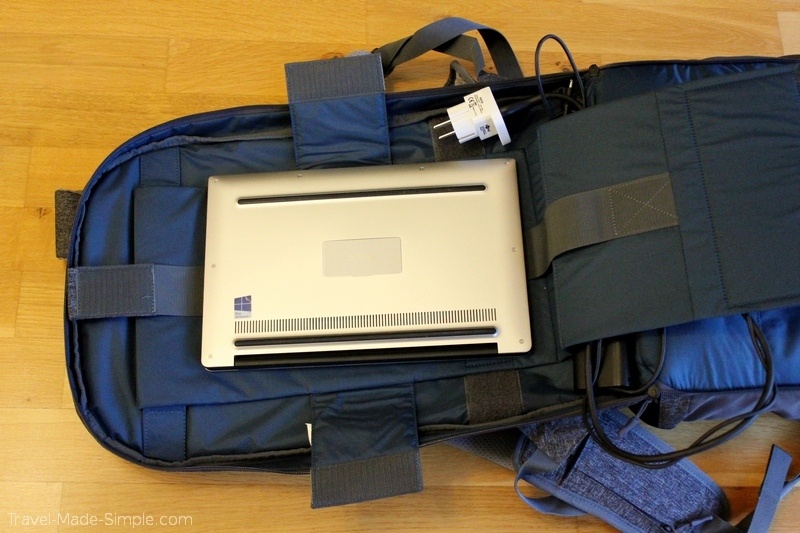 Backpack pockets
Pockets are a big deal to me, so it's always something I look for in a backpack.
The Arcido Akra backpack has a small pocket at the top, a larger pocket that can be accessed from the outside on the front or from the inside, an almost hidden pocket at the top towards the back, and there are a few pockets in the laptop compartment.
The waist strap also has a pocket on each end, there are two water bottle pockets on the sides of the bag, and two hidden pockets near the water bottle pockets.
The big pocket that can be opened from inside or outside is the one I used the most. It might be a little too big because things seemed to get lost in there, but it's a decent pocket.
I didn't have much that made sense for the slim pockets in the laptop compartment, other than my drive and a notebook. The water bottle pockets were just a little bit too small and I wish they stretched a bit more.
Overall the pockets were decent. After traveling with this bag for a couple of weeks, I found which pockets worked best for which things, and I was able to stay organized. Not the best set of pockets I've ever seen on a backpack, but certainly not the worst.
Waist strap
An important feature on a backpack of this size is the waist strap/hip belt. You want to make sure the weight is distributed properly so the backpack doesn't cause shoulder and back pain if you're walking around with it on for more than a few minutes.
The waist strap helps move some of the weight down to your hips, making the bag feel less heavy.
Because I travel carry-on only, my bag normally weights somewhere between 8 to 10 kg (so 17.6 to 22 pounds) which isn't so heavy. My bag for this trip started at 8 kg, but the waist strap didn't do a lot to redistribute the weight.
It's attached to the body of the bag with clips, rather than being sewn to the bag, and I always think these kinds of straps don't offer as much support. I couldn't really tell the difference in how the weight felt on me when I compared wearing the waist strap and not wearing it.
The other thing I didn't like was the clasp on the waist strap. It's magnetic, and I'm guessing it was designed to look more sleek than more traditional buckle type clasps.
But it meant it was annoying to unclasp when I was ready to take the bag off. I never got used to this or figured out a quick and easy way to get the clasp open.
For a pretty good backpack in almost every way, the waist strap was a big disappointment.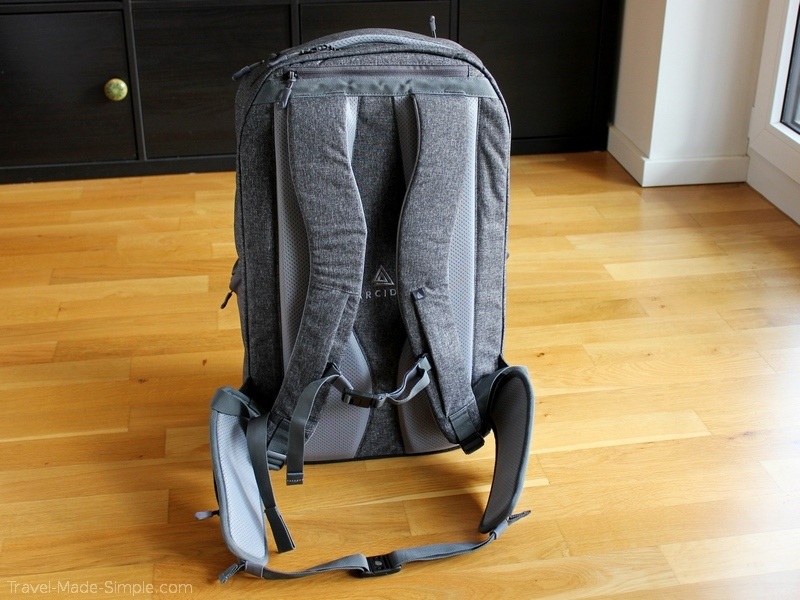 What did I pack in the Arcido Akra 35L backpack?
My travel packing list is pretty similar from one destination to another. For this particular trip, Andy and I spent two weeks in Bologna and Verona, Italy, where it was kind of cold (highs were usually 35F to 45F), followed by a month in southern Spain (highs were anywhere from 55F to 75F).
Here's what I packed in the Akra backpack for our trip:
8 short sleeve shirts
1 long sleeve shirt
1 pair of gym pants
2 bras
1 small packing cube with 12 pairs of underwear and 6 pairs of socks
Toothbrush, hair brush
Liquids bag with contact solution, lotion, shower gel, toothpaste, etc.
Small makeup bag with solid shampoo and solid conditioner
Small makeup bag with miscellaneous items like nail files, nail clippers, paracetamol, Tiger Balm, etc.
Box of prescription medicine to last 2 months (I have ulcerative colitis)
Box of probiotics
3 small boxes of prescription medicine in case I get sick
Glasses
Laptop, cord, external hard drive, external webcam
Point and shoot camera
2 small notebooks
Sleep mask
Kindle cord, iPhone cord (the actual Kindle and iPhone traveled in my purse)
Business cards, pens
(Note: This list does not include what I was wearing – jeans, shirt, etc.)
And there was some wiggle room here. Sometimes I packed my hoodie in the bag when I didn't want to wear it.
Since we were in Spain so long, we had some food items, and I occasionally ended up with a few of those. Once we left Italy, I no longer wore my winter hat and scarf, so they went into the bag, too.
So you can fit a lot of stuff into the Arcido Akra 35L backpack!
I had another pair of shoes in addition to the ones I wore on travel days, and they got stored in a stuff bag along with my water bottle and umbrellas. Plus I had a few things in my purse, like passports, wallet, phone, Kindle, tissues, etc.
And I either wore or carried my winter coat depending on the temperature.
Who is the Arcido Akra 35L backpack for?
Overall I think this was a good backpack. Due to its appearance and design, I'd say this backpack is good for more professional travelers who want to use a backpack instead of a suitcase but don't want to look like a backpacker.
I think it's better for travelers who don't plan on walking long distances while wearing the backpack since the waist strap isn't the best. This isn't a bag I'd take on a hiking or camping trip (though you certainly could), but it's perfect for a city trip.
Arcido provided Andy and I with complimentary Akra and Vaga backpacks, but all opinions are our own.
You might also enjoy: