Trying to plan a vacation can be tough. It can feel complicated and frustrating. But it doesn't have to be that way. Here is an up-to-date list of travel resources I recommend to help you plan your dream vacation.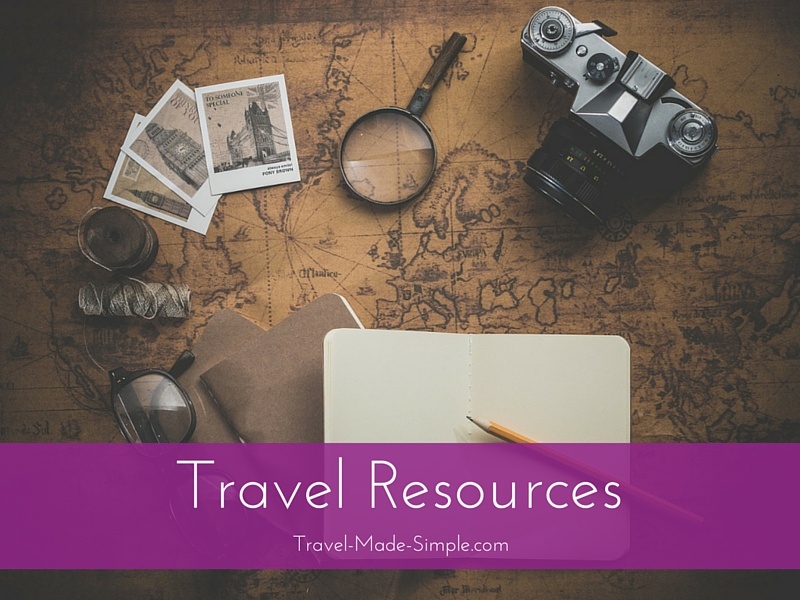 Please note that some posts contain links that earn me a small commission at no extra cost to you.
Table of Contents
Tours
I believe that tours can be a great way to travel. Day tours can show you places you can't get to on your own, and food tours can introduce you to the cuisine of the city you're visiting. If you're traveling solo and want to meet other travelers, or you're new to travel and want someone else to take the reigns, a longer organized tour could be for you. And sometimes tours are a great way to experience something you couldn't recreate on your own.
Viator – Just about any tour, transfer, or city pass you could imagine for almost any destination is listed on this site. If you're looking for an activity, this is the place to go. They have mostly day tours, but there are lots of overnight and multi-day tours available as well. Read: Taking a Prague Craft Beer Tour with Viator and Experiencing India with Day Tours from Viator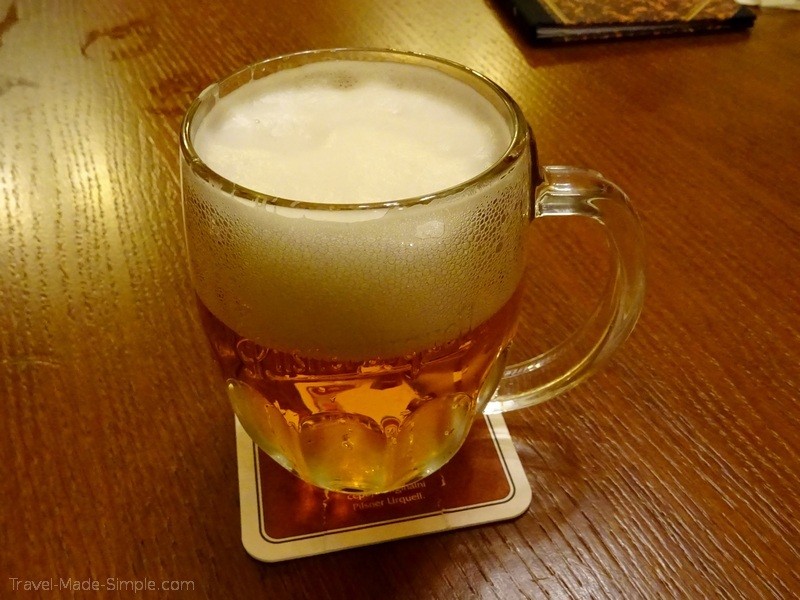 Take Walks – One of my favorite tour companies, Take Walks offers fantastic and interesting tours of the big sights, plus some great food tours. Mostly in Europe but also a few in the USA. I took several of their tours in Italy (like this one and this one) before they expanded into other countries, and I highly recommend them.
Eating Europe – This is a wonderful food tour company in Europe with locations in several major cities. I've taken their tours in London, Rome, Prague, Lisbon, and Amsterdam, and they also offer tours in Paris, Strasbourg, Porto, Naples, and Florence.
Read about my comparison of the Take Walks food tour in Rome and the Eating Europe food tour in Rome.
G Adventures – Small group travel for all ages and all over the world. Their tours are listed with 1 of 7 specific travel styles to suit your needs. This helps you know if the tour is family friendly or suited for the roughing it type. Travel with an emphasis on sustainability. Read: Greek Islands Sailing Tour Review
Contiki – Group tours for the 18-35 age group.
Popular posts on Travel Made Simple: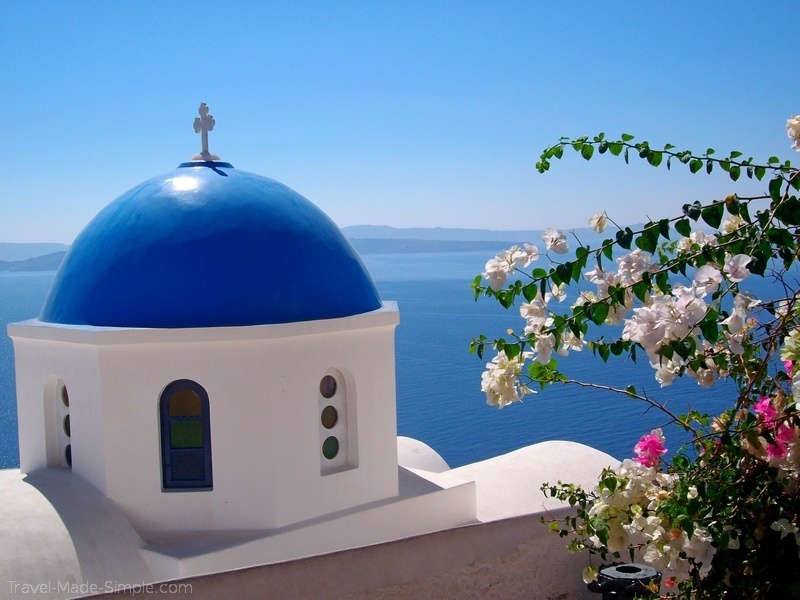 Accommodation
Where you stay can greatly affect your vacation. Decide how important comfort is to you. Some people are willing to spend a little more for a more comfortable hotel, while others are willing to sacrifice a little comfort if it saves them money. Know what's important to you when looking for accommodations.
Booking – A simple hotel booking site with great filters and sorting options. They also have great customer service. This is the site I use most often.
AirBnB – Apartment rentals, short or long term. Read: How to Choose an Apartment Rental for Your Vacation
HostelWorld and HostelBookers – Hostels, guesthouses, and occasionally hotels. Read: What is it Really Like to Stay in a Hostel?
Popular posts on Travel Made Simple:
Flights and Airport Info
Searching for flights is tedious, and nearly impossible to figure out how to find the good deals. There are theories about the best day to book a flight or the best day to fly, but sometimes it just comes down to luck and trial and error.
Priority Pass airport lounges – Airport lounges can be a great place to relax and get refreshed during a layover. Many Priority Pass lounges offer shower facilities, food and more, no matter what airline you're flying with. Get 10% off your membership for the first year by clicking the link above.
Dollar Flight Club – A flight deal alert subscription service that emails you amazing deals on flights based on the airports you've told them you're interested in. Averages savings are $500+ for a roundtrip flight! The premium membership is just $40 a year and has a 7 day free trial. Read: How to Save $500+ on Your Next International Flight
Skyscanner – Searches airlines and other booking sites to help you find the cheapest flights. Flexible search options like searching an entire month or year, or search from one airport to "everywhere." It even has low cost carriers, which aren't found in all flight booking engines. I use this to start my search but always book directly with the airline.
Sky Team, Star Alliance, One World – If you collect miles, check these sites to see which airlines are partnered with the one you are a frequent flier with.
Seat Guru – Shows you the best and worst seats on the flight you're booking so you know what seat to choose.
Sleeping in Airports – If you ever get stuck with an overnight layover, this is a great guide to how and where to sleep in just about any airport in the world.
Blacklane – Get a hassle-free private transfer to and from the airport in 250+ cities around the world. Depending on the length of your trip, it could be a lot cheaper than parking at the airport.
Airport Parking Reservations – Save on airport parking by booking ahead.
To and From the Airport – Information about transportation to and from the airport. The site is ugly but I usually find the info to be accurate.
Popular posts on Travel Made Simple:
Trains, Buses and More
I live in Europe (Berlin to be exact) so I travel by train quite often. They're less stressful than flying, and they usually offer a better view out the window. Sometimes it's cheaper to take a bus, and in some parts of Europe, there might not be good train options.
Deutsche Bahn – Even if you're not traveling within Germany, the DB site is a great place to find schedules and figure out how long it takes to get from A to B. I usually start here even if I can't book the ticket through DB.
FlixBus – Great budget travel option for buses around Europe, and they even have a train option now in some places. The buses are comfortable, and it's always good to compare FlixBus with standard train options since it could save you money.
Omio – Each country in Europe has its own railway website, which can make it frustrating to book trains in multiple countries. Omio is a great place to look for trains across borders, as well as bus or flight alternatives.
Seat61 – The best information on train travel and routes around the world.
Cruises
Taking a cruise can be an interesting way to travel since it allows you to see several places on one trip and you don't have to pack up and change hotels every couple of days. Some deserve more time than you'll get on a cruise, but it could inspire you to go back on your next trip. And some places, like the polar or Nordic regions, are incredible to experience on a cruise.
Cruise Direct – Great site for finding cruises. Everything from traditional ocean cruises to river cruises, with last minute deals. Read: Italy, Greece and Montenegro Cruise Review and European River Cruise Tour Review
Vacations To Go – Flexible search options for finding cruises, including a 90 day ticker for finding discounts on cruises departing within 90 days.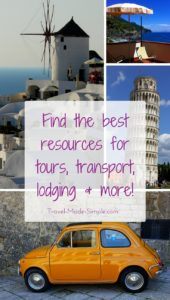 Luggage we recommend
Here's a look at luggage we own (and yes, we have a lot of backpacks!) that we recommend for traveling.
REI Trail 40 backpack – I love this backpack because it's comfortable, it has good pockets for smaller items, and it fits within most airlines' carry-on limits. They also have a men's version.
Read: Best Carry-On Luggage and Best Suitcases for Carry On Travel Recommended by Frequent Travelers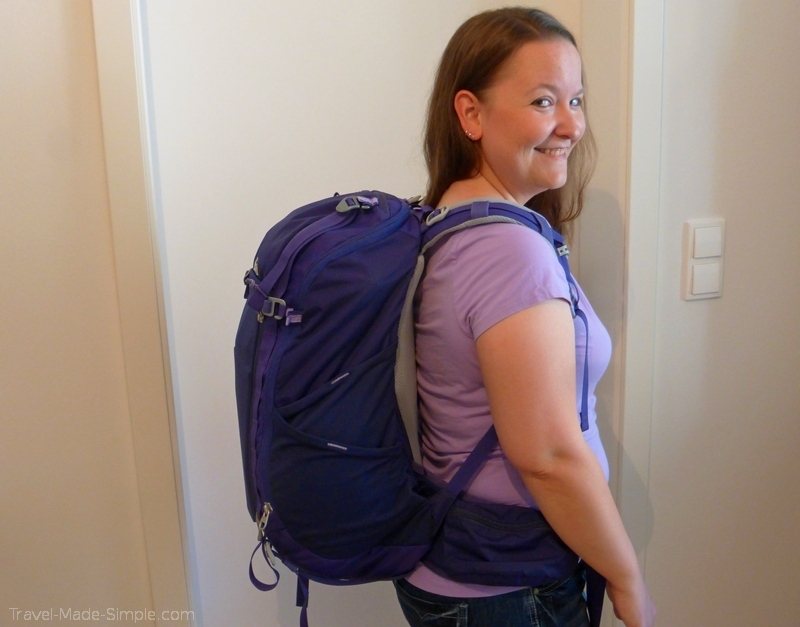 Tortuga Backpack: Tortuga makes high quality backpacks. This one has a great laptop compartment, plus lots of other handy pockets. It's also comfortable to wear and carry while looking more sleek and subtle than a typical backpacking bag. Read: Tortuga Backpack Review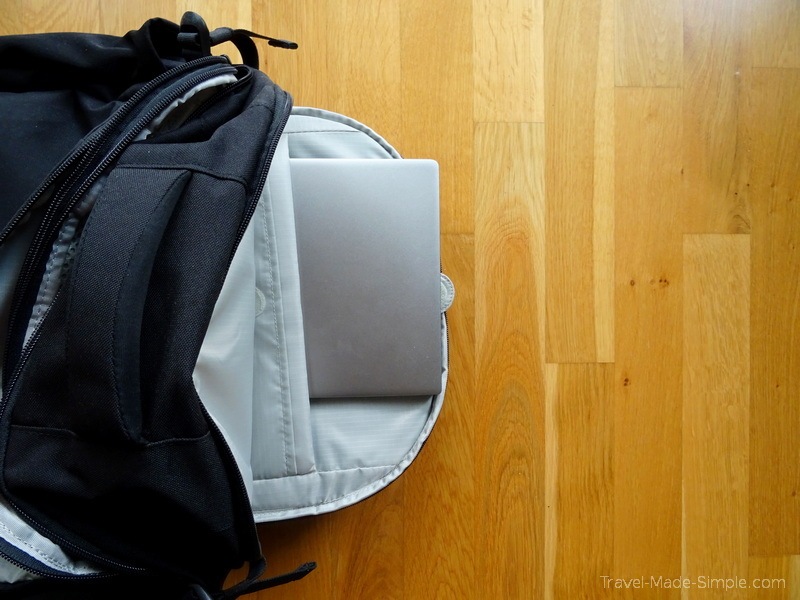 Osprey Farpoint 40: Andy has the Osprey Farpoint 40L backpack, and he really likes it. It has great pockets and holds everything he needs really well. The hip belt is well designed, making it comfortable to wear. And even though it's carry-on size in most cases, the backpack straps can be hidden away if you do need to check it into a flight.
The men's version is the Farpoint, but they also make a women's version called the Fairview.
Osprey Momentum 22L daypack – This is my husband Andy's daypack. He loves it because it has a separate laptop pocket, which makes it easy to take his laptop out when necessary. It also has a rain cover, which is super important when the laptop is in there. Osprey makes great bags, so it was an easy decision when he needed a new daypack.
Osprey Escapist 25L daypack – Andy likes his daypack so much that when I needed to replace my old daypack, I knew I wanted to get an Osprey. I didn't want a laptop sleeve like his, but I still wanted a rain cover, plus this one has plenty of pockets, which I love. I've taken it on several trips and so far, I think it's a great bag.
REI stuff bag – This makes a great daypack because it folds up into itself, so it takes up almost no room in our luggage. I'll pack it in my backpack so I have something to use for day trips but I don't want an extra bag to lug around with me all the time. Read: What to Pack for a Day Trip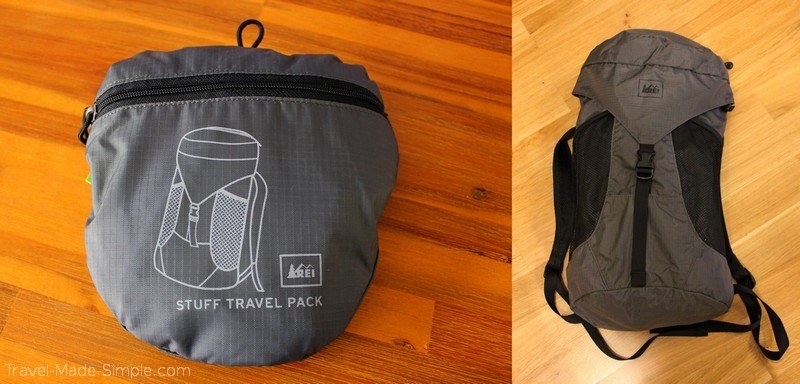 What's in my bag?
Here are a few items I almost always travel with. Read: What to Pack for a Trip: Travel Packing Checklist for Carry-On Only
Canon DSLR – I have two cameras, so it depends on the trip. I have more control with the DSLR and I like that it has a view finder (as opposed to looking at the screen on the back), but it takes up a lot of space and can get heavy.
Sony Cybershot point and shoot – On trips when I decide the DSLR is too heavy, I'll leave it at home and bring my Sony point and shoot. It has a great 30x optical zoom and settings for different situations, but on bright, sunny days, I get annoyed at not having a view finder. So I constantly go back and forth between which camera I prefer.
Kindle – I read a lot when I travel, especially if there are long flights involved. Having a Kindle means traveling with an entire library of books but without the heavy load. Check out some of my favorite travel books here.
Solid shampoo and solid conditioner: I am a total solids convert. I've tested several different brands of solid shampoo and conditioner, and I love these particular ones from Ethique so much that I now use them all the time, even when I'm at home. They really help reduce the liquids I have to pack, and they make my hair feel so nice! I've linked the ones for oily hair, but make sure you look for the one that fits your hair type. Read: Non-Liquid Options for Carry-On Travel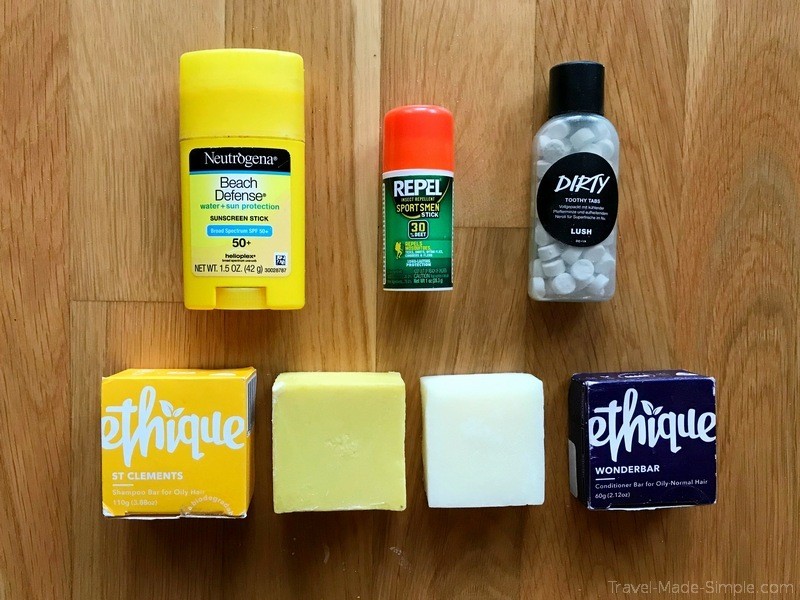 Solid sunscreen and solid bug repellent – Since I always travel carry-on only, I love finding ways to reduce the liquids I have to pack. These work just as well as their liquid counterparts. Read: How to Pack Light With Liquids
Solid perfume – Ladies, you like to smell pretty, right? Well, instead of sacrificing your perfume because it doesn't fit in your liquids bag, try solid perfume sticks. They're small, won't leak in your bag, and I think they smell great. I always travel with at least one.
Jeans and a sweatshirt – No matter the trip, I find there's always a situation where I want to wear jeans. And even in warm destinations, transportation seems to be blasting with cold air conditioning, so a sweatshirt or light jacket helps. Read: What to Pack For Trip: Travel Packing Checklist for Carry-On Only
Sarong – Sarongs are great to use instead of a beach towel or a cover-up or a light blanket because they're thin and pack up small. In a pinch, you can even ball it up to use as a pillow.
Exofficio underwear – I always pack one or two pairs of Exofficio quick-dry underwear in case I need to wash a pair in the sink. I don't wash clothes in the sink often, but it works in a pinch, and it's better to have something that dries quickly. Plus they're comfortable. Check them out on Amazon. Read: Clothing Packing Tips for Carry-On Only
Trail Wallet – Travel Budget & Expense Tracker app – OK so this isn't a physical item in my bag, but it's on my iPhone, and I use it all the time to track our expenses. I really love how helpful it is, and I even use it to track my spending at home. I definitely recommend it if you're looking for an easy way to track your travel expenses. Read: How to Make a Travel Budget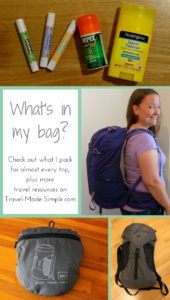 More helpful info
Popular posts on Travel Made Simple: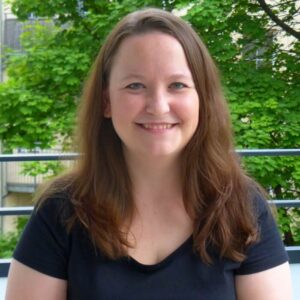 Ali is an expert at packing and loves to travel. On Travel Made Simple, she shares her best tips for packing less, dealing with layovers, planning travel itineraries, and more tips that will help you have the best vacation. Originally from the US, she now lives in Berlin, Germany with her husband and their adorable Yorkie.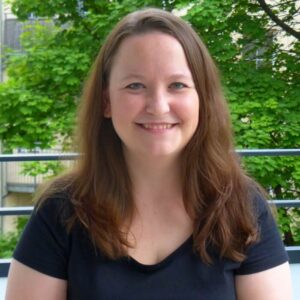 Ali is an expert at packing and loves to travel. On Travel Made Simple, she shares her best tips for packing less, dealing with layovers, planning travel itineraries, and more tips that will help you have the best vacation. Originally from the US, she now lives in Berlin, Germany with her husband and their adorable Yorkie.