Seeing the world doesn't have to be complicated.
If you want to make the most of your limited vacation days…
If you want to see the big sights, but you also want to see things not everyone else sees…
If you want to learn the secrets of the local food, beer, and wine…
If you want to have a plan for your trip while still leaving room for flexibility…
…then you're in the right place!
Travel Made Simple helps you plan your vacation and travel smarter. We offer itineraries for the places you're traveling to including the big sights and the off-beat ones. We'll show you the value in letting someone else take the reigns from time to time.
We simplify travel.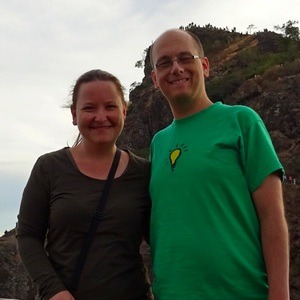 We're Ali and Andy, and we know what it's like to get overwhelmed by planning a vacation. We've jammed too many destinations into one trip and barely saw a thing. We've missed sights and eaten bad meals. We've made one misstep after another.
Luckily years of extensive travel – solo, together as a couple, and with friends – have taught me what works and what doesn't when it comes to travel planning. Now we're sharing our experience and knowledge with you here on Travel Made Simple.
Traveling with tours
Tours, especially day tours, can be a wonderful addition to your itinerary. They are a great way to get to know the destination you're visiting.
Day tours can also get you behind-the-scenes access, they can get you to the front of the line, they can teach you about the food, and they can provide you with unique experiences.
Read about fully organized tours, half and full day tours, food tours, and pros and cons of taking a tour.
View the dedicated Tours page here.
Where are you traveling?
Not sure where to go? It's a big world out there, and sometimes it's hard to choose a destination.
For new travelers, some destinations are easier to start with than others. Check out 6 countries I think are good for new travelers.
Or browse through sample itineraries and things to do in different destinations. Our itineraries will show you how to see the top sights as well as things you didn't know existed.
View the full Destinations section here.
Resources I love
From start to finish, these resources will help you book your trip. Find links to companies I love for tours, hotels, flight searches, travel gear, and more.
Packing Tips
Packing is a big part of your trip, and with airlines constantly charging more and more for checked bags, many of you might be interested in traveling carry-on only. We've got plenty of tips to help you pack less and pack better.
View the full packing section here.
Other helpful info
Hotels and other accommodation
View the full lodging section here.
Transportation
View the full transport section here.
Travel fears
View the full travel fears section here.
Books
View the full travel books section here.
You can also learn more about me here or check out where I've been!