Day trips are a wonderful way to explore an area without needing to repack and move hotels every few days. One of the great things is being able to leave the big bag behind and travel lighter. So are you wondering what to pack for a day trip?
It can be worth having a smaller day pack just for this kind of day. Chances are there are several things you want to pack for a day trip that will make your exploration easier and more enjoyable.
What to bring on a day trip
From snacks and water to a camera and Kindle, there are quite a few things you should take on a day trip.
These are the things I usually take on a day trip or just on a day wandering in town. It's not a lot of things, but usually more than I can put in my pockets, and I hate carrying things individually in my hands if I can avoid it.
Let's take a look at what makes a good day trip packing list.
Please note that some posts contain links that earn me a small commission at no extra cost to you.
What type of bag to pack for a day trip
I prefer something that can double as a day pack as well as hold of some of my important stuff on transport days. A great option is a day pack that rolls up, stuffs down, flattens, or otherwise fits in your big pack.
Here are a few that we own and recommend:
The REI Stuff Bag is a 20L day pack folds up into its own pocket
The Osprey Ultralight Stuff Pack holds 18L, weighs only 4 ounces, and packs up super small
I personally love my REI stuff bag because it folds up into itself and takes up almost no space. (Note: I have the older version, as shown in the photo below, but they've recently come out with a new version that looks even better.)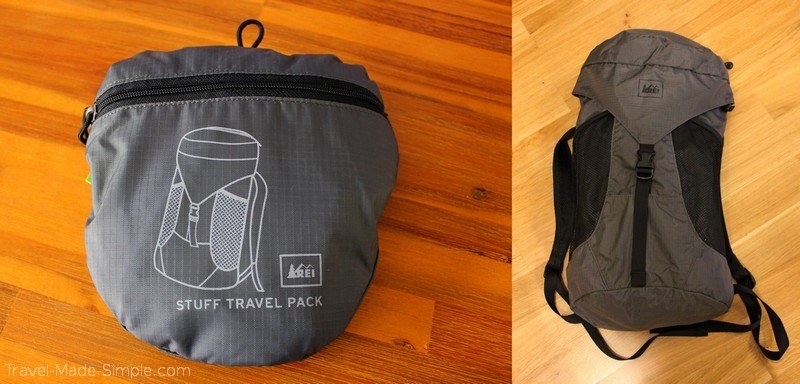 Andy loves his Osprey Ultralight stuff pack. It opens wider than the REI stuff bag does, it's a few ounces lighter, and it packs up a lot smaller.
Entertainment to pack for a day trip
Pack a camera to capture the moments and a book or Kindle for when you have down time on your day trip, like on a train.
Camera
Taking pictures is one of the joys of travels. Your travel camera could range from your iPhone to a point and shoot to a DSLR. It's probably the first thing I think to pack for a day trip.
Depending on the trip, I travel with either my Canon DSLR or my Sony point and shoot.
Although with smart phone cameras getting better and better, sometimes I only take my phone.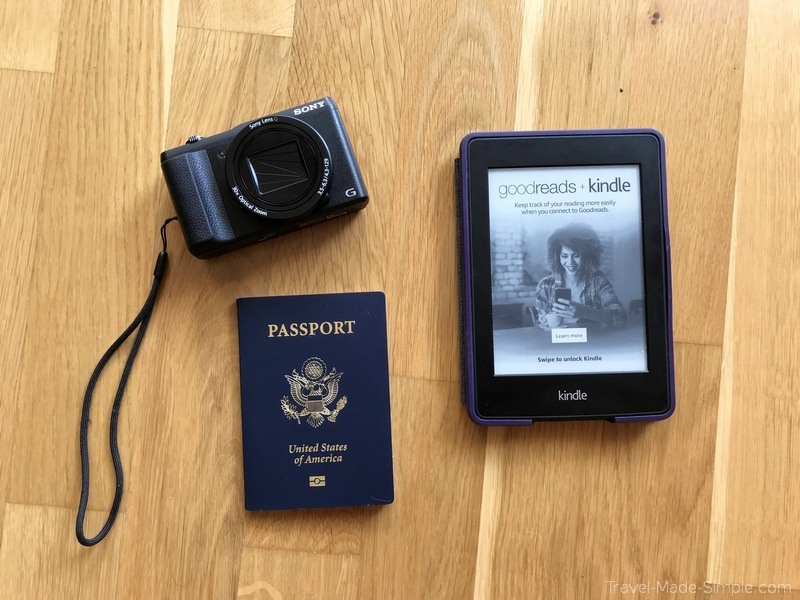 Book/Kindle
I like to have something to read on the trains, and a Kindle is a great way to carry loads of books without the weight.
Sometimes the scenery is worth watching and sometimes it isn't. If you are the contemplative type, bring a journal and a pen as well.
Looking for a tour for your day trip?
Search for one on Viator
! They have tours in almost any destination in the world, so chances are you'll find one that's perfect for your trip.
Food to pack for a day trip
It's always good to have a little snack in case you get hungry. Here are some things to consider bringing on a day trip to make sure you don't starve.
Water
Make sure you bring plenty of water on your day trip to stay hydrated. Especially if you're traveling in warm weather or doing anything physically exerting.
Or pack a soda or juice or whatever you want to drink. It is nice to have your own bottle and not have to buy more along the way. Plus you often end up doing a lot of walking on day trips, so it's always good to be prepared.
These collapsible water bottles are great for travel since they take up almost no space in your luggage. Remember, you can take an EMPTY water bottle in your carry on luggage.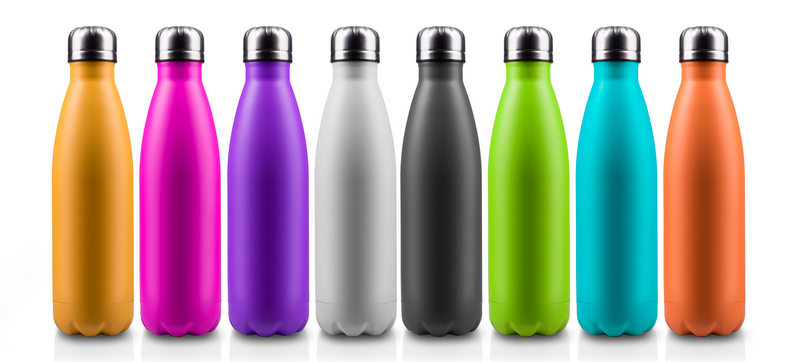 Snacks
Food never seems to appear right when you want it. I get snippy and unhappy if I am hungry, so snacks are a must when I pack for a day trip.
Snacks also help me adjust when I'm traveling in a place where the meal schedules are at different times than I'm used to, like eating in Italy.
Granola bars are great day trip snacks. Or some trail mix, fruit, or veggie sticks. Try to stick to something healthy if you can.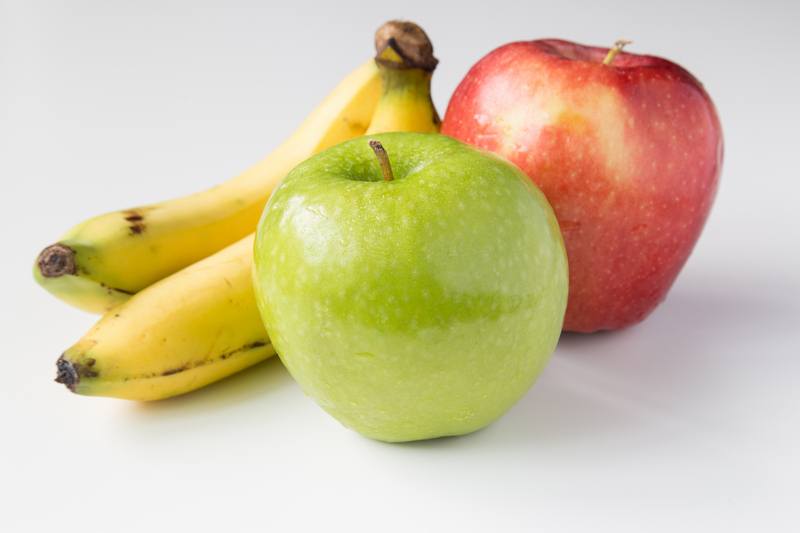 More helpful things to bring on a day trip
Here are a few more recommendations for day trip essentials. These will help your trip go more smoothly.
Umbrella
If there's a chance it might rain, or even to keep the sun off of you on hot days, an umbrella can be a smart thing to bring on a day trip. Of course this is optional based on the local weather.
Light jacket
Again, this is a situational item depending on the weather where you're traveling. If you are spending a long day out, weather can vary and nights can be cool.
Sometimes trains or buses can be cold as well, so a light jacket or sweatshirt can be worthwhile to pack for a day trip. I don't like to pack too many "just in case" items, but this one comes in handy often enough.
Maps
Even if I think I know where I am going, I still bring the map when I pack for a day trip. They are light and I have been caught lost often enough to want them.
Of course, you don't need to have a paper map. Download Google offline maps ahead of time so you can use them on your phone to navigate.
Train or bus schedule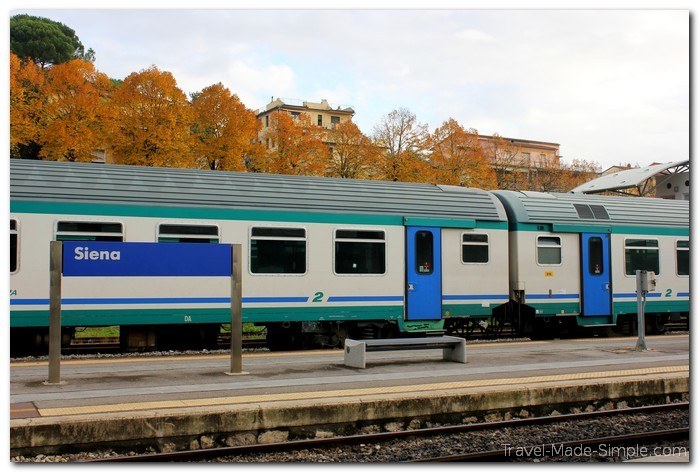 If you're renting a car and driving on your day trip, this doesn't apply to you. Otherwise, if you're taking a train or bus, you'll need to know the schedule.
You might not need to have a physical copy of the train or bus schedule, but it's important to check it ahead of time.
What's your last option for a return train or bus to your base city? How often do the trains or buses run?
Don't get caught staying late in your day trip destination and miss your last opportunity to get back to your base city and hotel!
Tissues
Tissues don't take up much room, and I often find uses for them. Aside from the obvious uses for tissues, I have been in way too many bathrooms that don't have toilet paper, so I never go out without tissues.
Coins
Speaking of bathrooms, depending on where you're traveling, you might have to pay to use a public toilet. Since these bathrooms usually only except cash, it's best to have a few coins on you for the occasion.
For example, in many parts of Europe, you'll need 1 or 2 euros to use a bathroom at a train station. Keep a couple of 1 euro coins for this.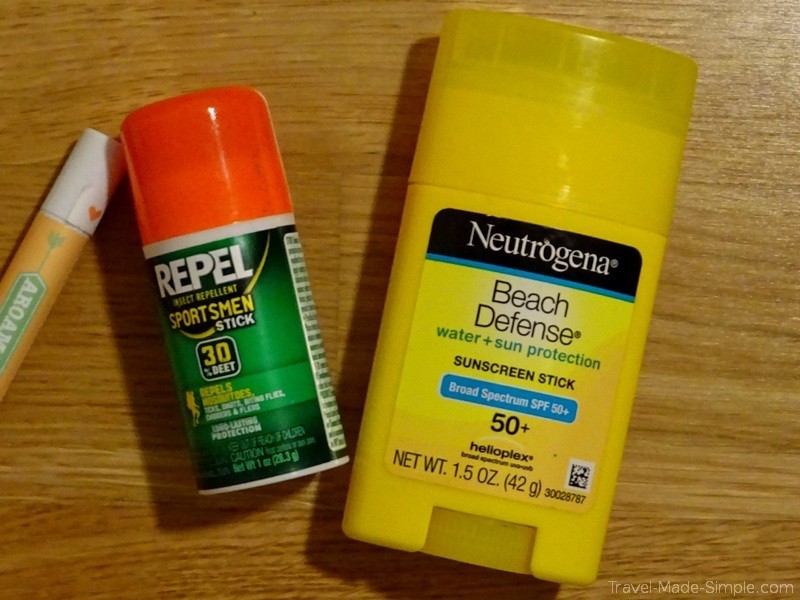 Sun protection
If you're going to be outside a lot on your day trip, it's a good idea to bring your sunscreen along. Depending on where you're traveling, bug repellent might be a good item to pack.
I use solid sunscreen and solid bug repellent, and I think they're great for cutting back on liquids.
You might also want to pack sunglasses and a hat on sunny days. I also like to bring some hand lotion and lip balm with me.
Medical items
Don't forget anything more specific to your own needs. For example, if you have medication you need to take at certain times of the day, pack it for your day trip.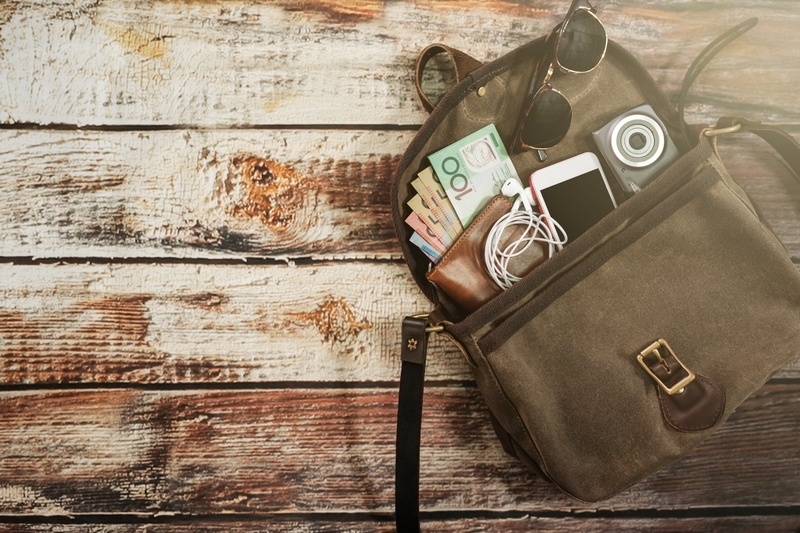 Day trip packing for two
These days, I often travel with my husband. When we pack for a day trip, we can usually deal with having one day pack between the two of us. Most of the items on this day trip packing list are pretty small and fit into one bag.
The only thing that's too big is my DSLR, so if I bring that one instead of my phone or point and shoot camera, I carry that in its camera bag. I put my ID, ATM card, and some cash in a pocket in the camera bag, so it's almost like a purse.
Day trip packing list
Here's a summary of my day trip checklist so you don't forget anything!
A great day pack
Camera (or use your phone)
Book or Kindle
Water and snacks
Umbrella
Light jacket or sweatshirt
Maps (paper or offline Google Maps)
Train or bus schedule
Tissues
Coins
Sunscreen
Bug repellent
Lotion and lip balm
Sunglasses
Hat
Medical items
You don't need to bring a lot on your day trip, but putting a few things in a day pack for a day trip will help you feel more comfortable, and you'll enjoy your day trip more if you're prepared. This is true whether you're going on an organized tour or planning a day trip on your own.
I hope this list of day trip essentials was helpful! What else do you recommend bringing on a day trip?
You might also enjoy: