When traveling carry-on only, liquids can be a big frustration.  That pesky liquids restriction means you have to find smaller versions of all your products, and you might have to leave a few things behind. But what if you could find some great non-liquid options to make traveling carry-on only a little easier?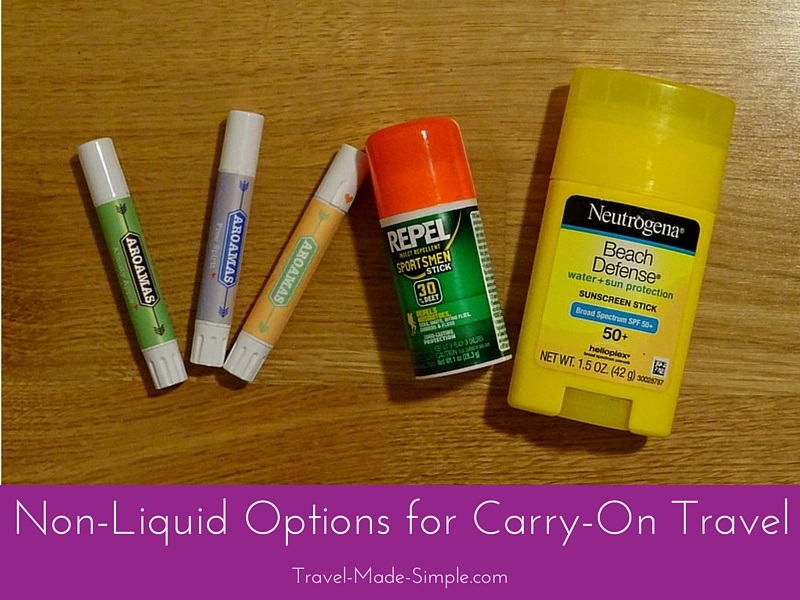 Please note that some posts contain links that earn me a small commission at no extra cost to you.
Non-liquid soap for carry-on travel
This should be an easy one. Lots of us use liquid shower gel on a daily basis, but when you're traveling, packing a solid bar of soap is an easy switch. It might not be your favorite way of showering, but it will still get you clean and it won't take up space in your liquids bag.
Solid shampoo and conditioner for carry-on travel
Solid shampoo might be for the more hard-core travelers. I understand not wanting to give up your normal shampoo, especially for the ladies, but this is something to consider if you have a lot of other liquids you just can't give up. It'll certainly help you fly carry-on only.
I personally use Ethique Eco-Friendly Solid Shampoo Bar and Solid Conditioner Bar and I love them. The conditioner bar took two or three uses before it really started working well for me, but now I love it, so be patient with it. Those links go to their versions for oily hair, but there are several different types of shampoo bars, plus a conditioner bar for those of you with dry hair.
If you happen to live in Germany, I've also tried the Jolu Shampoo Bar, and I love this one too. Unfortunately I've only been able to find it on the Amazon Germany site.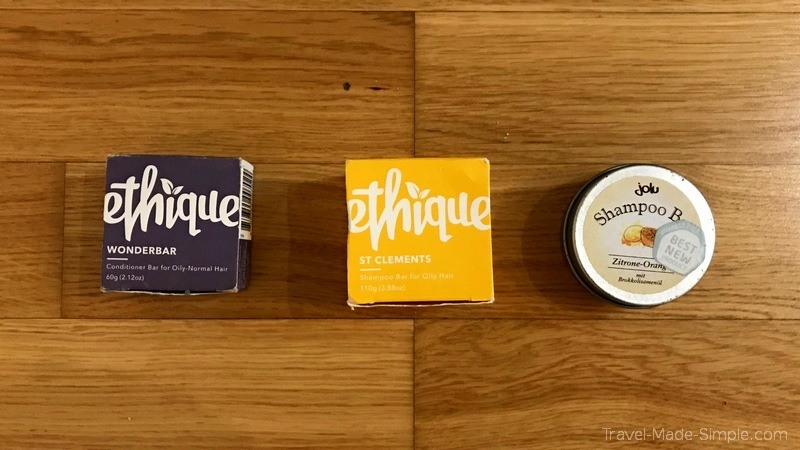 Lush shampoo bars (listed below) are also good, but each one has some kind of chunks in it, like seaweed or lemon bits, and that annoyed me after awhile. Their conditioner bar isn't great either. Even as someone who doesn't need much conditioner, I never felt like I was getting enough out of theirs.
Here are a few others to try:
No matter which ones you choose, make sure you test them out ahead of time so you know how they work with your hair.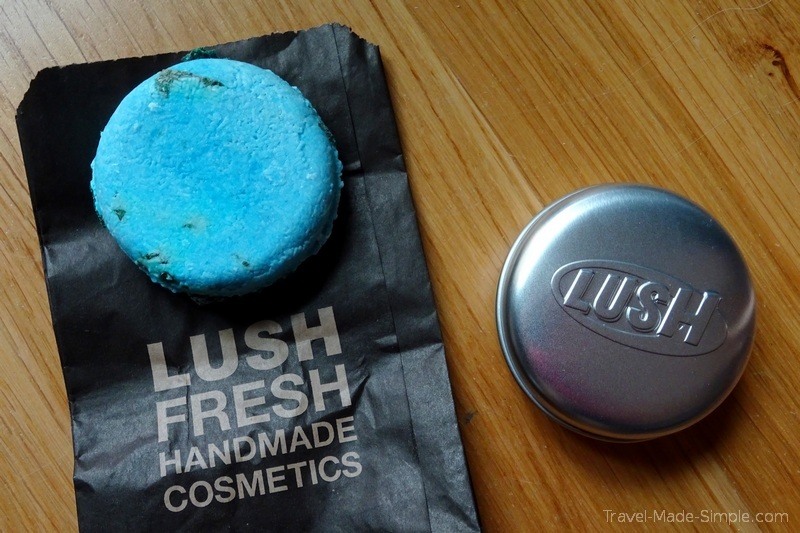 Non-liquid perfume for carry-on travel
Ladies, I know you like to smell nice whether you're home or on the road. But packing your favorite perfume might not be practical. Those bottles spill too easily, and if it's a big bottle, it might be over the 100ml/3.4 ounce limit.
I recently started working with the female travel site Her Packing List, and I got to try out their solid perfume sticks, called Aroamas. They're small, roughly the size of a lipstick but thinner. They won't leak or spill because they're solid, made from a base of coconut oil and beeswax so the texture is similar to lip balm. They come in a wide variety of scents to fit your preferences.
Update: Unfortunately the Aroamas are no longer in stock. Check out these solid perfume suggestions instead.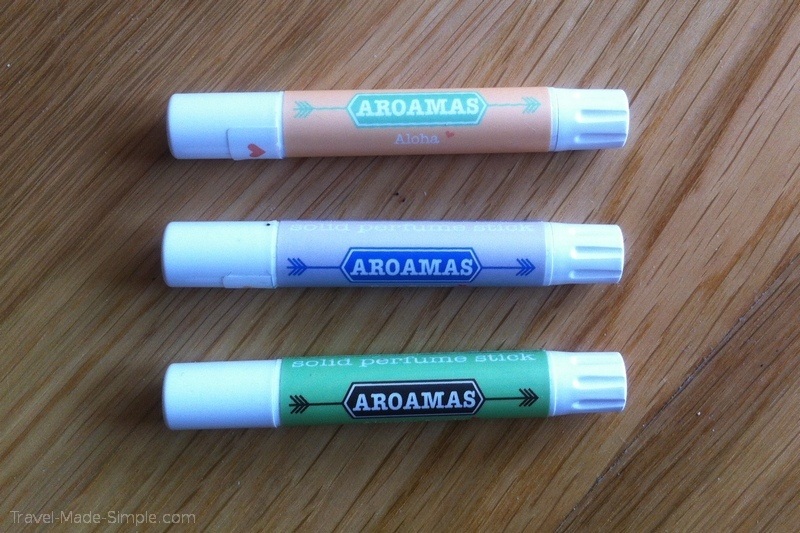 Solid sunscreen
Did you know sunscreen comes in solid form too? This is perfect for those beach vacations, or really any trip where you'll be spending a lot of time outside. I tried this solid sunscreen on a recent trip and thought it was a great option for reducing liquids.
Non-liquid bug repellent
Seriously, who knew? Instead of bug spray that gets all over your clothes, try out this solid bug repellent stick. This might be better than normal bug spray regardless of the carry-on benefits. I tried it out on a recent trip to Central America, and as long as I remembered to actually use it (I forgot a few times…oops!) it worked well to keep the mosquitoes away.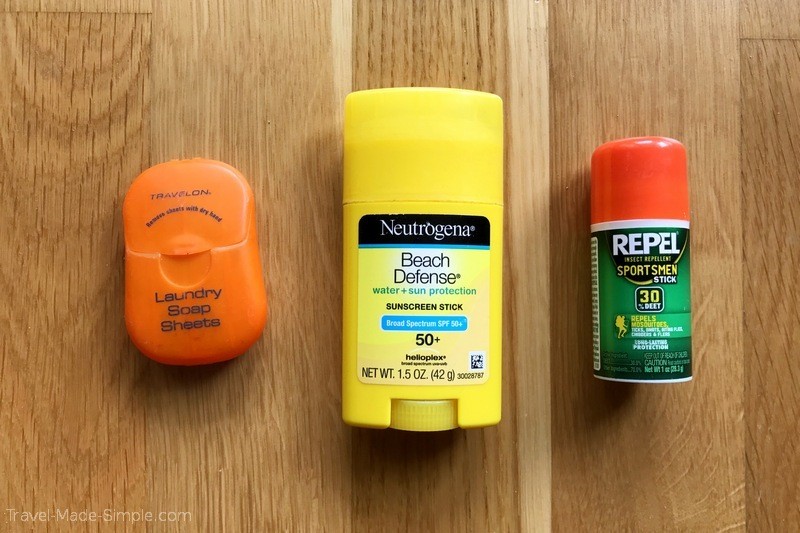 Laundry detergent
This might not apply to all of you, but if you're traveling long enough to need to do laundry, consider picking up some non-liquid laundry detergent strips. I don't recommend them for an entire load of laundry (I once tried using 4 or 5 in one load and my clothes didn't quite feel clean) but they work great for washing a few pairs of underwear in the sink when you're in a pinch.
The possibilities are endless. Do a quick search for "solid" or "non-liquid" plus the product you're interested in, and chances are there's a solid option for you. Non-liquid options for carry-on travel are a great way to reduce the liquid restrictions hassles and reduce the chances of things spilling in your luggage.
Read more great posts about packing: