Awhile back, Andy and I went on a USA southwest national parks road trip in a campervan. It turned out to be an amazing three week trip through some gorgeous locations. This was definitely a bucket list kind of trip.
Here's how to plan the best southwest USA road trip itinerary. I've included our route, plus alternatives and shorter versions for those of you who don't have as much time for a road trip out west. These road trip itineraries will work whether you have a campervan or a normal car.
Please note that some posts contain links that earn me a small commission at no extra cost to you.
Resources for planning your US Southwest road trip
Here are a few things that will make your planning a little easier:
Our 3 Week American Southwest Road Trip Itinerary
Andy and I each had specific national parks we wanted to see. Once I sketched out a preliminary route, it made sense to add in a few more parks that we would be near anyway. In total, we were on our national park road trip for a little over three weeks.
Here's a look at our southwest itinerary, and what I think is one of the best American road trip routes.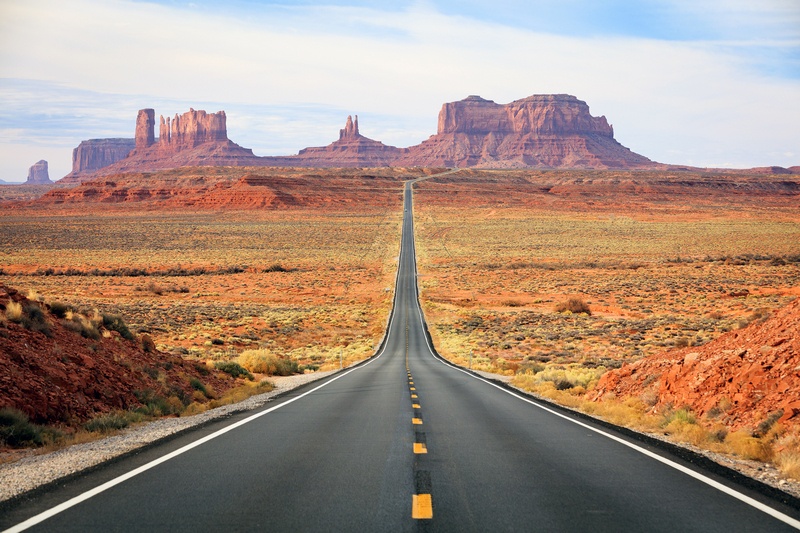 Yosemite National Park – 3 nights
Andy and I arrived late on our first day and left early on our last day, so we really only had 2 days in Yosemite National Park. It's one of the best things to do in California, so don't miss it.
Yosemite is a huge park with tons of possibilities for activities, so you certainly could spend much more time there. I was interested in trying some hiking trails, then realized the one we picked was really steep and I'm too out of shape, so we didn't finish. Oops.
I love waterfalls, so we found a few, including the famous Yosemite Falls, the tallest waterfall in the US and 5th tallest in the world. Unfortunately since it was autumn, there wasn't any water flowing, so it was basically just a really tall cliff.
We also made sure to get some good views of Half Dome, probably the most famous sight in Yosemite.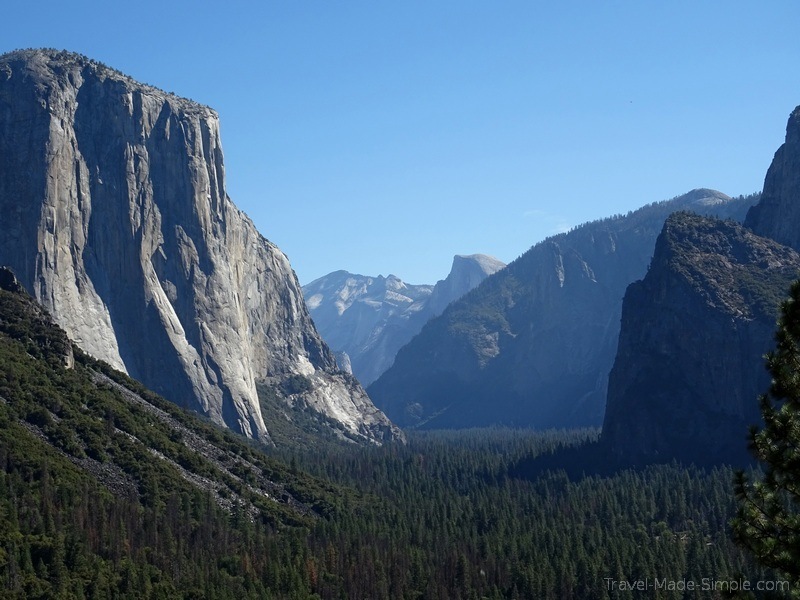 Kings Canyon National Park – 2 nights
Kings Canyon really surprised me. It's not a park I knew much about, and I had barely even heard of it before we started planning a road trip out west.
It's administered together with Sequoia National Park, so I kind of assumed it would be a similar landscape and didn't do much research.
Turns out most of Kinds Canyon is drastically different from Sequoia. The part of the park nearest to Sequoia is similar with giant sequoia trees, but keep driving east and you'll get to a very different and sparsely visited section of the park.
We hardly saw any other people at our campground or on the trails. It was so unexpectedly gorgeous that this park ended up being one of my favorites on the trip. I highly recommend including Kings Canyon on your national parks itinerary.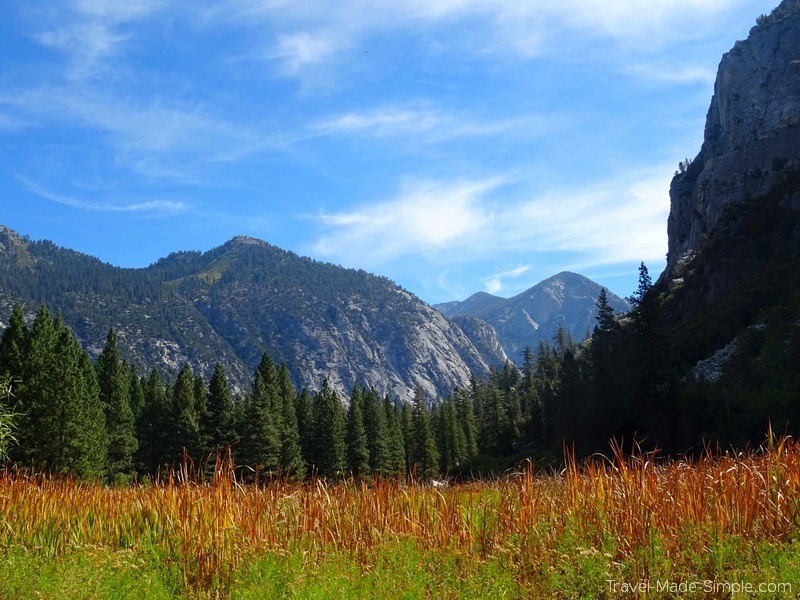 Sequoia National Park – 1 night
Since Kings Canyon and Sequoia National Parks are so close together, we decided to only spend 1 night in Sequoia. There are lots of things to do in Sequoia, but it's a small park, and unless you're a serious hiker, you can see the highlights in a day.
We hiked downhill to the famous General Sherman tree, the biggest tree in the world by volume. It's hard to understand just how large this tree is without seeing it in person.
Then we started hiking back up the hill and realized we were at a really high elevation, meaning we had to keep stopping to catch our breath.
On our way out of the park the next day, I noticed something dark and moving in a tree. It turned out to be a bear!
Since we had just spent almost a week in bear country (more on bear safety later in the post) without actually seeing a bear, I was actually very excited to finally see one, especially since it was up in a tree and we were safely in our car. Sorry, I wasn't able to snap a photo.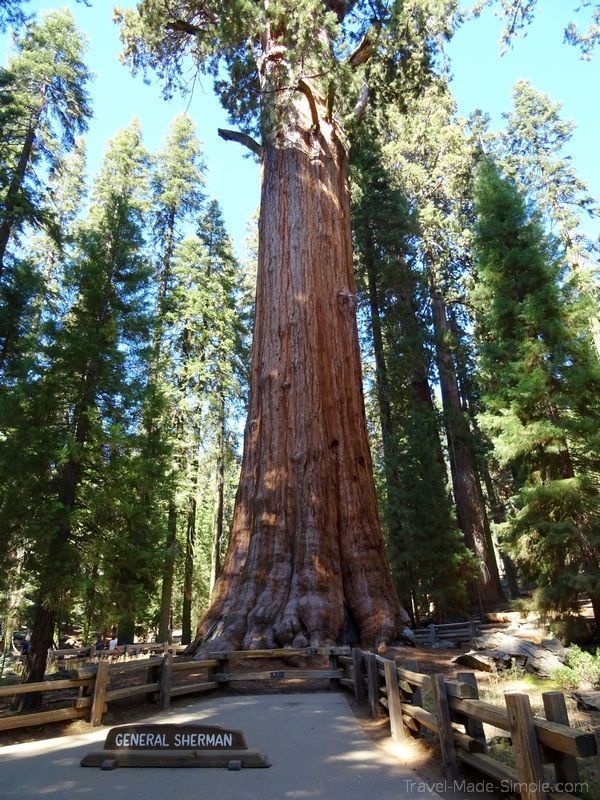 >>Read: 13 Best Midwest Road Trips
Death Valley National Park – 2 nights
Death Valley is a weird place. It's this giant swath of nearly uninhabitable land where the temperatures regularly soar over 100F, and yet it's absolutely gorgeous. It's also so desolate and so far from any real towns that there's virtually no light pollution at night.
On our first night there, after settling into our campsite, we sat down to watch the stars as the sky grew darker. It was so awe-inspiring, I'm not even sure how to describe it.
I had never seen so many stars, and I had never been somewhere so dark where you could actually see the Milky Way. It literally brought tears to my eyes, and even though I don't think we needed to spend 2 nights in Death Valley, I'm glad we did because I got to see those stars one more time.
The park itself has some really interesting sights, including the lowest point in the US and in the western hemisphere. We also drove around to see some places where the original Star Wars movies were filmed. And yes, it was just as unbearably hot as you might imagine. But worth it.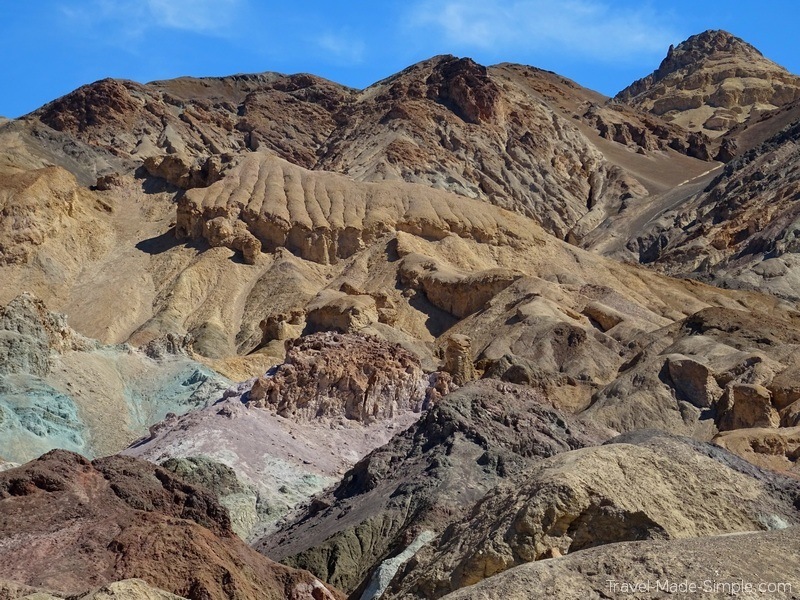 Las Vegas – 1 night
We stopped in Las Vegas for one night because my best friend lives there and it felt like a good halfway point between Death Valley and the Grand Canyon. Even if you don't know anyone in Vegas, I think this makes a good stopping point since the distance is rather far to do in one day.
It's also really easy to get from the Las Vegas Airport to the Strip, so you could fly into Vegas to start (or end) your road trip if you want. Las Vegas is a great starting/ending point for a loop through Arizona and Utah.
Even if gambling the strip doesn't appeal to you, Vegas still makes a good starting and ending point for a southwest road trip like this. Instead of gambling, you could see a show or eat at a world class restaurant. Be sure to have a delicious and cheap breakfast in Vegas before starting your road trip, and stop by the Hoover Dam on your way out of town.
Grand Canyon National Park – 3 nights
I visited the Grand Canyon many years ago, but Andy had never been there, so I felt like it was an important place to add to our western US road trip. It truly is one of the best natural wonders in the USA and one of the most beautiful places in the world.
We only had time to visit the south rim, but I've heard the north rim is really amazing and a totally different experience. You'll need a lot more time to do both because they are not close to each other.
The Grand Canyon is one of the most popular national parks in America, so you can expect crowds almost all year round. Even if you're looking for ideas for winter getaways in the US, the Grand Canyon could be a fun choice.
We went to some of the popular viewpoints along the south rim and hiked down the very beginning of Bright Angel Trail, just enough to say we had been below the rim.
But we also took the park shuttles along the Hermit's Rest route (combined with walking certain sections of the route) and the Kaibab Rim Route for more views a little farther from the visitor center.
We also drove out to the Desert View Tower and stopped at many of the lookout points along the way back, which I highly recommend.
The Grand Canyon is not to be missed. It's a highlight on many of the best Arizona road trips, and I definitely recommend spending a few days there.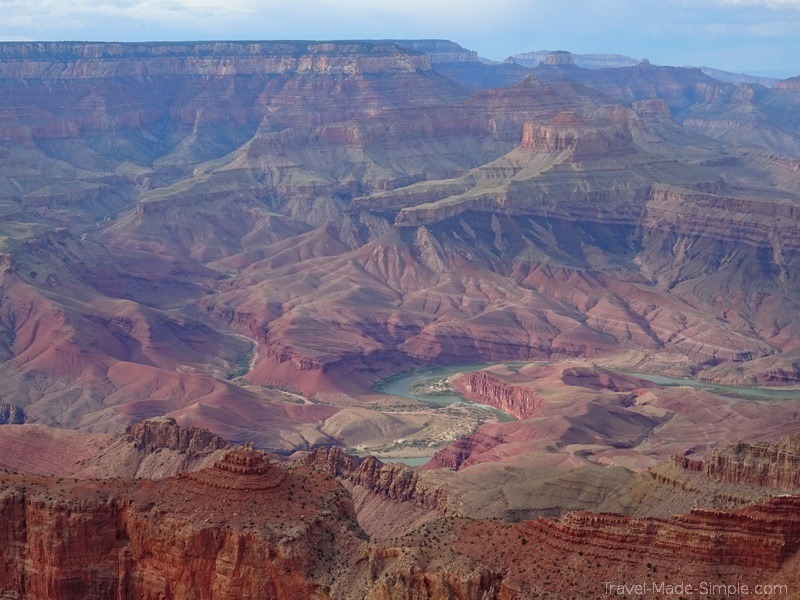 Antelope Canyon in Page, AZ – 2 nights
Our next stop on our southwest road trip was Page, AZ to see Horseshoe Bend and Antelope Canyon.
The Upper and Lower Antelope Canyon tours are by far the most famous, but I have heard horror stories about how crowded they can get, and they didn't sound like fun. Since there are many other sections of this canyon system, we searched for other less popular tours.
What we found was a Canyon X tour that turned out to be fantastic. It was a small group, and the only other group running at the same time was an even smaller photography group.
This meant it never felt crowded and we never felt rushed. It was the wrong time of the year to see those famous light beams anyway, and I was much happier being in a non-crowded slot canyon that was just as gorgeous.
Page, AZ is also famous for Horseshoe Bend, and while it's pretty impressive to see, keep in mind that it's also a very crowded spot. Luckily you can get the views and the photos you want from many points along the lookout, so just be patient.
Our campground was actually located at Lake Powell, which is within the Glen Canyon National Recreation Area, so we had some pretty amazing views there. Even if you stay somewhere else, I recommend taking an hour or so to drive around by the lake.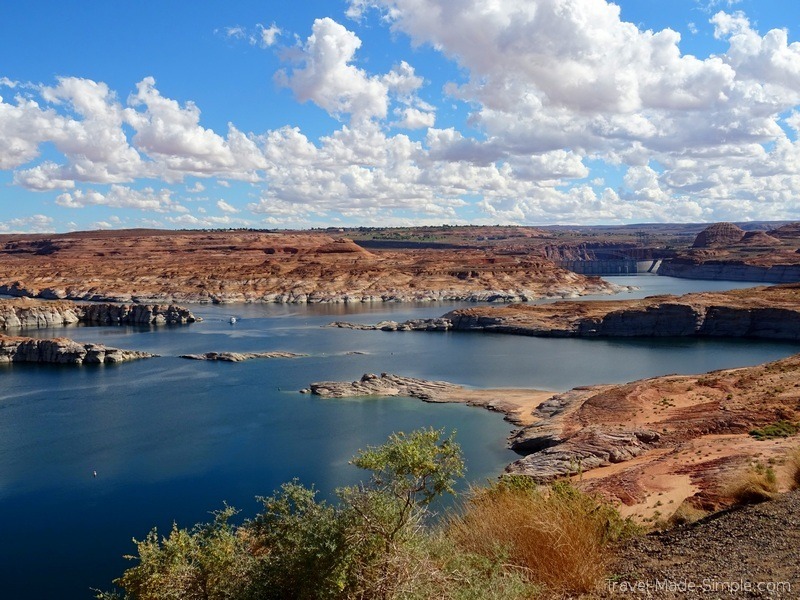 Monument Valley Navajo Tribal Park – 1 night
Monument Valley is where so many old western movies were filmed. Even if you've never heard of it, you will easily recognize the distinctive landscape.
Since it's on the Arizona/Utah border, it makes an easy stop between parks in the two states.
Inside the park, there are rocky paths you can drive through on your own to see the sights. However, some sections are off limits to people driving on their own, so we decided to book a Navajo tour.
Our tour started a little before sunset, so the end was really pretty. And since some of those roads were super rocky and not really even roads, I'm so glad we didn't take our vehicle in there. I highly recommend this Navajo tour for your visit to Monument Valley.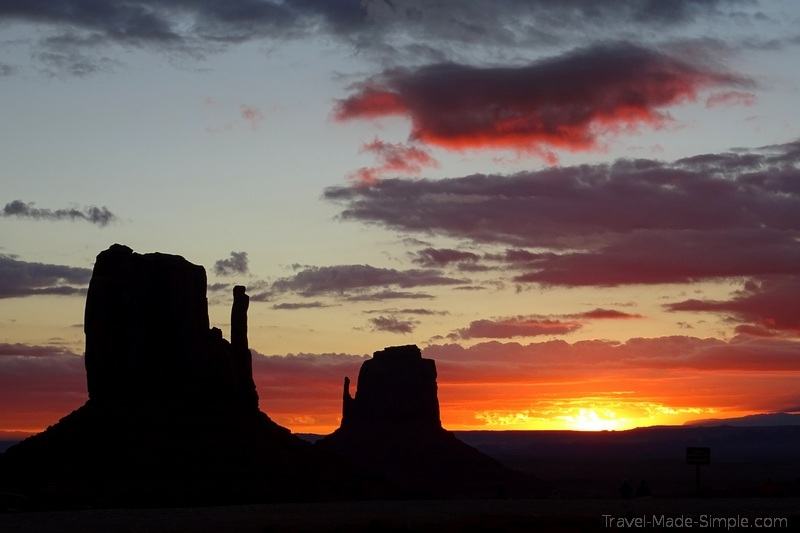 Four Corners – in transit
I like cheesy attractions sometimes, and I couldn't resist a small detour to see the Four Corners Monument. The Four Corners states are Arizona, Utah, New Mexico, and Colorado.
It turns out the monument is on Navajo land, and you'll pay a small fee to get in. There's really nothing else around, but if you have time, this is a fun little stop.
Arches National Park and Canyonlands National Park in Moab, UT – 4 nights
After stopping at the Four Corners, we continued driving and eventually arrived in Moab, UT.
Moab is a great town for hiking, and it's home to two national parks, Arches National Park and Canyonlands National Park, plus Dead Horse Point State Park. You could easily spend several days here exploring each of these parks and more.
We managed to squeeze in a few hours at Arches at the end of our arrival day, knowing bad weather was rolling into town. Arches was pretty amazing, and I wish I had been able to see more of it.
But that night it got cold and started raining, and that rain lasted almost our entire time in Moab.
Twice we drove out to Canyonlands hoping to explore, once even deciding to hang out reading in the car while waiting out the rain. We did manage to see a good amount of the park, and even though it was rainy and/or foggy the whole time, I could tell this park is worth the effort.
We didn't make it to Dead Horse though. The road that splits off from Canyonlands had quite a bit of standing water over it, and we didn't want to take any chances, so we turned around. But we did spend one afternoon driving along the Colorado River where we got some really nice views. If the weather had been better, we probably would've looked at taking one of Moab's jeep tours.
You would probably fine to only spend 2 or 3 nights in Moab, but we wanted a little extra time to relax on such a long trip. And there are plenty of things to do in Moab if you do stay a bit longer.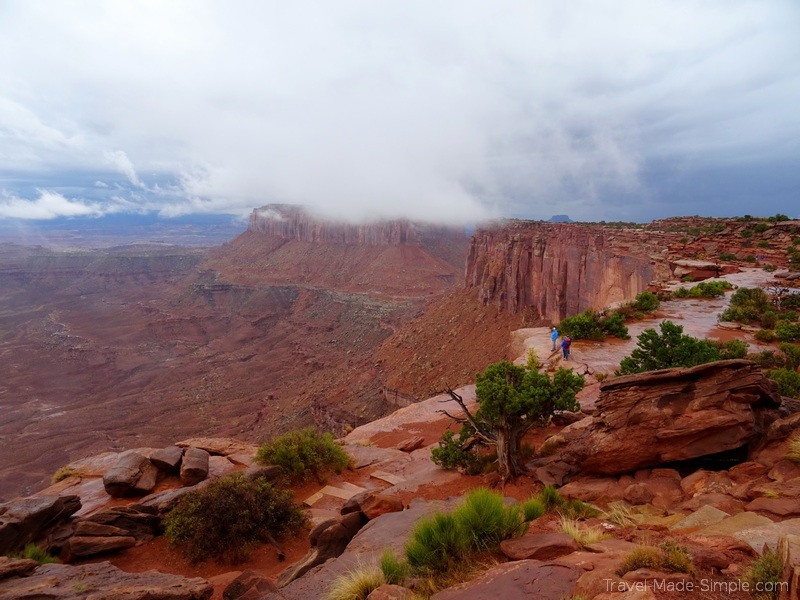 Capitol Reef National Park – in transit
Capitol Reef is pretty much on the way from Moab to Bryce Canyon, the next stop on our road trip. Since it was possible to drive through it on the way, we stopped to check it out for an hour or so and to eat lunch out of our van.
I'm sure this is a great park to spend more time at, but we enjoyed the little bit we saw, including some petroglyphs.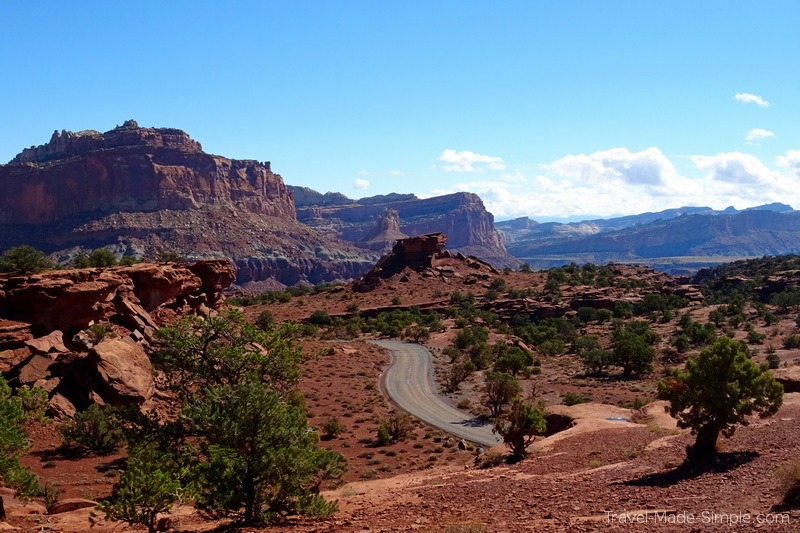 Scenic Highway 12 in Utah – in transit
After leaving Capitol Reef National Park, we made our way to Scenic Highway 12. This rather windy mountainous road certainly lives up to the "scenic" part of its name, and it was one of the best fall drives in the US for the amazing colors of the leaves.
It was a nerve-racking drive in certain sections, but well worth the detour. This is one to add to your Utah bucket list for sure.
Due to the unusually cooler weather southern Utah was experiencing, these higher altitude areas actually had some snow. I thought this was a fascinatingly beautiful route. Just watch out for the cows wandering onto the road.
Bryce Canyon National Park – 2 nights
Bryce Canyon National Park is one of the most popular national parks in southwest USA. It had snowed a little the night we arrived, so when we got up the next day to go into the park, we were greeted by snow-covered views.
Bryce Canyon is quite high – some of the highest points are over 8,000 feet – and I quickly realized I wasn't going to be able to handle much hiking. If you're in better shape than me, you'll be able to do more.
Andy and I took the shuttle van (highly recommended as there isn't much parking beyond the visitor center) around to a bunch of lookout points and enjoyed the views. After getting back to our van, we did drive out farther to some points not on the shuttle route.
Zion National Park – 1 night
I'll be honest, we were getting pretty burnt out by the time we got to Zion National Park. We whittled it down to a few hours at a few spots along the shuttle route (no cars allowed beyond a point not far from the visitor center) and saw as much as we could manage.
Like most national parks, you can enjoy it in a single day, but there's also enough sections to see and hiking trails to explore that you could spend several days without getting bored.
Valley of Fire State Park – in transit
After Zion National Park, we were headed back to Vegas for a few days, and I insisted on stopping at Valley of Fire State Park in Nevada along the way.
In the desert not too far from Las Vegas, we were back in really hot temperatures and decided not to spend too much time there. We checked out some petroglyphs and stopped off at a few viewpoints before continuing on our way.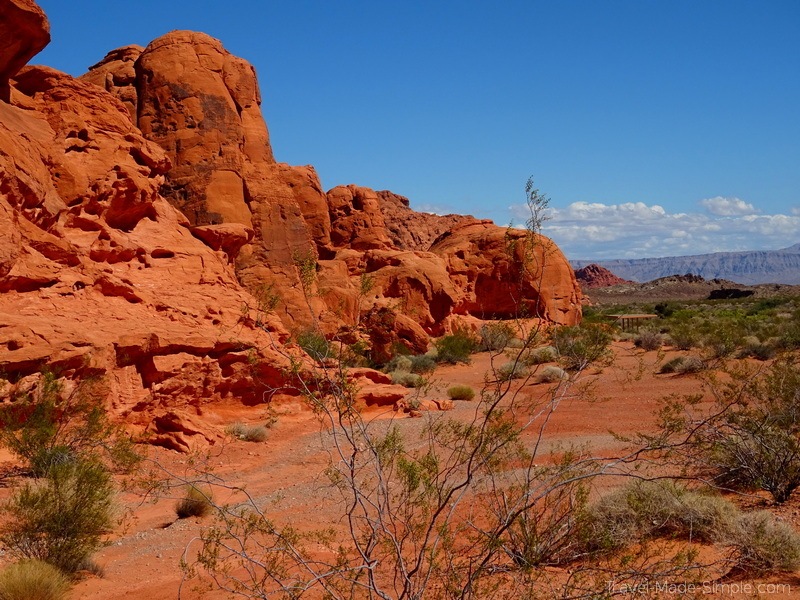 Las Vegas – 3 nights
Again, we spent one night at my friend's house, and the next morning she helped us drop off the van.
Then Andy and I spent two nights in Las Vegas at the Luxor Hotel since he had never been to Vegas before. We gambled a little on the slot machines and walked around on the strip to check out a bunch of the famous casinos.
If Vegas is your thing, you could easily spend a few days here gambling, seeing shows of all kinds, and eating at buffets and fancy restaurants.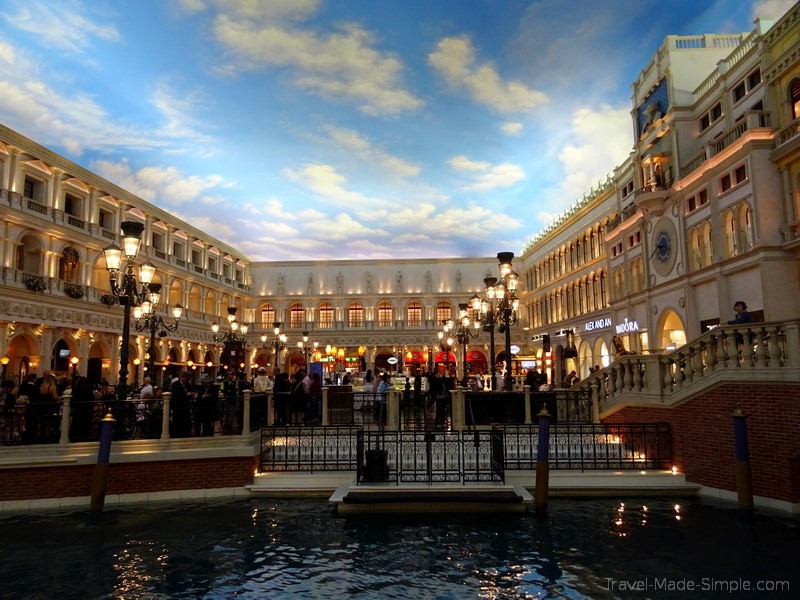 Alternate Southwest USA Road Trip Routes
Now, I understand not everyone has 3 weeks or more for vacation at one time, so our exact route might not work for you.
I've split up our Southwest USA road trip itinerary into smaller itineraries, plus some other destinations to consider that we didn't make it to. The possibilities are endless really, but here are a few examples.
California National Parks Road Trip Itinerary
If you only have a week or so for your trip, you can easily spend it exploring Yosemite, Kings Canyon, Sequoia, and Death Valley. Fly into San Francisco, Oakland, San Jose, or Sacramento to start your trip, and fly out of Las Vegas. Here's my recommendation:
3 nights in Yosemite
2 nights in Kings Canyon
1 night in Sequoia
1 night in Death Valley
By leaving each park for the next one in the morning, you'll maximize the amount of time you have in each place. Kings Canyon and Sequoia are close enough to each other than you can see the sights in Sequoia the day you arrive.
This itinerary provides a varied landscape of mountains, lots of different trees, canyons, and desert.
If you have more time and want to continue traveling in California, other parks to consider include Joshua Tree National Park to the south, Big Sur on the coast, or Redwood National Park to the north.
Check out these tips for visiting Joshua Tree National Park if you decide to go. I was sad we weren't able to squeeze it into our itinerary.
Or if you want to include some cities on a two week California road trip, spend a few days in San Francisco and Los Angeles. Mixing in both cities and national parks will give you some nice variety and a good look at the many things this great state has to offer.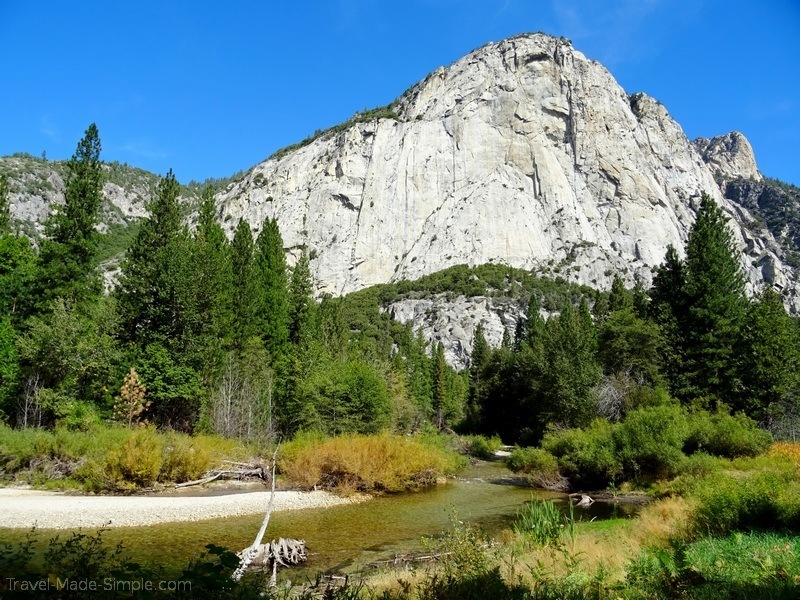 Grand Canyon Road Trip Itinerary
The Grand Canyon is someplace I think everyone should see at least once in their lifetime, so add it to your AZ bucket list if you haven't already. Spend 3 nights there and explore different points along the south rim.
If you're up for it, hike some or even all of Bright Angel Trail. Then drive up to Page, AZ and spend 2 nights, which will give you a full day to do an Antelope Canyon tour and see Horseshoe Bend.
After Page, drive up to Monument Valley on the AZ/UT border and spend a night to see this famous western landscape.
Fly into either Las Vegas or Phoenix, and fly home from Phoenix. If you have an extra few days, consider also visiting the North Rim of the Grand Canyon for a couple days. Or add a few days in Sedona, AZ, which isn't far from Flagstaff.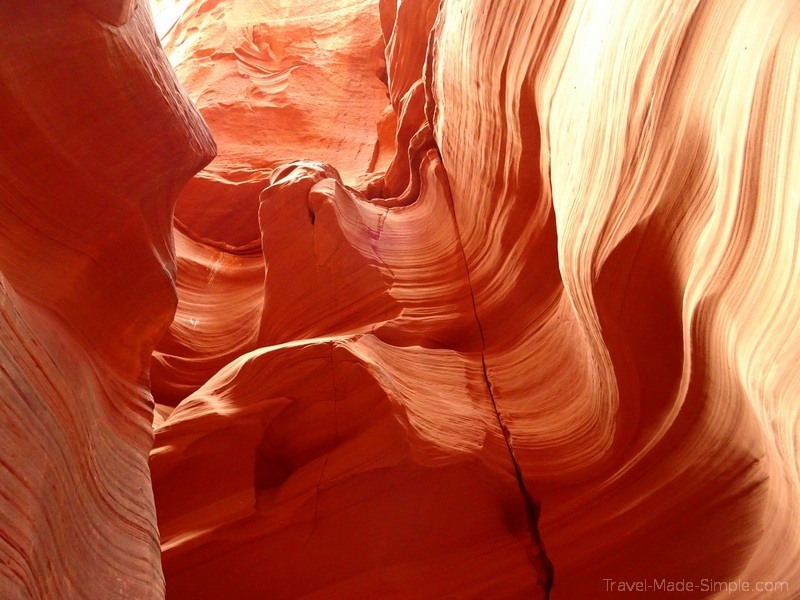 Arizona Utah Road Trip Itinerary
As an alternative to the Grand Canyon road trip itinerary, the Arizona Utah road trip itinerary gives you a taste of some of the best parks in both states. For this itinerary, I recommend flying into either Las Vegas or Phoenix and flying home from Las Vegas.
3 nights at the Grand Canyon
2 nights in Page, AZ
2 nights at Bryce Canyon National Park
1-2 nights at Zion National Park
Optional: 1 night in Monument Valley before visiting Page
Additions to this itinerary could include Mesa Verde National Park in Colorado, Sedona, AZ, or Sagurao National Park in AZ. And there are so many things to do in Phoenix that you could easily spend a few days there before heading out into nature.
1 Week Grand Circle Road Trip
The Grand Circle is a loop of the 5 national parks in Utah, and it makes a fantastic road trip itinerary. It's best to fly in and out of Las Vegas for this itinerary.
1 night at Zion National Park
1-2 nights at Bryce Canyon National Park
1-2 nights at Capitol Reef for a day, by way of Scenic Hwy 12
2 nights in Moab, UT to visit Arches National Park and Canyonlands National Park, and possibly Dead Horse Point State Park
From Moab, it's a long, roughly 7 hour drive back to Las Vegas via I70 and I15. If you have more than a week, continue driving south instead and visit Monument Valley.
Depending on your timing, either spend the night or explore for a few hours before continuing on to Page, AZ for a night or two. Then drive to Las Vegas for your flight home.
You could also consider going to Mesa Verde National Park in the southwest corner of Colorado or adding a few days at the Grand Canyon.
Mapping It All Out: How to Plan Your US Southwest Road Trip Route
Start with a list of parks and other destinations you'd like to see. Then plug them into Google Maps to see what the route looks like and what the distances are.
If you can specify the campgrounds you're hoping to stay at, even better because Google Maps won't always use the best point for a big park.
Keep in mind that most parks out west are pretty remote. Speed limits vary, roads can be steep and windy, and you can't always drive as fast as Google thinks you can.
If it says it'll take you 4 hours to get from point A to B, you might want to allow for 5 or 6 hours. Google also doesn't account for gas stops, meal stops, and OMG-that-looks-so-pretty-I-need-to-pull-over-and-take-a-picture stops.
We found it was always better to leave early in the morning and arrive at the next destination while it was still light out.
On the first day of our trip, we got a much later start than we anticipated and arrived at Yosemite after the sun went down. Driving through steep, curvy roads in the dark was a little nerve wracking, and I did whatever I could to avoid it after that.
Look at the map and see what big towns and cities are in between one destination and the next. This is where you'll go to restock on groceries and other supplies.
While in California, we stopped in Fresno and Bakersfield for lunch as well as shopping at Target and Whole Foods. In Arizona and Utah, we weren't near so many big towns, so we went to whatever local grocery stores were around.
Why you should buy a national parks pass
The normal entrance fee for most of the popular national parks is anywhere from $20 to $35. If you don't plan on going to more than two national parks all year, it's fine to simply pay the fee.
But if you're going to multiple parks, it is well worth buying a national park pass. For a national parks road trip, this is going to save you a lot of money on entrance fees!
The America the Beautiful pass costs $80 and is valid for one year. It covers admission for the pass holder plus anyone else in the car. The pass works at national parks, national wildlife refuges, and many other national recreation areas and monuments.
Here's a list of all the national parks we visited on our trip and how much the standard entrance fee (per car) is without a pass:
Yosemite National Park: $35
Sequoia-Kings Canyon National Parks: $35
Death Valley National Park: $30
Grand Canyon National Park: $35
Glen Canyon National Recreation Area (Lake Powell): $30
Arches National Park: $30
Canyonlands National Park: $30
Capitol Reef National Park: $20
Bryce Canyon National Park: $35
Zion National Park: $35
Without the pass, we would've spent $315 on national park entrance fees!
Note: The national park pass does not include state parks or Navajo tribal parks.
You can buy the pass at the gate at many national parks, but sometimes they run out, and as we found, sometimes no one is at the gate.
We arrived after dark at Yosemite, the first park on our road trip, and no one was at the gate. Since you need a pass or some evidence that you paid the entrance fee, this could've caused us problems the next day.
Luckily, before we ever started our trip, we found out REI also sells America the Beautiful national park passes. Many times throughout our trip, I was so happy we bought one through them because we didn't have to worry about it anywhere along the way.
Buy your national park pass online
from REI
before you start your trip!
You might also enjoy: