The following itinerary for 3 days in Richmond comes to us from Erin Beard. All photos are by Erin.
If you've read about Richmond, Virginia in the news in recent years, it's probably because of the food scene that's made a nationally-recognized name for itself. From biscuits, to hand pies, to pizza, to fine dining, there's something for everyone here.
But the great thing about Richmond is that it's not just food. We've got art and music, we've got nature and hiking, we've got beer, we've got history, and boy, do we have festivals.
Here's how to spend 3 days in Richmond.
About Richmond, VA
Founded in the early 1700s by William Byrd, II, Richmond has been important throughout history. It was named for the view of the James River from Libby Hill in Church Hill – Byrd thought the view looked just like that of the River Thames from Richmond Hill in London.
During the Revolutionary War, Richmond is where Patrick Henry gave his famous "Give Me Liberty, Or Give Me Death!" speech, which ultimately led to setting the course for revolution and independence from Great Britain.
Richmond was the capital of the short-lived Confederacy during the Civil War. And in more recent memory, Richmond has become a cultural destination for tourists and Virginians alike.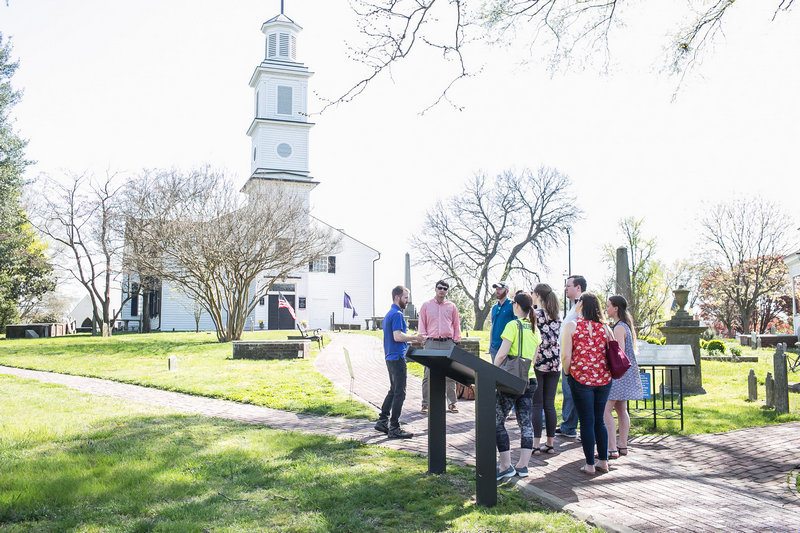 Please note that some posts contain links that earn me a small commission at no extra cost to you.
Day 1 – Downtown, The Arts District, and The James River
There is no shortage of breakfast spots in the city, but since day one will be spent downtown and around the James River, we'll recommend you start your day with a hearty meal at Perly's Delicatessen or Pop's Market on Grace.
After breakfast, grab River City Food Tour's Self-Guided Mural Tour and spend a couple of hours walking around downtown/Jackson Ward/The Arts District, exploring the more than 60 murals painted on the sides of buildings, in empty alleyways, and among the hustle and bustle of downtown Richmond.
Richmond's art scene doesn't disappoint, and part of downtown is actually called The Arts District because of the sheer number of galleries and street art you'll see in this part of the city.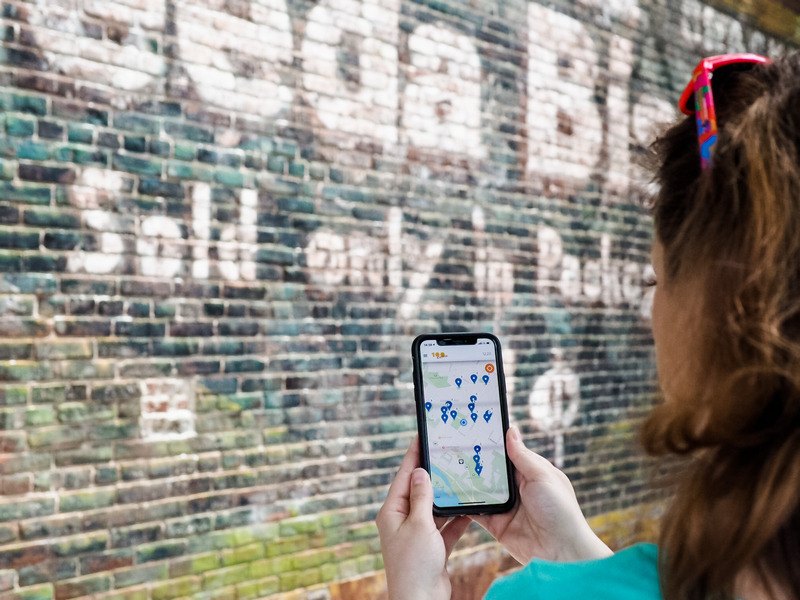 It's probably time for a snack at this point. Grab a coffee at Urban Hang Suite, or an iced beverage and freshly-baked good at Lift Coffee Shop.
If you've made it to lunchtime, check out Wong Gonzalez for casual Asian-Mexican fusion or Soul Taco for some of the best tacos in town.
Now let's make it over to the James River, where you'll get incomparable views of the Richmond skyline, and as much urban hiking as you want. If driving, find a spot on the 5th street hill; this will get you close to Brown's Island, Belle Isle, and the Pipeline/Canal Walk.
Fun fact: The James River is the only river flowing through an urban area with up to class 4 rapids! (More on that later.)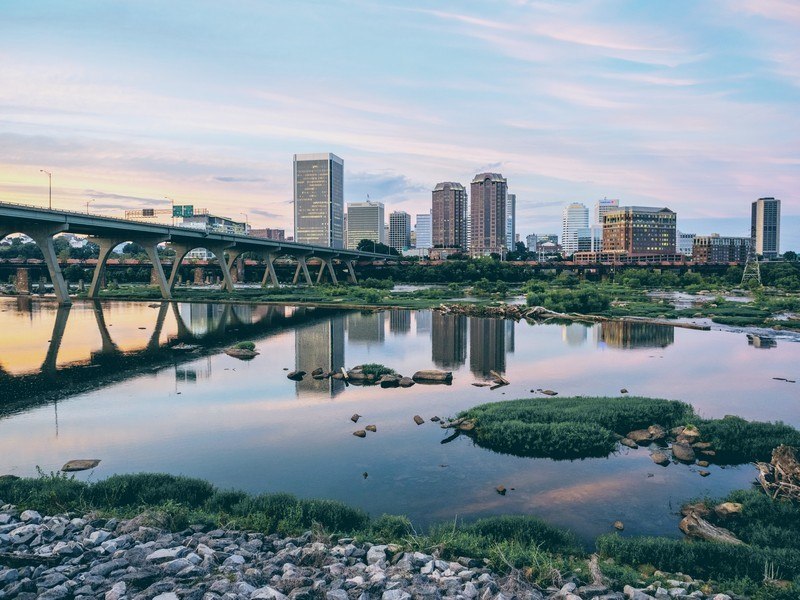 Let's start with the Pipeline, which, as gorgeous as the river views are, is hardly ever busy. Walk across one of the bridges to get onto Brown's Island.
Then walk east for a bit until you get to the old ice cooler that's kept there for Friday Cheers, Richmond's premier summer concert series. You'll find a dirt path that runs through the wood and along the edge of the James before popping you out onto the Pipeline.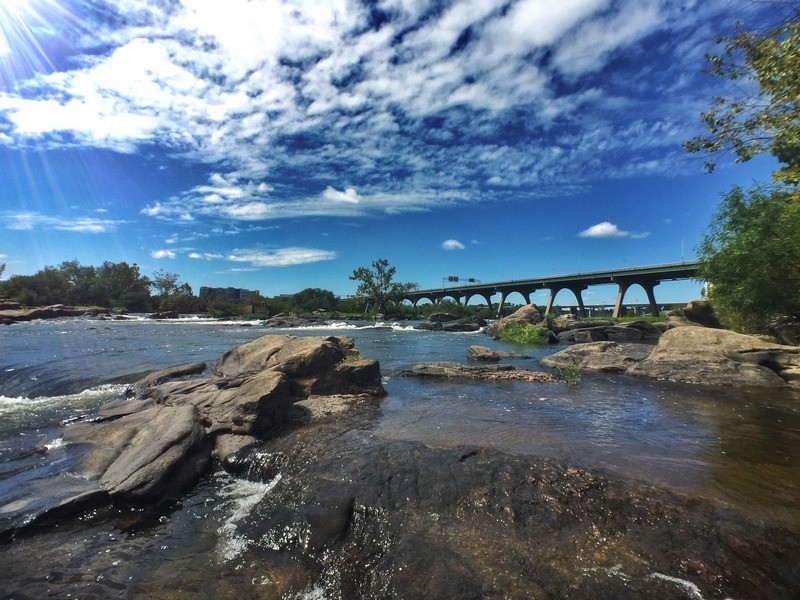 After walking across the Pipeline, you'll come out at 14th street, which is part of Richmond's Canal Walk. Follow the canal and the murals back to Brown's Island.
Head across the T. Tyler Potterfield Bridge, a newly constructed pedestrian bridge that gets you unmatched views of the skyline and the kayakers and rafters below.
>>Traveling to the Midwest? Here are some great itineraries for road trips in the Midwest.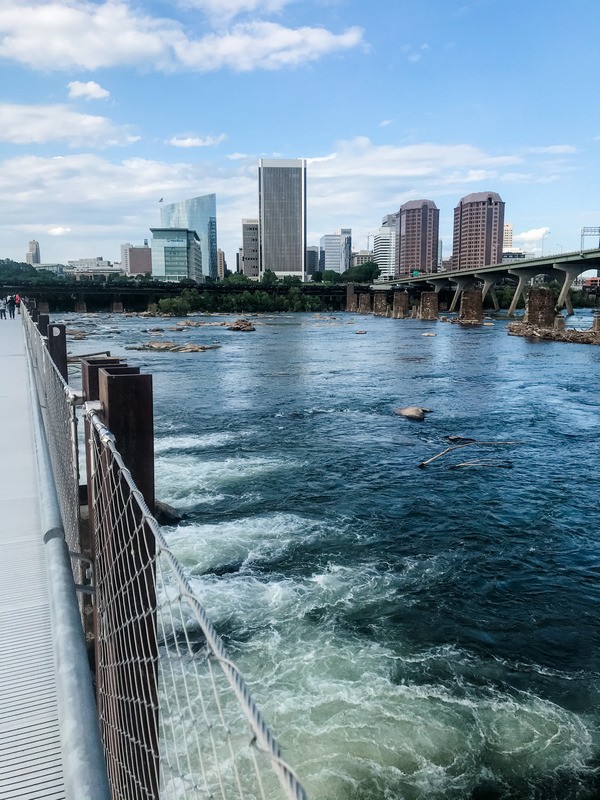 Walk across the whole bridge and venture a little bit farther east, and you'll be rewarded with the patio view and delicious beers at Legend Brewing Co., Richmond's oldest brewery.
You're probably pretty tired from all the walking around today, so we recommend grabbing a sunset dinner and drinks at one of downtown Richmond's rooftop bars, of which there are several!
Check out the Q Rooftop Bar on top of the Quirk Hotel, Kabana Rooftop (Richmond's tallest rooftop by a hair), or the Byrd House Pool and Rooftop Bar atop the Graduate Hotel.
Day 2 – Carytown, Church Hill Food Tour, and Scott's Addition
Welcome to day 2 in Richmond, but we hope you're not too tired for another big day of walking and exploring!
Before you start your day walking around Carytown (Richmond's "Mile of Style"), grab a breakfast sandwich on one of the best biscuits you've ever eaten at Early Bird Biscuit in the Fan.
Head over to Carytown to walk up and down Cary Street, admiring and shopping at the colorful and varied boutiques and shops.
Carytown is one of the few neighborhoods in Richmond without an official historical designation which gives owners of shops liberty to paint the outside of their storefronts however they wish. This gives Carytown its charm and spunk.
If you've got more time to kill before your 2 p.m. Church Hill Food Tour, we highly recommend checking out the Virginia Museum of Fine Arts, just a few blocks from Carytown.
The museum itself is free, and there is always an unbelievable rotating exhibit (paid) available downstairs. Past exhibits include Edward Hopper and The American Hotel, Congo Masks: Masterpieces from Central Africa, Terracotta Army, and so much more.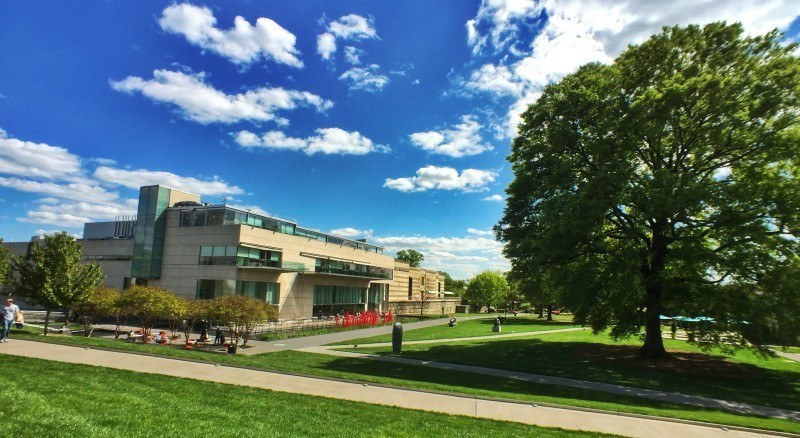 You're probably ready to eat now, but grab a snack or hold off if you can help it because you'll be starting your Church Hill Food Tour very soon, and we promise you won't want to miss out on anything!
Church Hill is Richmond's oldest neighborhood. On the food tour here, you'll try delicious foods from up to five different establishments, all while learning history about the area, urban legends about the Richmond Vampire, and cool stories about Civil War spies.
If you're lucky, your tour guide will also give a terrible rendition of the "Give Me Liberty, Or Give Me Death!" speech by Patrick Henry, which happened at St. John's Church, which we'll visit while eating authentic New Zealand hand pies.
Okay, so we assume you're pretty full now. If you're not, kudos to you and we'll make sure to recommend a few quick bites at your next stop, Scott's Addition.
Scott's Addition is Richmond's coolest (or hottest, depending on how old you are) neighborhood. With more than a dozen breweries, cideries, meaderies, and distilleries, in this walkable neighborhood, there's something to quench your thirst no matter your drink preferences.
Find a great spot to rest your legs here – we recommend the rooftop at Starr Hill, or the outdoor spaces at The Veil, Ardent, or Väsen. See a full list of Richmond's Breweries & Craft Beverage Makers here.
If hunger still consumes you, grab some street tacos at Don't Look Back – Triple, or find one of the amazing food trucks likely to be hanging out at one of the nearby breweries.
Day 3 – More River, More Food, More Fun
All right, so we expect you're fairly tired by now, but we hope you have one more day of adventure in you! Don't worry, you'll be doing far less walking today, because we've got two different tours on tap for you.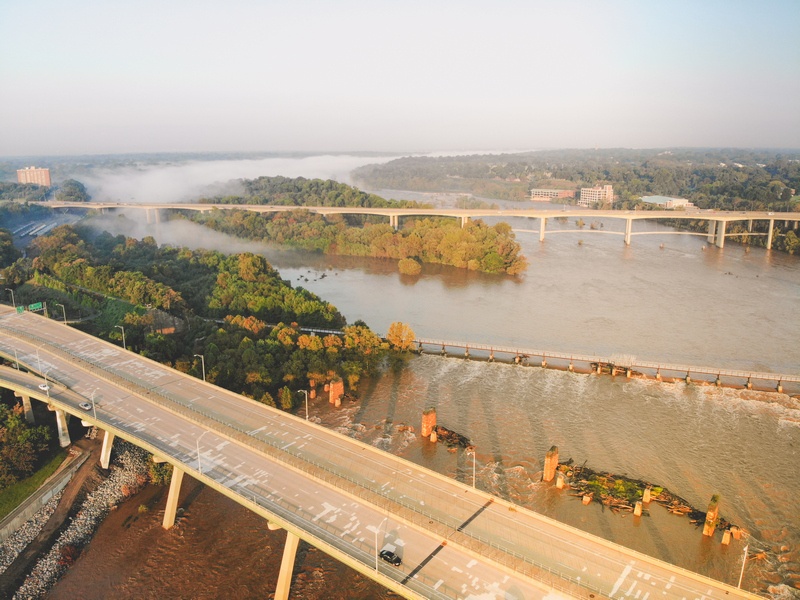 The first is a morning rafting trip with RVA Paddlesports or Riverside Outfitters.
Remember when we mentioned that the James River is the only river flowing through an urban area with Class 4 rapids? Well, you're going to check them out! (Not to worry, your tour guide will make sure your rafting experience is tailored to your adventure preferences!)
After a morning of water sports, you'll definitely be ready for lunch. Since your second tour involves beer, we recommend a pretty hearty lunch to get some food in your stomach.
Check out Cafe Rustika for a schnitzel feast, or visit one of the restaurants from the Day 1 itinerary you didn't make it to (Soul Taco, Wong Gonzalez, Urban Hang Suite, Lift Coffee Shop, Pop's Market on Grace).
We want you to stay downtown, because your final tour of your Richmond experience is going to be a Richmond Brewery Tour!
You'll hop on board the 14-passenger bus and check out three breweries or cideries (if you book a private event in advance, you can even request certain establishments), all with beer samples and an actual brewery tour for good measure.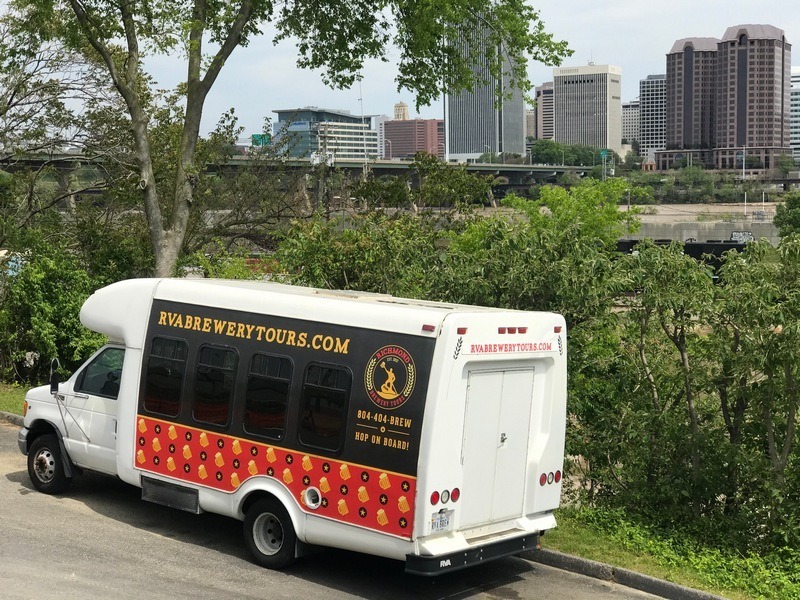 Once your brewery tour has ended, you might be hungry again for one final meal.
You can't leave Richmond without trying the multiple James Beard-nominated Mama J's for authentic soul and comfort food of fried chicken and/or fried catfish, mac and cheese, collard greens, and some of the best cake you'll find in the city.
If there's any energy left, cap off the night with drinks at The Jasper, which in 2020 was named to Southern Living's Best Bars in the South.
Where to Stay in Richmond
AirBnB is very popular in Richmond. We recommend staying within city limits if possible, as it's much easier to get around via foot, public transportation, and even car that way. We like to recommend the Museum District, the Fan, Scott's Addition, Church Hill, and Downtown/Art's District.
>>Read more about Hotel Alternatives for Your Vacation. Or if hotels are more your style, find out How to Choose the Right Hotel.
When To Visit Richmond, VA
There's not really a bad time to visit Richmond. The summers are prime time for water activities along the James, and the winters are great because it only snows once or twice per year, on average. But really, the best time to visit is the spring and fall due to milder temperatures and beautiful foliage!
Getting Around Richmond, VA
Many of Richmond's neighborhoods are very walkable, but getting in between neighborhoods would likely require a vehicle of some sort.
There is a pretty significant Bike Share option for getting around, as well as an option for electric scooters – Bolt Mobility (best used after you put the app on your phone).
The GRTC Bus System is pretty well connected, but it's most efficient when using the Pulse to go West-East (or back) in the city down Broad Street.
More than likely, however, a private vehicle will still be the quickest way to get around Richmond. Street parking is almost always free (except during the week in business districts), and parking is ample around town.
I hope this helps you plan your 3 day itinerary for a trip to Richmond!
About the author: Erin and Brian Beard own and operate River City Food Tours, which was founded in 2015. It is the top-rated, most delicious food tour in Richmond, VA. Experience a food tour in various neighborhoods, including Carytown, Church Hill, The Arts District, and Scott's Addition. RCFT also offers self-guided scavenger hunts and a mural tour of the Richmond area.
You might also enjoy: