In a city like Tokyo, where every metro stop has its own unique musical jingle, you better believe that neighborhoods have different landscapes of food. For our first few days in the megacity, we stayed in the Shinbashi (sometimes spelled Shimbashi) neighborhood and did a food tour of the area. The area is known for salarymen eating at little places after a day at the office. The tour we picked touted narrow alleys full of food stalls and yaki-tori sticks under the train lines. In short, this Tokyo food tour was a great introduction to Japanese food and a unique view of Tokyo.
We have written about how we like food tours early in our trip. We booked this tour for the evening of our arrival, both as a way of fighting jet lag and to get a big helping of knowledge about Japanese food before having to do it on our own.
Japan food in the western world is likely most characterized by sushi. However the cuisine is local and varied far beyond raw fish on rice. And for weirdos like us, who don't like sushi, we were happy to see lots of variety.
Why take a food tour in Shinbashi?
Only a few metro stops on the Tokyo ring from the main station, Shinbashi is actually quite convenient for travelers without being overly crowded by tourists. The neighborhood was crowded, but with Japanese locals going about their day. The area is characterized by the large number of offices nearby instead of any big sight.
We learned that food is pretty much everywhere in Japan, but often in the most unlikely places (to us anyway). Sure, just a turn from the main street is a network of alleys abounding in little restaurants.
More surprising, you'll often find networks of even smaller restaurants down a few levels from the street under major office buildings. These often open up only at 6pm when the workers stream down into them. Over all this was a great start to learn about Japanese food.
>>Read about the food tour we took in Tokyo's Meguro neighborhood.
Shinbashi Food Tour
We booked a food tour through Viator, though unfortunately I can't seem to find the exact one anymore. Our guide met us just outside of the train station, and then she took us on a trip around the neighborhood experiencing different foods.
Food is everywhere, even in the basement
The first stop on our Tokyo food tour was down in the basement of a huge office building. We were a bit early, so there were not many people yet. "Little restaurants" like these means there's often 6 or 8 seats around a bar and that is it.
Here we tried a dish called Oden which involved vegetables and tofu stewed for a long time in broth. If you like this kind of thing, then it was quite tasty and filling. Apparently the broth is used and developed for a week before being started again, so different days could taste different.
Next we walked several streets to our next stop. Our guide was a young woman from Mexico who has been living in Tokyo for many years, and she had some interested insights to what it is like to live in Japan as a foreigner, which was fascinating.
We heard about the practice of restaurants placing plastic renditions of their food on display outside as a visual menu. This came in handy in a few places throughout our trip to Japan when there was no English and we could simply point at one of the plastic menu options in the window.
We learned that convenience stores like FamilyMart and 7-11 are ubiquitous in Japan and super popular. Also we learned that these places actually have some hot food. This knowledge saved us several times during the trip when we needed a quick and easy meal.
Grilled Fish and Sake
The fish grill, our next stop, was more formal than the food stand and had us sitting around a low open grill with coals built under a set of screens. Our guide ordered some fish and veggies and proceeded to grill them.
She got distracted a few times talking to us and a waitress was there with a pair of chopsticks to flip the fish. Having fish burn would have been some sort of faux pas as I understand it.
There was plenty of interesting fish here, including Fugu, eel, and several types of fishcake. Fugu is the well known poisonous blowfish that is deadly if prepared wrong. (They brought that to us fully cooked, thankfully not trusting us with it.) Ali thought that was the best of the fish options.
The other thing we learned at this stop was all about Sake, which is apparently just the generic word for alcohol in Japanese. We tried several types as diverse as any wine.
Yakitori: Meat on Sticks
Another short walk found us at a restaurant tucked underneath the train tracks. A quick glance in the window revealed a grill and an array of meat on sticks. Jackpot!
Yakitori roughly means chicken-grilled and usually implies on-a-stick and a common type of restaurant open in the evenings. We learned about this style of restaurant as the trains above occasionally set the place to shaking.
Sticks come either with a sauce or just salted. We tried chicken meat, pork belly, and some nice little green peppers. Our guide also ordered some pork that you scoop up with cabbage and some kind of soup.
We also asked for an English menu and realized quickly that the Japanese eat more bits of the animal than we were used to. From pork rectum to chicken hearts and cartilage. Not our thing at all, but if you can order "normal things" this is our favorite type of place. We liked this place well enough to come back the next night to try more.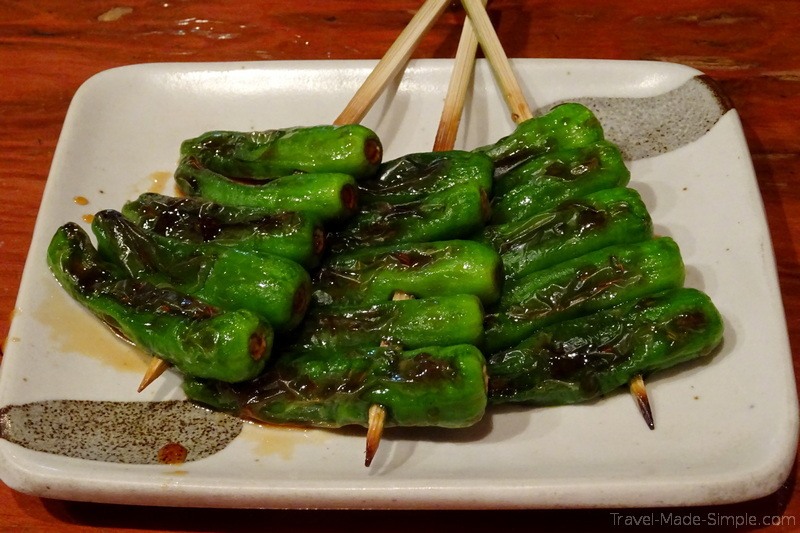 When is a fish not a fish?
The last stop was dessert which was a Taiyaki place near our hotel. Taiyaki means grilled-sea-bream (which is a type of fish), but in this instance it actually means a cracker-like dough in the shape of a fish filled with sweet bean paste or custard.
It was fun to watch the worker fill large iron platters to make 6 fish at a time. There were enough people waiting for this dish that they were gone the moment they were out of the mold, so when you get handed a crispy dough fish shape, be careful because it is most likely piping hot.
What did we think of the food tour
For our first night in Tokyo, it was a really good experience. We got to explore our hotel's neighborhood and got to know some places to try. One of the worst things to have happen in travel is to wander hungry not finding something to eat. This would not be a problem that neighborhood.
The tour provided plenty of food. We got several alcoholic drinks as well. The price is higher than many other food tours in Europe, but Japan is an expensive place to live and most things involving people are just expensive. It was pretty standard price-wise for what we saw around the country.
The tour guide was very knowledgeable about the local food and had lots of interesting facts and stories to tell us. The food was delicious, and I'd definitely recommend this tour.
Be aware that the stops and exact food on the tour can vary, so not every tour will be the same or match what we ate on our tour. But I think you'll have fun no matter what!
Who is this food tour good for?
I would recommend this tour…
…if you are staying in or near Shinbashi.
…if you want to see a part of Tokyo that isn't crawling with foreign tourists like busy Shibuya.
…if you want a broad view of Japanese food and won't be disappointed to not see Sushi.
Have you been to Japan? Did you take a food tour in Tokyo?
You might also enjoy: