As we always do, Andy and I looked for food tours during our trip to Lisbon. And since I love showing you varying options (and let's face it, I'm addicted to food tours) we decided to also take a second food tour with a different company.
Sometimes it's nice to experience the variations a city can offer when you go from one neighborhood to another. This tour took us through the neighborhoods of Baixa, Chiado, Bica, and Cais do Sodré, all while teaching us about traditional Portuguese foods.
Don't forget, it's always best to book food tours early in your trip to make use of the tips. Even if you only have 2 days in Lisbon, a food tour can be super helpful and fun.
Please note that some posts contain links that earn me a small commission at no extra cost to you.
We took this Tastes & Traditions of Lisbon Food Tour, a great tour company we had experienced several times in Spain. Keep reading to find out what we ate and why you should take this Lisbon food tour.
Pastries for breakfast
This food tour started in the morning, so our first stop was at a bakery for a small breakfast. The bakery was packed with locals and tourists alike, and we stood at a long table to eat our goodies.
Our guide explained what they were and a little about the history of the cafe, which turned out to be one of the oldest bakeries in Portugal. Since we didn't eat anything before leaving our hotel, this was the perfect way to start our food tour.
>>Read: Itinerary for 2 Weeks in Portugal
Cod and Ham
Cod is a big deal in Portugal. Even though this fish doesn't live near Portugal, it has become one of the most important foods in the country. Supposedly there are hundreds and hundreds of ways to prepare cod in Portugal.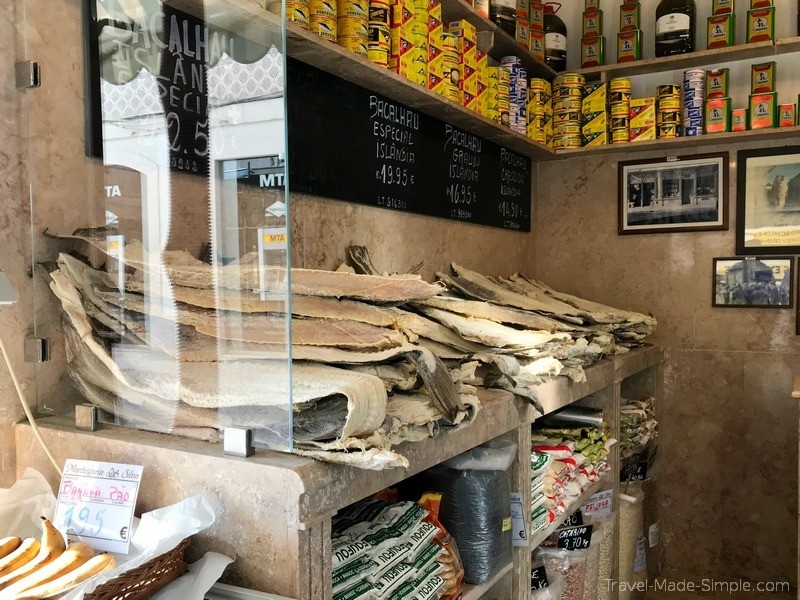 Our guide stopped by a shop that sells giant slabs of salted cod, a sight you'll see quite frequently while traveling in Lisbon.
And then next door, a ham shop, another popular food in Portugal. Here we got to try two different varieties of ham while hearing about the Portuguese ham traditions.
This wasn't a long stop, but it was a nice break along our walk to the next place on the tour.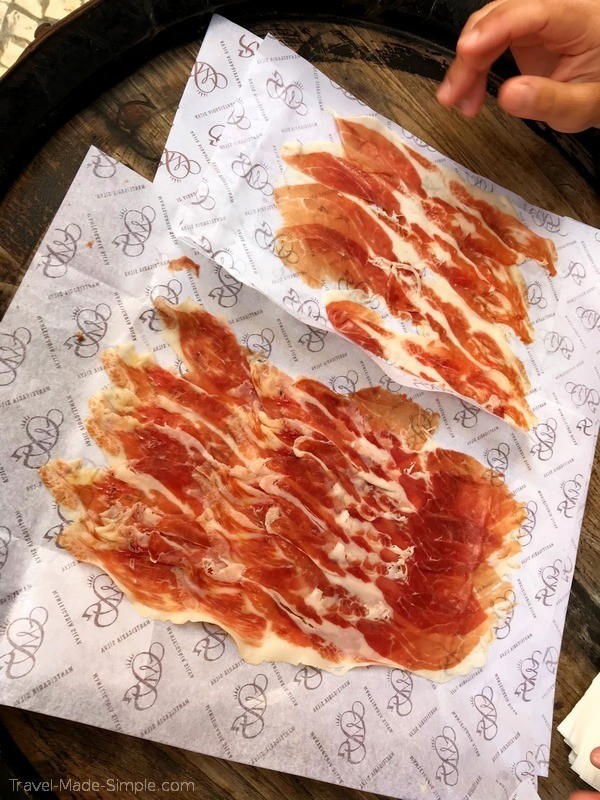 Ginjinha cherry liqueur
The next food stop on our food tour in Lisbon was a little bar selling ginjinha, also simply called ginja.
This is a cherry liqueur that is well known in Lisbon, and you can find it all over the city. Supposedly this place was the best though.
We each got a shot, which has a strong cherry flavor, and I quite liked it. There was a liqueur soaked cherry at the bottom of my shot, something you won't find at more touristy places.
While it might seem a little strange to drink a shot of liqueur well before lunchtime, it's a fairly normal thing here. The locals aren't downing 10 in a row or anything, but it's not uncommon to stop in for a shot at any time of the day.
Bifana: a pork sandwich
The bifana is a simple yet delicious pork sandwich that is also very popular in Lisbon, though I had never really heard of it before our trip to Lisbon. But you'll see these sandwiches all over the city once you learn about them.
We tried this at a local restaurant with a laid back diner-type atmosphere, and our sandwiches were served with hot sauce. Often they are eaten with mustard, but I quite liked the hot sauce instead.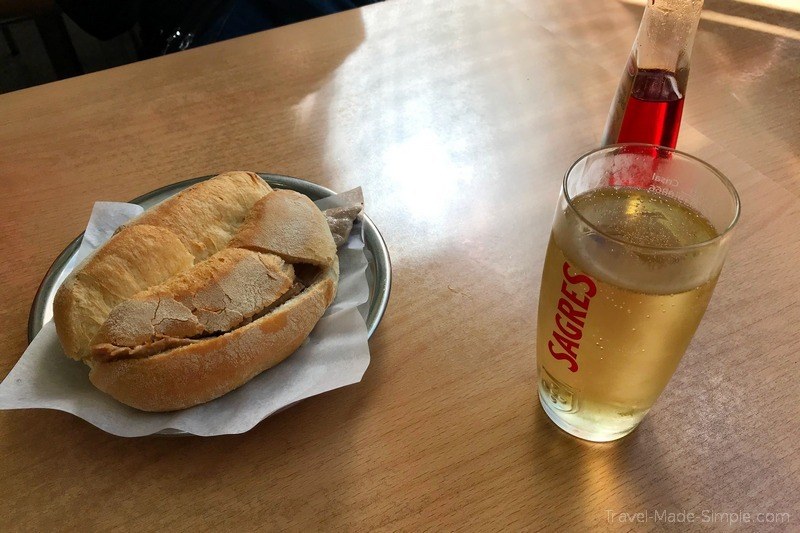 Portuguese home cooking
Next up we stopped at a restaurant with a variety of home cooked dishes.
They served us several platters of different traditional Portuguese meals that our group shared among ourselves. We had sausages, fish, rice dishes, salads, potatoes, and more, all served with red and white wine.
The picture might not be great, but the food was delicious. It was a great way to try lots of different things in small portions.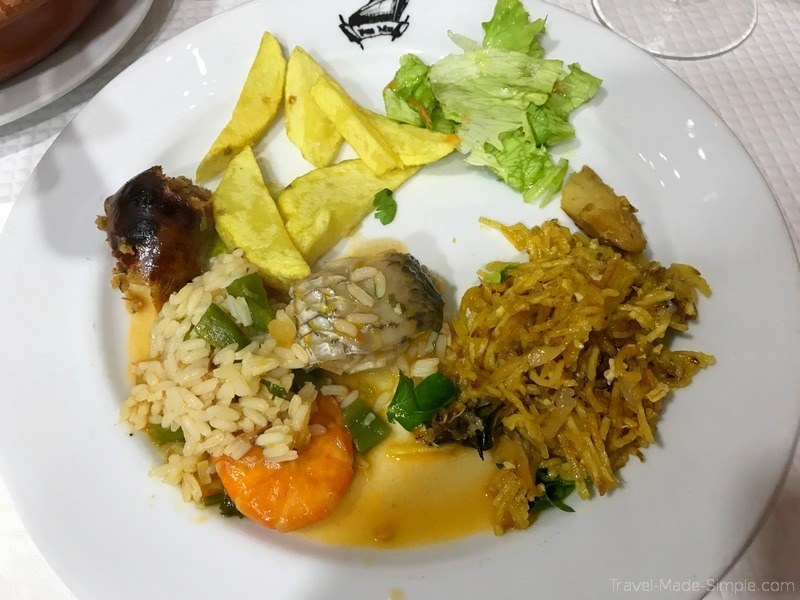 Canned fish
Portugal has a long tradition of canning fish and seafood. It sounds basic, but this goes beyond that boring can of tuna you're probably picturing right now.
Canned fish in Portugal has a long history, and while it used to be viewed as poor man's food, you can now find more gourmet versions popping up.
Our guide explained the many varieties to us, showed us the colorful cans, and let us try a few different types of canned fish. The fish and seafood is typically seasoned and sometimes even marinated in a sauce. Sardines are a popular choice.
This is never going to be my favorite food, but it was much better than I had imagined.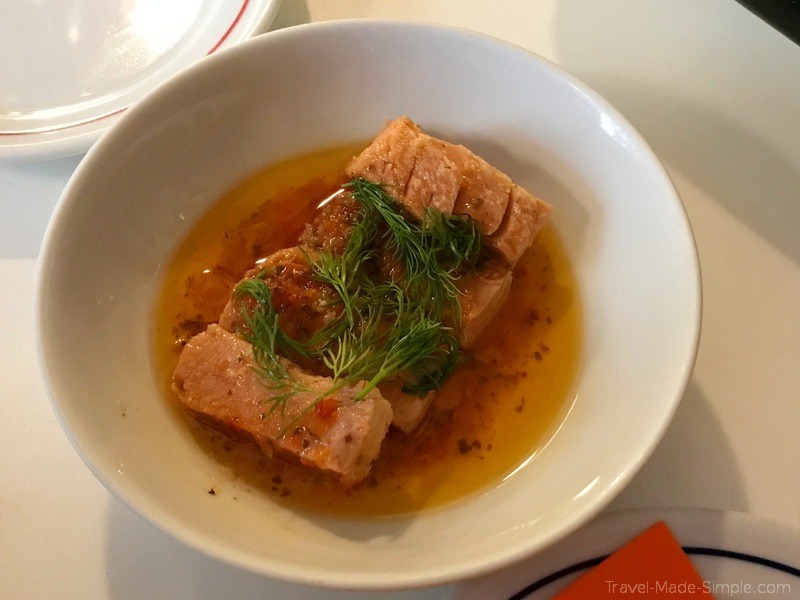 Pastel de nata
This is probably the first food that comes to mind when you think about food in Portugal. The pastel de nata is the country's famous egg custard dessert, and you'll find them everywhere. Though fairly simple, some pastel de nata recipes are better than others.
Our food tour guide took us to try some, and they were really tasty. No one will ever agree on where to get the best pastel de nata, but the place we visited on our tour is supposedly a popular favorite among locals.
It didn't disappoint. Helps that it's the only thing they sell, so they've really perfected them!
Non-food aspects of the food tour in Lisbon
A good food tour will show you parts of the city and teach you about the history as you wander from one bite to the next. Usually they tell you about the history as it relates to food and how the culture was shaped by the cuisine and vice versa.
But sometimes you also learn about things that don't really have anything to do with the food.
On this tour, we heard about the tragic massacre of 1506 when a large number of "new Christians" (Jews who had been forced to convert) were killed. A monument now stands in front of the church where it all happened.
Our guide also told us about the history of the Portuguese dictatorship that was overthrown in 1974. We saw several important squares with historical significance.
She also took us to see Pink Street, a little street that's been painted pink and makes for some interesting pictures.
Lisbon food tour: Things to know before booking
We enjoyed this food tour, and they really know food and the local culture. This is so important when taking a food tour.
The food tour took us through several different neighborhoods but never felt like too much walking. That said, Lisbon is a very hilly city, and you should wear comfortable shoes because you will be on your feet for a fair amount of this tour.
On the tour, you'll get a few alcoholic beverages. There was the ginja shot, beer with the pork sandwich, and wine at the restaurant with the different home cooked dishes. There was also a drinks package you can add to your tour if you would like more.
The Lisbon food tour starts in the morning and ends early afternoon. It basically covers your breakfast and lunch, so try not to eat anything before the tour. You'll eat lots of different foods on this tour, so save room!
I highly recommend taking this food tour in Lisbon to learn more about the traditional food of the city and its connection with the history and culture.