Food and culture have such a strong link. People identify with traditions, and those traditions often include food. And in places like Lisbon, traditions and food from various parts of the world come together in interesting ways.
We learned about the culture and food traditions of Lisbon while on a food tour in the Baixa and Mouraria neighborhoods. If you're traveling to Lisbon, sign up for this tour early in your trip.
Please note that some posts contain links that earn me a small commission at no extra cost to you.
We took the Undiscovered Lisbon food tour, and it was fantastic. I definitely think Lisbon is worth visiting, and this fun food tour is just one of many reasons why.
Visiting Lisbon isn't expensive, so I think a small splurge on a food tour is a good idea. Keep reading to find out what to eat in Lisbon and why you should sign up for this tour when you visit Lisbon, Portugal.
And if you're trying to decide where to stay in Lisbon, the neighborhoods we visited on this food tour were great options.
The simple pork sandwich
Our first stop on the Lisbon food tour was at an old restaurant that is the meeting point for people from a region of Portugal south of Lisbon. Here we ate a traditional pork sandwich called a bifana.
The sandwich was simple, but the pork was so juicy and delicious. It's typically served with mustard, which Andy happily slathered on to his sandwich, though I skipped it. Our sandwiches were served with local red wine.
After eating our delicious bifanas, our guide took us through the nearby Jewish neighborhood.
He told us about the tragic massacre of 1506 when a large number of "new Christians" (Jews who had been forced to convert) were killed. Now a monument stands to honor the victims.
Cod and Fado music
Next we walked up the hill to a little restaurant with a few outdoor tables.
Cod is a big deal in Portugal, even though this fish doesn't live in Portuguese waters, and so there are hundreds of ways to make it. Here we had a cod salad with black eyed peas and white wine while enjoying the sunshine.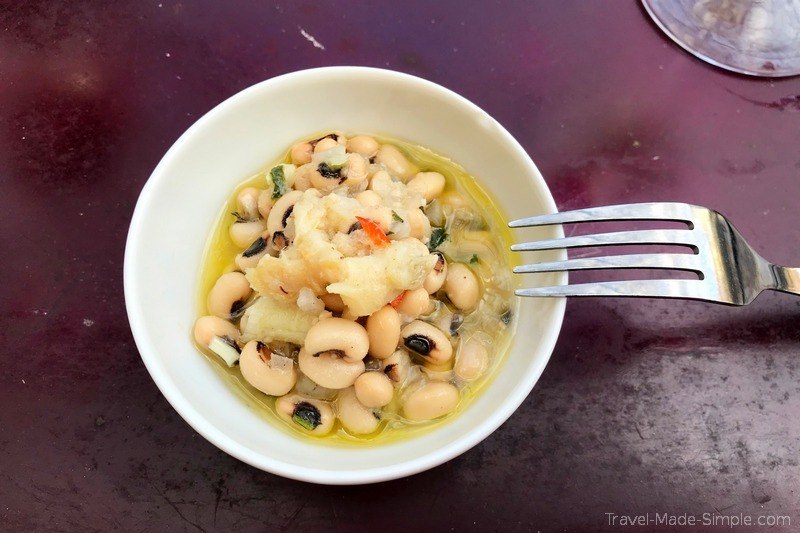 The food tour had an optional drinks package for this tour, so the people who bought it also got a Port tonic cocktail. This is Portugal's famous Port wine mixed with tonic.
Before and after this particular stop, our guide took us through a neighborhood that is the home of Fado music and told us about the history and traditions while pointing out street art dedicated to Fado.
A little bit of Mozambique in Lisbon
The country of Mozambique was once a Portuguese colony, and as a result, some of the food can now be found in Lisbon.
Our guide took us to a restaurant where we ate Mozambique's version of samosas and beer. And they came with some rather spicy hot sauce…use sparingly!
I always enjoy learning about other cultures that have seeped into a country, the history of that change, and how it exists today. This restaurant is certainly not a place we would've found on our own, so I'm glad we were on this tour.
Veal and a song
At the fourth stop of our tour, we enjoyed some stewed veal and mashed potatoes. For those who bought the drinks package, there was a glass of wine. Though the picture of our food here might not look so impressive, the veal was quite tasty.
It turns out the chef is also a Fado singer, and towards the end of our meal, he came out to sing for us. His voice was amazing and filled the room. Quite impressive to listen to.
Afterwards the restaurant owner spontaneously took us to see his not-quite-open secret bar. Every food tour is flexible, so you never know what's next!
Tempura and dessert
After walking up more hills, we sat down for some tempura sardines and green beans along with vinho verde, a Portuguese wine made with younger grapes. We learned that tempura was originally a way to make vegetables more enticing for kids when there wasn't enough money for meat.
Side note: While tempura is often a popular part of Japanese cuisine, it actually came to Japan from Portuguese explorers hundreds of years ago.
No trip to Lisbon is complete without a pastel de nata, a traditional egg custard dessert. Everyone has their favorite cafe or bakery, so it's hard to find THE BEST one.
Honestly, I can't tell the difference from one place to another, but you can trust that a food tour like this one is taking you to a quality place. Coffee was also offered for people with the extra drinks package.
Lisbon food tour: Things to know before booking
Eating Europe has food tours in a bunch of different cities in Europe, so I was happy to try their Lisbon food tour. They have a few different options in Lisbon, so be sure to read the descriptions to see if a different tour suits you better, but we quite enjoyed this one.
Lisbon is very hilly, so wear comfortable shoes. There is some walking involved, but you'll get lots of breaks, and even though I'm not in the best shape, I never felt rushed while hoofing it up those hills.
The standard tour comes with three small glasses of wine, one small beer, and water in places where no alcohol was served. If you add the extra drinks package, you'll get an additional glass of wine, a port tonic, and coffee with the pastel de nata.
Either way, I suggest bringing a bottle of water in case you get thirsty while walking around.
The tour we took basically covered lunchtime, and it was more than enough food to be our lunch that day. However, I also recommend having a very light breakfast, that way you'll have enough room in your stomach!
If you want to learn about the culture and food in Lisbon and what to look for when seeking out restaurants during your trip to Lisbon, I highly recommend booking this tour.