The following itinerary for one day in Porto, Portugal was written by Marco Santos. All photos are by Marco.
Visiting Portugal and considering spending one day in Porto?
I absolutely adore Porto, Portugal's largest city in the north of the country and only around 3 hours by train from Lisbon. With its rich architectural delights, incredible food, the vibrant riverfront and not to forget the wine country, the Douro Valley, right on Porto's doorstep.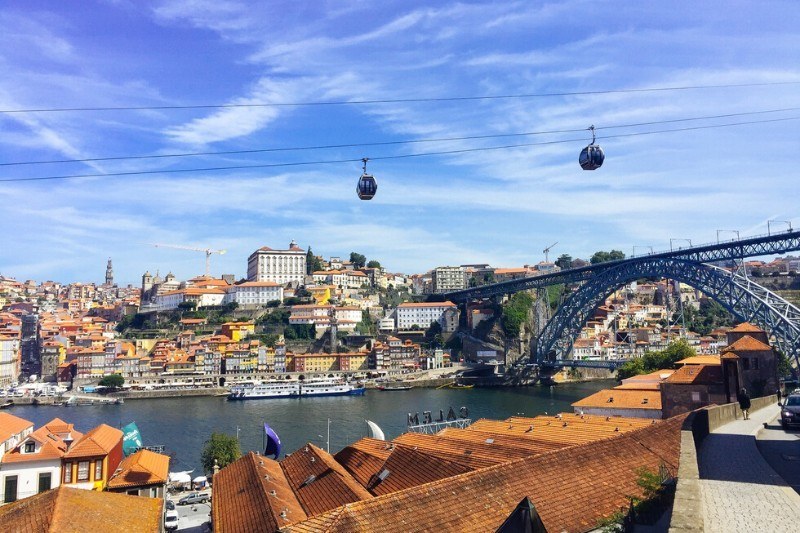 With this guide of the top things to do in Porto and expert insider tips that I've put together, you should be able to plan the perfect day in Porto, exploring and discovering all that this gorgeous city has to offer on your one day Porto itinerary!
How to Get Around Porto
It's easy to get around Porto because most of the best spots are within walking distance from each other. It's a beautiful and interesting city that will keep you entertained as you explore Porto on foot.
However, for destinations that are a little far-flung, public transport is inexpensive and efficient. There are a number of taxi apps, too.
If you're planning any day trips from Porto, some are easily accessible with transport, but some will require a car.
Porto is a great city to include on a Portugal itinerary. It also makes for a great addition to a Portugal road trip, so if you have your own wheels, you'll do fine here.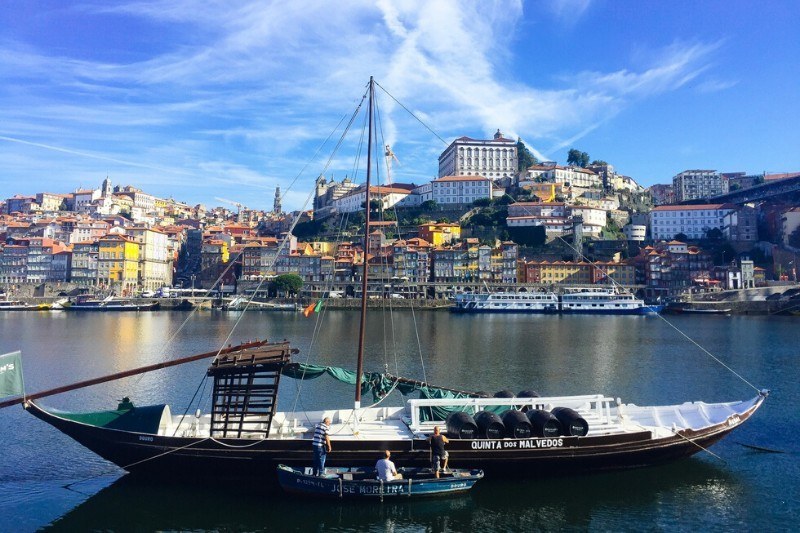 Public Transport – Metro & Bus
Porto's metro system runs six metropolitan lines. While it doesn't extend to every corner of the city, it is certainly the most convenient for getting to different neighborhoods and beaches. It is also used for getting to and from the airport.
The bus system is extensive in Porto and there are special all-night lines for the late evenings out on the town. As the city isn't very big, buses are the most convenient way of getting around as they run often and to almost everywhere.
Get yourself a Porto Card that includes transportation and discounts to popular sites with easy access to public transport.
Taxi
Uber, Taxify, Cabify… you name a taxi app and Portugal has probably got it. Chances are you use one of these in your hometown, so you can stick to the one that works best for you.
Normal taxis are also available, however, they are pricier.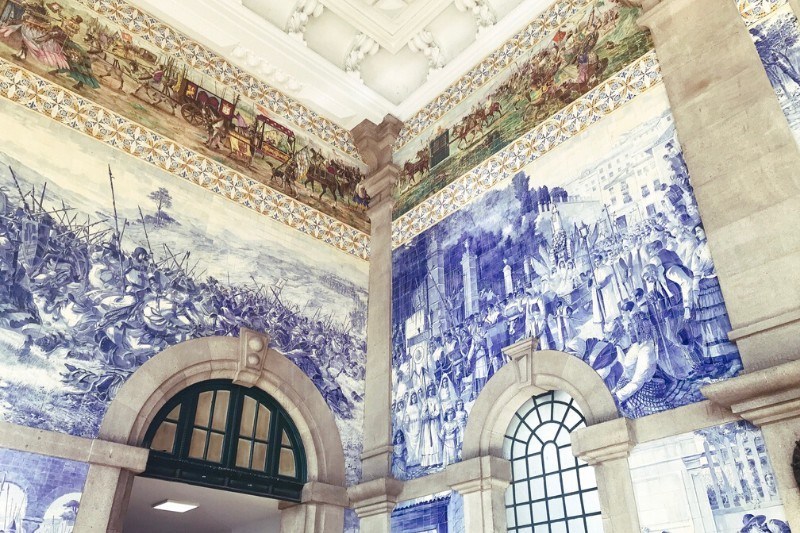 Where to Stay in Porto
In order to maximize your 24 hours in Porto, finding accommodation in the center is the best option. This way you can simply walk everywhere and you don't have to waste too much time working out public transport. Just walking to a restaurant for dinner will include a scenic route with sights along the way.
Here are the top three picks for wonderful, central accommodation:
Luxury – Torel Palace Porto is a four-star hotel that oozes luxury with just a hint of fairy tale magic. The rooms are simply stunning and the hotel bar drips with greenery – you won't be able to resist a drink or two.
Budget – Lusitana Hotel is a family-run hotel in the heart of Porto. The rooms have everything you need and you can enjoy breakfast or coffee in the garden.
Backpacker – The Passenger Hostel is ideally located in the city center in the iconic S. Bento Train Station. The dorm rooms are well equipped and the atmosphere is social and welcoming.
Where to Eat in Porto
Portuguese cuisine is downright delicious. And Porto is home to a ton of local dishes that originated in the city or the northern regions. You could easily spend your entire 24 hours eating and drinking your way through Porto.
Look out for famous Porto dishes such as francesinha, Bolinhos de Bacalhau and Tripas à Moda do Porto.
Here are the best spots to eat at during your day in Porto.
Breakfast – Majestic Cafe
Not only is this one of the best breakfast and brunch spots in the city, but it's also a magnificent landmark. And one of the most stunning cafes in the world. The cafe is almost 100 years old with elaborate architecture and a grand interior to match – expect chandeliers and cherubs.
This is a brilliant place to start your day in Porto as it is considered the crown jewel of the city and is an attraction in its own right. Of course, the food is tasty and the Pastel de Natas are particularly popular.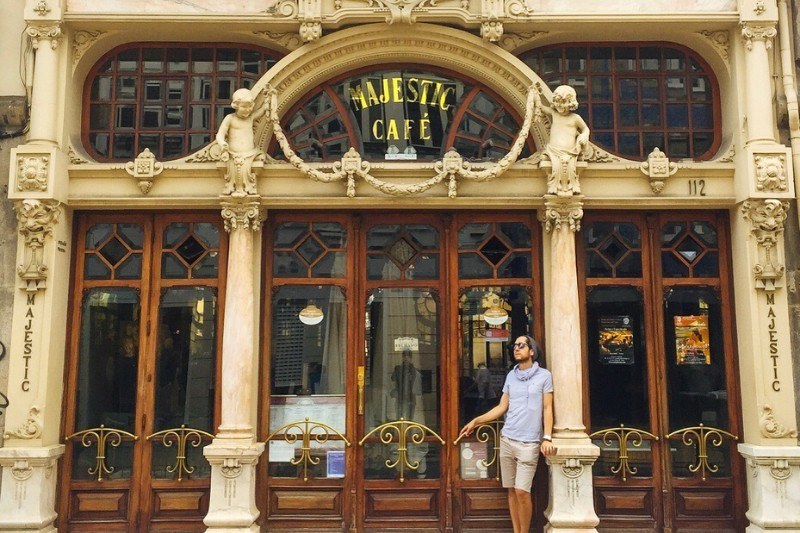 Lunch – Petiscaria Santo António
This eatery is what locals call a 'Tasca', which is essentially a tavern-style place that specializes in homemade traditional food.
The menu consists of small plates, offering a selection of authentic Portuguese food. The Bacalhau com Natas (salted codfish and cream) is a favourite and comes highly recommended.
Dinner – Museu D'Avo
The name of this restaurant translates to 'Grandmother's Museum' and is a local gem. And you'll certainly feel as if you've stepped into a rendition of your grandma's house and an intimate dinner spot. Candlelit tables are nestled into the charming exposed-stone and mosaic interior, with random memorabilia and knickknacks scattered around.
The food is a delightful ode to Portuguese cuisine and is very varied. Here you can order an array of small plates of classic Portuguese dishes. It's open until 4 am. If you've got the midnight munchies, you can pop in and join locals who are drinking a bottle of red and feasting.
Porto, Portugal Points of Interest
Porto's historic center is one of the oldest in Europe and is a UNESCO World Heritage Site. The city is steeped in history, azulejo tiled buildings and interesting attractions. The best way to see all of this is to walk from one spot to the next to soak up the spirit of Porto.
If you're looking for some local knowledge, book a guided walking tour to see all the top sights.
If you're wondering what to do in Porto in one day, here are the top picks.
Capela das Almas (Chapel of Souls)
If the name of the chapel doesn't already entice you, the stunning blue-glazed tile exterior certainly will.
If you've decided to start your morning at Majestic Cafe, this striking chapel is only a couple minutes walk away. It is well worth a quick stroll by to snap some pictures of the building which encapsulates the traditional azulejo ceramic of Portugal.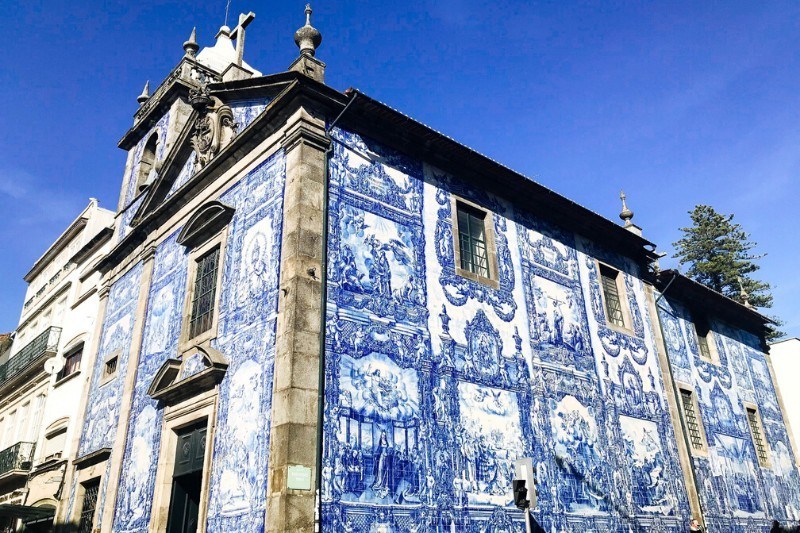 >>Read: Best Places to Visit in the Algarve, Portugal
Livraria Lello
Calling all bookworms and Harry Potter fans! Livraria Lello is one of the oldest bookstores in Porto, over a century old, and a strong contender for the most beautiful one in the world. The ornate Neo-Gothic facade is just a taste of the grand and gorgeous interior.
A regal staircase takes center stage, surrounded by intricate wood carvings and the shop features a stained-glass ceiling. It is reminiscent of Hogwarts and the Flourish and Blotts bookshop in the Harry Potter series. As Livraria Lello was a favorite haunt of J.K. Rowling, many believe it was the inspiration for some of the central settings in the famous books.
It is a stunning landmark and one of the top things to do in Porto, but it gets very busy. You can expect a long line and a fee to get in. If you like Harry Potter, look at this tour including skip the line Lello tickets though.
Torre dos Clérigos (Clérigos Tower & Church)
The tallest campanile in Portugal, standing at 76 meters, and the baroque masterpiece church are a Porto must-see attractions. And this site is only a 4-minute walk from the previous stop on this list.
If you climb the 200 steps to the top of the tower, you'll be blessed with sweeping 360-degree views over the city and the Douro river. It's quite breathtaking.
The 18th-century church is the work of Nicolau Nasoni, an architect with Italian origin. He is responsible for the interesting contours, domes and spires, as well as the intricate carvings in the granite and marble found inside.
The tower is the emblematic centerpiece, topped with the spherical clock house. It's a true expression of baroque delicacy and elegance.
Cais da Ribeira (Porto Ribeira)
Set along the Douro riverfront is one of Porto's most popular neighborhoods and a top spot to visit in your Porto itinerary. The buzzing energy is tangible as you walk along the riverfront, taking in the sights of colorful buildings perched terrace-style on the surrounding hills.
Amazing buskers provide background music and your choice of bars and restaurants is overwhelming. This is a great place to sit back and enjoy one of many delectable Portuguese drinks while admiring the city.
From here you can take a cruise on the River Douro or simply walk across the famous Dom Luis Bridge to the Porto Gaia waterfront – another bustling neighborhood.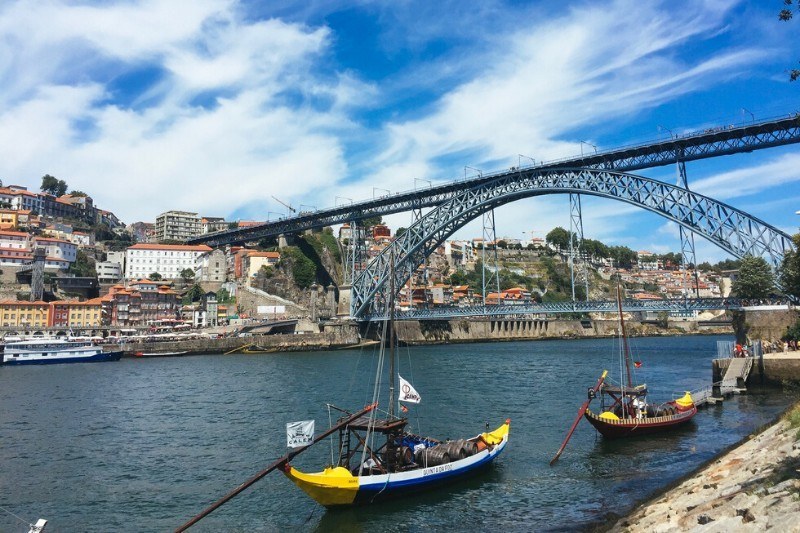 I hope this helps you plan one day in Porto, Portugal!
About the author: Born and raised in South Africa, Marco Santos from Travel-Boo, together with his partner moved to sunny Lisbon over 3 years ago. With an absolute love for Europe, he is on a mission to rediscover his own Portuguese heritage along the way. Marco has set out to blog and share his passion for travelling through and exploring both Portugal, Spain and throughout Europe, through his blog Travel-Boo.
You might also enjoy: