I get a lot of questions about layovers, especially if you can leave the airport during a long layover. Many factors go into the decision about whether you can or should leave the airport, so I wanted to show you what it looks like to have a long layover in Amsterdam.
Amsterdam is a popular connecting point for long haul flights as well as shorter connections within Europe. It also happens to be one of my favorite airports, so keep reading for my Amsterdam layover guide.
My Amsterdam layover timing
People often think things take less time than they really do, and getting through airports is no exception. So for my Amsterdam layover, I timed everything so you could see how long it might take you.
I flew from Berlin to Amsterdam, both of which are in the Schengen Zone, so I did not have to deal with any passport control procedures.
Once the plane reached the gate, it took almost 10 minutes until I could get off the plane, and I had an aisle seat in row 15. This does not include the time it took the plane to taxi after landing.
I made a bathroom stop once I got into the airport, and then I continued through the airport and the baggage claim area. Then I had to get to the train station area and purchase my train ticket.
In total, it took me about 30 minutes from when the plane reached the gate until I got to the train platform, to wait for the train to Amsterdam city center. The train took about 15 minutes.
So for a layover in Amsterdam when your arriving flight comes from another Schengen country, I'd say you need to give yourself a minimum of 45 minutes from the airplane to the central train station. Maybe even more time if you're seated farther back in the plane.
>>Read: Understanding the Schengen Zone
You will also have to go through security before your next flight no matter where you're flying.
Again, the timing for security greatly varies, but it took me about 15 minutes from the moment I got in line until I finish going through the xray and picked up my things. It took me 12 minutes to get from the train to the security line.
If your departing flight is to a destination within the Schengen Zone, you probably want to get on a train that arrives at the airport at least an hour before your flight leaves. Give yourself more time if you have to retrieve luggage.
***Update***
Due to the current situation, rules and regulations for entering different countries are constantly changing. You'll need to verify what the rules for entry are, including testing and vaccine requirements. This might mean you can't leave the airport during your layover.
It's also important to research the situation in the city where your layover is. Even if it's possible, it might not be smart to leave the airport, or the city might have restrictions on tourism. Any of this could make your long layover frustrating, not so much fun, or even downright irresponsible.
>>Read more about traveling during COVID-19.
Timing for international flights
I have flown through Amsterdam airport quite a few times for both short and long haul flights. Unfortunately after international flights, I'm usually landing after a 10 hour red eye and not in the frame of mind to track my timing.
While I can't tell you exactly how long it normally takes me to get through the airport from the international arrivals section, I can tell you it's a longer walk and will definitely take longer than what I described above.
Remember that if you are landing in the international section on a flight from outside the Schengen Zone, you will also have to go through customs and immigration.
The time it takes varies greatly based on how many flights land at the same time as yours. Immigration has taken me as little as 5 minutes but as much as 30 minutes, and it could be even longer if there are longer lines.
If your Amsterdam layover is before a flight that leaves the Schengen Zone, you'll have to go through exiting passport control at the end of your layover. Allow yourself plenty of time in case there are long lines.
In this case, you might want at least 2 hours so you'll also have time for exiting passport control.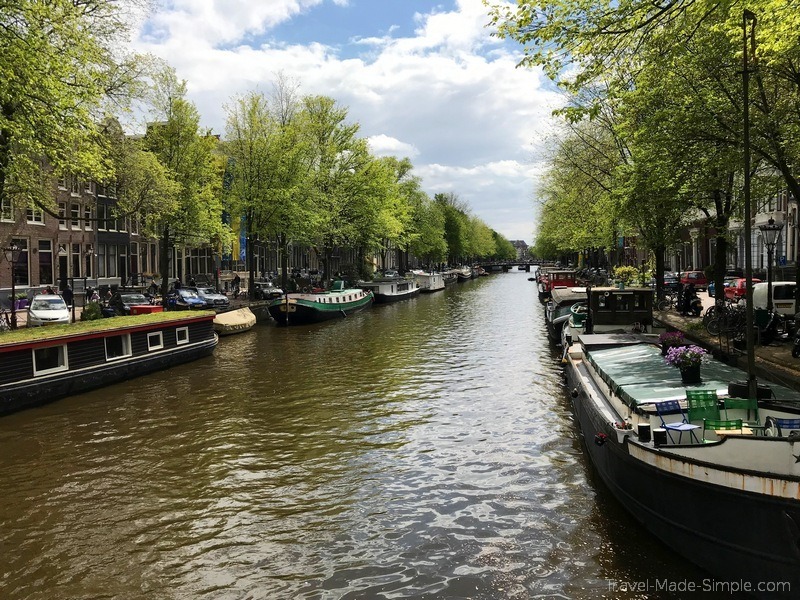 How long do you need to leave the airport in Amsterdam?
Once you add up all the time it takes to get off the plane, through the airport, and into the city center, plus doing the reverse at the end, it might not make sense to leave the airport on your layover in Amsterdam. So how long do you really need?
I personally wouldn't bother unless my layover was at least 4 hours long for an itinerary where neither flight involved immigration at Schipol Airport.
For international flights where you have to go through immigration in either or both directions, I wouldn't leave the airport unless I had at least 5 or 6 hours.
Not only do you need enough time for all the logistics, but you want to leave yourself enough time to enjoy the city if you're going to do it. It's not worth the stress and hassle if you only have a half hour to grab a waffle and snap a photo of the closest canal.
It also might not be worth it if you would need a visa to leave the airport during your Amsterdam layover and weren't required to get one to simply transit through.
I am NOT a visa expert, so please check here to see if you need one to enter the Schengen Zone.
Note: I cannot answer visa questions. Please refer to the embassy website for the country you are visiting or transiting through to see if you require a visa.
Please note that some posts contain links that earn me a small commission at no extra cost to you.
Amsterdam airport luggage storage
If you have a long layover in Amsterdam and you need to store your luggage while you explore the city for a few hours, you have plenty of options.
There are several Schipol luggage storage locations before and after security. For more information about where the different locations are, check out their site here.
Just make sure you can get back to the same section of the airport to retrieve your luggage later.
As an alternative, you could also bring your bags into the city and store them at the main train station in a luggage locker. Or you could find a place through Stasher to store your bags.
How to get from Amsterdam airport to city center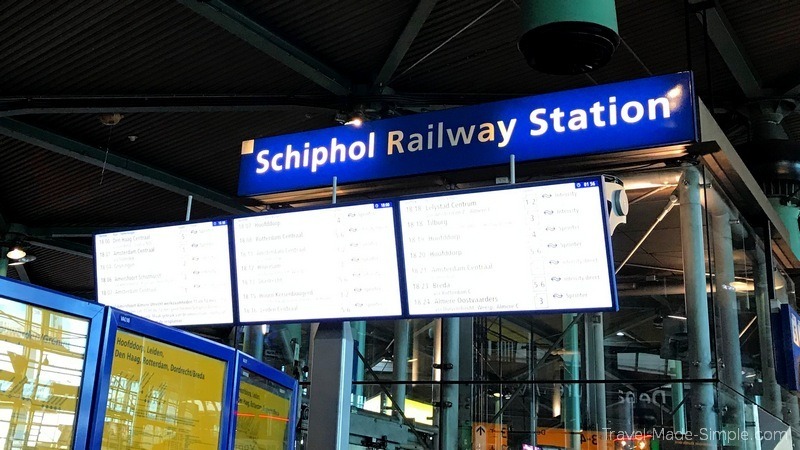 Getting from the Amsterdam airport to the city center is really simple. Follow the train signs in the airport until you reach the ticket machines. You can switch the language on the machines to English, and the machine is really easy to use.
Tickets to Amsterdam Central cost 5.50 euros, and be sure to scan your ticket on the same level as where you bought it before heading downstairs to the trains.
Trains run a few times per hour, so you shouldn't ever have to wait long. The train to the center takes about 15 minutes. There are a few different trains that run in between the airport and the central station, so it could be anywhere from 14 to 18 minutes.
And since there are different trains, many of them continue on after Amsterdam Central or after the airport so don't assume Amsterdam Central or the airport will be the final stop.
Look at the train routes on the departure board until you see the one that goes to Amsterdam Central (spelled Centraal in Dutch) even if it isn't the last stop on the route.
Looking for a hassle free way of getting from the airport to your hotel?
Check out Welcome Pickups
and set up an airport transfer. They're located in dozens of cities around the world.
What to do in Amsterdam in one day on your layover
If you're spending your Amsterdam layover in the city, you have limited time, so choose wisely. Don't try to pack in everything in one day in Amsterdam.
Pick one or two things to see or do, and leave yourself plenty of time to get back to the airport in time for your next flight. Here are some suggestions for things to do in Amsterdam on a long layover.
Amsterdam food tour
Food tours are one of my favorite ways to explore a city and its culture. On my Amsterdam layover, I took the Eating Amsterdam Jordaan food tour.
The guide showed us around the neighborhood and told us about the food and the history while we ate. We got to try traditional Dutch apple pie, cheeses and meats, herring, sweats, local liquor, and much more.
The meeting point for the tour isn't too far from the main train station, about a 15 minute walk, and the tour ends close to where it starts. It started at 11am and ended a little before 3pm, and they like you to arrive 10-15 minutes before the tour starts.
This tour would work for you if your flight lands around 9am or so at the latest, and if your next flight departs around 5pm or later.
Eating Europe also has a food tour in the same neighborhood with similar stops, but part of the tour takes place on a canal boat. The tour starts at 10:30am, so you'll need to arrive a little earlier.
Van Gogh Museum
Amsterdam is chock full of museums, and the Van Gogh Museum is one of the most popular. There you'll find a collection of his personal belongings along with a few hundred paintings and drawings from Van Gogh and other artists.
The lines can be long, so it's recommended that you book skip-the-line tickets ahead of time, especially if this is something you want to do with limited time during your Amsterdam layover. Read more about the Van Gogh Museum and ticket options here.
Rijksmuseum
Another important art museum in Amsterdam, the Rijksmuseum can't be missed if art is your thing. It's the largest and most visited museum in the Netherlands, and it houses thousands of pieces of art.
Again, lines to get into the museum can be very long, so book a skip-the-line ticket to avoid losing precious time on your layover. Read more about the Rijksmuseum and ticket options here.
Anne Frank House
Anne Frank and her famous diary are an important part of Amsterdam's history. Learn about how she and her family hid from the Nazis during World War II by taking a tour of the city based on her life.
There are audio guides, walking tours, and even bicycle tours. Check them out here.
Or if you prefer, visit the Anne Frank House itself. You can explore the whole museum in about an hour or so, and it's a very moving experience.
To visit, you must book a ticket online, and 80% of the tickets are released 2 months ahead of time while the other 20% are released on the day. View ticket options here.
Other Amsterdam activities for your layover
Of course these are just a few suggestions for what to do in Amsterdam on a long layover.
There are tons of other museums that might interest you. You could take a canal boat tour of the city. You can simply stroll through the streets and enjoy the atmosphere of the city. Or spend a few hours eating waffles and drinking local beer.
The possibilities are endless! Do some research on what sounds like a fun way to spend a long layover in Amsterdam, and plan your day accordingly. Check out some tours and activities on Viator for ideas.
Always give yourself a time buffer because things could take longer than you think. Plus it's best not to have everything planned down to the minute in case you get a little lost.
Getting around in Amsterdam
Amsterdam's main sites are located within walking distance of the main train station, but if you plan on going a little farther or you'd rather not walk that much, the tram system is easy to use. You can find a ticket machine in the train station near the exit doors, and you can switch it to English.
If you prefer, you can buy tickets on the tram. Just make sure you board the tram near the middle or even a bit towards the back. You'll see an employee sitting behind a sort of desk, and he/she handles tickets.
In my experience, they usually speak decent enough English, so don't worry if you don't speak Dutch. But don't try to talk to the driver, he/she doesn't handle money or tickets.
You have to scan your ticket when boarding the tram and again when exiting. If you watch other passengers, you'll see how it works. For more info about using the transport system in Amsterdam, see here.
Things to do in Amsterdam airport
So what if you have a long layover in Amsterdam, but it's not long enough to leave the airport? Luckily the Amsterdam airport is modern and has lots of options for you to fill your time.
There is a huge food court area between the D and E sections. Don't forget to look upstairs, where you'll find even more options. And of course, there are lots of other food options spread throughout the airport.
You'll also find shops throughout the airport if you're looking for a last minute souvenir or gift or you just want to do a little shopping for yourself.
In addition to food, the airport has lots of seating in areas that are not part of a gate, so you can relax in more comfortable seats. Some areas have nature sounds and decor, and some have tons of electrical outlets so you can recharge your phone or laptop.
There are several airport lounges you can enjoy, and you can even take a shower if you just got off a long flight and want to feel refreshed.
Do you often get stuck with long layovers but not long enough to leave the airport? Try a
Priority Pass membership
to get access to
airport lounges around the world
, no matter what airline you fly with. You'll get access to food and drinks, showers and wifi, and more.
If you're stuck in the international section, don't fear, there's a lot on offer there too. Again, there's lots of seating, and there's lots of food and other shops. It's not just duty free perfume and liquor here, you can have a full meal and relax before the next long flight.
For more details, check out the maps on the Schipol's website here.
I hope this helps you plan your long layover in Amsterdam and decide if it makes sense for you to leave the airport during your Amsterdam layover.
You might also enjoy: