I love traveling with only carry on luggage, and I've been traveling that way for more than 15 years. So I promise, if you want to pack for a week in a carry on bag, you can totally do it. And I can show you how.
Why is packing only carry on luggage so great? Without having any checked luggage, you never have to worry about your bags getting delayed or lost. It'll save you money since you're avoiding all those expensive checked bag fees. And it means you're carrying around a lot less stuff, which is less stressful and all around easier.
In this post, I'll show you how to pack for one week in a carry on so you never have to check bags again.
I love the freedom of carrying around fewer things with me when I travel. With all my years of experience with traveling carry on only, I've gotten pretty good at only packing the essentials. You can learn how to pack a carry on for 7 days with these tips, I promise. And you can find my minimalist travel packing list for a week at the end.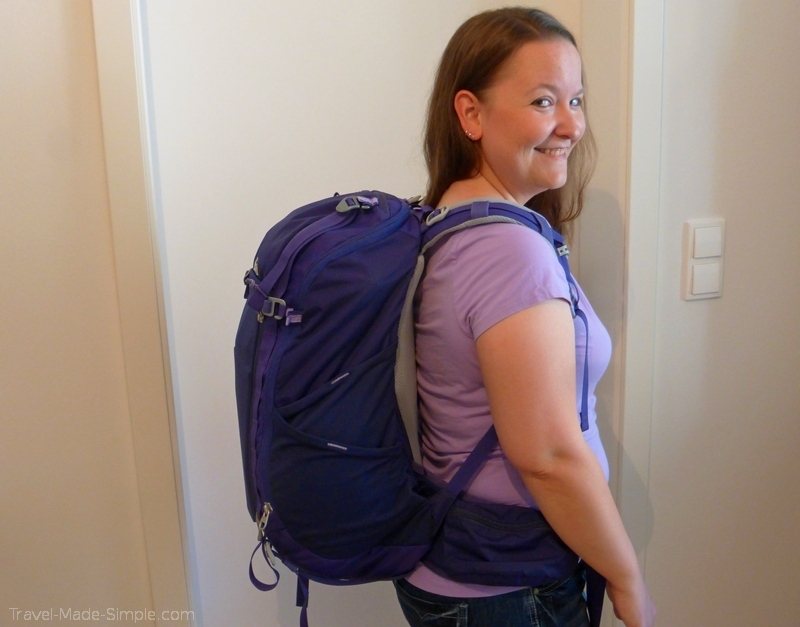 How to pack for one week in a carry on bag
Whether you're a suitcase person or a backpack person, you can pack everything you need for 7 days in a carry on bag plus a personal item. Because remember, most airlines allow a personal item as well as a carry on bag. Choose wisely, and you can easily get everything you need into those two bags.
Please note that some posts contain links that earn me a small commission at no extra cost to you.
Choose the right carry on for a one week trip
I usually love traveling with my 40L backpack, but sometimes it makes more sense to take a carry on sized suitcase instead.
Like a recent trip we took for one week in the Rhine Valley. Andy and I each had a day pack plus we had one carry on sized suitcase between the two of us. We packed our pillows plus the dogs things and a few other items in the suitcase, and then most of our clothes, toiletries, and tech went into the day packs.
But previously we went on a safari for a 10 days in a carry on. We each packed everything into our 40L backpacks with room to spare.
What type of carry on luggage you choose is based on personal preference and the type of trip you're taking.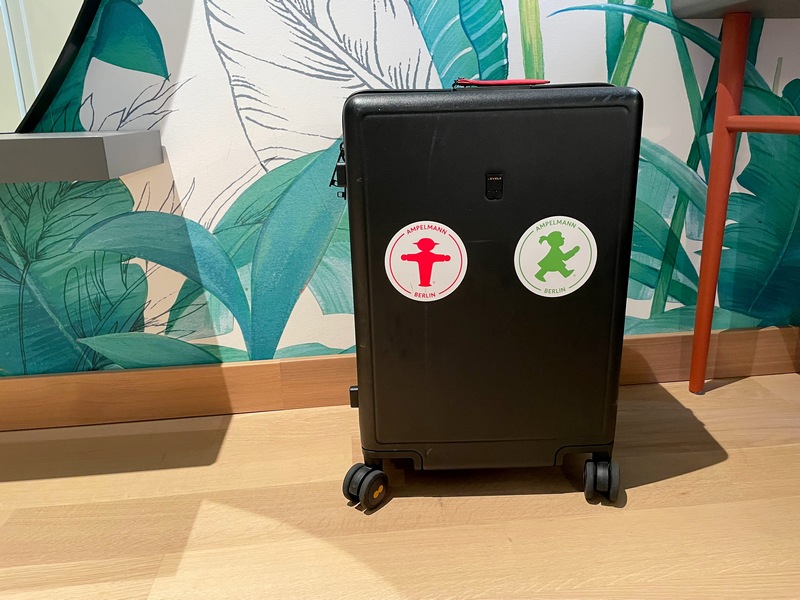 No matter what, make sure you choose the lightest carry on bag possible. Suitcases especially can be heavy even when empty, and since many airlines have a carry on weight limit, you don't want to lose too much of that weight allowance.
Most airlines allow 22 x 14 x 9 inches (56 x 35 x 22 cm) as their standard carry on luggage size, but always check the airline you fly with. Some airlines based outside of North America have smaller limits. And while many US airlines don't have a carry on weight limit, airlines in Europe and other parts of the world often do.
Get a cheap luggage scale
like this one
to check before you leave for the airport.
Here are a few carry on sized suitcases I recommend:
And if you're more of a backpack person, 40L is generally the biggest you can get away with for carry on. Here are a few carry on sized backpacks I recommend:
REI Trail 40: I've been traveling with this backpack for years, and I love it, plus REI is a great company. It comes in a female version and a male version.
Osprey: Andy loves his Osprey Farpoint 40L, and they also have a female version, the Fairview 40L.
Shop on Amazon: Farpoint 40L (male) | Fairview 40L (female).
Shop at Osprey: Farpoint 40L (male) | Fairview 40L (female).
Tortuga: I tested out a Tortuga backpack a few years ago, and I really liked how it was shaped like a suitcase and packed like a suitcase, but it was a backpack. The model I had has been discontinued, but they have newer ones that look just as great.
Choose the right personal item
Most airlines allow a carry on bag PLUS a personal item. If you're not sure what that means, a carry on item is the bigger backpack or suitcase that goes in the overhead compartment. A personal item is a smaller bag, like a purse or small backpack, that must fit underneath the seat in front of you.
If you're traveling with a small purse, you're not going to be able to fit much into it. But pick a small backpack or a larger purse, and you can fit quite a few things in there, giving you more space for packing your necessities.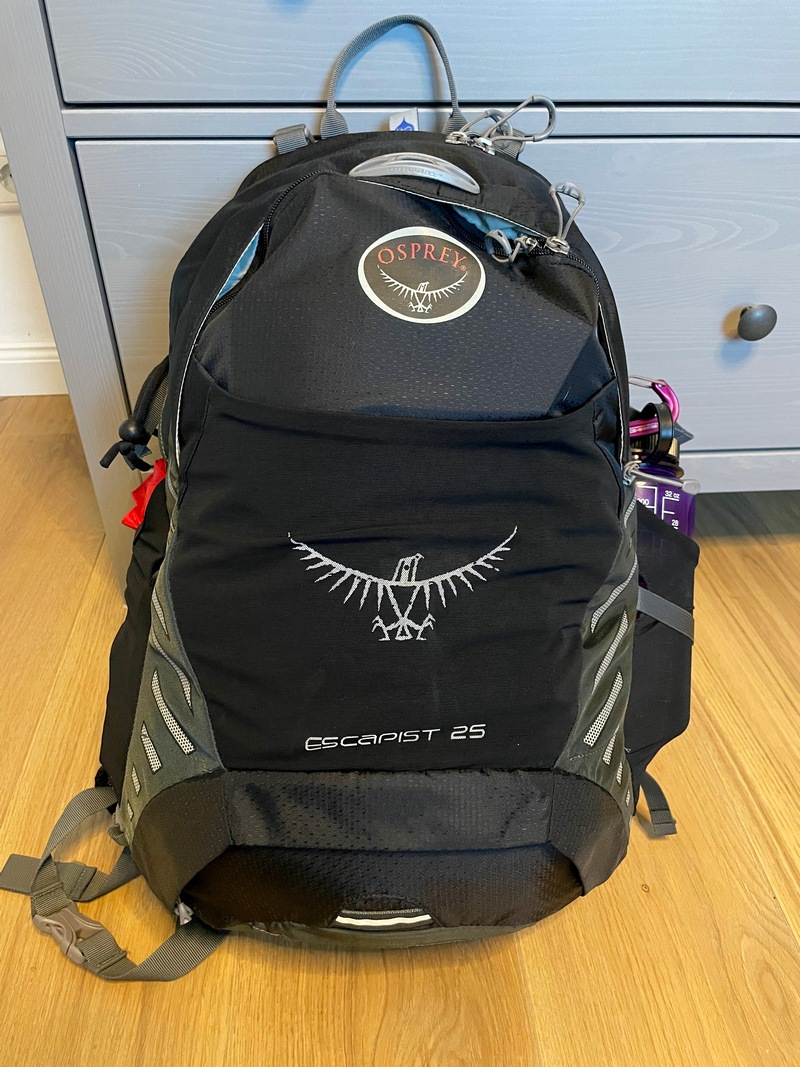 In general, if I'm traveling with my 40L backpack, I won't bring a second backpack as my personal item. It draws too much attention and I feel like there's a higher chance a gate agent will decide I need to gate check something.
So instead I'll take a big purse or I'll use my camera bag as my personal item. I've traveled carry on for so long I don't often need much more than my main bag anyway, but if you're new to packing in only a carry on, a decent personal item could make a big difference.
But if I'm traveling with a suitcase, I will often bring my smaller 25L backpack. You can use a backpack as a personal item as long as it's small enough. A 25L size is probably the max I would take as a personal item, but it's getting hard to pass it off as small enough these days. You'd be better aiming for something 20L or smaller.
Most airlines don't have specific limits on the size of your personal item, other than the fact that it must fit under the seat in front of you. Of the airlines I've seen that do list a size, the most common size seems to be 15.5 x 11.8 x 4 in (40 x 30 x 10 cm) so that's a good size to aim for, although I wouldn't be too worried about going a bit bigger if your airline doesn't specify.
Here are a few bags that work great as a personal item:
Travelon Anti-Theft Cross-Body Purse: This is a great option for keeping your important things safe while you're sightseeing.
Osprey Daylite Daypack: I love Osprey bags, and this is a good option for a small backpack to use as a personal item and day pack.
Shop on Amazon | Shop on Osprey.
Fjallraven Kanken Backpack: This one is great because it's so lightweight and it can pack flat if you have something else you're using as a personal item. That way you can use this as your day pack when you arrive.
What goes in your personal item
Since your personal item goes under the seat in front of you on the plane, this is where I keep important items I'll need during the flight. Things like tissues, hand lotion, hand sanitizer, Kindle, headphones, any medicine I might need on the flight, and maybe even a granola bar.
Those liquids I just mentioned? Yes, I take them out of my liquids bag and put them into my purse once I've cleared security. This is a personal preference though, and if I'm carrying a small backpack, I would probably just have my entire liquids bag in the backpack.
Other things I like to have in my personal item are things I don't want to be too far away from me. This includes my wallet, passport, and even my laptop if it fits in my personal item.
Check the weather
A couple of days before your trip, check the weather forecast for your destination. You probably have a general idea already of what the weather is like where you're going. But by checking the forecast right before your trip, you'll have a more accurate view of the conditions.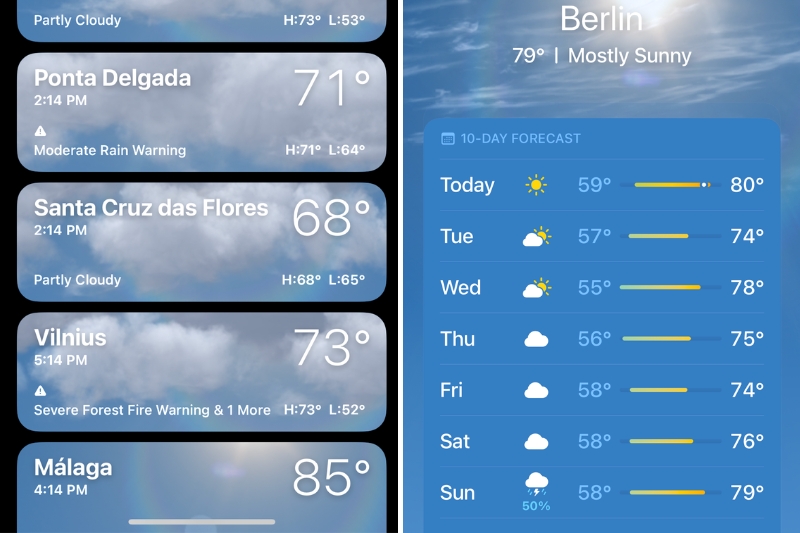 So if your destination is having a heatwave or a cold snap or lots and lots of rain, you can prepare for that without packing a bunch of stuff you won't need.
I'll usually add my destination city or cities to my weather app a few weeks before my trip so I can keep tabs on the weather there. Then I'll check it consistently the week leading up to my trip.
Pick coordinating clothes
Choose the right clothing, and you can easily pack for a week in just a carry on bag. All (or most of) the clothing you pack should coordinate with everything else. Using a similar color palette helps with this, sort of like a capsule wardrobe, but a mini version for one week.
A lot of my wardrobe is black, gray, purple, and blue, so almost everything works with everything else. The few things I own that are other colors get left at home because I don't want to have an item I can only wear with one other item.
If you plan on dressing up for any part of your trip, like a fancy dinner or a show, pack one nicer outfit or dress that you can wear more than once. Or pack versatile items that can easily be dressed up with accessories.
I also recommend investing in quick dry fabrics. They wick sweat more easily, which means they don't smell as much, which means they're easier to wear a few times before needing to be washed. And when you do wash it, it will dry quickly, so for a quick sink wash while traveling, it's perfect.
This shirt from Bluffworks is cute but casual, so it can be dressed up or down. And it's great for traveling since it's made of quick dry fabric.
Layers
In order to pack less and be prepared for changes in weather, pack clothing that can be layered. If it's warm during the day and cool at night, you can wear a short sleeve shirt and layer it with a long sleeve shirt, sweatshirt, or cardigan.
How much clothes to pack for 1 week?
I typically pack one week's worth of clothes for any trip that is one week or longer. So for 1 week, I'll pack one week's worth of clothes, or maybe even a little less.
This is because I pack quick dry shirts that can easily be worn a couple of times before washing. And I am willing to do laundry, or even just wash a couple things in the sink, during my trip.
I can often pack 3 or 4 shirts, a pair of jeans, and 2-3 pairs of leggings for a one week trip.
Don't pack too many shoes
I also only bring one or two pairs of shoes for any trip. You definitely want comfortable shoes for walking since you're likely to be on your feet a lot while traveling. And then if you also plan on dressing up at all, pack one pair of shoes that will work for all of your nicer outfits. Preferably something also comfortable, lightweight, and easy to pack.
Think ballet flats or other slim shoes, not heavy, chunky wedges. And please, no stilettos, especially if you're taking a one week trip to Europe where you're likely to walk on lots of cobblestone streets.
Shoes take up a lot of space, and can weigh a lot, so you really don't want to pack too many pairs. And if one of those pairs of shoes only goes with one outfit…yikes! That's a lot of space taken up by something you're only going to use once.
How to pack toiletries in a carry on
I promise, you don't need full sized bottles for a one week trip. If your products come in 3.4 ounces (100ml) or smaller bottles, buy them for your trip. If they don't have smaller sizes, you can buy refillable bottles like these to bring carry on friendly amounts of your favorite products.
Another way of reducing your liquids is to use solid versions. I tried this solid shampoo and this solid conditioner years ago, and I love them so much I use them even when I'm at home. They're fantastic, and they come in all different variations for different hair types, so you'll definitely find one that works for you.
I have many other solid toiletries that help me cut down on my liquids: solid sunscreen, solid bug repellent, solid toothpaste tabs, laundry detergent sheets, and so much more.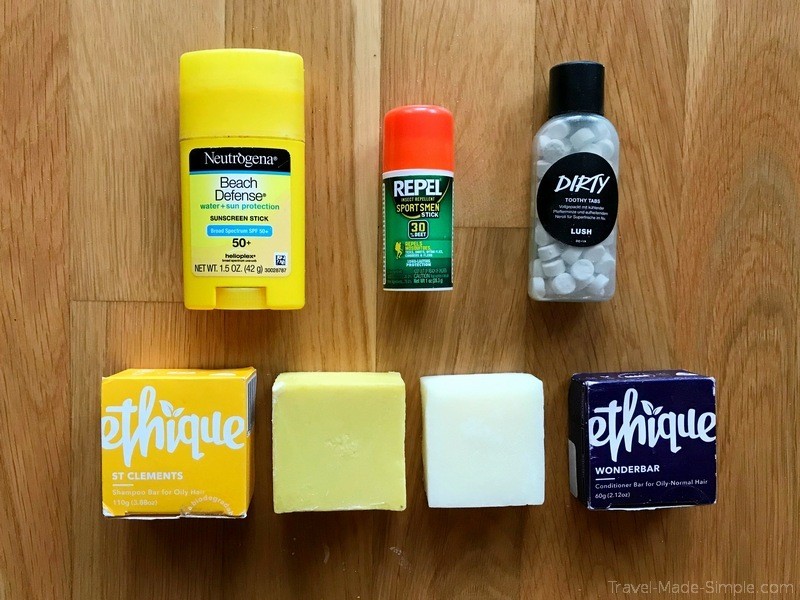 As for makeup, whittle down your makeup routine to the bare necessities. I hardly ever wear makeup, but I realize that's not the norm for most women. When I do travel with makeup, I have eyeliner, matte mousse (this basically acts like foundation and powder in one), and blush.
Keep in mind that some makeup, like mascara and foundation, counts as a liquid and will have to go in your liquids bag.
Read more about what toiletries you can take on a plane.
Skip the hair dryer
Chances are your hotel or apartment rental has a hair dryer. Start making it part of your hotel checklist so you always book a place that has a hair dryer. And yes, I know hotel hair dryers are often horrible, but it's still better than lugging around your bulky one from home.
Plus if you're traveling to Europe from North America, you will either have to have a plug adapter AND a converter, or you'll have to buy a dual voltage hair dryer. Both options will most likely still not be as powerful as what you're used to at home.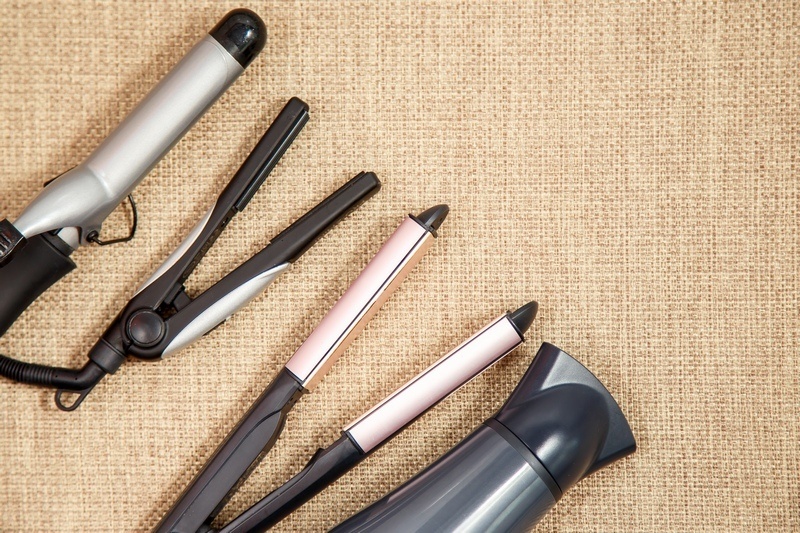 I feel strongly that you really shouldn't pack a hair dryer for most trips.
If possible, make do without a hair straightener or curling iron for your one week trip. But if you just can't do it, choose one, not both, and make sure you have a dual voltage version like this.
Limit your electronics
Do you really need your laptop? Probably not. Really think about whether you need to bring your laptop, and if at all possible, leave it at home.
I'm sure you want to take pictures, but chances are your phone will suffice. I blog for a living, and even I only use my phone about 75% of the time. The only time I bring my DSLR is when I know I need higher quality photos, like the safari we took in Zambia last year.
A Kindle is great for reading on the plane or on trains. And of course you need charging cords for all your tech.
Don't forget to pack a plug adapter like this one if you're traveling to a region that uses a different plug style. Europe uses different plus than North America, so you'll need an adapter to plug things in. The one I linked to also has USB slots.
Use packing cubes
Packing cubes are a great way of organizing your clothes and other things, and they can save space by compressing clothing. A week of shirts in a packing cube will take up a lot less space then packing them loose.
Here are a few packing cubes we use: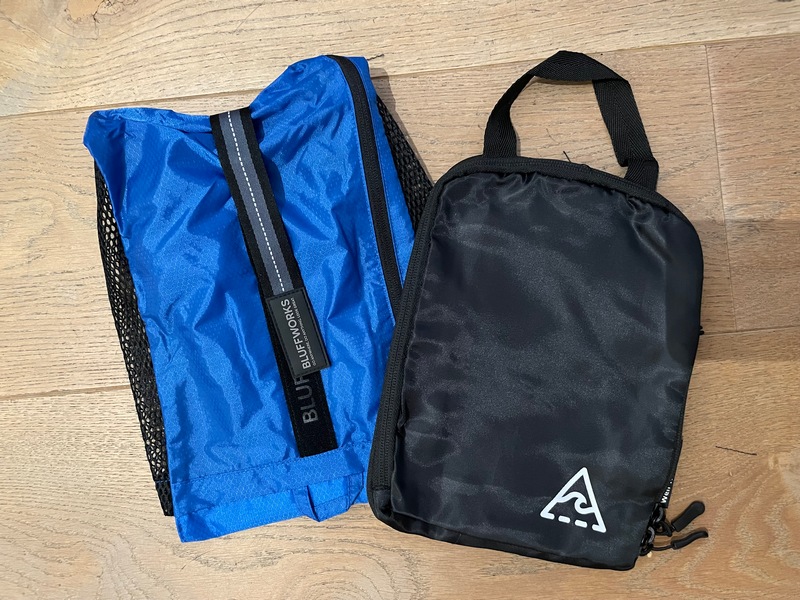 And the organization they provide is super helpful. It makes it easy to find shirts, for example, because I know which cube has my shirts.
I also have a separate packing cube for underwear. I wouldn't want my underwear loose in my bag anyway, so having all my socks, underwear, and bras in one little cube is very helpful.
Sometimes I'll also pack an empty cube to use for dirty clothes. That way I can keep the dirty stuff away from the clean stuff, and it still takes up roughly the same amount of space.
Makeup bags can also be great for organizing smaller items, like cords and chargers, or medicine. I often travel with a pile of granola bars, and they go into a small cube or a makeup bag.
We have packing cube from several different companies, partly because I'm addicted to travel gear, and partly because certain cubes work better for certain situations. I like having the different sizes because the work with different things that I'm packing. Usually underwear works best in a smaller cube while shirts work well in a medium or larger one.
Don't pack too many just-in-case items
I think where a lot of people get stuck is they think they have to be prepared for every possible scenario. This leads people to over-packing.
Worries like, what if it's unseasonably cold or warm will lead you to pack clothing you don't need. Or you're giving yourself multiple choices when you only need one or two outfits for a specific activity.
Think about what you actually use in your day-to-day life, as well as things you have typically used (and NOT used) on past trips. If you always pack a dress, just in case, but then never wear it because you're not a dress person, then leave it off your packing list.
Many travel packing lists recommend bringing a sarong because of it has multiple uses. But I almost never use mine, so I don't pack it anymore when I travel.
And remember you can buy almost anything where you're going. If you're wondering how to pack for Europe in a carry on, you can always find a store that sells toiletries or just about anything else you forgot or didn't pack enough of.
Contact solution is what always gets me on longer trips. A week or two is fine, but for longer trips, I know I will have to buy contact solution along the way, and it's always easy to find at drug stores or optical shops.
The only exception is if you're going somewhere remote, but you'll likely need a whole different kind of packing list for that kind of trip anyway.
Wear heavy clothes and shoes on the plane
Be strategic about what you wear on the plane. Whenever possible, wear heavier or bulkier items on the flight to save space in your luggage.
I often wear leggings in my day-to-day life and when I travel, but I always travel with jeans as well. Since jeans take up more space, I will almost always wear them on the plane.
When traveling with sneakers or boots PLUS sandals or dress shoes, wear the bigger shoes and pack the slimmer ones.
I almost always travel with a hoodie because it can get cold on planes or trains. So I always plan on wearing it on the flight.
Are you traveling to a cold destination? Carry your winter coat. A coat or jacket won't count against your carry on allowance, but it will take up a ton of space in your luggage, so just carry it and shove it in the overhead with your suitcase.
I'll usually use a carabiner clip or luggage strap to attach my jacket to my suitcase or backpack, that way it doesn't get separated, and I don't forget it at the end of the flight.
And if you're traveling with bulky sweaters for a cold destination, you might want to try compression bags like these. I haven't used them but I know several people who swear by them.
Re-wearing clothes and doing laundry
When it comes to packing for a week in a carry on, it's helpful to embrace wearing something more than once. And no, I'm not talking about underwear.
But you really can wear a shirt two or even three times in most cases. You can wear your jeans for soooo many days before they really need to be washed.
So even though I personally can fit one week's worth of clothing (plus other non-clothing items) into a carry on bag, I often don't even pack a week's worth of clothes for a one week trip. Recently I've taken several two week carry on only trips with one week of clothing.
Another option is to do laundry or wash a few things in the sink. Of course no one wants to do laundry on vacation, but it reduces how much you pack. With quick dry clothing, washing a few things in the sink takes almost no time, and your clothes will dry overnight.
Because also, who wants to throw just a few items into a washer? Hand washing your quick dry clothing in the sink is faster and cheaper than going to a laundromat.
I use these laundry detergent sheets to wash one or two things in the sink. They're small, so you can't do a full load of laundry with one, but for handwashing a couple things, they're great.
How to pack it all up
How you pack everything into your suitcase or backpack can make a big difference.
I love using packing cubes for shirts and underwear, but I rarely use them for pants. I find the bigger packing cubes to be less helpful, but organizing things into smaller cubes is a really space saver.
Rolling your clothes is also a good way to save space. I even roll my shirts that get packed into a packing cube. But you have to test it out because certain fabrics or shapes will work better folded up small. Pack up one way and then the other to see which actually works best for you.
Find all the little nooks and crannies. Once you've put your packing cubes and other loose items into your bag, you will inevitably have some tiny spaces around the edges and in between things. Fill those with smaller items, a loose pair of leggings, whatever fits.
And play around with things. You won't always find the best configuration on the first try. But by moving things around, you'll find the best way to use every possible inch and centimeter.
If you're packing shoes, put small items inside the shoes. This can be socks, or a small bag of makeup, or some charging cords. Whatever fits so you're not wasting that space inside the shoes. And you may want to put your shoes inside a shoe bag like this so you don't get your dirty shoes all over your clothing and other items.
Jacket pockets are another place to put a few things if you're in a pinch. For cold weather travel, put your gloves in the coat pocket, and if your hat or scarf fit, put that in there too. I've also put random small but heavy items, like my power bank, in jacket pockets when I'm nervous about the weight limit.
Tips for one week in a carry on bag recap
So how do you pack for a week in a carry on? Start with having an open mind about changing the way you've been packing. Follow these tips, and you'll be on your way:
Choose the right carry on suitcase or backpack, and choose the right personal item.
Check the weather a few days before your trip.
Pack coordinating clothes and shoes, and stick to 1 or 2 pairs of shoes. 3 pairs max only if you really need them.
Reduce your toiletries and makeup, and try some solid alternatives to reduce liquids.
Reduce your electronics and only take what's necessary for your trip.
Use packing cubes and makeup bags for organizing and compressing to save space.
Don't pack too many just-in-case items.
Wear bulkier items on the plane.
Re-wear clothes and do laundry if necessary.
What's on my minimalist travel packing list for a week in a carry on
This will change slightly from one trip to the next, but for the most part, what I pack for a trip doesn't vary much. If I'm traveling for one week, here's what I pack in my carry on and personal item.
4-5 short sleeve shirts – Try these cute quick dry shirts from Bluffworks.
1 long sleeve shirt
1 hoodie
1 pair of jeans
3 pairs of leggings
7 pairs of underwear – Try these Exofficio quick dry underwear.
Thinx period underwear: I always use Thinx period underwear, so I'll pack them if I'll have my period while traveling. Use that link for $10 off your first purchase, and I'll get $10 too.
4 pairs of socks
2-3 bras
1 shirt to sleep in
1 rain jacket (or winter coat for cold weather trips)
Comfortable walking shoes, maybe ballet flats (depends on the trip)
Toothbrush and toothpaste
Shower gel or bar soap
Hair brush
Lotion, lip balm
Contact solution
Wound cream and bandaids
Prescription medicine
Glasses and sunglasses
Nail clippers (NOT scissors) and nail file
Solid sunscreen and solid bug repellent (depends on the trip)
Minimal makeup (depends on the trip, often I don't bring any)
Phone, power bank, Kindle, cords
Passport
I hope this helps you understand how to pack for a week in a carry on. Give it a try! I love traveling with only carry on luggage, and I bet you will too.
You might also enjoy: