If you've committed to traveling with only carry-on luggage, the amount of stuff you can bring will be limited. So how do you decide what to bring and what to leave at home? I can help with these clothing packing tips for carry-on only travel.
Clothing is probably going to take up the most amount of room, but it's also where you have the most flexibility, so it's a good place to start. I've taken many 1 week trips with only a carry on, and I've even traveled for 2 weeks with just a carry on bag. So you can do it too.
Traveling carry-on only might seem restrictive and difficult to do, but after 15+ years of traveling this way, I believe NOT checking luggage provides me with more freedom. Whether you're trying to avoid checked bag fees, you're worried about the airlines losing your luggage, or you just want to travel lighter, packing carry-on only is something you can easily do too.
Clothing tips for packing carry on only
I have so many tips for packing carry on only, and my best tips about clothing are in this blog post.
Please note that some posts contain links that earn me a small commission at no extra cost to you.
Wear It Again
A big part of limiting the amount of clothing you pack is being ok with wearing the same thing two or even three times without washing it. I'm not talking about underwear, just shirts, shorts, and pants.
Chances are your clothes won't get noticeably dirty in just one day. Even when traveling to a hot destination where you will sweat a lot, does it matter if you put on a shirt you wore two days earlier if you're just going to sweat through it again?
If you're really concerned about your clothes smelling, consider buying clothing made from technical fabrics. They'll wick moisture instead of absorbing it, and if they do get wet, they'll dry quickly.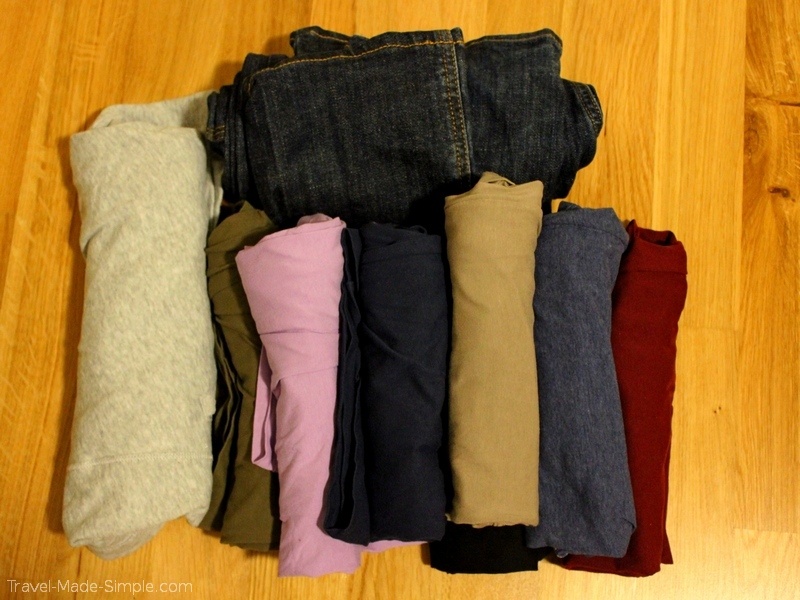 Choose coordinating clothing
In order to pack fewer clothes, you have to get the most use out of the clothes you do pack. Most of your clothing should go with most of the rest of your clothing. You can do this by choosing neutral colors or a color palette that coordinates.
Beyond that, don't pack one item that only matches one other item. You'll only use it once, and it just takes up space.
Wear your bulky items on the plane
I will usually wear my jeans on the plane because they take up more space in my bag than my leggings. If you're traveling with one pair of heavy shoes, like sneakers or boots, plus a lighter pair, like sandals or flip flops, wear the heavier pair on the plane.
Not only do the bulkier items take up more space, but they tend to be heavier too. And part of packing only carry on is paying attention to the carry on weight limit of your airline. This is also why you should buy a luggage scale like this one.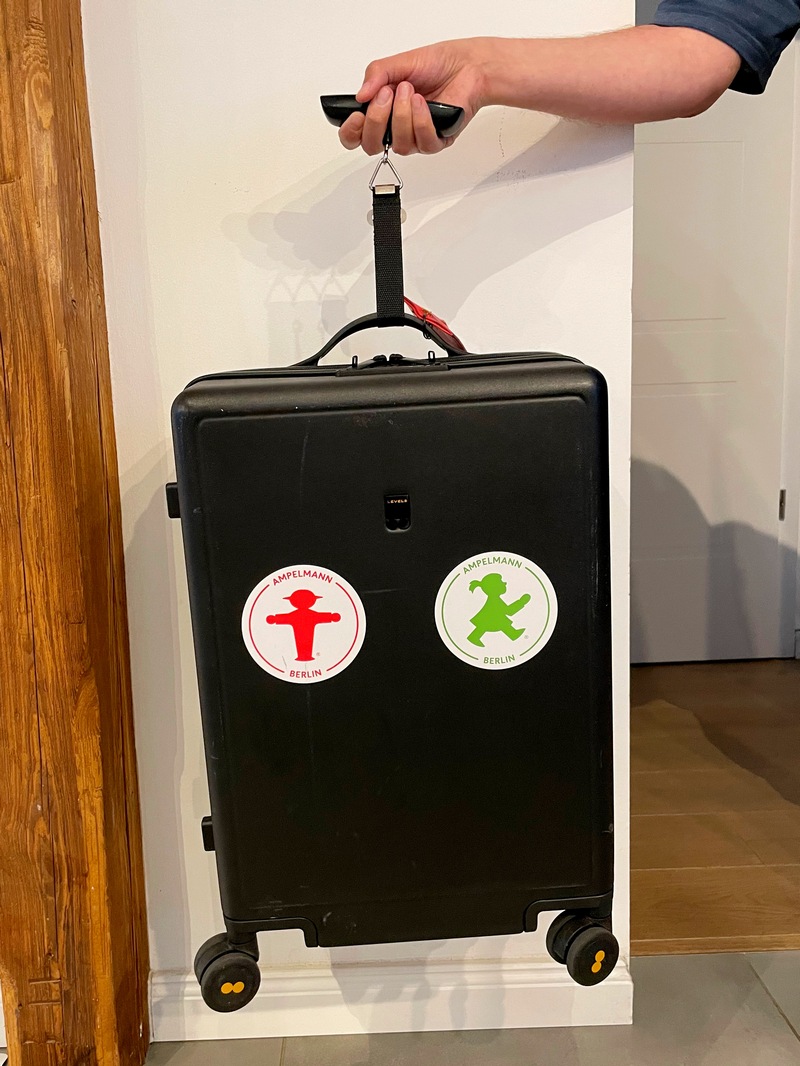 Laundry Is Not a Dirty Word
It might not seem like something you want to deal with on vacation, but it's relatively easy to do laundry on the road. The ideal situation would be to have your hotel do your laundry.
Unless you're staying at a five star resort, it should be reasonably priced. Ask the hotel ahead of time if you want to be prepared.
If laundry is expensive or not offered at your hotel, look for a local laundromat. In a pinch, I use these solid laundry detergent sheets to wash a couple pairs of socks and underwear in the sink.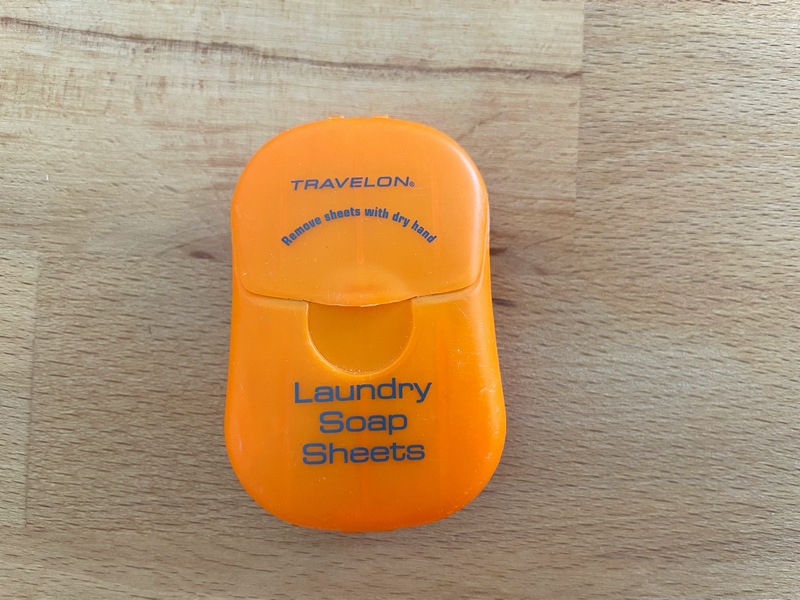 I normally pack about a week's worth of clothing. Knowing I'll do laundry means I carry a lighter bag while I'm traveling, and that makes my life easier.
What materials are your clothes made from?
Certain fabrics pack up better than others. Consider clothing made from materials like merino wool since they keep you warm in cold weather, cool in warm weather, and they take up less space in your bag.
Other quick dry clothing, like outdoorsy shirts from Patagonia or Sherpa, are a good option too. They pack up smaller than cotton, and they're really comfortable.
They usually dry faster than your normal cotton t-shirts, which is helpful if you decide to wash clothes in the sink. And they breathe better, so you won't sweat as much and your clothes won't smell. Even better for wearing the same thing a few times without washing it.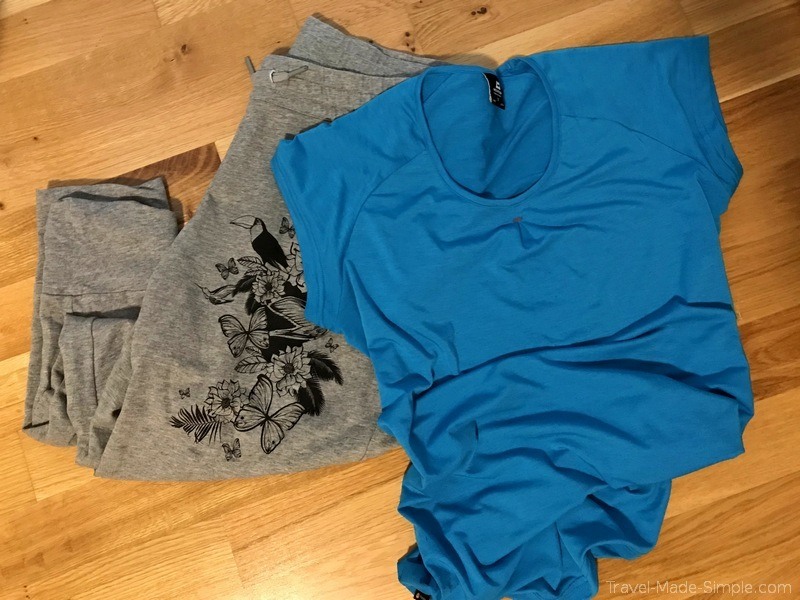 Just In Case
You might be tempted to pack lots of alternative items just in case. Resist that temptation! If you're trying to figure out how to not overpack, this is one of the biggest things to remember.
Think about what you're actually going to do on your vacation, and bring clothing that fits with the types of activities you expect to do. Bringing a light jacket to the tropics in case of cold air conditioning or a cool night is fine. But you won't need a winter coat.
If you're expecting to go out for one nice dinner, don't bring three outfits. Make the decision before you leave home so you don't end up carrying around extra clothes you won't wear.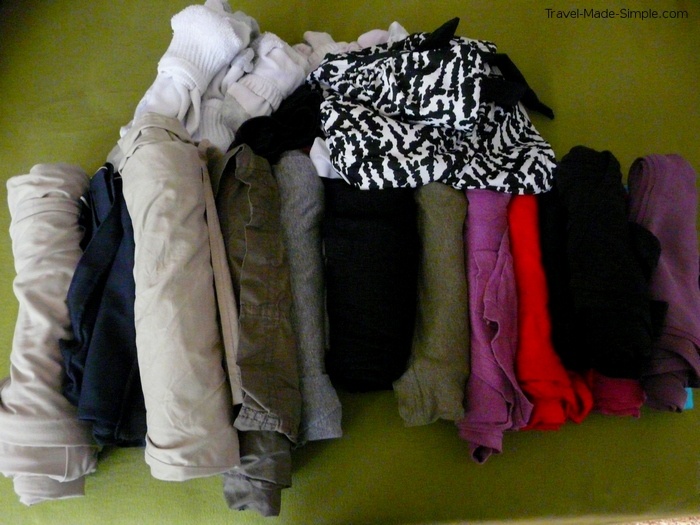 To get the most use out of each item, make sure everything coordinates. A pair of pants that only match one shirt will just take up a lot of space.
Also, consider your personal comfort and how you normally like to dress. If you wear casual dresses most days, you probably won't want to wear jeans on vacation, and vice versa.
Limit your shoes
Don't pack too many pairs of shoes! (This tip is mostly for the ladies, but I'm sure there are a few guys out there who need to hear it, too.)
Not only are shoes heavy, but they take up a lot of precious space in your bag. Sturdy, comfortable sneakers or hiking boots make sense if you're going to be walking or hiking, but one pair should be enough.
If you're traveling to a warm destination, flip flops or sandals are useful as well, but again, stick to one pair.
And those shoes that only go with one outfit? Don't bring them!
>>Read more: Can you bring makeup on a plane?
Remember that the main focus of your trip is the travel and the vacation itself, not what you're wearing. You want to be comfortable and practical, but you don't need to win any best dressed awards. Deciding what clothing you really need and leaving the rest at home will make a big difference in your suitcase.
FAQs about clothing and packing your carry on bag
Here are some frequently asked questions to help you with your carry on clothing.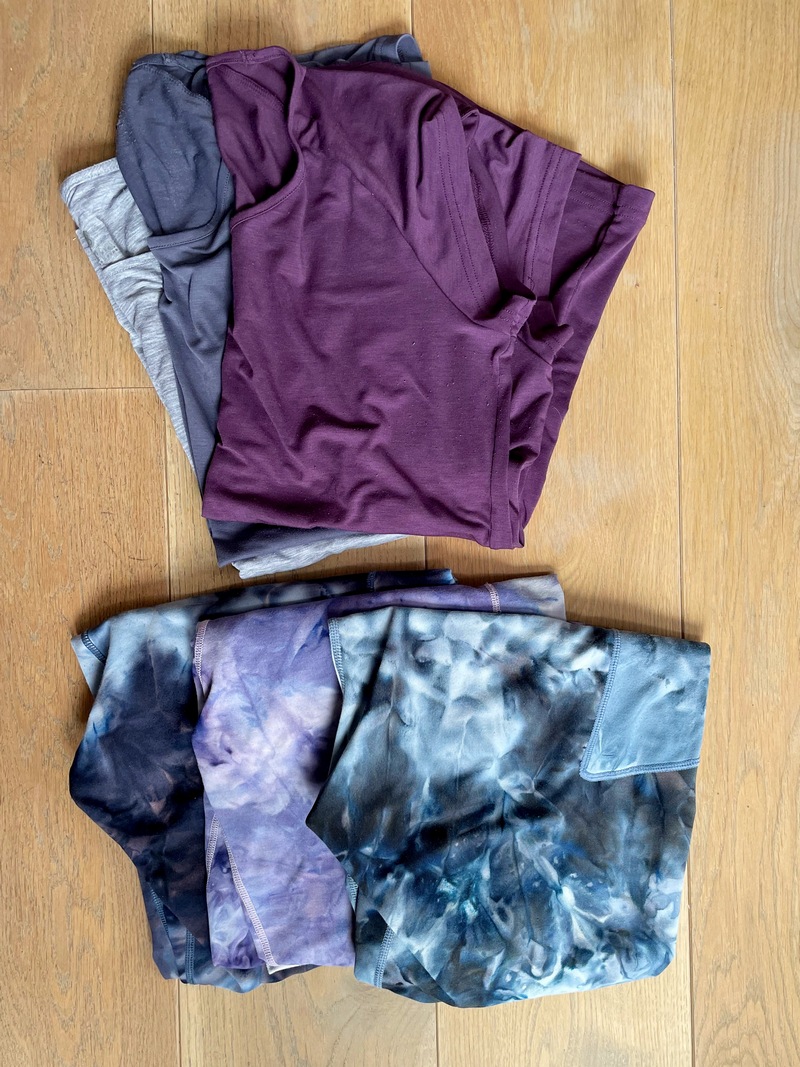 Can I pack clothes in my carry-on bag?
If you don't fly much and you're new to traveling carry on only, you might be wondering if you can pack clothing in your carry on bag. Luckily the answer is yes.
In fact, I recommend packing a few outfits in your carry on bag even if you're checking luggage. This will give you a little safety net in case the airline loses your luggage.
What is the best way to pack clothes for travel?
There really isn't a right or wrong answer to this one. Some people swear by rolling their clothes, while others prefer folding. Some of the differences are due to the types of fabrics and specific articles of clothing.
So it's really up to you. Start packing well ahead of time, and pack up your clothes a few different ways to see what works best for you. And I highly recommend trying some packing cubes, especially smaller ones that will help you organize things like underwear, shirts, and other small items that could easily get lost in your bag.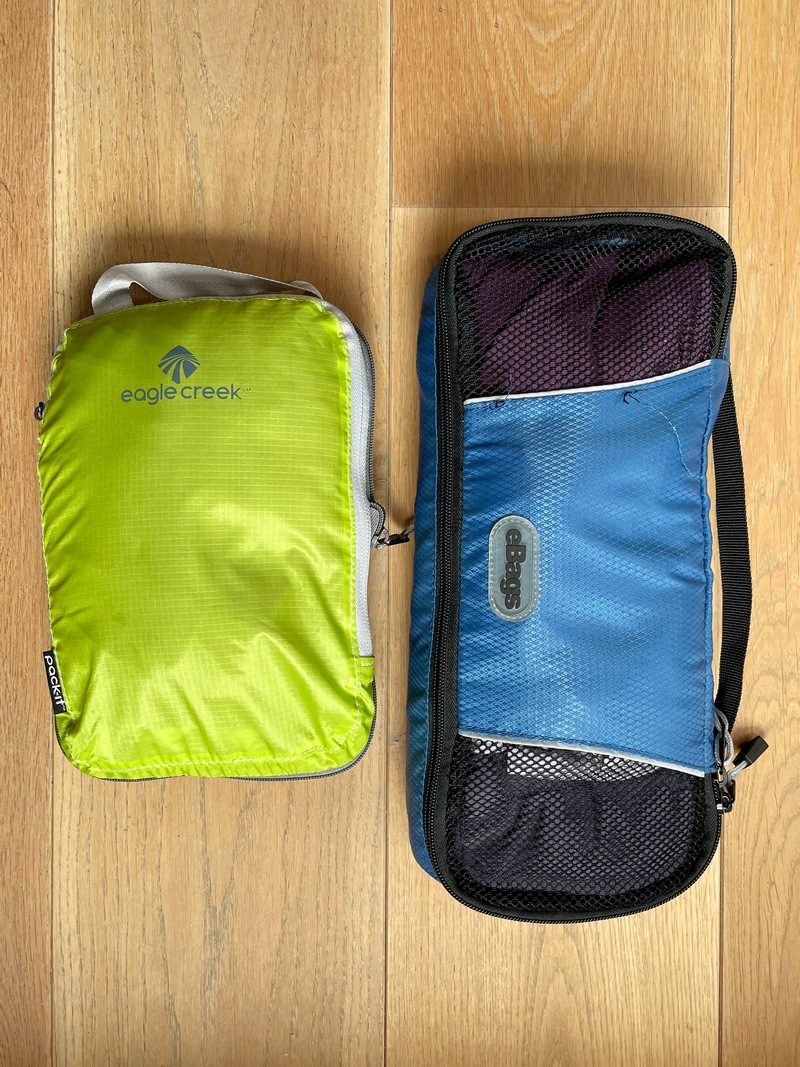 How many outfits can you fit in a carry on?
Again this is going to vary widely depending on the person and the type of clothing you're packing. Also, what do you count as an outfit? Combining shirt #1 with pants #1 is an outfit, but you could easily say that combining shirt #1 with pants #2 is another outfit, and it uses the same shirt.
So the combinations are virtually limitless. The question is more how much clothing can you fit in a carry on bag?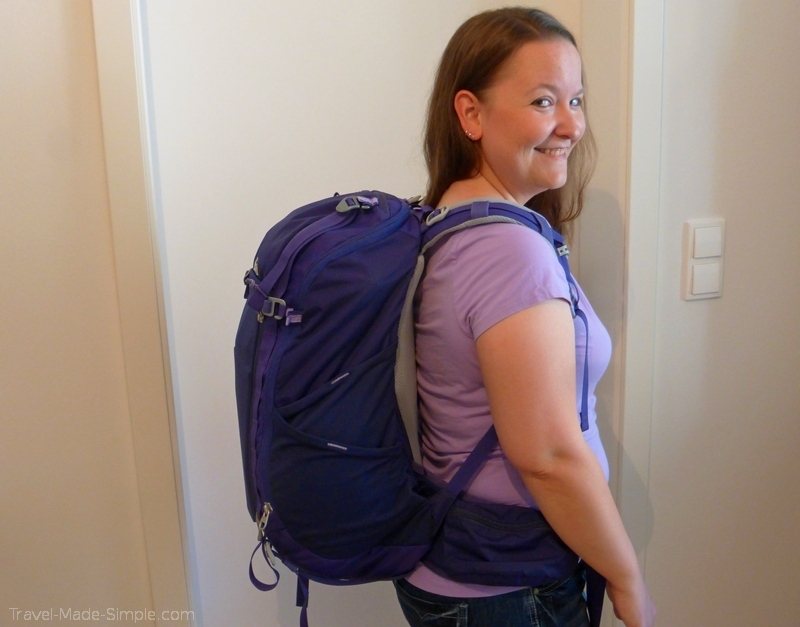 I can usually fit about a week's worth of clothes into my carry on bag. So I'll pack 6-7 short sleeve shirts, 3-4 pairs of leggings, maybe a pair of jeans, a week of underwear, 1-2 long sleeve shirts, and then all my toiletries other necessities.
How to pack a lot of clothes in a carry on?
I find rolling my clothes to be a good way to fit a little bit more clothing into the same space. But like I said before, your experience may vary, and you have to test our rolling vs folding. In general, one of the best ways to fit a lot of clothes in a carry on bag is to use packing cubes. They can compress your clothing so it takes up less space.
Carry-on luggage other Travel Made Simple readers have purchased:
Looking for more info about packing?