We went to Bratislava for a few days to meet some friends who were passing through. What better way to celebrate friendship than with food! We had food and drinks at a handful of interesting places in the historic center of Bratislava as well as took a beer oriented food tour. This post will be a review of the Bratislava food and beer tour and a brief look at some of the other places where we found decent food in Bratislava.
Where is Bratislava anyway?
Bratislava is not perhaps the most well known European capital. Not that it isn't visited, but its name definitely spawns more confused looks than, say, Rome.
Bratislava is the capital of the Slovak Republic (Slovakia). It is a city of about 450K people on the Danube river about and hour from Vienna.
Slovakia lies between Austria, Czech Republic, Hungary, and Poland with a small eastern border with Ukraine. So a lot of the traditional food of Slovakia is shared by the surrounding countries.
This is not to say they don't have their own special way to make the traditional dishes. Our food tour was going to be the way to see how.
There are a handful of food tours in the city, but we picked one that focused on beer. Each stop had food as well, so not a pub crawl, but definitely highlighted the beer.
Beer Oriented Food Tour in Bratislava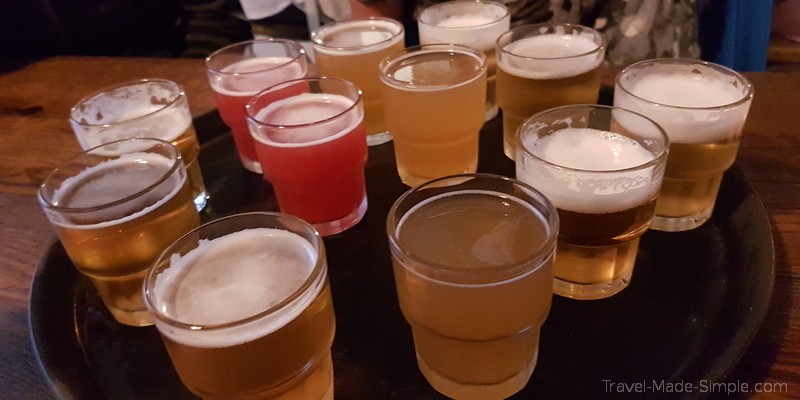 We started at the Bratislava castle which sits on a hill above town and had an amazing view of the city and the river. On a clear day you can see Hungary and Austria. Bratislava is that close to the border.
We were greeted by our guide with a small glass of blueberry liquor and heard a bit about Slovak history, culture and food influences. Then we headed off to a craft beer place for our first chance at beer along with sheep cheese to spread on bread.
The tour did a good job of letting us try a bunch of different beers. Some stops were just a single beer, but most of were several small glasses with different types of beer: from standard pilsner style through dark beer to a tiny bar where we each had a flight of different craft beers in international styles.
A few places even had cider for Ali to try, as beer is not her favorite thing.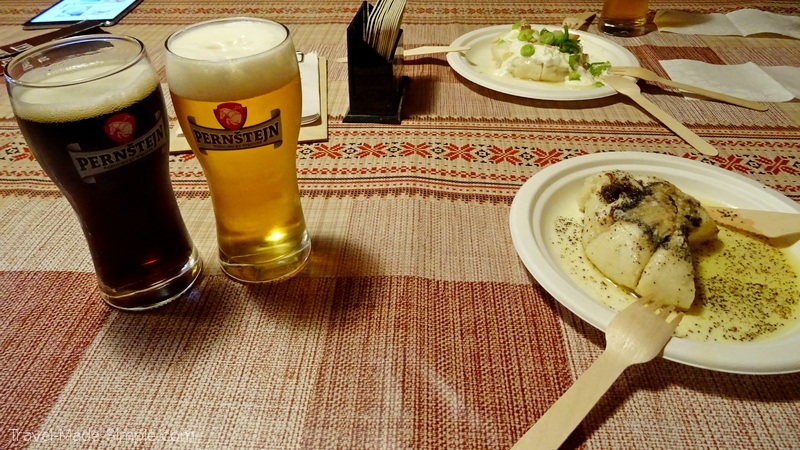 Each stop had a different food and a story of why that food was related to the culture. We had steamed dumplings in both sweet and savory styles at one stop. German Christmas Markets have this kind of thing, but only in the winter and only sweet.
At another stop, we had sauerkraut soup. We had seen this on a Prague Food tour years ago, and despite similarities it was a very different taste. Our guide taught us about the town that produces the bulk of sauerkraut for the country.
One stop on the tour was even at a cool grocery store. We didn't get any beer there, but we ate some really nice smoked cheese. And finally we had a bigger dinner, family style with several dishes including perogies and duck.
Our thoughts about the Bratislava food tour
We really like food tours as we travel as they offer a great way to experience a culture through its food. If done early enough in the trip, they give you a head start to cutting through the tourist-oriented offerings and down to the better selection of restaurants.
As with most of our experiences with food tours, this tour took us to places we would not ordinarily have walked into, either because we would never have found it or it would just not have looked like something appealing from the outside. This was great.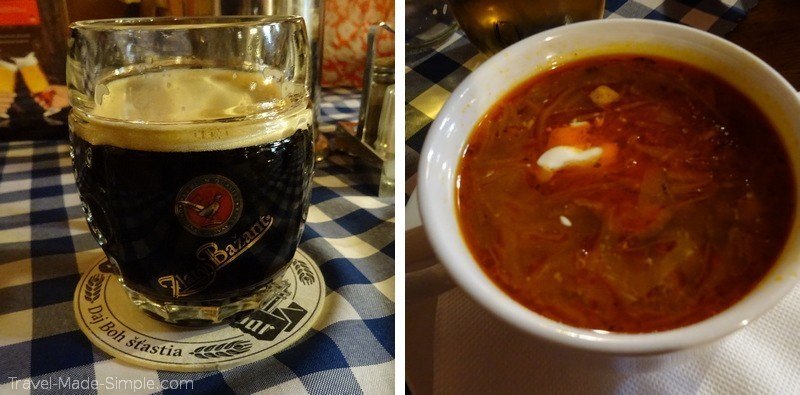 Please note that some posts contain links that earn me a small commission at no extra cost to you.
The guide was friendly and spoke wonderful English. She patiently answered all of our random questions about food, beer, Slovak culture, and Bratislava as a city.
The tour offered plenty of drinks across the evening and enough food to be a meal. Probably more than a meal. The selections were tasty and each had enough of a tie to the culture to understand why we were trying it. Often even the restaurant choice itself had a story to hear.
We quite enjoyed the tour and would recommend it. Do note that the cuisine, like much of eastern Europe, is bread and cheese heavy.
It is also a beer tour, so you are not going to be able to avoid gluten, so this tour might not be so easy if you have allergies or dietary restrictions.
Where to eat in Bratislava Old Town
We enjoyed wandering Bratislava's old town and there are definitely a lot of restaurants and cafes to choose from. Tourism has definitely come to the city, so some places seem to cater heavily to the stag party crowd while others felt more chill.
Here are a few places we thought were decent during our few days in town. This is a mix of modern European food and the more meat loving Slovak style.
Mondieu Cafe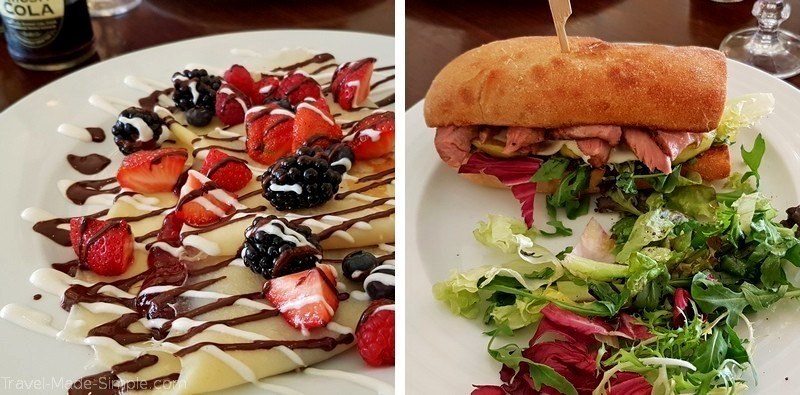 This is actually a chain with several across town. We ate at the one on Panska street twice. The sandwiches are nice, the smoothies are tasty, and they have Curiosity Cola, which was a nice break from the major brand colas.
It is more of a modern cafe with breakfast menu until midday (depending on the day) and then more substantial food the rest of the day. mondieu.co.uk
SLADOVŇA House of Beer
We originally wandered into the shady courtyard which houses this restaurant just to enjoy a cool beer to escape the heat. The food menu is extensive and it felt reasonable enough that we headed back for dinner the next night.
Portions are large and the ribs we ordered were tasty. This felt like a good choice for traditional Slovak food in Bratislava.
Meštiansky pivovar
Not right in the center of town, but only a few minute walk from it, this was a great beer pub. It is large with tables spread over several floors. The beer was tasty and the menu of food was very large.
Ali had their wings and I got a sampler appetizer of various meats with some nice horseradish spread. It was a good place to just have several pints and food. mestianskypivovar.sk
Be Unorthodox Craft Beer Bar
We found this bar based on a tip from our tour guide. It has some very trippy mural work all behind the bar, portions of which end up on the bottle labels for takeaway beer. They do have a rotating set of taps for enjoying there. The taps have both their own Unorthodox brewery and other craft breweries from around Europe.
The "Bloody Mary IPA" was one of Ali's favorites. Enough that we brought a few bottles home. I definitely recommend this place for some interesting beer in Bratislava. BeUnorthodox on Facebook
Yeme (Grocery Store)
This is a cool grocery store on the edge of Bratislava's old town and was a stop on our food tour. It has a small cafe with prepared sandwiches at the front and a grocery section beyond that.
This is not one of your mega stores from the US, but all of the basics are there. A nice bakery, a fresh meat section, as well as produce and an assortment of packaged items. There are a lot of local Slovak brands and types of food, which made it a good place for us to put together our train lunch for the return trip. yeme.sk
Have you been to Bratislava? Do you have any other recommendations for food in Bratislava?
You might also enjoy: