Do you want to taste authentic Italian food on your trip to Italy? Of course you do! Nothing beats real Italian pasta and pizza right from the source. But there's a lot more to Italian cuisine than those two dishes. Taking a food tour in Rome is the perfect way to discover where Italy's (and more specifically Rome's) food traditions come from and try new foods.
We've taken two food tours in Rome, and even though both were excellent, they were very different experiences. Here's a look at how two food tours in Rome compare.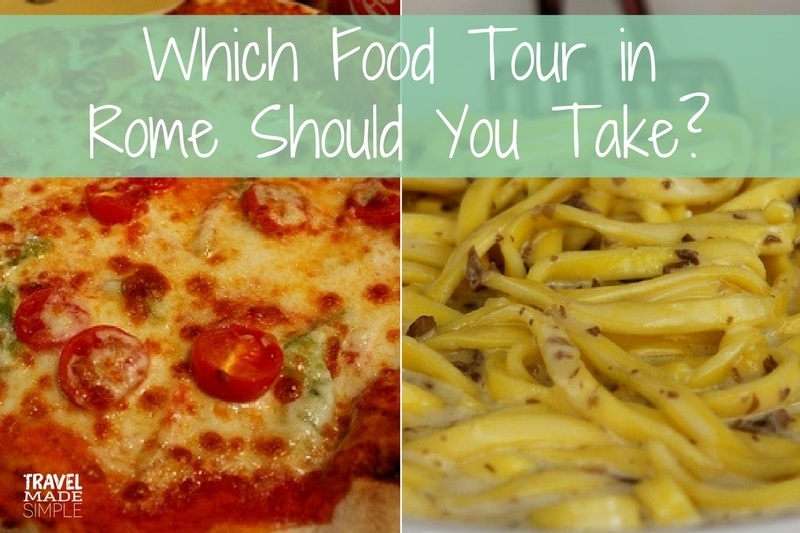 Neighborhood
The two food tours took place in very different sections of Rome. Each will give you a different but authentic look at local Roman life and food in Rome.
The Trastevere food tour takes place in the Trastevere neighborhood, which is across the river from most of the tourist areas. It's a real neighborhood where many Romans live.
Even though plenty of tourists do make their way over the river to explore this picturesque section of the city, you won't find it swarming with huge tour buses. It's a little outside the central areas but easy enough to reach by bus or tram.
The pizza making food tour takes place mostly in and around Campo de' Fiori, which is a market square located a short walk from Piazza Navona.
It's closer to the sights, and perhaps closer to where you're staying if you've chosen a centrally located hotel. This area gives you a glimpse of a traditional bustling market where you'll see both tourists and locals.
Focus of the food tours
Both tours obviously focused on local Roman cuisine. But they differed greatly in how they taught us about the food and the variety and depth of the dishes we tasted.
Pizza making food tour
The pizza making tour focused more on comparing different varieties of a few foods. It was an in-depth look at a few foods that are key to Italian cuisine.
While in the market, we tasted many different types of olive oil and traditional balsamic vinegar. Italians take pride in their food, and oil and vinegar are no exception.
They taught us about the lengthy process of making good balsamic vinegar and what makes it is a protected food. We got to taste the subtle, and not so subtle, differences between the versions of oil and vinegar, and it was really fascinating.
While in the market, we also sampled several spreads on bread and authentic lemoncello.
Next we went to a butcher's shop near the square where we tasted several types of salami and ham, some cooked, some cured, some smoked. We washed it down with some local wine.
After that, we went to a cheese shop and tasted several types of cheese from soft to hard. Some I was familiar with, like mozzarella, but there were others I had never tasted before. We learned how the different cheeses and meats were made, how long it takes, and the different ingredients used.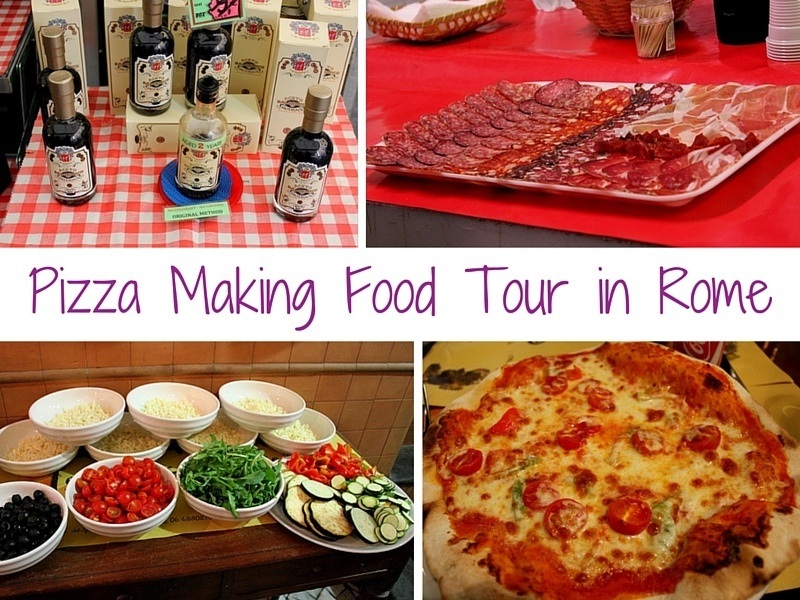 Please note that some posts contain links that earn me a small commission at no extra cost to you.
But the main event came towards the end of the tour. Our last stop was at a restaurant where we got to make our own pizza. They showed us how to roll out the dough into a pizza shape.
Then they taught us how much sauce and cheese to put on it (surprisingly less than I had imagined) and they provided a variety of toppings to choose from. We also learned that meats go on the pizza after it comes out of the oven, not before.
It was lots of fun, and it was one of the tastiest pizzas I've ever had because I made it.
For more details and to book the pizza making food tour with Take Walks,
click here
.
Trastevere food tour
The Trastevere food tour focused on showing us samples of a variety of local dishes. We tasted many different things but not as much depth of each type of food.
We started at a cafe and tasted a few little pastries. Next we went to a cheese shop where we tried pecorino, a well known hard cheese. After that was a butcher's shop where we learned about porchetta (pronounced por-KET-ta) which is a variety of pork I had never heard of before this tour. It was really juicy and different from my normal impressions of Italian pork products.
We tried another traditional food I had never heard of called suppli. These were rice balls with cheese, meat, and tomato sauce that had been fried. They were so tasty!
The tour also took us through a local market in Trastevere. We got to see the different types of things being sold, like fruits and vegetables and other items from the local area. We stopped at one stand where we got to try some melon and two different types of prosciutto.
Next up was gelato. We learned the difference between gelato and ice cream and tips for spotting the real stuff. And of course, we got to try a few flavors. This shop had some really unique flavors, but I ended up with two of my favorites, chocolate and mint. The mint flavor was made with actual mint leaves.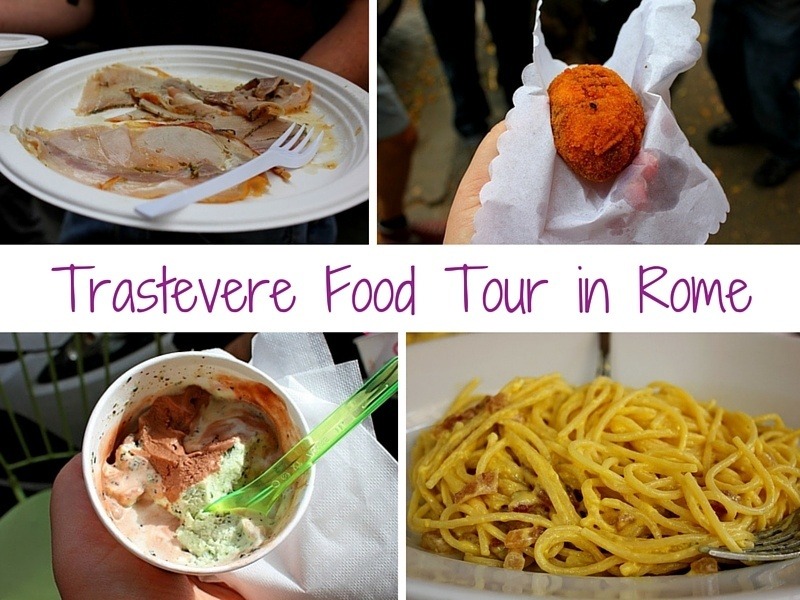 As we tried to find more room in our bellies, we went to a restaurant that makes pizza for lunch. We learned that most types of pizza are only made for dinner, and which type is available at lunchtime and tasted a small slice.
Then we went to a sit-down restaurant where three different types of pasta were passed around the table. Despite all the food we had eaten up until this point, this was the main event. Each type of pasta had a different sauce, and we learned about how certain sauces go with certain pastas. It was served with Italian wine.
After the pasta, we tried some sweets from a bakery and mini servings of tiramisu.
For more details and to book the Trastevere food tour with Eating Europe,
click here
.
Why you should take one food tour in Rome vs the other
These are both excellent tours. You really can't go wrong, and you will leave either tour feeling well fed. But since they are different experiences, it helps to know what you want out of the food tour.
The Trastevere food tour has a wider variety of food and more stops. You'll get samples of many different types of food, but generally just one or two versions. You'll taste authentic food you're familiar with as well as ones you didn't know about. The guide will tell you about the neighborhood as well as Italian and Rome-specific food history and traditions. With more stops there is also more walking.
Take the Trastevere food tour if you're more interested in trying a variety of dishes in a slightly less touristy part of town.
The pizza making food tour has fewer types of food and fewer stops, but you'll get a more in-depth look at the foods you taste. Instead of just one or two types of salami, you'll get seven or eight. This tour also provides the hands-on fun of making your own pizza. You'll learn about Italian food traditions and those that are specific to Rome, and you'll learn about the history of the market where much of the tour takes place.
Take the pizza making tour if you're more interested in comparing different varieties of a few foods and if you're interested in making your own pizza.
Read more to plan your trip to Italy: