So you've decided to take a food tour and picked the perfect one to explore your destination city. You're ready to taste the local food and learn about its connection with the city. Now it's the night before your tour, so how should you prepare for a food tour?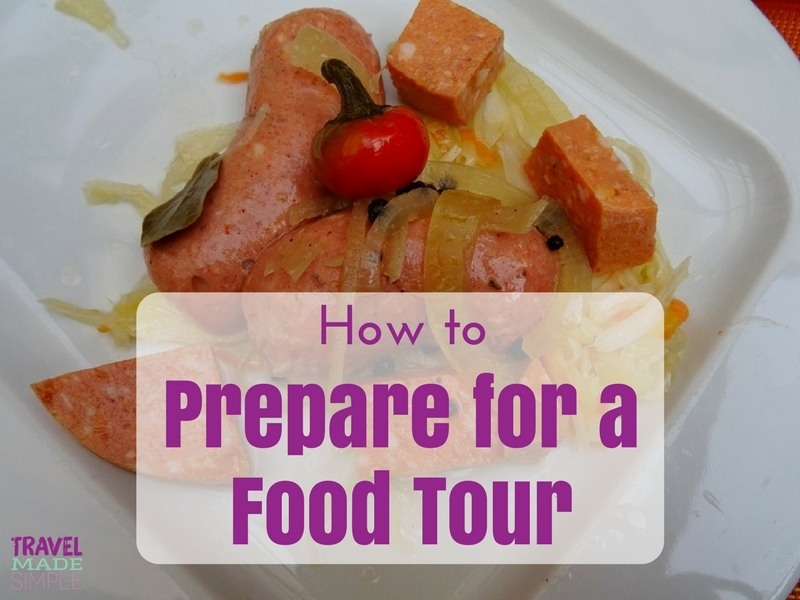 Before you even book the tour
Most of the tips in this post are things to think of the day before your food tour. But this one is important much earlier, before you even book your food tour.
Read the description carefully to make sure you understand what kinds of food you'll be tasting. If you're an adventurous eater, this probably isn't a big deal to you.
But if you have food allergies or intolerances, or if you're a picky eater, you might have to ask for some adjustments.
Many food tours can accommodate special requests, but you have to ask ahead of time. If you're vegetarian or vegan, they'll have to see if there are replacements for meat dishes.
Allergies can often – but not always – be avoided. For people who don't drink alcohol, a non-alcoholic beverage can be provided.
When in doubt, call or email the tour company, ask questions, and tell them what you can't eat. They'll let you know if their tour can be adjusted for you or if it's not possible.
>>Read more about taking a food tour with allergies or dietary restrictions.
Check the weather before your food tour
This part of preparation isn't much different than a normal walking tour. Every food tour that I have been on involves walking around a neighborhood and stopping in restaurants and shops to try their tasty foods.
So it is just good to remember that although you are touring food, it still means being outside.
Most tours will not cancel due to weather. Be prepared for your food tour by bringing umbrellas for rain and dressing in layers if it is cold out. Don't forget the sunscreen and maybe even a hat on sunny days.
Wear Comfortable Shoes
Again, don't think that just because it says food tour, that there will be no walking. It certainly depends from tour to tour, but it's quite likely that you will be on your feet most of the time.
Many tastings can take place standing at food stalls or in shops, not necessarily sitting in restaurants. If this is a concern, talk to your tour company for specifics. In general, prepare for a food tour by wearing decent shoes.
>>Check out what to pack for a day trip.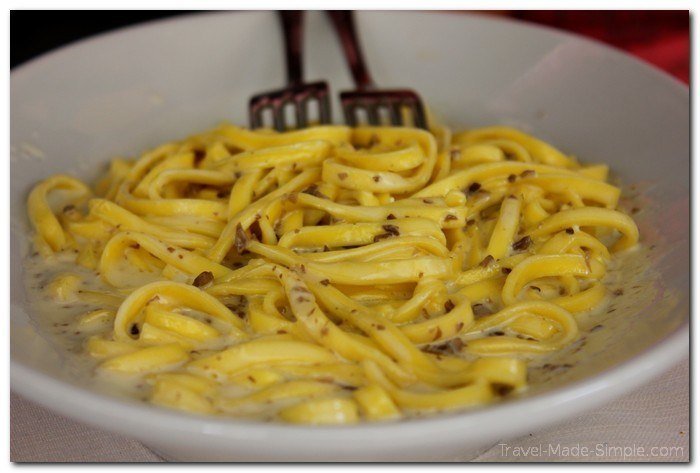 Bring Water
Read the descriptions carefully, but most tours will offer water at certain stops along their route. I find though that I like a bit more with me.
Sometimes I just want to cleanse my palette between tastings or just with all the food I want a bit more to drink. Plus if it's hot, it's nice to have water to drink while walking from one location to the next.
Don't Eat a Big Breakfast
A food tour is really a walking tour and a multi-course meal mixed together. A good food tour should never leave you hungry, and most can feel like having two meals at once.
Don't overeat at breakfast if your tour starts mid-morning, and don't plan for a big dinner out after the tour either. If the tour starts early in the day, I usually won't eat anything beforehand.
Do you have any other tips to prepare for a food tour?
You might also enjoy: