There are so many ways to travel, so many ways to get to know a city or a culture. One of my favorite ways to see a city is by taking a day tour, in particular food tours. Food is such an important part of culture, and it really teaches you so much about the destination you're visiting. And even if you think you know a lot about the cuisine, you might be surprised by what you learn from a food tour.
Please note that some posts contain links that earn me a small commission at no extra cost to you.
I recently took a food tour with Take Walks in Rome, and it reinforced my thoughts on how valuable I think they are.
Digging deeper into the food culture
Most of us think of pasta when we think of Italian food. And while pasta is definitely a staple in the Italian diet, there's a lot more to Italian cuisine.
One of the things we tried on the food tour was called suppli. Ever heard of it? It's a fried risotto ball.
I had never heard of it before this tour, but it's quite popular in Rome, and it was delicious. I never would've known that or tried one without this tour.
We also got to try porchetta (pronounced pork-etta) which is roast pork. It's a bit fatty, which makes for a moist piece of meat.
After this tour, I started noticing it everywhere, and I even got a porchetta sandwich one day for lunch. Again, this is a food I had never heard of before the food tour.
Food tours are great for this kind of thing. They'll introduce you to food you never knew was such a big part of their cuisine.
>>Check out our Italy itinerary on Travel Made Simple.
Visiting local food shops
The food tour took us to local delicatessens where we had the chance to see where meats and cheeses are sold. These delis are something you might not find near the tourist attractions, and you probably don't know where to look for them.
I knew Italy has some wonderful cheeses, but there are really only a few most of us are familiar with. Here we got to try pecorino cheese, which is a goat cheese. We could actually smell the cheese from a few doors down the street.
They also had all kinds of pork products, like these pork cheeks hanging by the door. You don't see that at home!
Finding authentic food
As a tourist, it's so hard to find authentic food. Often you end up eating something mediocre and overpriced. But a food tour can show you what to look for and give you a chance to taste high quality dishes.
Even though we were eating almost nonstop for hours, we did have one stop that was at a restaurant where we sat down and had lunch. We got one big raviolo (the singular of ravioli) and two different types of pasta.
I'm no food expert, but the taste was far superior to what I've had in restaurants aimed at tourists.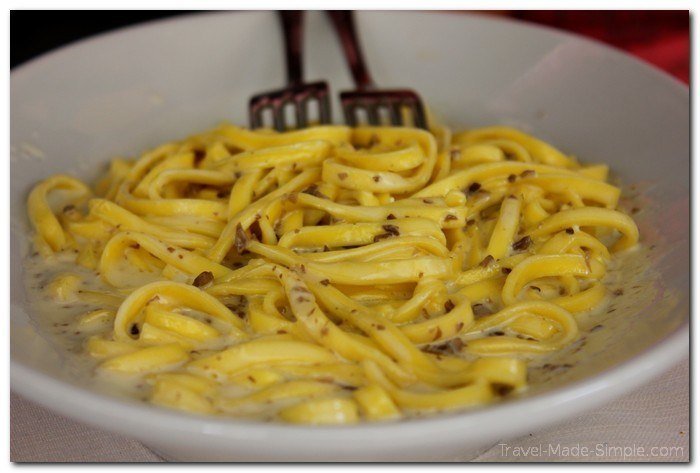 One of my favorite parts of the tour was when we went to a gelato shop. Gelato is all over Italy, and it's delicious.
But most of it is not the good stuff. Our tour guide gave us some pointers for picking out the real deal, and we got to try some really interesting flavors.
I tried one that had pink grapefruit, ginger root, horseradish, and caramelized lemon peel. Sounds pretty weird, right? It was definitely one of the strangest combinations of flavors I've ever had, but not my favorite.
After much debating, I finally ordered two flavors I normally order to see how they compared with what I've had in the past: chocolate and mint. They were amazing! The mint actually had tiny little bits of mint leaves in it.
Exploring a neighborhood
The food tour took place in a part of Rome called Trastevere. It's not super close to the Colosseum and the other major attractions in the city, and it has a distinctly different vibe.
There are certainly plenty of tourists who come to this neighborhood to look around, but you can tell this is an area where people really LIVE. Being on this tour took us through streets and piazzas I probably would've missed on my own.
All of the shops, cafes and restaurants we went to were frequented by locals. We even went to a local market where people were buying fruits, vegetables and more. At a deli stall, our guide had us try two different kinds of prosciutto.

This was all just part of the tour. We also ate pastries, pizza, cookies, tiramisu. I could barely eat dinner that night because I had so much food on the tour.
We went behind the scenes to see pizza made. We learned interesting facts and history about the food we were eating, as well as little details about the neighborhood, from our knowledgeable guide.
It was a great way to get some insight into how the locals live, where they eat and shop, and see a less touristy side of the city.
Every time I take another food tour, I am reminded of how wonderful they are. You just can't learn about the local culture in a better way.
Food is so important and plays such a big role in shaping a city. Plus it's such a delicious way to spend a few hours!
Thank you to Eating Italy Food Tours for providing us with two Daylight Trastevere tours. All opinions are my own.
You might also enjoy: