Many people avoid hostels in favor of hotels because they don't fully understand what a hostel is like. But they can often be a fun, unique, and inexpensive place to stay while you're traveling. The quality and characteristics of hostels vary widely, so do your research. Here's what it's really like to stay at a hostel.
This blog post will answer questions like, what is a hostel, what are hostels like, are hostels safe, hostels vs hotels, and more.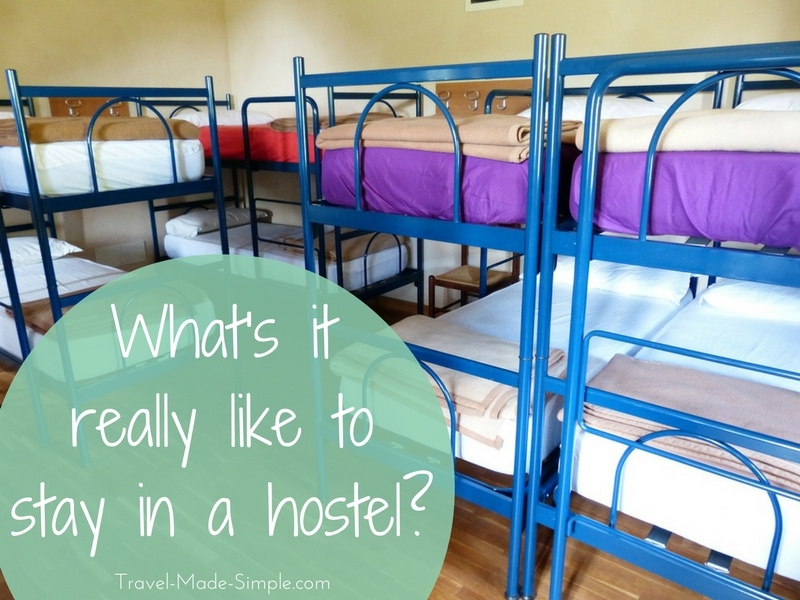 What is a hostel?
Hostels are a different type of accommodation than hotels. Usually hostels are more budget-friendly and are more basic. They'll have fewer amenities than hotels do, which cuts down on costs.
Hostels are well-suited for people who don't need high luxury. But don't be fooled, hostels can be quite comfortable!
Another big difference between hostels and hotels is the room types. While almost all hotels have private rooms with private bathrooms, hostels have dorm-style rooms. This means there are several beds in a room, and you book a single bed.
You'll end up sharing the room with other people, and there will be shared bathrooms. Sometimes there's one bathroom per dorm room, while in other hostels there are shared bathroom facilities down the hall.
Hostels can be a great option for younger travelers who are on a tight budget or are traveling for longer periods of time. They're also great for solo travelers who want to meet other people.
But hostels are not exclusive to young people. Many travelers who have left their 20s behind still enjoy staying at hostels for the social atmosphere.
While hostels will usually be cheaper than hotels, they will usually be rich in experiences. Keep reading for more details about what a hostel is and what it's like to stay in a hostel for the first time.
It just might turn out to be your new favorite type of lodging.
Staying in a hostel: What's it like?
Staying in a hostel has some differences vs staying in a hotel, so it's important to understand what it is like to stay at a hostel before you do it.
Amenities in hostels
In a typical hotel, your room will probably have a television and toiletries. Maybe even a coffee or tea pot. In general hostels don't provide these.
But since you're on vacation to see a new place, you don't really need a TV. And it's not much of a burden to bring your own travel-sized toiletries.
Towels are another thing that can vary from one hostel to another. Many provide you with a towel at no charge, though they won't replace it every day as they do in hotels.
However, sometimes you will come across a hostel that charges a buck or two for a towel, or even a deposit for the towel that you'll get back when you return the towel at the end of your stay.
Slightly annoying and almost feels petty, but in the end it's not that big a deal. Either pay the fee or bring your own towel. I personally would just pay the fee to avoid adding more things to my luggage.
Many hostels also won't provide a hair dryer. However, like most things, this varies. I once stayed at a hostel in Melbourne, Australia that had all female dorms and there was a hair dryer in each dorm's bathroom.
>>Read: Can you take hair straighteners in hand luggage?
Food in hostels
Many hostels have communal kitchens where budget travelers can cook instead of eating out. Not only does this save money, but it's one way you can meet other travelers, especially if you're traveling solo.
Some hostels have a restaurant and/or bar attached as well. This can range from a simple cafe with sandwiches to a full menu of entrees, drinks, and happy hour specials.
There are even hostels that organize free or cheap meals if you sign up ahead of time. The hostel I stayed at in Copenhagen recently offered free dinner for a certain number of people who signed up first.
I've stayed at ones that held pizza nights where you had to order your pizza the day before and the price was nicely discounted, and others that organized cook-outs on holidays. Some hostels include breakfast or offer it at a charge, just like hotels do.
Mealtimes can be very social. Whether you're traveling along or with other people, go hang out in the hostel's bar or restaurant and strike up a conversation.
You could end up with a fun 30 minute chat or a new best friend. The best hostels can end up feeling like home.
>>Read: Can you bring hand sanitizer on a plane?
Hostel services
If you're traveling for a long time or packing light as I always recommend, you will probably need to do laundry. Some hostels have washers and dryers you can use for a fee, and others offer laundry services that are almost always cheaper that what a hotel would charge to wash your clothes.
Tours can often be booked through hostels as well. They want to help you see the area and they know the local operators. They can help you pick the right tours that fit with your interests and get you all set up.
Sometimes the hostels even give their own tours. The hostel I stayed at in Copenhagen gave free walking tours of the city, which is the perfect introduction to the city.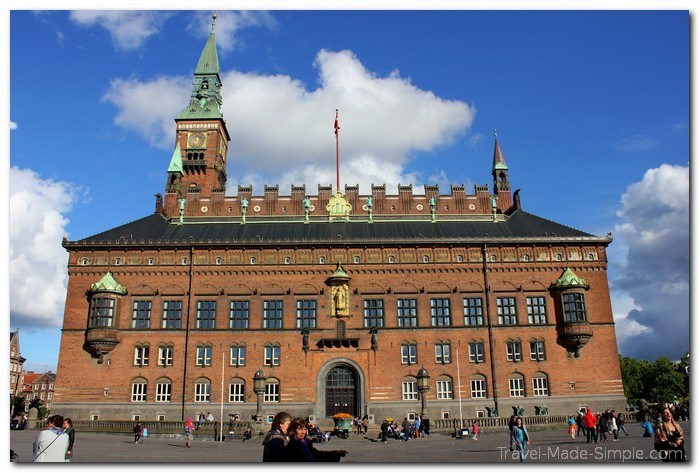 Types of rooms in hostels
This is where people usually get turned off by hostels. The idea of sleeping in a bunk bed and sharing a room with five or 10 other people just does not appeal to a lot of people.
Dorms work best for younger travelers and those who are on a tight budget. Sometimes dorms are mixed, but often there are single sex dorms if that makes you feel more comfortable.
But guess what? Dorms are not the only option at many hostels! Many hostels have single, double, and triple rooms.
Solo travelers who want their own space can get a room to themselves. Couples or friends traveling together can get their own room too.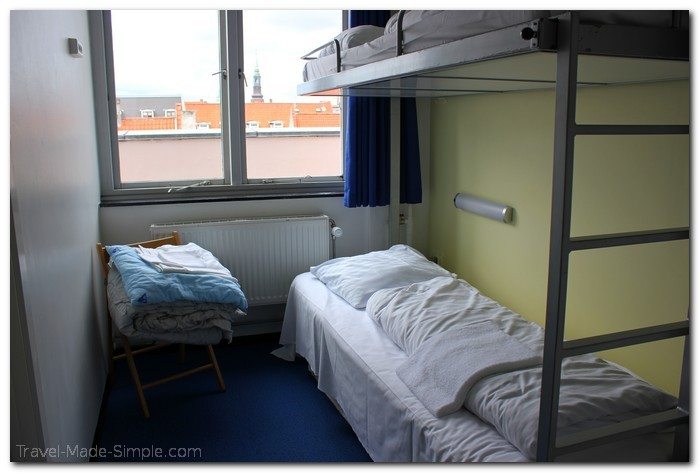 Bathroom facilities are another aspect to look at when considering a hostel. They can range from communal bathrooms shared by many people on one floor to a bathroom that's only shared by the people in your dorm room.
If you're staying in a private room, sometimes you'll have to use a shared bathroom, but often hostels have rooms with private bathrooms as well.
If you have a private room with a private bathroom, a hostel simply ends up feeling like a bare bones hotel with a more social atmosphere. Sometimes you won't even be able to tell you're not in a hotel!
>>Read: Best Cities in the Mediterranean
Where do you keep your luggage in a hostel?
When you stay in a hostel dorm, it's a reasonable question to wonder where to keep your luggage. Luckily most hostels have lockers.
Always read the reviews and description of the property before booking it. I personally wouldn't stay in a hostel that didn't have some kind of locker for my luggage.
A locker means your belongings are secure, though you probably have to bring your own padlock.
Who stays in hostels?
Hostels usually appeal to young travelers more than anyone else. Young people backpacking through Europe, for example, will often choose hostels because they are inexpensive and social places to stay.
Hostels are also a great choice for solo travelers because they're a good place to meet other travelers.
But anyone traveling on a budget might choose to stay at a hostel, so certainly people in their 30s, 40s, and beyond will sometimes book a hostel.
And since some hostels have private rooms, they can be a good choice for people who don't need the frills of a typical hotel. Hostels will generally be cheaper, so they're good for budget travelers of all ages.
Can couples stay in hostels?
Definitely, couples can stay in hostels, and it's common enough. They might be more likely to book a private room, but not always.
My husband and I have stayed in both private rooms and dorms in hostels when we were trying to save money while traveling.
Can families stay in hostels?
Most hostels will take families, but note that some hostels don't allow kids under a certain age. If you are a family interested in staying at a hostel, it's best to book a private room, or sometimes you can book a family room or an entire dorm room for just your family.
Make sure you read the reviews. As a family, you probably won't be comfortable staying at a hostel that attracts a lot of party types.
Are hostels safe?
If you've never stayed in a hostel, you might be nervous about the safety. After all, the most popular option in a hostel is the dorms, where you'll be sharing a room with strangers.
First, remember that the other travelers you're sharing that room with are just as concerned with keeping their items safe as you are. Chances of something being stolen are low.
But since there is always a possibility, you should always look for hostels that have lockers. Sometimes they're in one section of the room, while other times the locker is sort of a drawer under the bed.
Read reviews and hostel descriptions to be sure they have lockers before booking. And it's always good to travel with your own padlock since they're often not provided.
Are hostels safe for solo travellers?
Solo travelers, especially solo female travelers, might be concerned with their physical safety in a hostel. Again, hostels are usually pretty safe, but it's also a good idea to look for hostels that have female only dorms.
This can really provide some comfort when staying in a hostel.
So if you're wondering, is it safe to stay in a hostel, the answer is that yes, in general, hostels are safe. There are no guarantees, but certain things, like lockers and female only dorms, can go a long way in keeping yourself and your belongings safe.
Tips for choosing a hostel
For as many reasons as there are to give hostels a try, they just won't work for everyone. If you're used to a little more luxury and having things like a TV, complimentary shampoo, room service, and a bellhop, you probably won't be comfortable in a hostel.
Age can sometimes play a factor in whether or not you will enjoy staying at a hostel. Most, but certainly not all, hostels cater to a younger crowd.
That said, I once stayed at a hostel in New Zealand where I was the youngest person in my 4 bed dorm room for a week. At the time, I was 31 years old, and the other women were in their 40s and 50s, one was even on a business trip. Go figure.
If you're traveling with a family, quieter, more family-friendly hostels sometimes have family rooms or a room with several beds you can book as a whole, and it ends up being much more cost efficient.
If you're not 20 years old and looking for a party, read reviews and descriptions carefully. Hostels with nightly drink specials, organized pub crawls, and costume or theme parties will be miserable for you.
But some hostels specifically state that they are a quiet place without all the chaos. On the other hand, if you're young, traveling solo, and hoping to meet people, a more social hostel will be perfect for you.
Please note that some posts contain links that earn me a small commission at no extra cost to you.
As with hotels, be sure to read the reviews to find a hostel that best fits your needs. Check the location, the amenities, the extras, and what the overall atmosphere seems to be. Don't be afraid to give it a try and see for yourself what it's really like to stay in a hostel!
Thank you to the Copenhagen Downtown Hostel for recently hosting me in a private room at their hostel. The activities, free walking tours, and central location made it an excellent place to stay.
You might also enjoy: