Researching and planning a trip can be quite fun, but it can also be overwhelming.
It doesn't really have to be overwhelming though. The dreaming stages can get out of hand, but it helps to have a set of steps to get you from a dream to a plan to actually booking your trip.
We recently asked our newsletter subscribers if anyone wanted help planning a trip. We got a few responses, and while helping them out, we realized we have a lot to share with you about how we research for trips and how to plan a trip.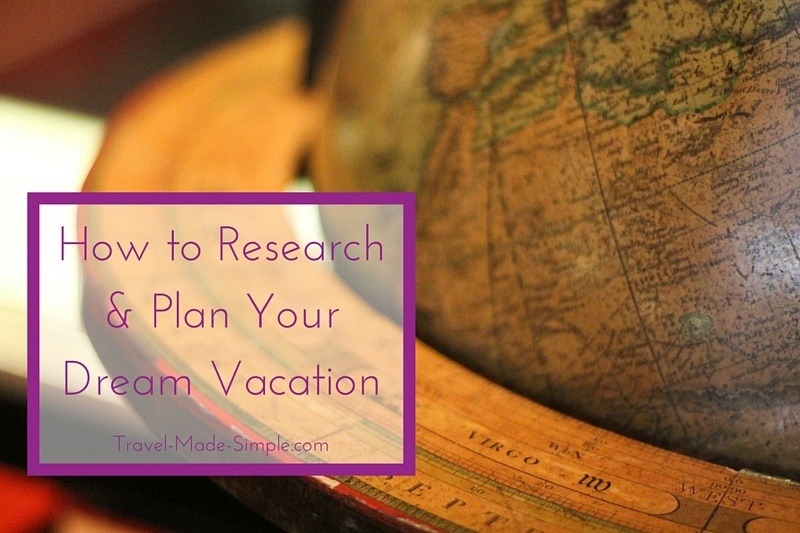 Here is our 7 step process that we go through to research any trip we take. At the end, you'll know how to plan a vacation, and you should have a trip itinerary that you can use to start booking flights, hotels, tours, and more.
0) How to Plan a Trip: Initial Thoughts
You need to start somewhere. Do you want a cultural journey through Europe or two weeks in Australia?
It is helpful here to also have an idea of the timing. Do you have just a few days at the end of a business trip or are you planning a two week vacation?
Write a sentence or just a few words to help focus you searching. If you are taking this trip with someone else, definitely get them involved even at this stage. You want to make sure you're on the same page when planning a vacation.
Please note that some posts contain links that earn me a small commission at no extra cost to you.
1) Brainstorm
This is the wild open stage of collecting ideas. No thought of cost or distance comes into place, just the heady fun of looking at all that could be.
Finding ideas is as easy as losing an hour wandering the internet. Exactly how you go about it is up to you and will depend a bit on where you are going.
Search "Top 10 in X" and "Things to do in X" and "one week in X" where X is your destination
Search Google Images or Pinterest for your destination. Try to get ideas of what sights you want to see.
Search Viator – We like half-day tours and unusual experiences, so it is worth seeing what is out there. For a little inspiration, check out our tour reviews on Travel Made Simple.
Search for food tours in your destination
Search for holidays and festivals in your destination and time frame. Also, check the weather for the time of year you'll be visiting.
I usually have a document open and just copy names of sights and cities in a big list. If I find some good websites with a lot of information about a place, I will copy their addresses too.
Try not to let this stage last more than a few hours (or days). This is an important part of the process, but one that can suck you into the dreaming. You do need to move onto actually planning the trip.
2) Collect and Cull
The Brainstorming step was without judgement; in this phase that judgement is back.
There is no way you can see everything on a single trip. You also don't want to have a trip where you lose too much time in transport.
This stage involves taking the list above and grouping it into places as well as labeling which sights are actually important to you.
Group the sights and tours and ideas into lists around specific places. How big these places will depend on your trip. If you are planning a trip to a whole country, then your lists are probably regions and cities. If you are going to a single city, then your places are probably neighborhoods.
Put a star next to things that are your "highlight reel" of the trip. What things will you be disappointed not to see? Try to not go overboard here. The more pressure you have to "see everything," the harder it will be to choose.
Also feel free to drop things. Sometimes as you are trying to group things, you realize that a sight is so far from everything else that it would be a big time commitment to see it. Feel free to drop it from your list.
Mark any sights that are closed on a specific day of the week or for a holiday during your trip. Museums are often closed on Mondays. Churches can be closed to visitors on holy days. Holidays can mean all kinds of closures both for sights and transport.
Holidays and festivals could be a good thing or a bad thing depending on your desires. Sometimes a festival you don't care about is going to make a place just more crowded and expensive, but a cool little local thing can turn into a trip highlight.
3) Count days
Most of us have to fit travel into the available days instead of deciding how many days based on what you want to see. Know how many days you have to work with and try to make a rough guess where you want to spend it.
Account for the day you are arriving and the day you are leaving as well as any transport days between cities. And if you're changing time zones, allow room for jet lag.
This is going to be a very individual step to each person and trip. For some trips you might want a few days just to lie on the beach, while for other trips you might want to see as many different places as you can, without really needing to see anything in depth.
As a rule of thumb, I think of one major sight and 1-2 minor sights per day.
Major sights are the big things that take a few hours like museums and tours, and probably need to be booked ahead of time. Minor sights are things that you probably just want to see quickly and take a few photographs.
Day trips take up an entire day. Exactly how much you can pack into a day depends on the transport and your own tolerance.
In each of your group lists, count the experiences and try to estimate how long it would take you do all of these. If you are anything like us, you will end up with a plan that will take a month to do. Yup, it happens. It's ok. That is what the next steps are for.
4) Choose your bases
Depending on how long you have overall, pick 2-3 of your group lists that you would like to see. Put together a very loose plan of X days here and Y days there. Those days will probably not be enough to cover everything you want to see, but that is ok.
Lay out the days and places on a calendar. Know what days you are arriving and leaving in each place. Check the sights that you want to see against the planned days and their own closing days. Is a museum you want to see closed on Mondays? Does your plan have you only in that area on a Monday?
This might look like a small section of how to plan a vacation, but it can be pretty tough in practice. I've used everything from Excel sheets to post-it notes to pencil and paper to do this stage.
5) Check Transport
Can you actually get to the places you want to see? This step should help you answer that questions.
Getting There and Away
Check flights from your home to your destination.
The question of when flights leave is important. If a flight home leaves before noon, you are probably going to have to be in the departure city for your last night. If the flight leaves at night, you might even get some early sightseeing done.
Getting Around
Our rule of thumb is that moving from one city to another usually takes at least half a day and maybe more. Even a one hour flight can take 5 hours or more with all of the extra time to get to and from the airport and the lead time you need at the airport.
Often buses and trains are better options. This is the step to investigate those options.
How often does the train/bus run?
If it is a day trip, how often does the transport run to get back? How late does the last one run?
Do you need to buy tickets ahead of time or can you be spontaneous?
How much to tickets cost?
In Europe, Deutsche Bahn (German rail) has a wonderful site of finding times for most routes on the continent. But since their site can't provide prices or let you book trains outside of Germany, you might need to go to the individual rail sites for each country you're traveling in. Most have an English option.
As an alternative to the train, check out FlixBus. They have bus routes in many countries throughout Europe at affordable prices. We've used them many times, and the buses are usually pretty comfortable. FlixBus can often save you a lot of money too.
Another option is to check Omio. It's a site that can show you train, bus, and flight options throughout Europe, and you can book your transport all in one place.
Do this research for each city transfer and for any day trips you want to take.
These are the kinds of questions we try to answer. This isn't about booking things, but to check practicality.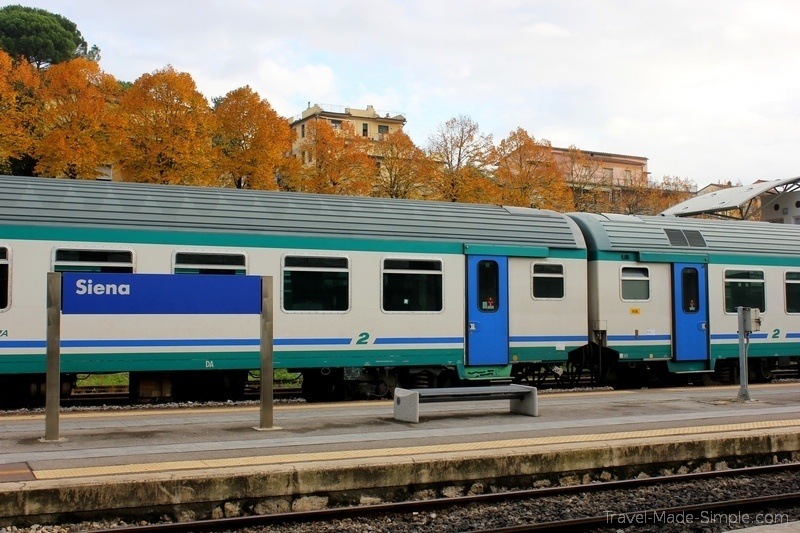 6) Preliminary Budgeting
At this point you should have a loose outline with a few places that fit in your time.
Next, do some hotel searches. We like Booking, but TripAdvisor is also a great place to search for hotels and read reviews.
This step is less about actually booking hotels and reading reviews, and more about getting a general feel of how expensive a place will be. Do this at each of your bases.
Put this together with your transport costs and any tour bookings you know you want to do. This should give you a ballpark number of transport and lodging cost. Remember you will have extra costs in your travel budget for food, shopping, and activities.
7) Does it fit?
A big part of how to plan a trip is, are you excited about taking that trip? Do you get to see the most important things you want? Does the budget fit what you can afford? Are there transport options to get where you want to go?
What if it doesn't work out?
This is an interactive process. The "Check Transport" step can be a big disruption. If there isn't a good transport link, then you might have to rethink your travel plan.
Picking different cities or a different order of cities can help. Open jaw flights can be good options so you don't lose a day at the end of the trip getting back to the original city.
Go back though any earlier steps to try to get a trip itinerary that feels like it would work.
Outcome and Next Steps for Planning a Trip
So what does this all produce?
You should have a list of places with a number of nights and a list of possible activities in each place. If you have multiple cities on the trip itinerary, you should have some notes on how you get from one to the next. You probably also have some notes on costs for hotels and transport.
You should also have a good feeling that the trip itinerary is something you would actually want to do. If you don't feel overly excited, go back to your original list and see if there is anything that would excite you more and how you can shift the travel itinerary to make it your dream vacation.
From here you can go about doing more detailed research for specific hotels, tours, and transport. Once you've done the legwork and researched your trip itinerary, you can start booking flights, hotels, tours, and more. Before you know it, you'll be on your way!
Want to make sure your vacation is the best it can be? We've written an e-book called
11 Mistakes to Avoid on Your Next Vacation
, and it's FREE! Apply our travel experience to your next trip, and have a better vacation.
Grab a copy here!
Plus you'll also get a printable copy of my travel packing list.
Need inspiration? Start here to research and plan a trip: