Australia is on a lot of people's short list of places to go…but it is huge and can be hard to know where to begin. You can spend one week in Australia and see a few places. But since it's so big, and likely far away from where you live, it would be better if you could go to Australia for 2 weeks or even 3 weeks.
You aren't going to see everything in a single trip to Australia, but you can see a lot of the highlights. With a bit of planning you can put together a trip for whatever time you have that gives you a good look at Down Under.
This post lists some of places to start and how many days to think about spending in each. Use this as a basis to make your perfect personalized Australia itinerary.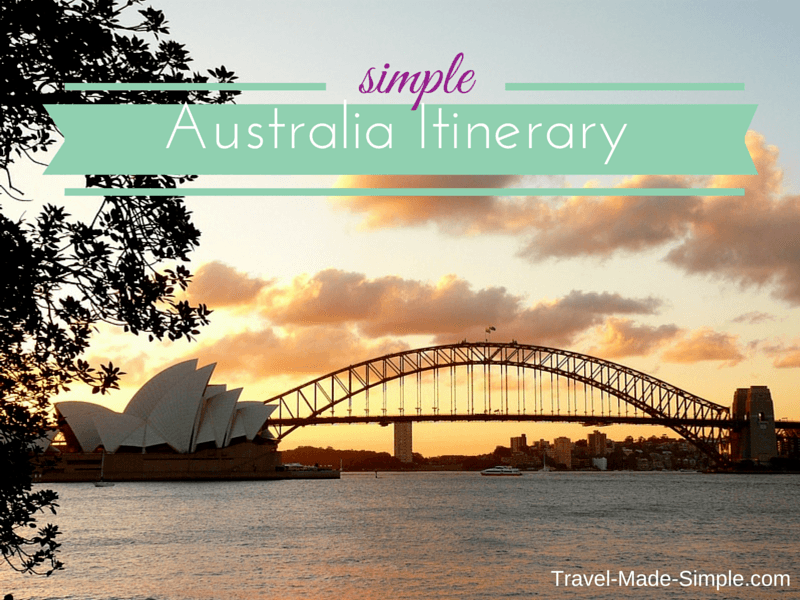 Planning an Australia itinerary doesn't have to be overwhelming
I recently wrote about 6 countries for new travelers, one of which was Australia. It's a great country to visit no matter how much travel experience you have, but it's especially easy to navigate for those who haven't done much traveling.
You won't have to worry about a foreign language, and there is so much to do no matter what you're interested in. Whether you're interested in big cities or peaceful nature, Australia has something for everyone.
The country is almost the size of the continental US, so you can't cover it all in one vacation, but these are some of the highlights for first time visitors.
Pick a couple places and build your Australia itinerary based on how much vacation time you have. Include time to get to and from Australia, as well as transportation between locations.
Please note that some posts contain links that earn me a small commission at no extra cost to you.
Sydney – 4 to 5 days
As Australia's most famous city, it's a great place to start. It's Australia's oldest and largest city (but not the capital), and it has plenty to offer for both city and nature lovers.
Sydney Opera House – Whether you want to take a tour or just admire its beauty from the outside, this is one Australian landmark not to be missed. My favorite time to see it was as the sun started setting.
The Harbour Bridge – You'll see the bridge near the Opera House. If you're not scared of heights, consider doing a bridge climb tour.
Circular Quay and the Harbour – The energetic port lies in between the Opera House and the Bridge. Take a boat tour or just hop on a commuter ferry for a different view of the Harbour and the city.
Royal Botanical Gardens – For a slice of nature inside the busy city, take a stroll through these gorgeous gardens.
Blue Mountains – Get out into the scenic mountains and forest not far from the city. Plenty of tour operators have day tours to the Blue Mountains. The Blue Mountains area is also one of many great weekend getaways from Sydney.
Beaches – Escape the city for an afternoon by spending some time at any number of beaches.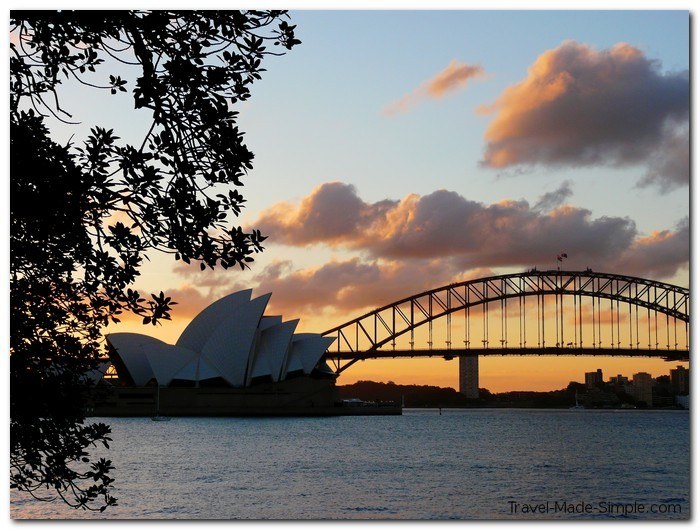 Melbourne – 4 to 5 days
Melbourne is a wonderful city to wander around in. It doesn't have anything similar to the big iconic Opera House in Sydney, but the city has its own great vibe and lots of delicious restaurants.
Consider a walking tour of Melbourne to see the highlights.
Food tour – I always like to start my time in a city with a food tour to learn about the local cuisine. Doing it at the beginning helps me know what and where to eat for the rest of my visit. Search for food tours in Melbourne here.
Federation Square – The perfect starting point. Here you will find a tourist office as well as the Ian Potter Centre National Gallery and the Australian Centre for the Moving Image.
Flinders Street train station – Located across the street from Federation Square, this gorgeous building is worth a look even if you're not taking a train anywhere.
Yarra River – The river runs behind Federation Square, and it's a nice place for a stroll.
Bourke Street Pedestrian Mall – This street and the many surrounding it are the place to go for shopping. Not into shopping? Relax on a bench and watch the world go by.
Chinatown – I had a hard time choosing a restaurant here because there are so many!
Queen Victoria Market – Stop in here for fresh produce, meats and cheeses, or a wide variety of souvenirs. There's also a small food court.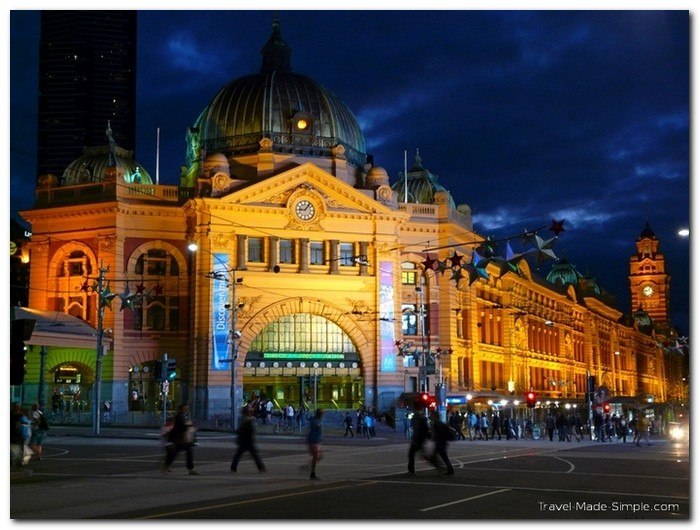 Great Ocean Road – 2 days
The Great Ocean Road is a stunning stretch of coastal road that starts not far from Melbourne. You can do this as a day trip, but I highly recommend taking two days to see as much as possible.
Plenty of tour operators start in Melbourne, so you don't have to drive. I took this tour, and I really enjoyed it.
12 Apostles – This is the area's most famous section for a reason. The view is truly amazing.
London Bridge – See a section of rock jutting out into the ocean named for its bridge-like appearance.
Beaches – You are on the ocean after all. There are countless beaches along the way. Stop for the scenery or a swim.
Forests – Temperate rainforests in the area are great for a different look at what this region has to offer. Search for waterfalls and get a chance to see koalas.
Uluru (Ayers Rock) – 2 to 3 days
Uluru is one of the things Australia is known for, and it's located in the remote center of the country.
It's not exactly a quick jaunt from anywhere, but it's well worth the journey. It will take you longer to get out here, even if you fly, so this is best added to a longer itinerary.
Walk around – The rock is massive. Walking around its 5.5 mile (9km) perimeter will take you approximately two hours without stopping for pictures.
Please don't climb! – *Update*: Climbing has recently (finally!) been made illegal. It goes against the aboriginals' law and culture, so it has always been very disrespectful to climb the rock.
Sunset/sunrise – The rock appears to change color during these magical times of day. Don't miss it!
Kata Tjuta (the Olgas) – This is another national park nearby that is also worth a visit. From the right spot, you can actually see some of these rocks from Uluru.
BBQ dinner and stargazing – One of the best ways to end the day after exploring Uluru is to enjoy a delicious meal and admire the starlit sky.
Great Barrier Reef – 3 to 4 days
The Great Barrier Reef is another one of Australia's iconic tourist attractions. If you enjoy scuba diving or snorkeling, this is the place for you.
Since the reef stretches from just below the Tropic of Capricorn all the way up to the northern tip of Queensland, there are several good destinations for ocean fun. This is a tropical area, so you can also visit the nearby tropical rainforest.
Cairns – This is one of the more popular towns for exploring the reef.
The Whitsunday Islands – These gorgeous islands are closest to the reef itself.
Lady Elliot Island – Here you'll find 19 dive sites, including shipwrecks.
Port Douglas and Cape Tribulation – Great for exploring the reef and the rainforest.
The Gold Coast is another amazing region to explore, from Brisbane to Surfers Paradise to Byron Bay and beyond. Check out best things to do in Surfers Paradise if you're traveling with kids.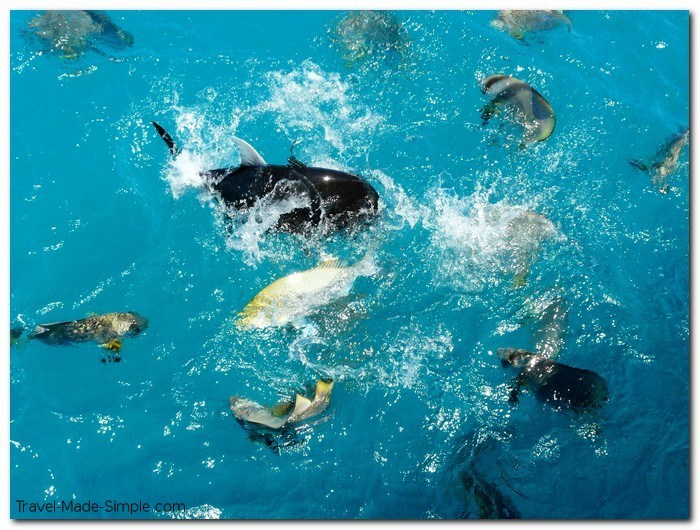 Transportation
Remember, Australia is a big country. You can't see it all in one trip, and you're better off sticking to one or two regions rather than trying to bounce from one coast to another. As a reference, here are some distances between popular destinations in Australia:
Sydney to Melbourne is about 550 miles or 880 kilometers
Sydney to Cairns is about 1,510 miles or 2,415 kilometers
Sydney to Uluru is about 1,780 miles or 2,850 kilometers
Sydney to Perth is about 2,460 miles or 3,935 kilometers
To get in between Melbourne and Sydney, either book a short flight (hour and a half) or you can choose a bus or train option. Going by bus or train will take anywhere from 10 to 14 hours, so be sure to add in an extra day to your itinerary to account for this.
To get to Uluru, the quickest way is to book a flight into the Connelan Airport (AYQ) in the nearby town of Yulara. Direct flights are possible from Sydney (3.5 to 4 hours), but from Melbourne (4 to 6.5 hours) you'll have to make one stop. Alternatively, fly into Alice Springs which is about a five hour drive away from Ayers Rock.
How you get to the Great Barrier Reef varies greatly depending on which destination you choose. Some, like Cairns, have an airport and it's about a 2 hour flight. Some locations do not have a local airport, so you will need to rent a car or arrange a transfer from the nearest airport.
If your Australia itinerary involves two major cities, like Sydney and Melbourne, book an open jaw flight to Australia. This way you fly from home to Sydney and then from Melbourne back home. Then you don't have to backtrack to catch your return flight.
Australia is far away from almost everywhere, so depending on where you're traveling from, expect the journey to take anywhere from 16 to 40 hours. Follow my jet lag advice in order to minimize down time once you arrive.
Two weeks in Australia
Australia is a huge country. There's no way to see it all on even a 2 week vacation. Choosing a couple of these places will give you a taste of Australia.
Don't try to cram too much into your itinerary though. Check out this helpful Australia itinerary book for more advice on planning your trip. Here though is an idea of 2 weeks in Australia to get you started.
3 days in Sydney – Explore the sights, neighborhoods, and beaches of the largest city. Consider a day trip to the Blue Mountains.
5 days in Melbourne – 5 days in Melbourne seems like a lot, but it is a great base for exploring the region including the Great Ocean Road. Beyond that, Melbourne is just a hip and fun town to be in.
2 days in Uluru – Getting to and from Uluru involves flights, so it means a lot of transport to see one sight, but what a sight it is. Uluru is definitely one of Australia's big sights and worth the transport.
3 days in Cairns and the Great Barrier Reef – Head north to the city of Cairns to explore the rainforest and take a day trip out to the reef.
This is still a pretty fast trip. If you feel like you can cut out anything or add another week to your trip, seriously think about it. Also remember that Australia is huge and there is significant transport time. Flights can eat half or even a whole day.
Travel slowly so you'll actually enjoy your trip and you won't get burnt out. Even consider adding more days to what I suggested.
If you haven't traveled much, this is a great way to get your feet wet. The possibilities are endless, and I certainly couldn't include everything here, but this Australia itinerary will get you started.
Australia travel planning and inspiration
Hopefully our Australia itinerary and ideas for planning two weeks in Australia have been helpful. The following posts provide more in-depth information about Australia travel, tours in Australia, and specific cities and regions. And if you're looking for a little inspiration, be sure to check out the books recommended below.
Read more about traveling in Australia:
Australia reading and guidebooks