When packing for a trip, it's important to have the right carry on luggage. If your suitcase is too big, you'll be forced to check it.
But with so many different suitcases out there, how do you know what to choose? Well, I've asked a group of travel bloggers who are frequent travelers to tell us about their favorite carry on sized suitcases to help you choose the right one for you.
Here are some of the best suitcases for carry on travel.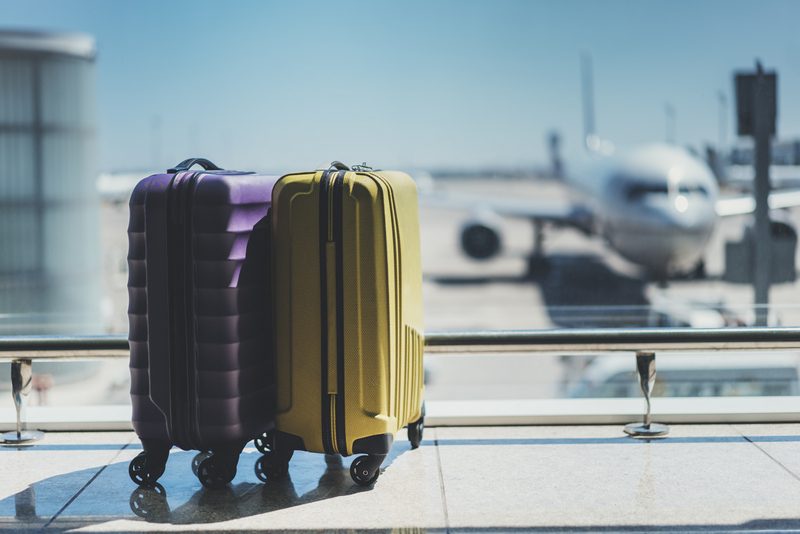 Some of the suitcases recommended below are hard cases, while others are soft cases. Some are more fashionable suitcases, and others are more rugged.
When considering about which is the right carry on suitcase for you, think about your travel style and what will work best for the type of travel you do and the type of person you are.
Also, look at the dimensions and weight of the suitcases. Their sizes vary, so make sure you compare them with the carry on luggage size for your favorite airline.
Please note that some posts contain links that earn me a small commission at no extra cost to you.
Level8 Textured 20″ Carry On Suitcase
The Level8 textured 20″ carry on suitcase is made of polycarbonate material, which means it's durable but also lightweight. It's a hardshell suitcase, but it only weighs 10.57 lbs. This suitcase also fits the carry on luggage size restrictions of many airlines.
I've used this suitcase for several trips, and it's still going strong. The outside material is water resistant and scratch resistant, so even when I was caught in a spring rain shower, my stuff was protected. And yes, there are scuffs from normal use, but there aren't any scratches, which is nice.
The suitcase zips down the middle, so when you open it, there are two halfs of roughly equal size. This makes it easy to organize when I'm packing, and it means I'm not digging around so much when I'm looking for something.
The mesh panels keep your things secure in the suitcase, and one panel has a couple of zippered pockets. Pockets are great for organizing and preventing smaller items from getting lost, so this is always a good perk for me.
The suitcase has a built in TSA lock to keep your belongings safe. If you did have to check this suitcase, the lock also allows TSA to get into it if they have to.
There are 4 wheels that spin 360 degrees, so it's really easy to move the suitcase around. Even after many trips over cobblestone streets, the wheels are holding up well.
Read my full review of the Level8 20″ and 24″ luggage set.
Victorinox Etherius Carry On Suitcase
Submitted by Roshni from The Wanderlust Within. Check her out on Instagram.
Known around the world for creating the iconic Swiss Army knife, Victorinox also has a large range of top quality travel luggage. For the past two years I've been using the Etherius carry on suitcase for nearly every one of my trips.
The hardshell suitcase is made from 100% polycarbonate meaning it is ultra light at only 3kg (6.6 lbs) but also very durable, and able to withstand constant travel.
The Etherius has four easy to maneuver spinner wheels, a retractable handle that can be used in three different positions and grips on the side and the top making it easy to lift the suitcase up staircases or into the boot of a car etc.
The Etherius Carry on is slightly larger than most (56 x 38 x 20 cm / 22 x 15 x 7.9 in) and holds 33L however it can expanded another 27% if you need. This means the suitcase is great for a week's worth of clothes and even longer if you are a light packer.
The suitcase also fits comfortably into the overhead compartments of all the flights I have taken it on including low budget airlines that are usually very restrictive such as Ryanair and easyJet.
The inside of the suitcase has several features including two zippered diving walls as well as compression straps to keep belongings in place.
In terms of security, Victorinox has included an inbuilt TSA approved combination lock, meaning if customs need to open your bag they won't need to break the lock.
There is also an added layer of security in case you forget your code, just register it online using the Victorinox Access Lock Combination Recovery Program.
Victorinox is known for their high quality goods therefore all their luggage items come with a 10 year warranty making the high price tag worthwhile, especially for frequent flyers.
As I said I have had this suitcase for 2 years and after 35 trips there are some scuffs on the hard case which is expected from polycarbonate but otherwise it is in great condition and is my go to suitcase!
The only improvement I can think of is having a brake on the wheels, so when you are traveling on trains with the suitcase it doesn't roll around.
Away Bigger Carry-On Suitcase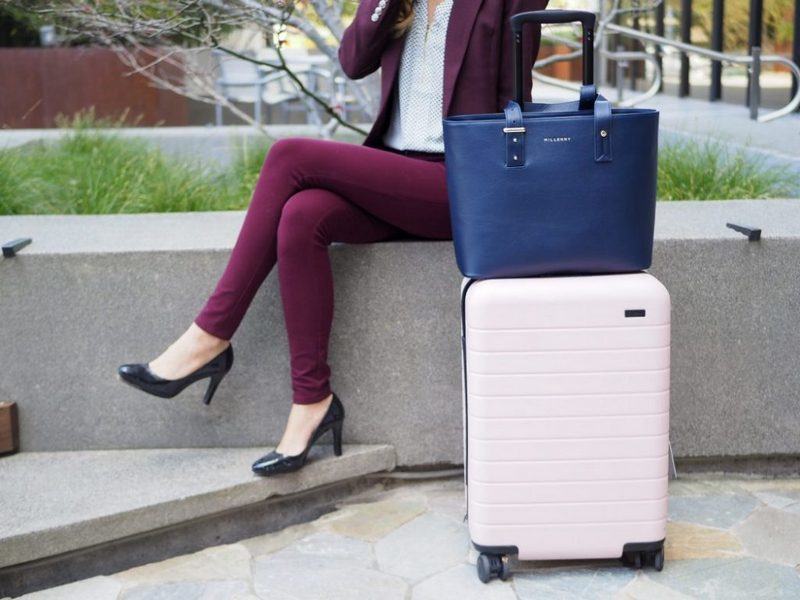 Submitted by Michelle from Travel After Five. Check her out on Pinterest.
I have the Away Bigger Carry-On and have been using it for work and personal travel for a few years. I bought it because my soft-shelled suitcase was getting scratched up by my cats at home, so I was in the market for a hard case.
I was looking for a suitcase with the 360-degree wheels, and I also liked that the Bigger Carry-On came with a built-in battery pack to charge your phone while on the go.
>>Read about all the do's and don'ts for bringing batteries on a plane.
The Bigger Carry-On is sized at 22.7 x 14.7 x 9.6in / 57.7 x 37.3 x 24.4cm and weighs 8.4 pounds / 3.8kg, which is lighter than other suitcases I have had in the past. This is within Southwest's carry-on allowance, but might be big for other airlines.
While it is a little bit bigger, I have had no issues taking my Bigger Carry-On on American or United flights. Additionally, Away sells the Carry-On which is smaller for these other airlines.
This suitcase comes with a lot of features that are now standard in modern luggage.
It has 360-degree wheels, an interior compression system, and the suitcase has a built in TSA lock for the event that you check it, or leave it in a hotel room. It also comes with a hidden laundry bag.
I have the pink version, and I love how it's unique but still gives a professional appearance. It is also really easy to clean with a magic eraser.
I have fit a week's worth of clothes in my suitcase, easily using packing cubes and the compression belt.
The only thing that I don't like about my suitcase? I feel like it is too popular!
I see the Away suitcases every time that I visit the airport, and have even seen another pink Bigger Carry-On on the same flight as me. It's a very popular suitcase, but it is easy to see why.
Eagle Creek Expanse Convertible International Carry-On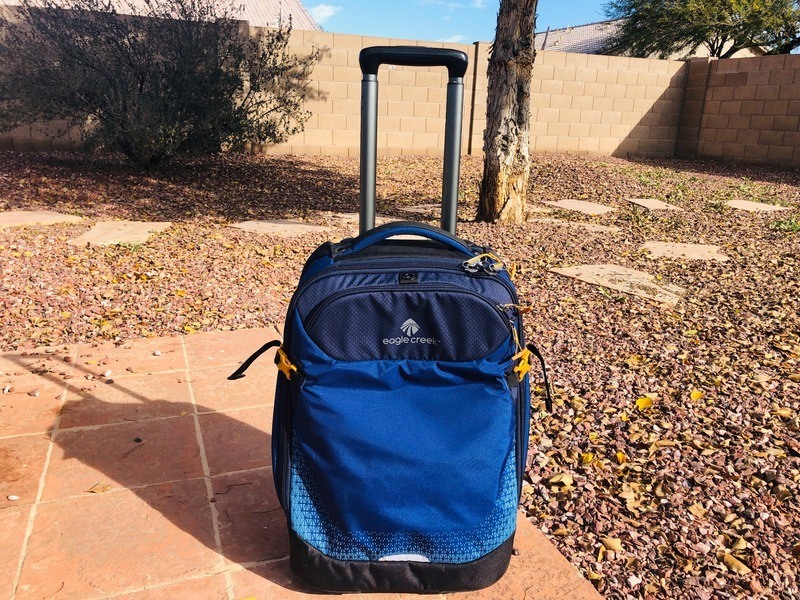 Submitted by Sam from My Flying Leap. Check her out on Pinterest.
I have gained an interest in reducing what I travel with over the last couple of years. When I started looking for a new bag that would align with my minimalist travel philosophy, I found this Eagle Creek bag.
The Expanse Convertible International Carry-On bag fits in most planes. I have flown on Southwest, American, Thai Airways, Easyjet and others since purchasing this bag.
It fit on all of the flights except for one small 20-seater with no real overhead bin space (it was less than ten inches and sized for a small bag only).
There are a log of great features packed into its petite size. My favorite is that it has backpack straps tucked into the back so it can be rolled on two wheels or comfortably carried on my back.
It has lockable zippers so my things are secure even when I wear it on my back. It also has interior compression straps and exterior compression as well and an outer zipper to provide easier access to some items.
I have been able to pack for two weeks in this bag, and one trip included travel ranging from 40° Fahrenheit to 100°. I used compression bags and packed the bare minimum that I needed. I even had a little bit of room for souvenirs!
The only thing I wish this bag had is a small zipper area for smaller items. Though, if the bag is really packed full, items placed in the top of the outer zipper do stay put and don't slide to the bottom of the pocket which runs the length of the bag.
I have enjoyed the challenge to travel with less and this Eagle Creek bag has met my needs spectacularly. If you're looking for a small bag with great features and durability, this is the bag for you.
Cabinmax Travel Hack Pro Cabin Case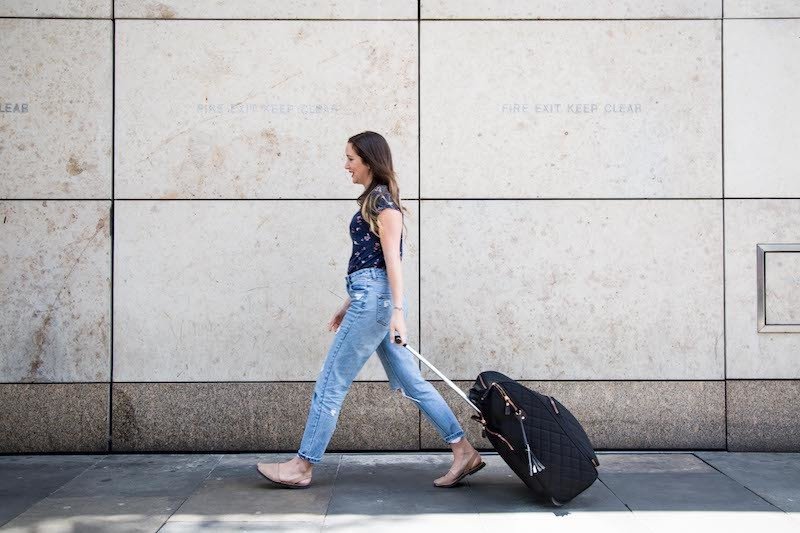 Submitted by Jasmine from The Life of a Social Butterfly. Check her out on Instagram.
It can be difficult finding fashionable carry on luggage that not only oozes style, but also functions well and meets the strict cabin bag requirements for airlines.
The Cabinmax Travel Hack Pro Cabin Case has been designed by female Travel Blogger and frequent-flyer Monica Stott. The carefully thought out features of the cabin case, designed with female travelers in mind, emphasizes Monica's experience in the travel industry.
One of the most game-changing features and a favorite of mine is the zip-top handbag compartment.
It's big enough to fit an additional handbag, duty free items, travel documents and a plastic liquid bag to save the hassle of having to conceal or open up the main compartment to retrieve these items!
You'll be surprised how many items you can squeeze into this cabin bag for your girls getaways and city breaks! The Cabinmax Travel Hack Pro Cabin Case has two spacious zipped pockets and packing straps to make packing a doddle.
Other fabulous additional features include the laptop compartment and water bottle holder, which make this cabin bag an essential item for a modern female traveler.
The sleek black cabin case has a quilted design, with faux leather and rose gold detailing, which creates a stylish, yet classic look.
Easily the best carry on luggage for women who want to look trendy for their travels; the Cabinmax Travel Hack Pro Cabin Case is an affordable and stylish carry-on case.
Trendy travelers using the Cabinmax Travel Hack Pro Cabin Case can bring their carry-on aboard with assurance that the case has been approved, tried and tested for leading low-cost airlines.
Osprey Ozone Carry On Suitcase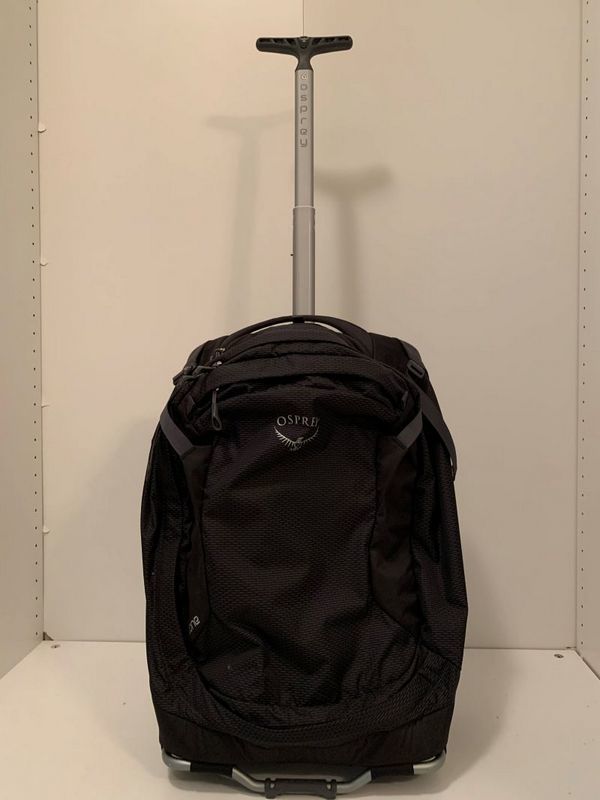 Submitted by Lesley from Freedom 56 Travel. Check her out on Pinterest.
My favorite suitcase for carry-on travel is my Osprey Ozone.
The Ozone is a soft-sided suitcase with a long list of great features that I've really come to appreciate in a carry-on bag. I've used this bag for several 3-week trips abroad and have easily fit everything I needed into it.
The measurements of the Osprey Ozone are 21.7H X 14.2W X 9.1D in, and with the handle fully extended it is 40 inches tall. It weighs 4.5 pounds when empty. The capacity is 42L.
What I love about the Osprey Ozone is the ease with which I can use it. The suitcase is structured such that the interior space is maximized.
There are interior compression straps that allow me to compress the contents without wrinkling. The exterior compression straps help to keep the suitcase within carry-on limits.
There are a lot of features in the bag that are really helpful when traveling. There is a easy-to-access compartment at the top of the bag that is the perfect size to stow liquids, making it easy to pull out your liquids bag before going through airport security.
There's a handy strap on the front of the bag that makes it easy to attach another bag to it. The bag has a rear zippered pocket that is perfect for carrying a small laptop computer, a large tablet or a few magazines.
In terms of walking with the bag, there are large sturdy wheels that make it easy to move along with, whether on flat pavement, cobbles or gravel. The bag appears to be very sturdily made. The carrying handle extends to two lengths.
Osprey offers an excellent guarantee, the "All Mighty Guarantee" that states they will accept returns for a full refund for any reason, any product, from any era. I don't know of any other travel bag manufacturer that can beat that.
I've successfully used my Osprey Ozone as a carry-on bag on Air Canada, LOT Polish Airlines, Air France, Brussels Airlines and Westjet.
Heys Journey 2G Fashion Spinner® 21″ Carry-On
Submitted by Allison from Tour and Table. Check her out on Facebook.
I am a lover of maps, and some years ago was gifted a set of 3 pieces of luggage with world maps on them. Journey luggage by Canadian company Heys forms a map of the world when seen together.
My favorite, the 21" carry-on suitcase, has maps of Asia and Australia on the front and Africa on the back. The suitcase is glossy, with a protective shiny clear coat.
Heys makes a new version of my Journey suitcase, the 2G. It has an added zipper-released expansion system that allows you to open your luggage further with the use of a second zipper. They've added gel padding to top and side handles.
I get compliments on this suitcase everywhere. Most recently in Portland, Maine, at the check-in counter.
There are other prints available, from pop art and Disney to sports teams, flags and solid colors. There's even an "X Ray" translucent suitcase you can see through.
I've used it for weekends away and three week stays in Europe. It's gone up stairs and through cobblestones (although I do tend to just carry it if it's a long way). I've flown with this suitcase on various airlines such as Air Canada, WestJet, JetBlue, and Delta.
The wheels are incredibly useful, with the ability to spin 360 degrees. The design is quite smart since they aren't flimsy and don't get caught up in pavement cracks as much as other suitcases I've had.
It's also a tough suitcase. At times I've been asked to check my luggage due to a full airplane, and I don't have to worry about it getting crushed by bigger suitcases or having items broken.
The suitcase is made of polycarbonate composite (used in the making of bulletproof glass). And it's easy to spot on the luggage carousel, since it's not black.
There's also a TSA lock built in to the side of the suitcase, so the zippers won't budge, but TSA can open and inspect the luggage if necessary.
Antler Cyberlite Carry-On Suitcase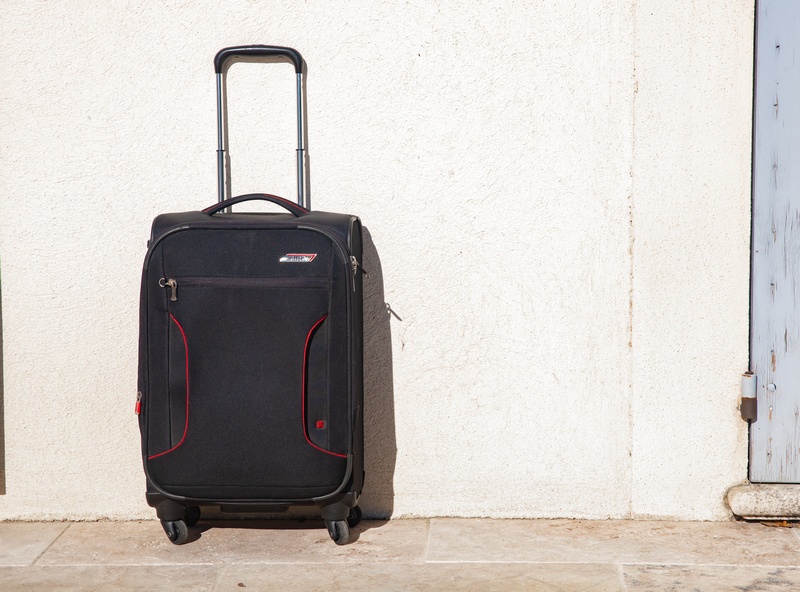 Submitted by Nadine from Le Long Weekend. Check her out on Facebook.
We originally purchased a set of Antler suitcases as we were told they were similar quality to the ever-popular Samsonite, but at a cheaper price tag.
Six years later, after using both these and a newly acquired Samsonite case, I've got to disagree – the Antler suitcases have actually held up better in the long run!
This particular Antler Cyberlite Carry-On is my go-to case when touring around Europe. I normally try to avoid excess luggage fees by flying carry-on only, and this case can carry everything I need for a 4-5 day getaway easily.
It doesn't have any unnecessary padding or accessories, so other than a couple of useful mesh pockets (that I use to separate out small items like cables or dirty laundry), the interior is an empty shell you can fill up to the brim.
It also features an expandable area – although utilizing this would likely push you over the size limits for some airlines' luggage allowances.
Other features I love are the swiveling wheels and the fact that by having 4 of them you can push the case vertically if you wish, instead of pulling it behind you. This comes in handy when navigating through tight spaces and actually puts a lot less strain on your arm.
Exterior pockets come in handy for stashing important documents and things you'll need to access easily on the plane, and of course, it comes with a TSA lock for security.
The only potential downside to this and other suitcases in the Antler Cyberlite series is the recessed side handle. It's still easy enough to use but prevents airline staff from attaching baggage tags to the side of the case.
This would only present a minor problem if you were checking the case in – in that case they just use the top handle instead.
This case has served me well on many airlines, including trips on Air France, Air NZ, Qatar Airways, British Airways, Emirates, Luftansa, and Cathay Pacific, as well as budget airlines such as Norwegian and Easy Jet.
The only airline I've traveled with that it doesn't technically fit (in the depth measurement) is Ryanair, but it's never posed a problem.
Eagle Creek Morphus 21″ International Carry-On Luggage with Backpack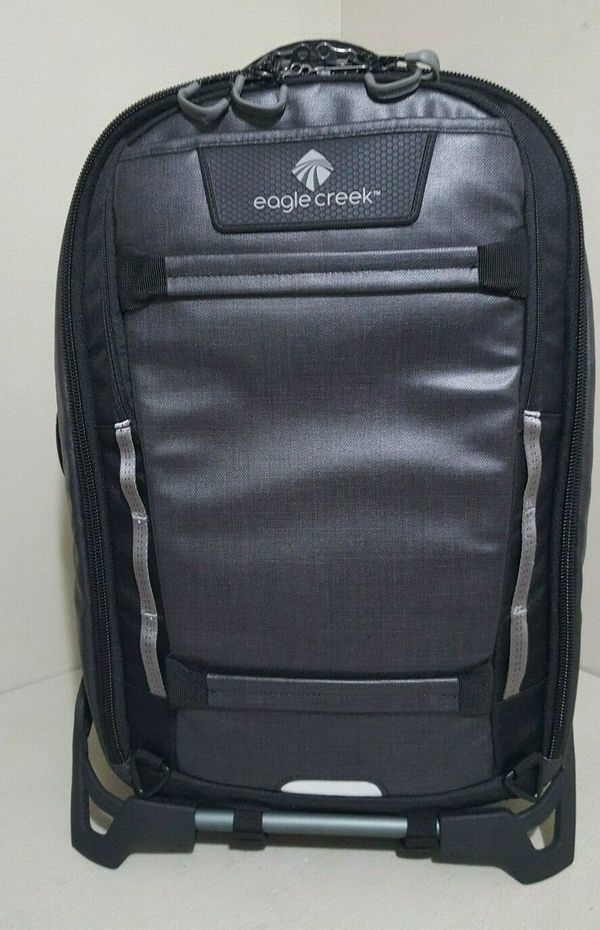 Submitted by Bret and Mary from Blue Ridge Mountains Travel Guide. Check them out on Facebook.
We've never gotten a penny from Eagle Creek to promote their products, but we've both been using their carry on luggage exclusively for more than 5 years now.
We especially love their rolling bags, which all seem to boast huge pockets, sturdy handles, and chunky wheels that can tackle just about any terrain you may encounter on your adventures.
We also like that you can use Eagle Creek's Pack-It Specter Tech accessories for internal organization, including Clean/Dirty Cubes, Shoe Cubes, Structured Cubes (for delicates), Compression Cubes (for clothes), Quick Trip (for toiletries), and more.
And since everything is covered by the company's "No Matter What" lifetime warranty, you can travel secure in the knowledge that your bag will be replaced or repaired if it gets damaged, no matter the cause!
The soft-case Morphus 21″ International Carry-On Luggage was a unique addition to our favorite luggage line.
It's got a 32-liter rolling bag with a 35-liter capacity backpack that can easily be detached to give you two separate bags on the way home. This is a handy feature if you enjoy bringing home local souvenirs as gifts, like we do!
The wheeled bag measures 13.75 x 20.5 x 9 inches/35 x 52.5 x 23 cm (including the handle and wheels), so it fits perfectly in any major airline's carry on size tester.
We've taken the Morphus on flights with Delta, United, American, and numerous other international carriers in the last few years, and only one airline employee ever challenged us on the bag's size. The look on her face when it slid easily into the tester was priceless!
The bag's durable weatherproof fabric is made to withstand the elements and wipes down easily. Ours still looks relatively new even after quite a few journeys abroad.
We also like the fact that it has backpack straps for carrying short distances, but the 7-pound weight of the bag ensures you won't want to use it for long-distance trekking.
Other cool features include a zippered mesh door panel pocket, quick stash pocket, padded 15" laptop and tablet sleeve, a cell phone pocket, cord winder, key fob, battery pack pocket, and Secure Zip™ Toggles to protect against pickpockets (plus puncture-resistant lockable zippers).
Delsey SkyMax Softside Carry On Suitcase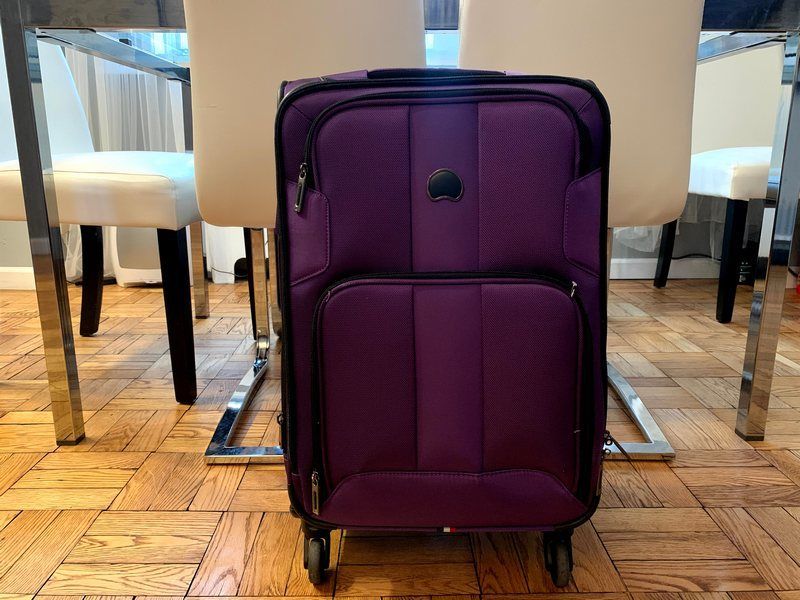 Submitted by Taima from Poor in a Private Plane. Check her out on Instagram.
My new favorite carry on suitcase is the Delsey SkyMax Softside Carry On because it's lightweight, easy to maneuver and very spacious for a carry on suitcase.
At only 6.5 lbs, not only do you not have to worry about baggage overage fees, but it makes the case super easy to carry up and down stairs and maneuver over cobblestones.
This is especially important if you're taking public transit or visiting an area of the world with lots of stairs and climbing (like Lisbon, Portugal).
While most of my trips have been domestic in the United States, I most recently took this case on a long weekend to London. I flew Delta Airlines and had no issues with carrying on.
I breezed through check-in and security with no issues. While some people were pulled to the side for having large carry on bags, the Delsey passed the cut.
Once we boarded the case fit easily into the overhead bin. It was also very easy to lift which is a bonus.
One of the biggest perks to this case is how spacious it is. Even though it is a carry on, I was able to fit four days worth of winter clothes including two bulky coats, two pairs of boots, one pair of shoes and a pair of trainers.
You could easily do a week's worth of clothes if you're not packing boots and heavy winter coats.
The body dimensions (case size/packing area) are 20.75 x 13.5 x 9.5 inches. The overall dimensions (including wheels/handle) are 21.5 x 14.75 x 11.25 inches.
That is a lot of room in my opinion compared to other similarly sized cases. (Editor's note: This is their "large" carry on suitcase, so if it's too big for your airline, they do offer a "small" carry on suitcase.)
Whether you're looking for something for a long weekend or a week-long trip this case is excellent. It is lightweight, spacious and stylish. I have been thrilled with this case.
eBags TLS Mother Lode Mini 21″ Wheeled Carry-On Duffel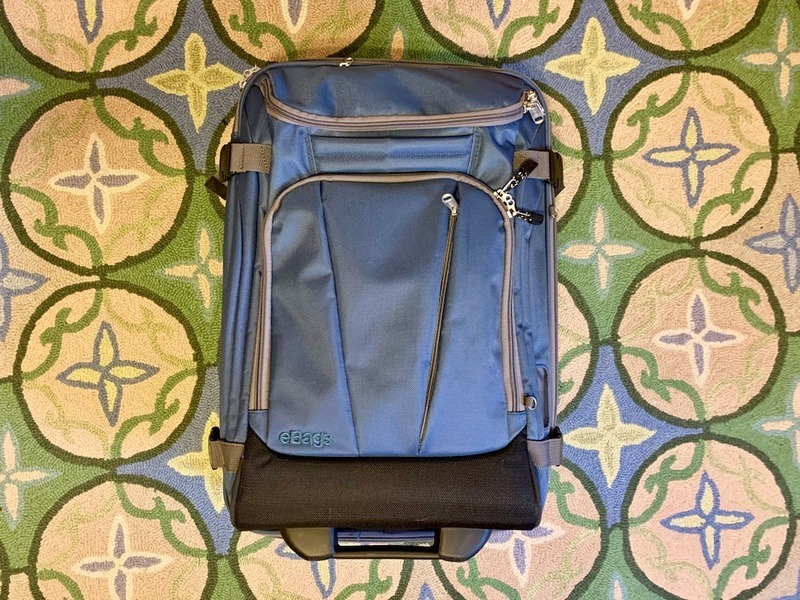 Submitted by Brianne from A Traveling Life. Check her out on Instagram.
I call my Mother Lode Mini my "magic bag" because it seems that no matter how long or short my trip is, everything seems to fit in it just right.
On my last trip – a three-night stay in New York City for a conference – it comfortably held three days of professional clothing, pajamas, a pair of jeans and casual top, as well as two pairs of shoes, and various toiletries and accessories.
This soft-sided bag meets most airlines' carry-on specifications – it's 21.5″ x 15″ x 9″. I've brought it on JetBlue, Delta and United flights within the U.S. and internationally (Mexico and Iceland) as well.
I particularly like how slim it is – on one packed Delta flight, the flight attendant was able to squeeze it sideways into a narrow spot in one of the last overhead compartments.
While the bag is a little on the heavy side for a carry-on – it weighs 8 lbs. 11 oz. – I find I can easily pick it up by its top handle and maneuver with it through tight plane aisles and crowded walkways.
The Mother Lode Mini seems to have just the right amount of pockets in the right places too. There are two mesh interior pockets, which I use for undergarments and socks, and two exterior pockets, which I use for toiletry and makeup bags, as well as accessories.
There's also a small, narrow pocket on top, in which I keep my standard plane items: an inflatable neck pillow, extra socks, an eye mask, and ear plugs for easy access during the flight.
The bag is made from durable materials and has held up extremely well to being tossed in my trunk for various road trips and shoved into many overhead compartments. The only negative I'd say is that I'd probably enjoy four wheels instead of two.
Lucas Ultra Lightweight Carry On Suitcase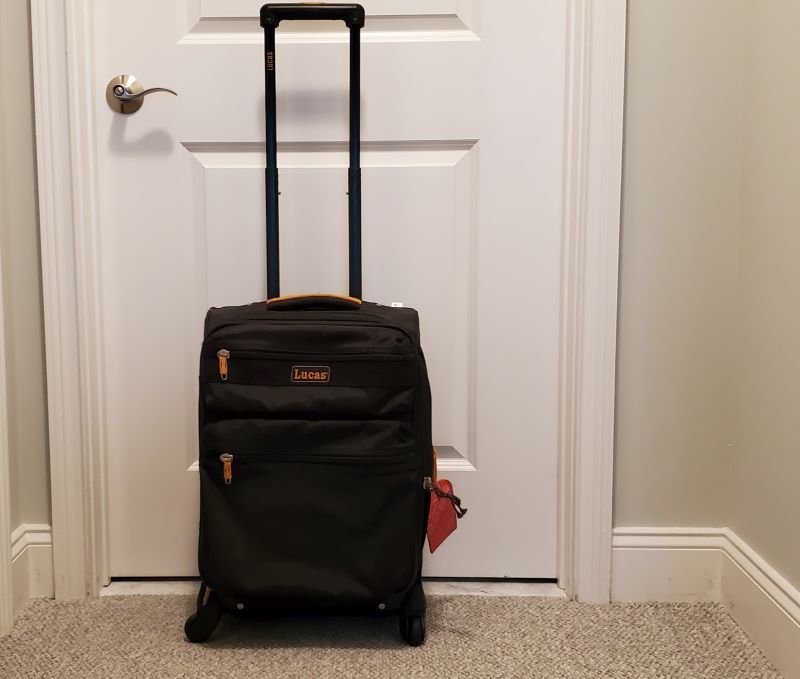 Submitted by Suzanne from Boomeresque. Check her out on Instagram.
I have had my Lucas 20 inch expandable carry on suitcase with spinner wheels and a telescoping handle for 5 years. I love it. The current price is right too.
My suitcase easily fits the carry on requirements for the legacy airlines in the United States such as American and United, and also U.S. budget airlines such as Frontier.
On Amazon, the current version of this suitcase is listed as having dimensions of 22.8 X 14 X 9 inch, including wheels and handles. The wheels are different on the new version. Unfortunately, that would make the current model too large for many airlines outside the U.S.
The current Lucas 20 inch carry on weighs 5.8 pounds empty. With my packing habits, my suitcase usually weighs about 25 pounds and I can go a week without washing clothes.
Obviously, it is important to check the carry on weight limitations for the airline you will be flying and pre-weigh your suitcase to make sure your packed suitcase does not exceed that airline's limit.
I love the tie down straps in my Lucas suitcase because my clothes arrive looking ironed. The suitcase also has shoe pockets and an additional zippered pocket on the inside of the top cover. It has 2 soft sided pockets on the outside.
If you decide to check it, the suitcase can expand 2 inches. Although the suitcase is listed as "soft sided", in fact, the back, top and bottom are rigid which has made the suitcase very durable even if it needs to be checked.
The spinner wheels (8 on the new version) make it very maneuverable. I usually push it ahead of me in narrow airplane aisles.
My Lucas carry on has visited 5 continents and proved very durable.
Chester Minima Carry-On Suitcase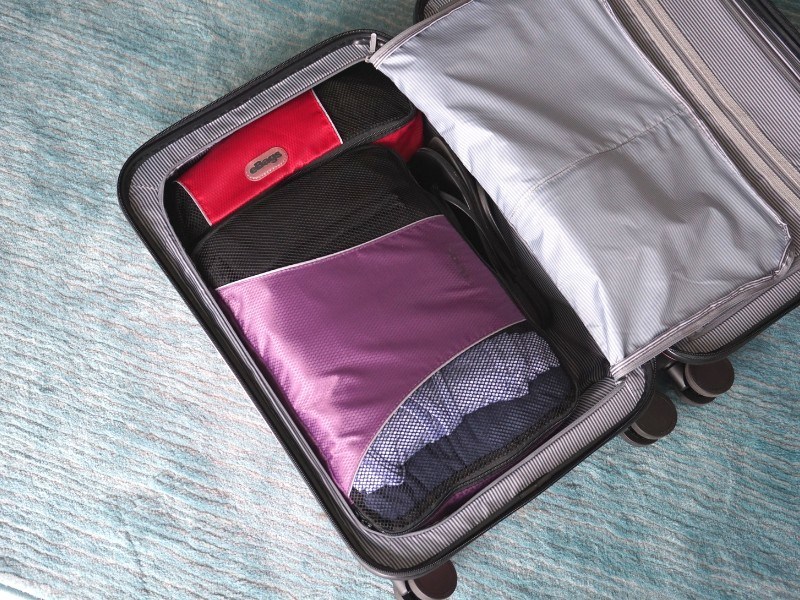 Submitted by Vicky from Buddy the Traveling Monkey. Check her out on Instagram.
We think one of the best suitcases for carry on travel is the Chester Minima Carry-On. It's a hard case suitcase and comes in a variety of colors, which is perfect for distinguishing your luggage from others'.
The Minima's measurements are 22" x 14" x 9″ and those dimensions include the wheels. It's the best cabin luggage because it fits perfectly in plane overhead compartments.
Even with its compact size, however, we are able to fit a week's worth of clothes in the suitcase. There's definitely more room inside than we expected. There are also three zippered compartments to put additional things in.
The Chester Minima weighs only seven pounds, making it one of the lightest polycarbonate hard shell suitcases on the market. And although it's light, it's still tough.
We've put fragile souvenirs in the suitcase and they arrived safe and sound. We also like that the Chester Minima is waterproof.
The Chester Minima has 360° multi-directional double spinner wheels, which makes it glide silently. It also comes with a couple of extras that we think are very convenient.
One of which is a laundry pouch that came tucked into a side pocket. The other is a recessed TSA-approved combination lock (it comes with easy to follow instructions to change the combination).
In case you're not fully satisfied with your Chester luggage, they do offer a 100 day trial period as well as free returns. We don't think you'll need it though. We really like the suitcase and have flown with it all over the US and internationally.
TUMI International Carry-On Suitcase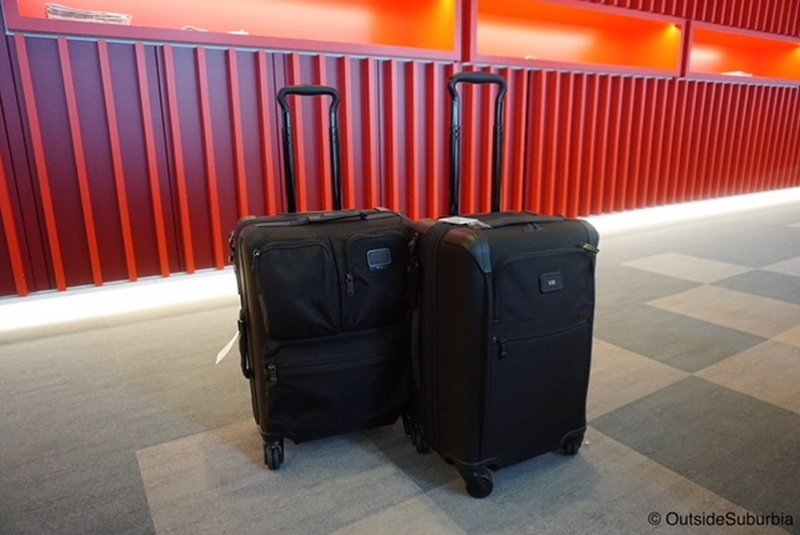 Submitted by Priya from Outside Suburbia. Check her out on Instagram.
We are a family of efficient packers and can get away with carry-on only bags for up to two weeks of travel including international trips. TUMI bags are our go-to carry on bags!
Both my husband and I have the International Carry-on which is lightweight, durable, and made from TUMI's ballistic nylon. The best thing about TUMI bags is that you don't have to worry about losing them since they come with a built-in 20-digit security code that can be traced if the bag is lost.
The suitcases have spinner wheels, a telescoping handle, and are easy to handle. It has a multitude of organizer pockets. These interior packing compartments make it efficient to pack more.
My husband manages to pack everything is just his carry on bag while I bring a backpack with my extra pair of shoes and a jacket. If you roll your clothes and use the interior compartments, you don't have to use packing cubes, but I like to have a couple to separate out my dressy clothes from everyday wear.
The Tumi International Carry-on is a soft case and is 22″ x 14″ x 9″ with a capacity of 35L. It has a zipper expansion that allows for up to 2" of additional space in the main compartment but then you will have to check it in!
We have taken it on many American Airlines, British Airways, Alaska Airlines flights both in business class and economy.
Cavalet GT4 Carry On Suitcase
Submitted by Alex from Swedish Nomad. Check him out on Instagram.
The Cavalet GT4 is one of the best carry-on suitcases for digital nomads and travelers who want to bring their laptop safely without carrying it around in a backpack. The hard case suitcase from Cavalet is made in Polypropylene and weighs 2.3 kg (5 lbs).
It has four twin-wheels and is easy to stroll, even if you have to hurry and walk from one side of the airport terminal to the other to reach the gate.
With a measurement of 55 x 40 x 23 cm (21.65 x 15.74 x 9 inches), it's allowed inside the cabin on all major airlines.
The only exceptions are low-cost carrier airlines that might have more restrictive measurements. But even most low-cost airlines will allow this inside the cabin, although some might charge extra fees, such as Ryanair.
I have used it on airlines such as Norwegian, Aegean, SAS, Delta, American Airlines, Interjet, and many more.
While there are lighter suitcases out there that have a soft case, the GT4 from Cavalet is a lightweight among hard case carry-ons with an impressive number of features and solid design.
The suitcase come with a TSA-approved lock as well as three compartments, one separate to put a laptop and other electronics at the front. And two compartments inside with the possibility of enclosing and strapping clothes and other things you want to pack.
You can easily fit 3 shirts, 2 polo shirts, 1 pair of jeans, 2 chino shorts, 6 pair of socks, 6 pair of underwear, extra pair of shoes, sunglasses and toiletries. The laptop compartment fit a 15.6″ Laptop, and it has its own pouch to ensure that it lays still while strolling.
I especially love this suitcase because it allows you bring everything you need for a weekend trip or anything you want to put inside the cabin baggage, and it's very easy to stroll around with thanks to the silent spinner wheels. Additionally, it's very sturdy and offer great possibilities to organize your luggage.
Samsonite Uplite SPL 55cm Spinner Suitcase
Submitted by Emily from Wander-Lush. Check her out on Facebook.
The Samsonite Uplite SPL Spinner is my go-to suitcase for carry on travel. The 55cm version is the ideal size for cabin luggage, coming in at 55 x 36 x 24cm (inclusive of wheels). At 1.8 kilos (just shy of 4 pounds) when empty, it's super lightweight as well.
The Uplite is a soft-case with an expandable top that increases its breadth by 2cm when unzipped. I've never needed to expand it, though – the 38-litre capacity is big enough to hold everything I need.
I recently traveled for 11 months with carry on only (no checked luggage) and had no trouble fitting everything I needed into the Uplite, including winter gear.
I bought the case specifically for that trip because it fit the cabin baggage requirements for a range of budget airlines, which are notoriously strict with their measurements. I successfully took the suitcase into the cabin when flying with Ryan Air, Wizz Air and Air Asia, among others.
The only thing the Uplite lacks is internal storage features. There's a simple webbed zipper pouch on the reverse side of the top and elasticized cross ribbons for security, but otherwise, there aren't many pockets or pouches.
If I could change one thing about the design, it would be adding a second soft handle on the side. Without one, it can be quite awkward trying to lift the case sideways onto the airport scales or into storage.
Having said that, I think it's an acceptable trade off if you want a suitcase with a minimal outer profile.
I love the dual-tone design (available in pearl/blue or solid black), and the rose-gold handle and zipper pulls add an elegant finish. There's also a self-locking feature with a TSA-certified combination lock.
The best thing about the Uplite is the robust 360-degree spinner wheels. They are so sturdy, I dragged this suitcase along cobbled streets in Europe (and even through ice at one point) and it pulled through without a scratch.
Whether you're looking for a hard case or a soft case, a stylish suitcase or something more rugged, these recommendations for the best suitcases for carry on travel should help you pick a rolling bag that fits your needs.
You might also enjoy: