Please note that some posts contain links that earn me a small commission at no extra cost to you.
These days, I mostly travel with a bigger backpack plus a purse, and I pack a stuff bag in my backpack for sightseeing days when I want to carry more than my purse will hold. I love my REI stuff bag, but it can be annoying sometimes since it opens from the top. So when Arcido asked me to test out their backpacks, Andy and I decided to try one of their daypacks. Here's our review of the Arcido Vaga 20L backpack.
Arcido Vaga 20L Backpack
I don't do the double backpack thing. You know, when you wear your bigger bag on your back like normal, and a smaller daypack on the front. I traveled that way years ago, and it was super annoying and heavy, plus it's a huge red flag to airline employees when you're trying to travel carry on only.
Fits inside the Akra
So why did I want a daypack that's NOT a stuff bag? Because the Vaga is designed to fit inside the Akra. I liked the idea of a more structured daypack, but since I don't travel with enough stuff to justify two backpacks, having it inside the bigger bag was wonderful.
I didn't end up packing it this way very often since we used the Vaga to hold our laptops while traveling by bus. But I like that I can pack the Vaga into the Arka for a slightly different type of trip.
Size and structure of the Vaga backpack
Like the Akra 35L backpack, the Vaga backpack opens wide, allowing easy access to whatever you've packed in there. It's well structured and packs up nicely, so even when fully packed it stays slim and doesn't stick out too much. This meant we didn't have any problems fitting the bag into the overhead compartment on buses, which are notoriously small.
The Vaga is gray and made of water-resistant materials, and overall the look of it is similar to the Akra. This bag weighs in at just 1.3 pounds (0.6 kg). It measures 20″ x 14″ x 6″ (50 x 34 x 15cm) which means it can be your carry-on item on even more airlines.
It's worth noting that while most airlines with smaller carry-on sizes are regional airlines with smaller planes, the Ryanair hand baggage rules state that you must have a 'Priority & 2 Cabin Bags' ticket to bring more than a small personal item – and their personal item measurements are smaller than even this bag!
The backpack straps on the Vaga are comfortable and nicely padded. The top handle is too small though, and would be better if it was wide enough for your whole hand, not just 2-3 fingers. I also wish the top handle had some padding, like the Akra's does.
There is no waist strap on the Vaga 20L backpack, but I don't think you need one for such a small bag.
>>Read my review of the Arcido Akra 35L backpack here.
Laptop sleeve
The Vaga backpack is designed to fit the removable laptop sleeve from the Arka backpack. This was great on transport days since we didn't want out laptops in the bags we had to put under the bus in the luggage hold.
Having the laptop sleeve in the Vaga held the laptop in place and made it easier to organize everything else in the bag. The laptop sleeve can hold a laptop that's up to 15.4 inches, so it worked well for Andy's or mine.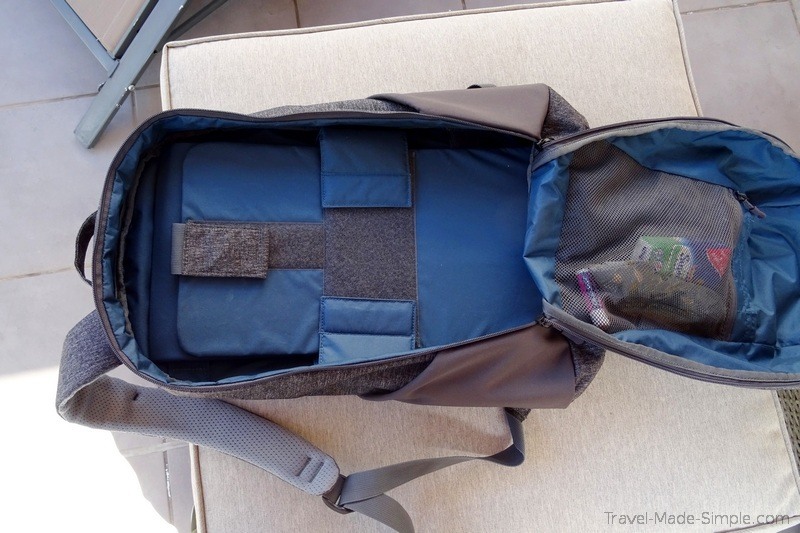 Backpack pockets
The Vaga doesn't have a ton of pockets, but you probably don't need as many on a daypack, and the ones that are there worked well. There's a small top pocket and two inside pockets on the flap.
These pockets will all help you stay organized and keep smaller items like keys, pens, sunglasses, etc. from getting lost. Like with the Akra, there are water bottle pockets on both sides, but they're a bit too small and I didn't think the material was stretchy enough.
Who is the Arcido Vaga 20L backpack for?
Overall, we both really liked the Vaga 20L backpack. I'm looking forward to packing it into either the Akra or my REI bag on another upcoming trip so I can have a decent daypack instead of my stuff bag.
Andy plans on using it at home in Berlin for days when he takes his laptop into the coworking office. This is great as a daypack or even for an overnight trip, and I think it would work well for just about any type of traveler.
Arcido provided Andy and I with complimentary Akra and Vaga backpacks, but all opinions are our own.
You might also enjoy: