I always aim to travel carry-on only. But I do realize that sometimes it just isn't practical. Maybe the airline you're traveling with has strict carry-on luggage size restrictions, or maybe you're bringing things that aren't allowed in the cabin with you. This doesn't mean you can't pack light. Traveling with less stuff means less weight to lug around, which gives you more freedom and flexibility. Even when you're traveling with checked luggage, you can still pack light.
Choosing luggage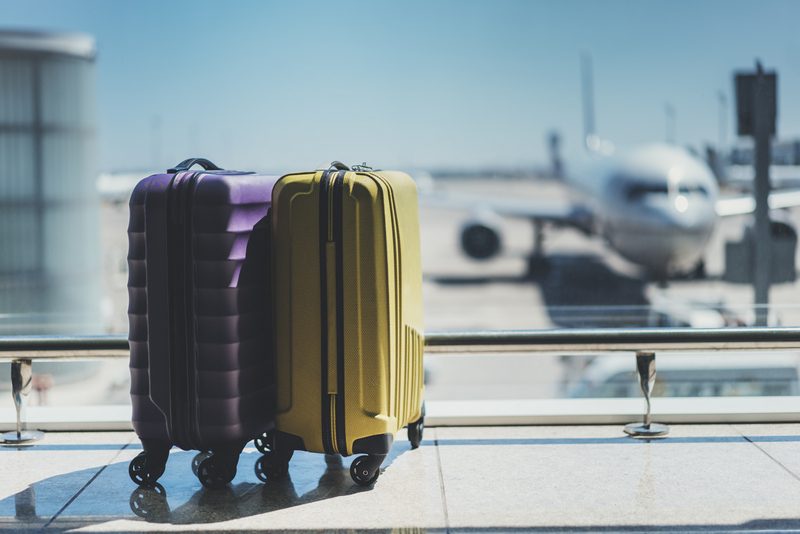 Just because you can check a huge suitcase doesn't mean you should. Pick luggage that is still small enough to pass as carry-on luggage. This will ensure you don't over pack and you won't have a heavy bag to carry around.
Whether you prefer a backpack or a wheeled suitcase, bringing one that could fit in the overhead compartment will make your life easier. Even though someone else is carrying it through the airport and onto the plane, you will still have to carry it once you arrive.
Remember this, and don't take a suitcase you can fit your whole closet into. It's still worth downsizing your luggage to something smaller.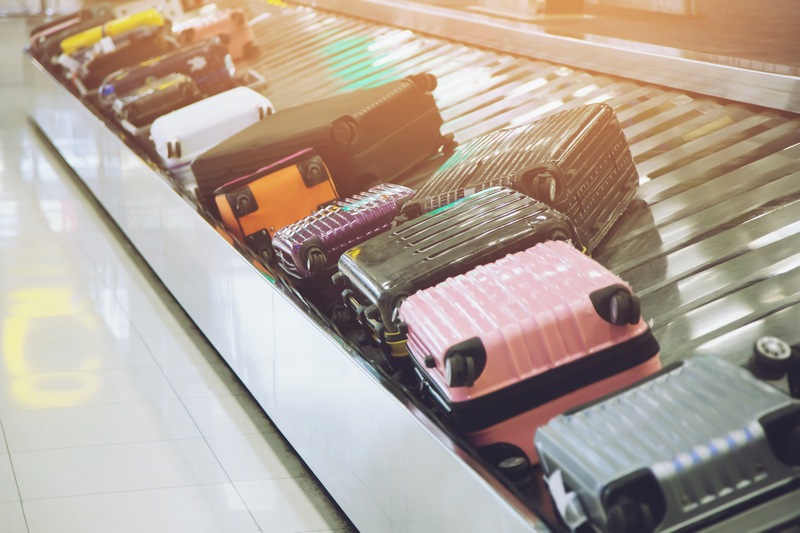 Please note that some posts contain links that earn me a small commission at no extra cost to you.
Since you're still trying to pack light, just bring a small daypack for your carry-on bag. A 20L backpack (roughly the size of a book bag for school) works well for things you want with you on the plane and an extra set of clothes in case the airline loses your luggage.
While you're out sightseeing, this bag will be helpful for carrying whatever you need for the day.
Packing clothes in your checked luggage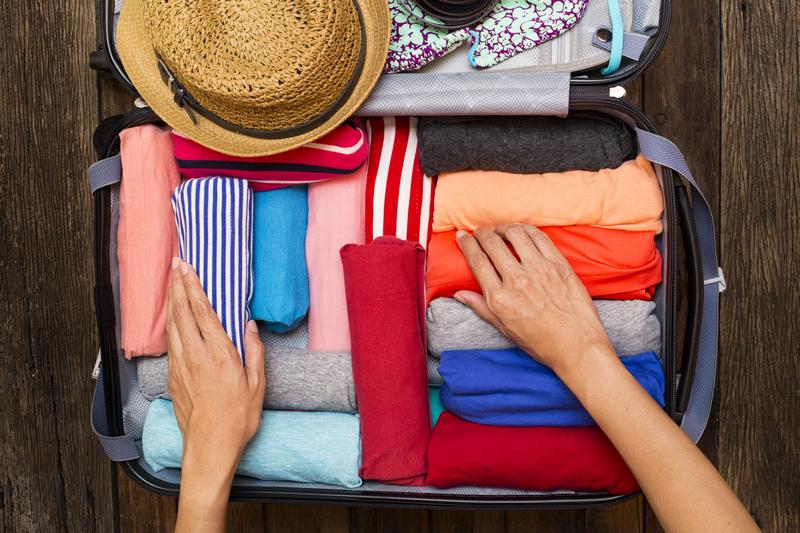 Since you're still taking small luggage, you still need to pack as if you're traveling carry-on only. Think about the weather at your destination and the activities you plan on doing, and pack accordingly. No shorts for a ski trip, and no bulky sweaters for a trip to the tropics.
Limit the options you bring along. If you plan on going to a nice restaurant or a play, you really only need one dressier outfit even for two or three activities like this.
You also don't need half a dozen pairs of shoes. Comfortable shoes you can walk in, maybe flip-flops depending on where you're going, and maybe dress shoes if you have fancier activities in mind should be sufficient.
In general a week's worth of clothing should be plenty no matter how long your trip is. If you're traveling for longer than a week, either have your hotel or guesthouse do laundry for you, or if that's too expensive, find a nearby laundromat.
It might seem weird to do laundry on vacation, but it will save space in your bags and it's a nice excuse to relax and read a book while waiting for dryer to finish.
Packing liquids in your checked luggage
As with your clothing, it's still best to limit the liquids your take on your trip. If you're taking a short vacation, carry-on sized toiletries should work just fine.
If you're taking an extended trip, decide which items you're willing to buy on the road as you run out and which ones you want to bring with you if possible.
For example, if you're traveling to the tropics and you expect to be outside a lot, you'll need a lot of sunscreen. A small carry-on sized bottle might not be enough for a long trip and it's usually expensive to find in touristy areas.
Since you're checking luggage anyway, that might be a good one to pack in your checked bag.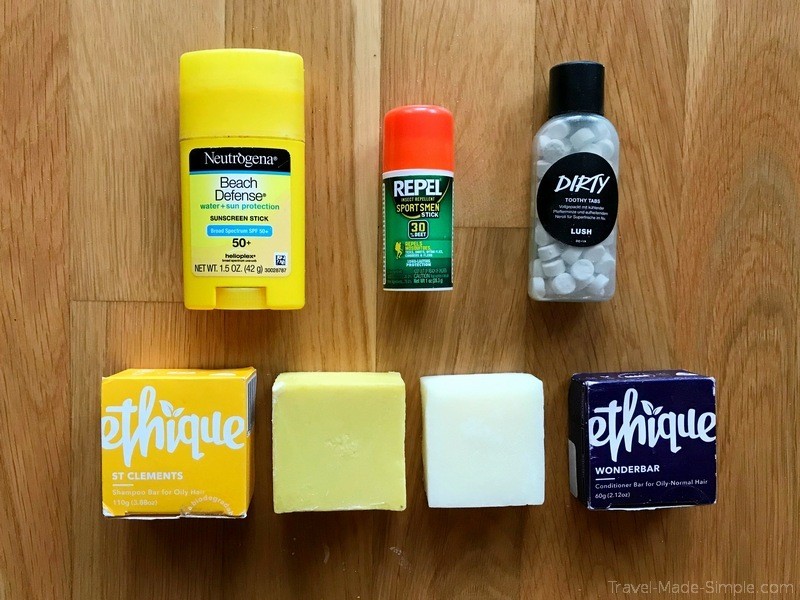 On the other hand, your shower gel can probably stay at home. Pack a small bottle to get you started and then buy a replacement or even a bar of soap when you run out. Or if you're staying at a hotel that provides toiletries, use theirs.
For any liquids you're putting in your checked luggage, I highly recommend putting them in plastic zip-top bags or toiletry bags in case the bottles leak during the flight. The last thing you want on arrival is a bag full of clothes covered in shampoo and sunscreen.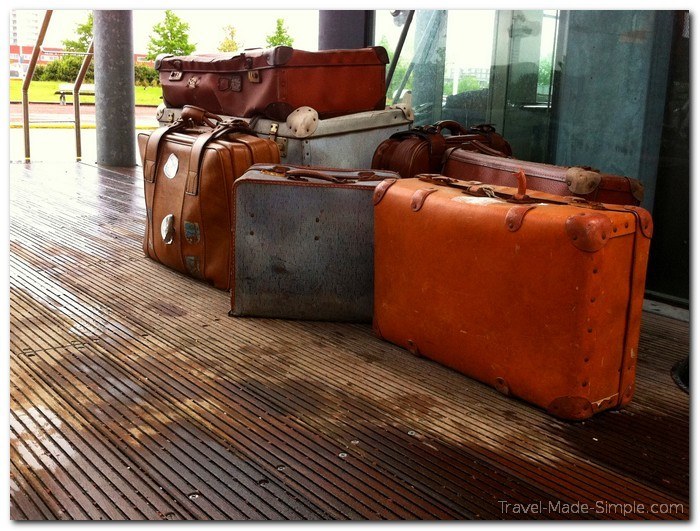 Things you should and shouldn't pack in your carry-on
Even if you're checking luggage, there are certain things that should always stay with you. Things like jewelry, money, credit cards, ID, passport, medications.
For a complete list, read here for what to pack in your carry-on bag.
On the other hand, certain things should never go in your carry-on bag, so pack them in your checked luggage. Things like liquids over 3.4 ounces (100ml), sharp objects like scissors or tools, and most sporting equipment.
For a complete list, read here for what NOT to pack in your carry-on bag.
Packing light with checked luggage is possible. Use the same guidelines as packing carry-on only to limit the amount of stuff you bring. You'll still have lighter bags to carry if you pack as if you weren't checking your luggage. You'll also have a little more flexibility this way because you can pack things you can't bring in your carry-on bag. The freedom of packing light doesn't have to be limited to those who travel carry-on only.
Read more about packing: