If you are planning a trip to Germany, you probably think of beer, lederhosen, and Neuschwanstein Castle. Maybe pretzels and sausages too. But there's so much more to Germany than that little slice of Bavaria. Each region has its own differences. Food, accents and dialects, traditional dress, and more vary from one part of the country to another. That's why you can decide to explore different parts of the country on your Germany itinerary or stay in region and really get to know it. I don't recommend trying to see the whole country in one trip, though it is possible to see a part of Germany in a week.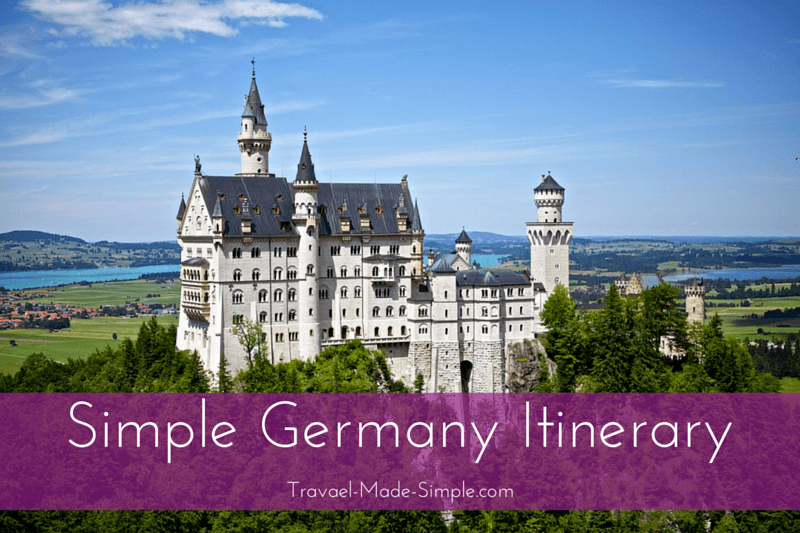 Table of Contents
Please note that some posts contain links that earn me a small commission at no extra cost to you.
Germany has lots of cities, outdoor activities, culture, history, and food just waiting to be explored. Decide what aspects of the country are important to you, and start planning your Germany itinerary.
One Week in Germany
If you only have 7 days in Germany, try to restrict yourself to two cities and a couple of day trips. Train travel between major cities is pretty fast, but will still account for half a day to switch bases. Here are a few ideas for 7 day Germany Itineraries. Each of them links to in depth guides, but you can find more overview information about certain cities and regions below in this post.
Berlin and Munich
This is a simple straightforward itinerary to see two faces of the country. Some of the traditional in Munich and more of the modern day in Berlin. Transport between the two is fast and flights should be accessible.
Munich (4 days) – Bavaria is probably what you think of as German: pretzels, beer, castles. Three and a half days in Munich is enough to explore the city, but also get out to Neuschwannstein to brush with the Alps. Check out our full guide to Munich here. Find a late afternoon train to head to Berlin, check into your hotel there and head out for dinner.
Berlin (3 days) – Berlin is a very different kind of city than any other in Germany. History is prevalent in the museums and the remnants of the wall. However each neighborhood is different, so it is worth spending time visiting not just the center with the Brandenberg Gate and the Museums, but also some of the Eastern neighborhoods which range from hip to deliciously grungy. Different people, different vibe, and different food, that is Berlin. Whether you hunt clubs or museums, Berlin has it. Our Berlin guide is here.
Germany's Maritime Experience
Rivers and boats have defined Germany's history and this sample itinerary shows them off.
Koblenz and the Rhine (4 days) – Base your in Koblenz and explore the Rhein and Moselle river valleys. This is wine country and castle country, enjoy them. Full guide of the Rhine area is here. Kblenz is right in the middle of the area, but Cologne and Bonn are not far as bigger city bases. There is more in this area than you can see in just a few days if you want to see every little town and sample every wine, but 3 days is pretty good as an overview.
Hamburg (3 days) – From the Rhein to the Elbe, head north to the Hanseatic City of Hamburg to experience a very different end of the country. Here beer is king and the architecture is very different. Sample a big harbor city that hasn't forgotten its history, but still embraces the modern. Don't forget to make a day for Miniatur Wunderland, an enormous mini train layout. Our Hamburg guide is here.
Black Forest and Beyond
Think Germany is all about the big cities, head down to the Black Forest and see just how attached to nature Germany can be. This is one of several areas of the country obsessed with the outdoors. Hiking and biking options abound in the land that the Grimm Brothers found many of their stories. Explore from the famous castle town of Heidelberg through Coo-coo clock style villages and spas known by the Romans down to Freiburg and up into the high forest.
Check out our full guide of how to spend 1 week in the Black Forest.
Two weeks in Germany… or longer
If you have 10 days or two weeks to explore Germany, you can see a lot of the country. Don't stretch yourself too thin moving more than you see, but a few days in each area can give you some stability. Look at the one week itinerary ideas above and put two together or mix them with some of the cities and regions detailed below.
Berlin – 4 days to a week
Berlin is a wonderful addition to any Germany itinerary. Germany's capital is packed with culture, history, and delicious international food. Explore the history of World War II, the Cold War, and the Berlin Wall era, try food from the different cultures that shape the city, and learn what makes it so unique in Germany. A week isn't even long enough to see it all, but it's a good start. 4 days gives you enough time to see a few different neighborhoods and the big sights while still enough downtime to relax like a Berliner.
Plan on exploring a lot of Berlin in a few days? Consider getting a Berlin city pass, which gives you transportation as well as entry to dozens of museums and other attractions.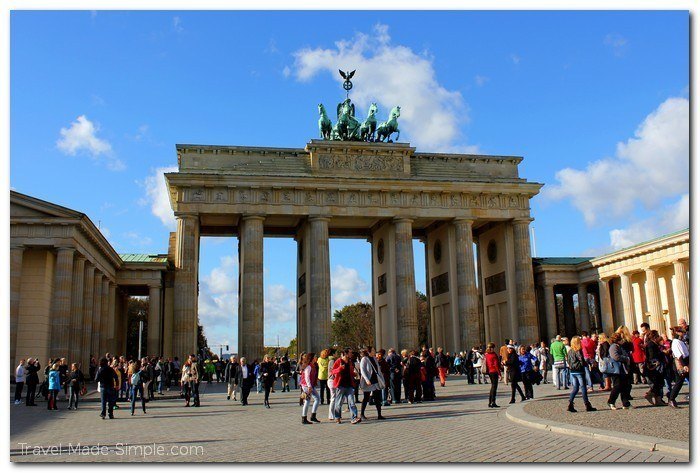 East Side Gallery – When the Berlin Wall came down, this section was left standing and is now covered in paintings with strong messages. Words can't describe it. Take your time and admire the art.
Bernauerstrasse – One section of the wall divided a street and a neighborhood. People were moved from their homes, and even an entire cemetery was moved to accommodate the wall. The open air museum/memorial that stands here today is one of the best places to learn about the history of the Berlin Wall Era. The visitor's center shows two free 15 minute films, in English and German, about the wall that are well worth watching. See here for more info.
Mauer Park – Literally translated as Wall Park, the Berlin Wall once ran through this area. Today the park is a popular place to hang out on Sundays where you'll find a huge flea market as well as food and drink stalls.
Reichstag building – This glass-domed building houses the Germany government. Take an audio tour inside the dome itself for some great views and interesting information. You must register ahead of time to take the tour, so click here for more info.
Checkpoint Charlie Museum – Checkpoint Charlie was the most famous crossing point between East and West Berlin. The museum explores the history of the Berlin Wall as well as freedom and human rights issues. Info here.
DDR Museum – This interactive museum shows what life was like in former East Germany. Info here.
Stasi Museum – This museum is all about the actions of the authorities in East Germany against those who dared to disagree and refused to conform. Info here.
Holocaust Memorial – A major part of Germany's history, this memorial honors the Jews who were killed in the Holocaust. Be sure to visit both the inside and outside sections. Info here.
Museum Island – Five museums are located on an island in the Spree River: Pergamon Museum, Bode Museum, Neues Museum, Altes Museum, and Alte Nationalgalerie. These house art and artifacts from different periods in history. The Pergamon Museum receives more visitors than any other museum in Berlin.
Berliner Dom – This is Berlin's most famous cathedral, and it's quite impressive to see. You can climb to the top as well for great views of the city.
Brandenburg Gate – One of the old city gates, the Brandenburg Gate (Brandenburgertor in German) has become the symbol of the city.
Charlottenburg Palace – This is the largest palace in Berlin, and the only surviving royal residence in the city. It was built in 1699.
See here for more things to do in Berlin.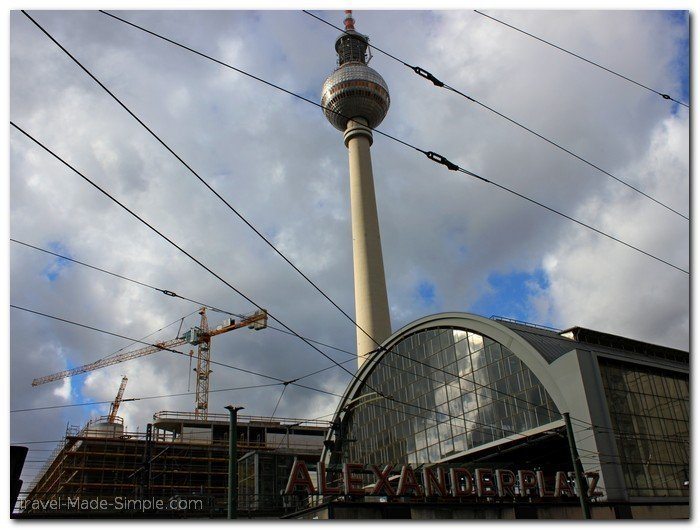 Munich – 4 to 5 days
Each region of Germany has its own traditional clothing, but the images you've seen are most likely from Munich and Bavaria. More people here still wear the traditional clothing than anywhere else in the country. You'll also find giant pretzels and beers here more often than in other parts of the country. Include Munich on your Germany itinerary for a completely different view of German culture than what you'll experience anywhere else.
4 days is plenty to see the big sights of the city and make a daytrip out to Neuschwanstein Castle. There are plenty of places to see in Bavaria and Munich well connected to Austria, so it makes a nice stop on a longer route.
Rathaus – Munich's Rathaus (city hall) is a detailed and gorgeous building located in Marienplatz. Its famous Glockenspiel chimes one to three times a day depending on the time of year.
St. Peter's Church – This church is opposite the Rathaus, and you can climb the stairs in the tower for some amazing views of the Rathaus and the rest of Munich.
Frauenkirche – The two towers of the most well-known cathedral in Munich shape the city's skyline.
Beer gardens and markets – There are markets and beer gardens throughout the city, which are very enjoyable on a sunny day. Right near Marienplatz is a big market and a rare city-owned beer garden (most are owned by individual breweries) that has different beer each month. Have a beer and soak up the atmosphere. Or visit the famous Hofbrauhaus, the most well-known brewery in Munich.
Day trip to Dachau – The mistakes of the past should not be forgotten. Visit Dachau on a day trip from Munich for a somber look at one of the most well-known concentration camps.
Day trip to Neuschwanstein Castle – This is the most famous castle in Germany, and it's the one you most often see on postcards. You can't go in without paying for their 35 minute guided tour. It's possible to get to the castle on your own, but it's much easier with a day tour from Munich.
Spending longer in Munich? Check out how to spend a week in Munich.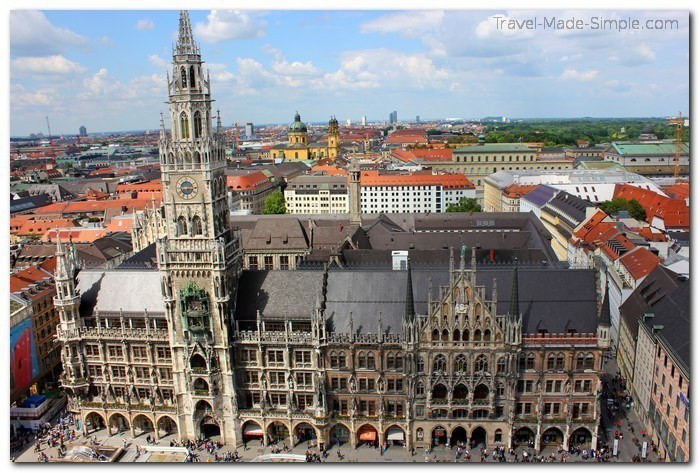 Hamburg – 3 to 4 days
Hamburg doesn't receive as many tourists as Berlin and Munich, but it's worth including on your Germany itinerary. The city is located close to the sea, and as a result Hamburg has its own unique maritime history. The city also has quite a few interesting museums, a variety of architecture styles, and quite a vibrant music scene.
Speicherstadt – Due to Hamburg's rich maritime background, there is an area of warehouses called Speicherstadt that now houses museums and and is full of history about the city. Canals run between sections of the warehouses. This is an interesting area to explore on a tour to get a feel for what Hamburg was once like.
Miniatur Wunderland – This is the world's largest model railway exhibit, although it's so much more than model trains. The displays include entire cities and even a fully functional airport all made to scale. The details are impressive, and it's well worth spending a few hours here. I've been there twice and spent about 4 hours each time. It's a good idea to book your tickets ahead of time. See their site here for more info.
Harbor – Explore the harbor area that has had such a strong influence on the city, and take a boat tour for a closer look.
Beatles history – The Beatles played in Hamburg early in their career and have left their mark. Go see the clubs they played at in the Reeperbahn neighborhood.
Rathaus – Hamburg's Rathaus, or city hall, is an impressive building in the center of the old town.
St. Michael's Cathedral – This cathedral offers amazing views of Hamburg from its tower.
Walking tour – Hamburg has a lot to offer, and each neighborhood is distinctly different. To see the highlights in a short amount of time, consider taking a guided walking tour of Hamburg.
Art museums – Hamburg has quite a collection of art museums. The most famous is Kunsthalle because of its large collection of permanent art as well as special exhibits that come and go throughout the year.
Fish market – Fish plays a big role in Hamburg's cuisine due to its location on the water. Visit the fish market early on Sunday morning and take in the lively atmosphere, and try a fish sandwich almost anywhere in the city.
See here for more things to do in Hamburg.
Black Forest and nearby – 3 days to a week
The Black Forest is famous for its dense trees, ham, cake, cuckoo clocks, hiking, and as the setting of the Grimm fairy tales. Explore some of the smaller cities in this area as well as Germany's outdoors. Nearby, but not quite in the Black Forest, is the popular city of Heidelberg with its impressive castle. How long you spend here really depends on how much of the area you're interested in seeing.
A few days is enough for a single city and some hiking up in the forest. A dedicated week could get you to both Heidelberg and Freiburg as well as some tastes of the outdoors. France and Switzerland are nearby Freiburg, so if you have more time feel free to explore beyond Germany's borders.
Baden Baden – This is a smaller city that was once a Roman bath town. Today it's popular with tourists who want to enjoy thermal baths and spas.
Freiburg – At the south end of the Black Forest, this city has a youthful atmosphere due to its university. Wander through the old town, and use Freiburg as a base to explore the surrounding nature.
Mountains and lakes – Feldberg and Schauinsland are two of the highest peaks in the Black Forest. Titisee and Schluchsee ("see" means lake in German) are two popular lakes for swimming and other water activities.
Heidelberg – While not actually part of the Black Forest, Heidelberg is just a little ways north of the forest and well worth a visit. The remains of its castle are impressive, and you can get wonderful views of the city and the river from the castle.
See here for more on how to spend a week in the Black Forest.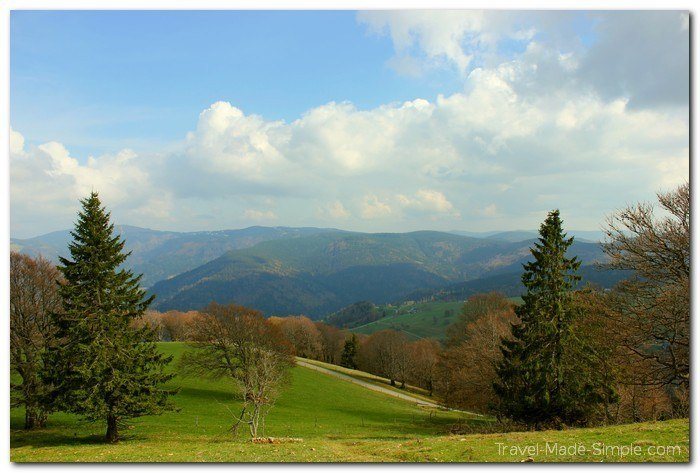 Rhine and Moselle Valley – 2 days to 1 week
The Rhine is Germany's longest river and the focus of the country's wine country. It is also home of a high concentration of castles. You could spend just a few days seeing the highlights or a whole week to just deeply explore the area with a glass (or two) of wine every night.
If all you want to see is cute castles perched on the top of steep cliffs, you could do this area in a day or two. Take a river cruise and then get up close to at least one castle. If you like small towns and wine tasting, you can easily spend a week in this area.
Rhine Cruise – The stretch of the river between Bingen and Koblenz takes about 3 hours to see on a boat and has a large concentration of castles perched on the steep cliffs. If you want this highlights, this is the tour to take.
Koblenz – Koblenz is a small town, but is a perfect base to explore the area. It is at the confluence of the Moselle and Rhine rivers, the end of the castle tour (with a castle of its own) and a decent transport hub.
Moselle River – The Moselle river runs west from the Luxembourg border to meet the Rhine at Koblenz. Some of the most famous wines in Germany come from this region and although not as dense with castles, is not barren. Check out Burg Eltz for a cool looking castle.
Trier – Trier was once a far northern outpost of the Roman empire and the ruins of a Roman gate still stand in the city.
Cologne – If you want to see a big city and a huge cathedral, take a train to Cologne. It is mostly a big city, but has some nice churches and museums as well as more restaurant and shopping options than the smaller towns. Also check out the local Kolsch beer.
If you are interested in this area, check out our in depth guide on how to spend a week in the Rhine Valley.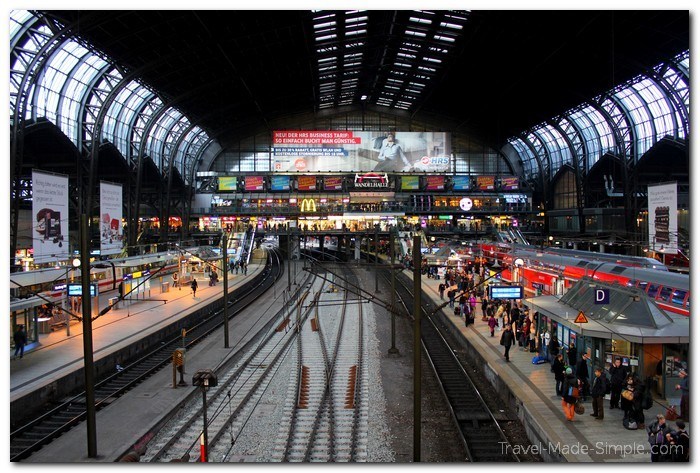 Transport
Getting To Germany
If you are in central Europe already, trains to Germany should be easy to find. If you are flying, Germany is pretty well connected.
Internationally, Frankfurt is the biggest airport, though Munich, Berlin, and Hamburg are reasonably well connected. There are several smaller airports scattered across the country, but check times and compare with the trains. Sometimes it can be faster to take the train.
Getting Around
Transport in Germany is nearly synonymous with the train system. Deutsche Bahn runs trains to nearly every nook and cranny of the country. If you buy tickets ahead of time (usually 3 days) you can get some good deals.
Check out the Regional Tickets too. Each State has its own ticket so they vary in price, but mostly you can buy them for a group of up to 5 for fairly cheap and they cover public transport and regional trains in a wide region for the whole day. They are a great deal for a family doing day trips from a city base. Just remember you can't use the fast trains (IC/ICE).
If you want super cheap and have time to spend, look into the buses well. They can take a lot longer and are not as comfortable, but you can sometimes find seats for 19 Euros or less, depending on the route. Omio (formerly known as GoEuro) is a good site to book tickets, check routes, and compare buses, trains, and even flights.
Within cities, public transport is common. A combination of trains, trams, and buses cross every large German city and many small ones. You may not need it though. Most of the historical centers are small and totally walkable. Transport is on the honor system with big penalties if you are caught without a ticket, so make sure you buy one before getting on a tram or bus.
Check out a full in depth post on transport in Germany.
Germany travel planning and inspiration
Hopefully our Germany itinerary and ideas for planning one week in Germany have been helpful. The following posts provide more in-depth information about Germany travel, tours in Germany, and specific cities and regions. And if you're looking for a little inspiration, be sure to check out the books and movies recommended below.
Read more about traveling in Germany:
Germany tour reviews
Search for tours in Germany here
Germany reading, guidebooks, and movies
Looking for other great destinations?