The Bohemian gem of Eastern Europe, the centuries-old buildings, the quirky art, the tasty beer…these are just a few of the reasons Prague makes such a great destination for travelers. With so much to see and do, you could spend your entire vacation exploring Prague, but many people choose to spend a few days there in addition to visiting other cities in Eastern or Central Europe. This Prague itinerary will show you what to do in Prague in 3 days, or even 4 or 5 days.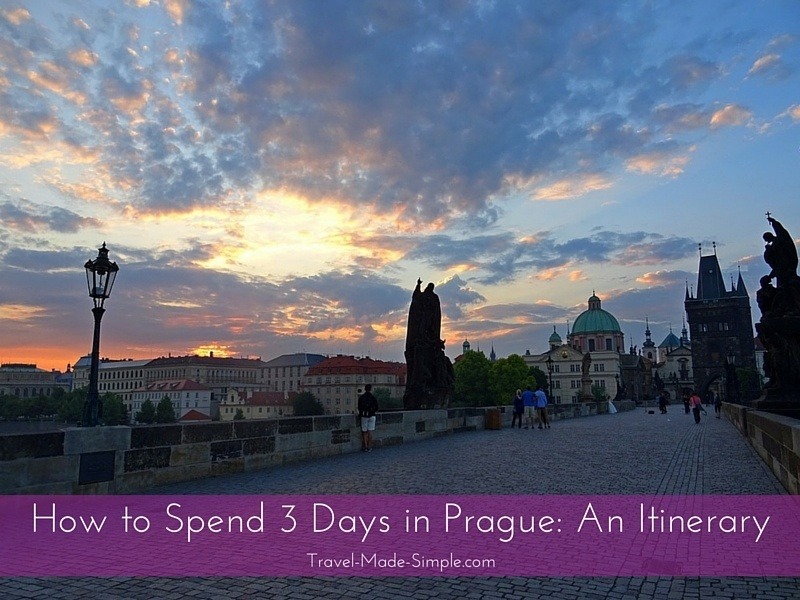 Prague itinerary for 3 days
Prague is an interesting a beautiful city that's worth exploring. The following Prague itinerary is loaded with tips from our own experiences with several trips to Prague.
Please note that some posts contain links that earn me a small commission at no extra cost to you.
Prague sightseeing and food tours
Sightseeing tours and food tours are a great way to explore a city and get to know the culture and history. Here are a few tours in Prague that we recommend:
Prague hotel recommendation
There are lots of great places to stay in Prague, but after many trips to the Czech capital, we've realized that staying right in the old town can be rather loud. Recently we stayed at Botanique Hotel in Prague, and it was a really great hotel close to transport. It's also a sustainable hotel, which is a wonderful bonus.
Day 1 – Explore Prague Old Town
The center of Prague is Old Town Square (Staromestska namesti). Start your Prague trip here. This where you find the iconic picture of the town of the spiky topped Church of Our Lady of St Tyn across from the Astronomical Tower.
In late November and December, the square is filled with a festive Christmas Market, making it a great choice for a winter city break in Europe, or you'll find an Easter Market in the spring.
The rest of the year it is just filled with people and a handful of food stalls, but it's still gorgeous and enjoyable.
Try to ignore the throngs of tourists and the hawkers trying sell everything under the sun or that there is a Starbucks on the square.
Look at the city as a center of culture and science with a well preserved skyline of spiky towers, medieval cathedrals, and Victorian age buildings. You can take an elevator to the top of Town Hall tower, but save that for tomorrow.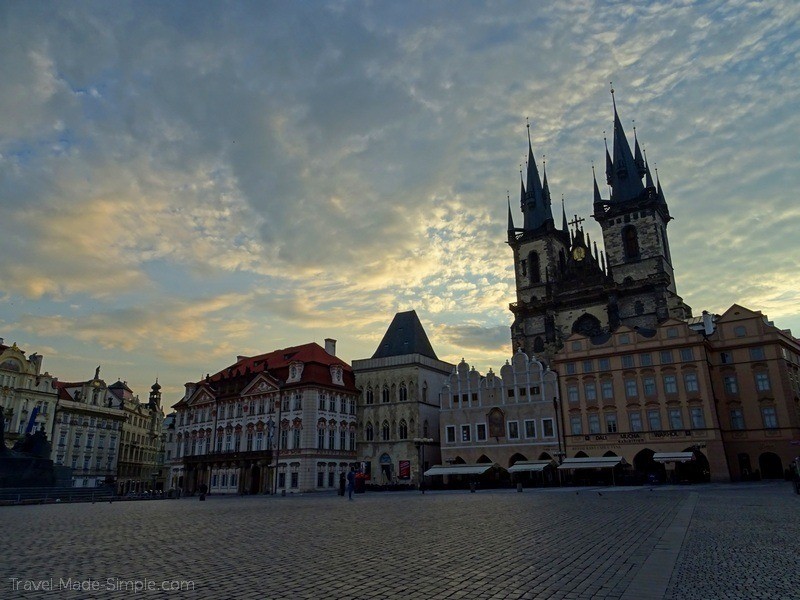 From the square, you can get to all of the big sights in Old Town. Wenceslas Square is an enormous long square lined with retailers that you can find nearly anywhere in Europe, capped with the National Museum.
This is the center point of much of the revolutionary history of the city. The Velvet Revolution began here.
Josevov is the Jewish district in the old town of Prague. There is a cemetery and the Old New Synagogue as well as a museum.
You can walk it on your own or book a guided tour.
Walking and wandering around the old town area is a lot of fun. There are a lot of little winding streets and tiny hidden squares to find.
As mentioned in the "where to stay" section below, Prague's center has embraced commerce and tourism completely, so be aware of that. Hopefully the new law banning Segways will help.
Take a Prague Beer tour
Czech beer is a wonderful thing and is very steeped in the history of the place. We took a Prague craft beer tour, and it really was the highlight of the trip.
And the best part is that it starts at 5pm, so it gives you almost the whole day to go sightseeing and know that there is beer in your future. There is enough food on the tour to not be too drunk and not have to worry about dinner.
Day 2 – Experience Czech food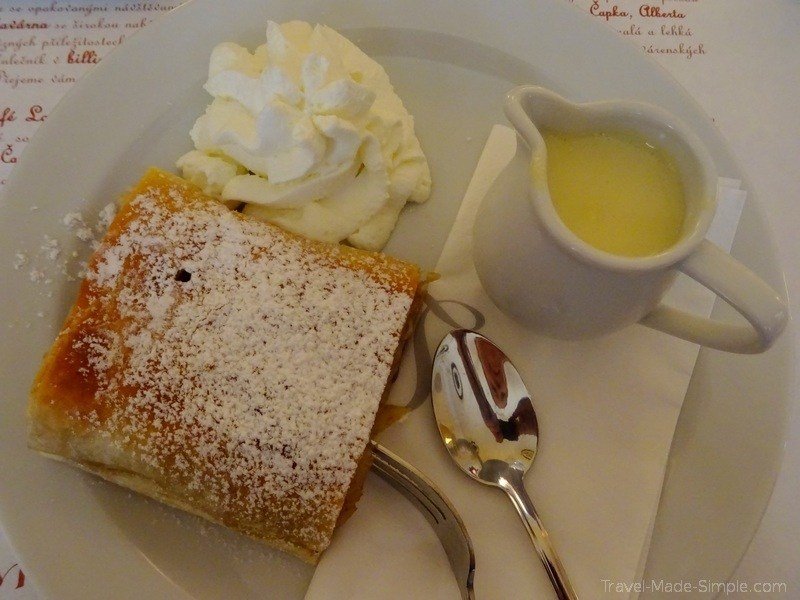 In almost every city we visit, we book a food tour. Food tours give you a look at the food and a list of places to try right off the bat.
It also gives you a bit of the history as well. Check out our review of the Eating Prague food tour here.
The Prague food tour included sweets like local gingerbread and apple strudel. We also tasted a traditional Bohemian sauerkraut soup, which I'm surprised to say I quite enjoyed.
Other delicious foods we ate on the tour included local ham and salami, open-faced sandwiches, pork belly, and braised beef with Czech dumplings. It was an interesting introduction to a cuisine we knew little about.
The food tour we did started at 12:30, so gives you some time to see things in the morning. The food tour runs until late afternoon, so you have time after it to do a few more things.
You will probably want a light dinner anyway and walking off the food can be good.
After the food tour
The Old Town Hall Tower is open from 11am until 10pm, so makes a good stop after the tour. And it has an elevator, so no worries about walking steps on a full belly.
See more details on our post about towers in Prague to climb.
Day 3 – Castle Hill
Crossing the River on Charles Bridge
The typical approach to Castle Hill is a long upward sloping road lined with tourist shops to the cathedral-crowned, fortified hill of Prague Castle. To get there from old town, cross Charles Bridge and make your way upwards.
Charles Bridge is a pedestrian-only bridge that crosses the Vltava River. The spiked towers on either side were used as models to rebuild several of the other towers in town during the Victorian era.
This is definitely a worthwhile place to see in Prague, so go for a stroll. Just be aware that in the high season it will be quite crowded.
Even at sunrise (5am in June), we were not alone on the bridge, though there were far fewer people that early, and it was a much nicer experience. There are usually peddlers of art and musicians during the day.
Castle Hill and Beyond
Prague Castle is a fortified hill with several different things to take in. This is a must for your Prague itinerary.
You do have to pay to get onto the premises, but the ticket lasts for two days. Buy castle tickets and tours here.
Highlights of the hill include St Vitus Cathedral, whose towers dominate the skyline of the hill. You can also climb one of the towers.
There are also several exhibits about the history of the castle, and the palace buildings. A row of old low houses called the Golden Row once housed the city's famous author son, Franz Kafka.
Other things on this side of the river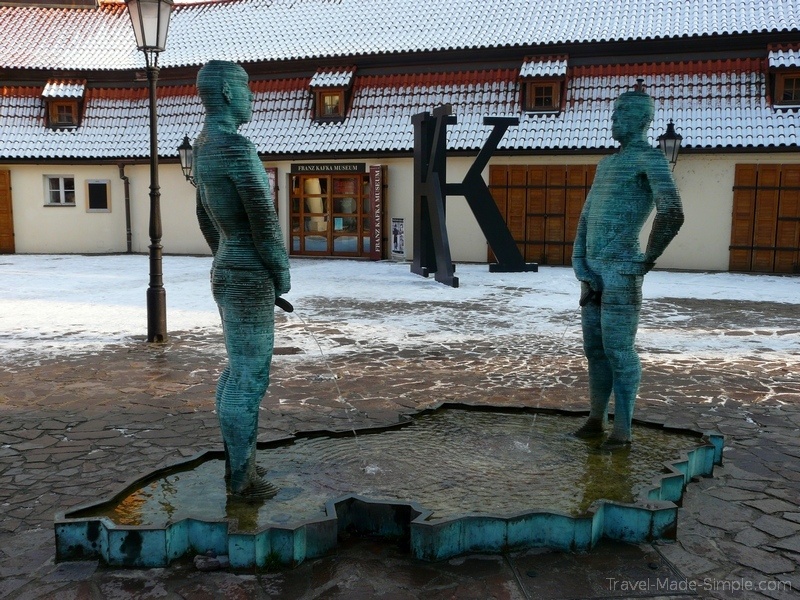 There are other interesting things on this side of the river as well. Just north of the end of the Charles Bridge in the courtyard of the Kafka Center are a pair of bronze statues peeing into a pool in the shape of the Czech Republic.
The statues were made by David Cerny, one of Prague's most famous artists. If you see something odd around town, he probably made it. Check out more bizarre sculptures by David Cerny to include on your Prague itinerary.
Just south of the end of the bridge is an area worth a wander. The Lenin wall is there as well as some of the better views of the bridge itself.
Petrin hill is the hill you see across from the tower with what looks like a mini Eiffel Tower. You can get to the top of the hill with a funicular, but you will have to walk up the stairs if you want the view from the tower.
Consider taking one of these Prague tours:
Have 4 or 5 days in Prague?
If you have more than 3 days in Prague, here are a few more things you can do to explore the city.
The ticket to the Castle Hill lasts for two consecutive days, so you can explore it for a second day. It's also worth exploring one of the other neighborhoods, like Prague 2, south of center, or Prague 3, east of center, if you have extra time in the city.
Museums
Though primarily a city known for big architectural sights, there are museums in town to go through as well. Check the websites if you are interested. Most of the museums are closed one day a week, usually Monday. A few are closed in the winter.
A Public Transport Museum is run by the public transit company in one of their depots.
The Mucha Museum is worth it if you like the art of Alphonse Mucha, but is probably a bit expensive for its size if you aren't an art fan.
The Anton Dvorak museum might be more your speed if you are into classic music. This is part of the National Museum complex of buildings. The main building is on Wenceslas Square.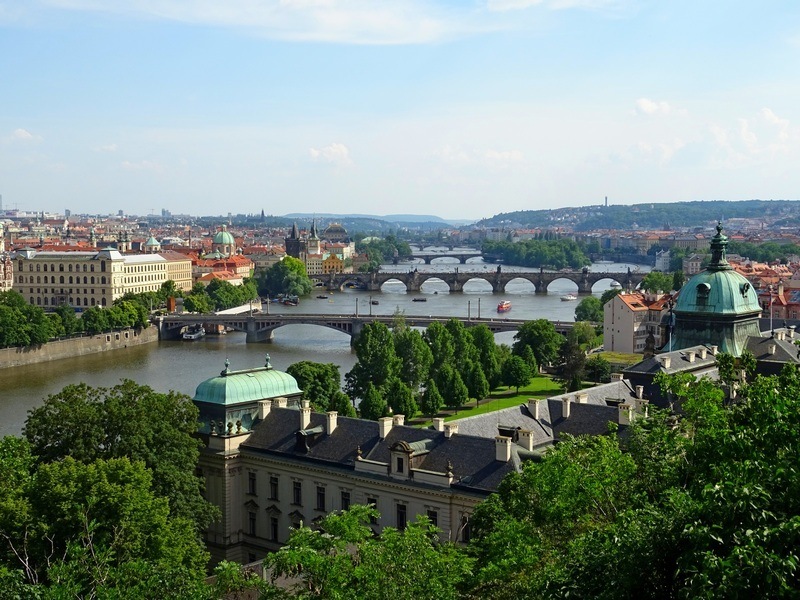 Day Trips from Prague
There are so many great day trips from Prague if you have several days in the city. Here are a few of our favorites to consider adding to your Prague itinerary.
Karlštejn Castle
The same Charles that built the Charles Bridge also built Karlštejn Castle out in the countryside, and it's within day trip distance.
There are regular trains from Prague to the station at Karlštejn and take 45 minutes. Then Google says a 30 minute walk, though it is steep, from there to the fantastic looking castle.
Kutna Hora
The town of Kutna Hora is UNESCO listed for two churches. The more well advertised of the two is an Ossuary, with rooms built from human bone.
Hourly trains run the 50 minutes to the town, which has more than just a bone church. The medieval old town has the Gothic St Barbara's cathedral and the former Royal Mint named the "Italian Court."
Kutna Hora is doable on your own if you want, but there are some guided tours if you want the logistics taken care of and a guide for some information.
Cesky Krumlov
This charming medieval town of Cesky Krumlov is a UNESCO World Heritage site with an impressive castle dating back to 1240. You'll enjoy wandering through the streets and alleys of the old town.
The city is a bit farther – about 3 hours from Prague by train – and might be better as an overnight trip. But if you don't have enough time for that, it's still totally worth it as a day trip from Prague if you get an early start to your day.
If you don't want to deal with logistics on your own, consider taking this guided day tour.
When to Go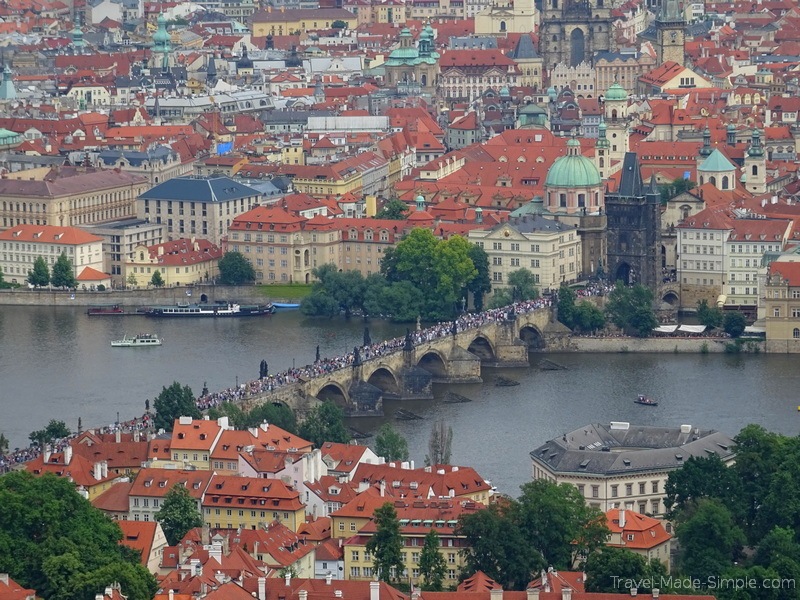 Summer is the high season. This is when you'll see the most tourists (and stag parties) and experience the best (if hot) weather.
Spring and autumn can be nice times to visit. The weather will be milder, and there will be fewer tourists than in the summertime.
Winter can be very cold and blustery. Snow is apparently rare, but not unheard of. The wind though can be brutal.
On the up side, there are Christmas markets in a number of squares and far fewer people around. Prague is a big city and doesn't ever close its doors.
Where to Stay in Prague
Prague numbers its districts, with Prague 1 being the old town. Prague 5, 6, and 7 are across the river from the old town. Even still there are plenty of things out from the center to see.
There is good transport in the city with 3 subway lines and a set of trams. That said, there are no transport lines going through the main square.
The bulk of tourist activities are in the center, but this also means most of the restaurants and such are oriented at tourists as well. Again, this is why it's such a great idea to take a food tour early in your trip to learn how to find better food.
Prague has taken to being a tourist destination and the center shows this. The center can be loud with many bars.
The main avenues of foot traffic run from the Powder Tower through old town square to the Charles Bridge (Korluv must) and from old town square to Wenceslas Square.
There are plenty of little winding streets in the district as well. Look for side streets if you want to stay in this district, but even still don't assume it will be quiet in the summer.
The area around Namesti Republiky/Powder could be a better choice with a Metro stop if you plan to do a lot of things beyond just the old center.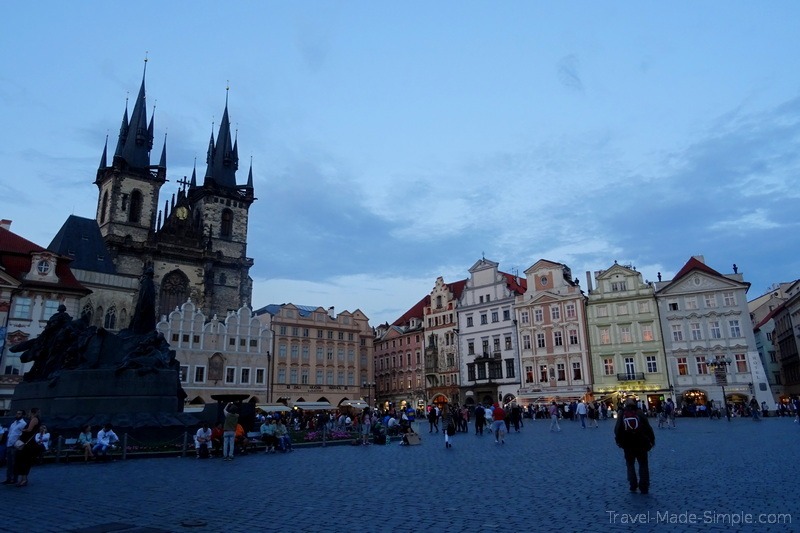 Look for hotels beyond Prague center
Prague 3 extends north east of the main station. This area is called Vinorhady and is less of a tourist destination, while still having plenty of restaurants.
The main artery is Vinorhadska road, which also mirrors the metro line. Definitely look for a place not far from the metro or one of the tram lines so you can get around easily.
Prague 2 extends south from the old town. Again a less tourist-ed, but still lively, part of town. There is a metro line and several tram lines into the center.
If you are looking for a hostel outside the center, Andy stayed at the Czech Inn a few years ago and liked it. It is a mix of hostel and hotel.
There aren't a lot of restaurants around, but it is right at a tram stop. The place was clean and felt more upscale than a normal "dirty cheap hostel."
Getting Around Prague
Transport in Prague is really good. There are subways and trams, both served by the same set of tickets and sold by time.
You can buy a 30 minute ticket, roughly similar to a "single ride" ticket, up to a 24 hour ticket and several levels in between.
There are machines in the Metro stations to buy tickets, but they take only coins. Hit up a tobacco shop to buy things with bills.
Just remember to stamp the ticket in one of the yellow machines before you use it for the first time.
A 24 hour ticket costs 110 Kc (at time of writing) and is a great deal if you are moving around the city. It means you can hop on and off transport without worrying about tickets for that day.
It is also literally 24 hours from the moment you stamp it, not just that calendar day. So a ticket bought at noon one day will still be good in the morning the next day.
Find more info on the Public transport website.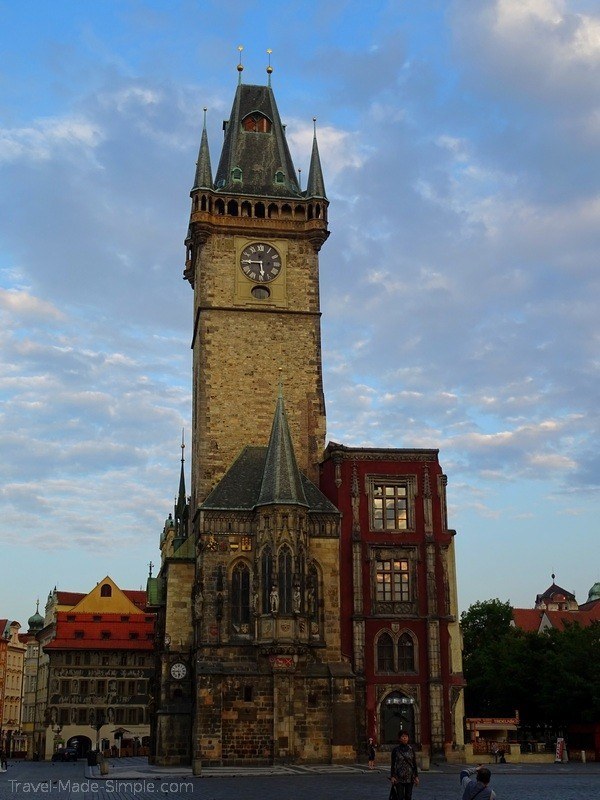 Getting to Prague
Prague's airport is well connected to other parts of Europe and the rest of the world. Chances are you can find a flight from your home airport, even if you have to make a connection somewhere.
Long distance train connections are pretty good to the rest of Europe. Berlin to Prague is about 4.5 hours, and Vienna to Prague is 4 hours.
There are also bus options that can be quite cheap. It's always best to compare options to find the one that best fits your budget, time frame, and comfort level.
Try booking trains, buses, and flights all over Europe
using Omio
. It's straightforward and all in English.
Prague travel planning and inspiration
Hopefully our Prague itinerary and ideas for planning three days in Prague have been helpful. The following posts provide more in-depth information about Prague travel and tours in Prague. And if you're looking for a little inspiration, be sure to check out the books and movies recommended below.
Read more about traveling in Prague:
Prague reading and guidebooks
Looking for other great destinations?