When you think of Germany, do you think of rich deep fairy tale forests, coo-coo clocks, and castles perched on hills? Then you're probably interested in how to spend a week in the Black Forest in Germany.
The region of Baden in the southwest of Germany is home to the Black Forest and more. It is an area where you can hike over forested hills all day and still be back at your spa hotel for a glass of wine without straining yourself. This Black Forest itinerary will show you how to see the best of the region.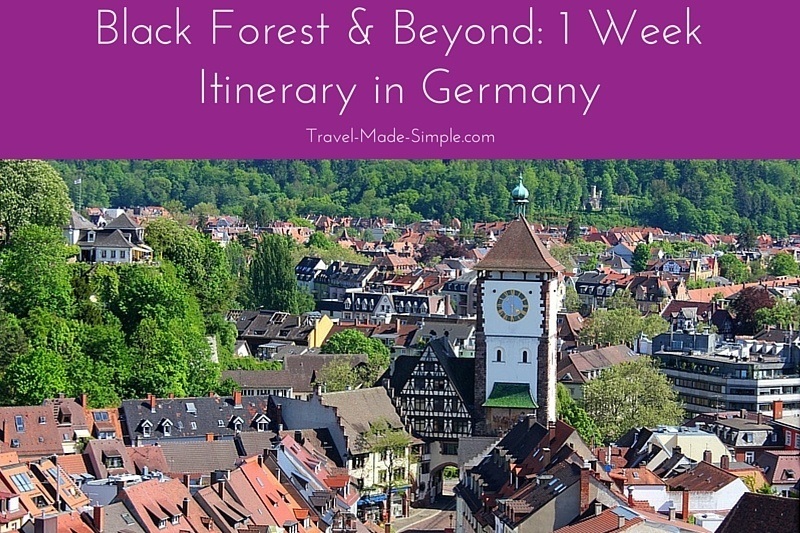 Please note that some posts contain links that earn me a small commission at no extra cost to you.
Black Forest tours
Sometimes taking a tour is the best way to experience a destination. An expert guide will provide information about the history and culture, and you won't have to stress about logistics. Here are a few tours in and near the Black Forest that we recommend:
Are you planning a road trip through the Black Forest? Get a quote for a rental car from Discover Cars.
Table of Contents
This post will show you an itinerary for how you can spend one week experiencing Baden and the Black Forest.
When To Visit the Black Forest
It depends on what you want to do. If you want to go hiking in the Black Forest, then summer is definitely your time. Spring can be blustery and rainy.
Winter is cold and snowy, but if you stay closer to the cities, December can be really enchanting with the German Christmas markets.
This 1 week itinerary in the Black Forest will work any time of year, but you might have to make small adjustments for weather and daylight hours.
Getting There And Away
Frankfurt is the primary airport for this area, and it's where you're likely to land if you're coming from North America. There is a mainline train route that goes north-south through the region and connects right to the Frankfurt International Airport.
The Basel-Mulhouse airport just over the Swiss border has lots of flights if you are coming from within Europe. It does not have a train station, but there is an airport bus that connects to Freiburg.
This 1 week itinerary in the Black Forest is laid out for someone coming in and leaving from Frankfurt. If you are on your way from or to somewhere else (like the Rhine Valley), feel free to juggle the order.
Where To Stay in or near the Black Forest
The Black Forest is a fairly large region, so there are several good options for where to stay.
You can base yourself in one city and do day trips to other parts of the region. Or it might be easier to change locations a few times to better explore the different sections of Black Forest.
Heidelberg
The old town is where the fun is at. The pedestrian parts of old town stretches from Bismarkplatz toward the foot of the castle.
With only a few days, staying in the center will mean you won't waste time on transport when you could be seeing things.
If you do decide to be a bit outside of the center, make sure you find a place near a tram stop. Here's the Heidelberg Transport Website.
In addition to the main castle on the hill and the sights of the old town, if you have a free afternoon, check out Tiefburg Castle in the small neighborhood called Handschuhsheim north of the river. Not as large as the main castle, but far more intact and less crowded.
Freiburg
The old town is Freiburg's core as well, and if you want that feel, there are hotels scattered around the pedestrian alleys.
There are a handful of hotels near the train station, which is only a few steps from the center as well. Freiburg's old town isn't huge, and there are several other neighborhoods just a short walk from town.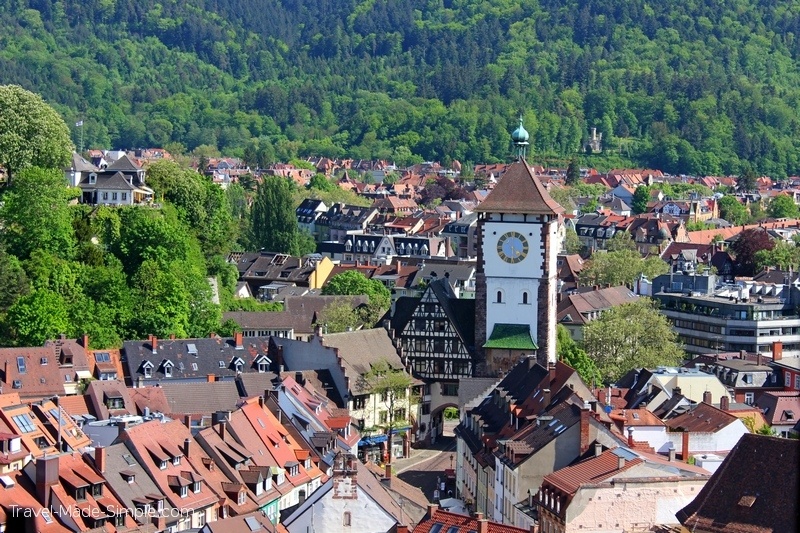 If you are willing to be a tiny bit further from town, look at Schutzen. It is a guesthouse and restaurant only a few stops from the center on tram line 1 and serves one of the best Schnitzels in town.
We used to live in Freiburg and ate there often. We've even stayed at Schutzen's hotel; it's a comfortable place to stay.
Baden-Baden/Strasbourg
Baden-Baden and Strasbourg both can be enjoyed on a day trip from the other, so it kind of depends on what kind of feel you want.
Do you want to spend a night in France in a larger city? Then look at Strasbourg.
If you are excited to enjoy a spa or want a more relaxed atmosphere, then angle toward Baden Baden. If you had more time, you could stay one night in each place if you wanted.
Baden-Baden's train station is quite a ways from the center of town, so don't be worried about that. Leopoldplatz is the center of town, but pretty much anything in area between the green areas should be fine.
If you are interested in a spa hotel, Baden-Baden has them. Many German sauna areas are clothing-forbidden, so do your research and know if you are ok with this. You can always stay in another place and get a day ticket to the spa if you are interested.
Even though Strasbourg is a larger city than any other on this tour, the center is still very walkable. Look for a place inside the ring of the river to be in the thick of things.
Frankfurt
Frankfurt is not in the Black Forest, but since it's the biggest international airport near the Black Forest, it is likely where you will start and/or end your trip. Depending on your flight times, you might want to stay in Frankfurt at the beginning or end of your trip.
Getting Around Baden and Beyond
Transport in Germany by train is quite easy. In Heidelberg and Freiburg, look for day tickets, possibly group tickets if you have more than 2 people.
When moving between cities, if you are ok with a bit longer ride for a lower cost, look at the Baden-Wuerttemberg Tickets from Deutsche Bahn. They can be very cheap for groups and offer transport on local trains and buses in the region.
The limitation of the Baden ticket is that it doesn't reach to Strasbourg, nor can you use ICE/IC trains (you can't use the white "fast trains"). You can buy small tickets to get from the German border to Strasbourg.
Additional transport notes are in the specific days.
The Black Forest is also a good region of Germany for a road trip. If you decide to rent a car, make sure you understand the driving rules in Germany, and get a rental car quote from Discover Cars.
Book trains in Germany and all over Europe
using Omio
. It's straightforward and all in English, and it can even show you bus and flight options.
How to spend a week in the Black Forest region of Germany
This is a general itinerary and definitely should be used as a guide and changed to fit your desires. As written, it is pretty full of activities, but only you can judge how much you want to take on for your vacation.
Don't expect to be able to see everything, and be ok with a day of just relaxing by the river or at a beer garden if that is what you want to do.
Day 1 & 2 – Heidelberg

Heidelberg is not in the Black Forest, but it is still in the same region called Baden. It was the headquarters of the American army in Europe until 2010 and home to one of the oldest universities in the country.
Add looming castle ruins that are lit up at night and you have a romantic town that gets a lot of visitors. Heidelberg is one of the "classic" Germany tourist stops and you will definitely sense that wandering around town.
Here is a list of activities to consider for your two days:
Head to the Castle
Heidelberg Castle is hard to miss, perched on the hill above the old town. You can certainly walk up to it, but the more interesting way is to take the funicular train up the hill.
Buy the combo ticket for both the castle and funicular for a much better deal. The castle itself is worth a good walk around. The basement houses an enormous wine barrel.
Wandering Town
Now that you have seen the castle from above, head back into town to experience things from ground level. Check out the cathedral (Church of the Holy Spirit) in the middle of market square.
Walk across the old bridge with its distinctive towers. There is a lot of interesting architecture around the old town, including the university library and a rubblestone hay barn that once housed university lectures.
Philosophen Weg
Across the river from the old town winding up the hill is the Philosopher's Way. Take one of the bridges across the river and make your way up the switchbacks to get a great panorama of the city.
Handschuhsheim and Tiefburg
The Heidelberg Castle is mostly in ruins due to scavengers, but in the small neighborhood of Handschuhsheim (Glove's Home) lies the Tiefburg castle. It is still intact enough to be used by the town for offices.
If you want to see a slower pace place away from the tourists, head north of town to explore this area.
River Trip
The river Neckar flows through town. There are boat trips on the river that gives you a look at the town from a different view, and they're a fun way to see the city.
Koenigsstuhl
The mountains continue above Heidelberg Castle up to the Koenigsstuhl (King's Seat). You can reach this area by taking the funicular to the end station beyond the castle.
Molkenkur is an inn halfway up the mountain where you change from the lower to the upper railway. The view of the city is impressive there as well.
Hiking
The whole area is covered in trails to hike. If you are interested, check in at the tourist office for maps and information.
Day 3 – Freiburg
Freiburg is another medieval town and home to another old university. But at the other end of Baden, it has a different feel and is not on the big bus route tour of the country.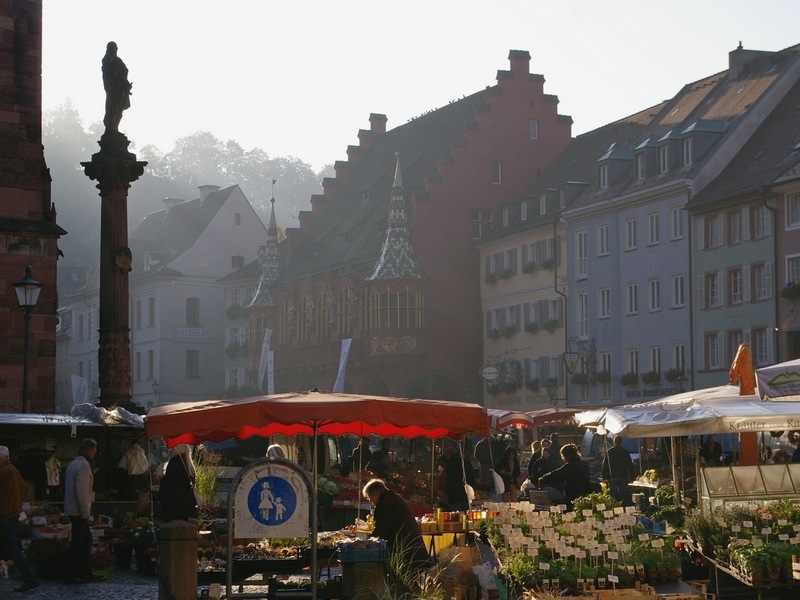 Freiburg is well known in Germany and has its share of visitors, but not in the same volume as Heidelberg. It is also very firmly attached to the Black Forest. An extension of the hilly pine forest extends into town.
Freiburg Old Town
The old town is where you should start your visit. Climb the sandstone cathedral in the main square for a view of Freiburg from above.
The market square around it bustles with a fresh market every morning except Sunday and is a great place to try a Lange Rote (the local type of sausage).
In the back corner of the square next to the red turreted Kaufhaus is the City Museum of Freiburg. It is small and all in German, but has some neat models of what the city looked like in the past.
Much of Freiburg's charm is found in the shady squares and beer gardens where people watching and a relaxing drink await you. Niemansstrasse has a number of places with outdoor seating for food and coffee.
Feierling Brewery is near Augustinerplatz and has a beer garden across the street. It is a very local unfiltered beer that does not get exported, so is nicely unique.
As you explore town you will likely notice two things. First the tiny gutters running with water on nearly every street. They are called Baechle and also a unique thing to Freiburg.
Legend has it that if you step into one, you will marry a local. In the summer, you can see kids pulling wooden boats on strings through these little canals.
The second thing you might notice are the still-standing medieval city gates.
The one near the center of town is called Martins Tor and has a McDonald's in it. The shorter one near where you get the stairs up to Castle Hill is called Schwabentor.
Head up the stairs at Schwabentor to climb up on Castle Hill. There is a restaurant and neighboring beer garden with wonderful views of the valleys. Further up the hill is Cannon Plaza as a memory of the castle that isn't there anymore.
Day 4 – Schauinsland day trip from Freiburg
Schauinsland translates to Look-into-the-countryside. It is a peak with a observation tower in the Black Forest and is reachable via a long cable car run.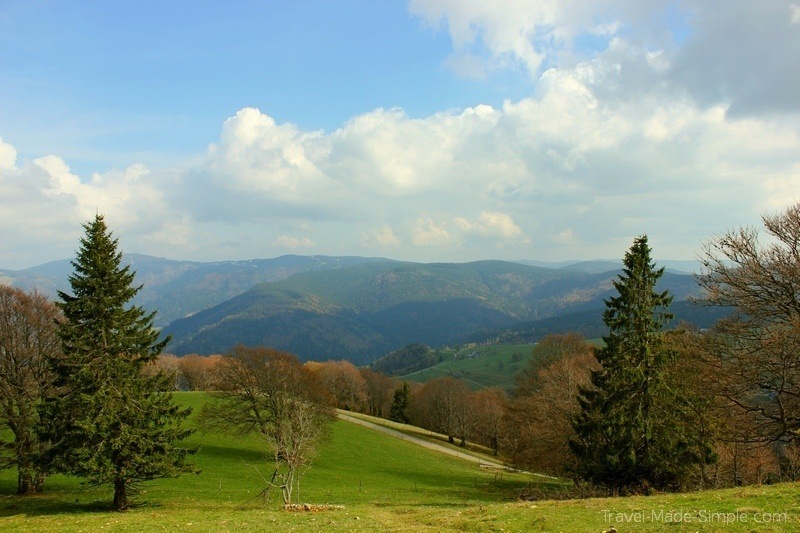 It is a fun walk through the forest proper and on a nice day you can supposedly see the tips of the Swiss alps.
To get there, take the tram toward Gunterstal to the end and switch to the bus to the base station of the cable car (Schauinslandtalbahn). Check the Schauinsland website for more info.
There are plenty of marked hiking trails from here. This is the land of Hansel and Gretel so be aware of your surroundings and ideally have a map if you want to do some further range hiking.
Transport Tip: Schauinsland is in region 3 of the Freiburg transport network.
Day 5 – Titisee daytrip from Freiburg
Schauinsland gives a good view of the rolling pine-covered hills of the Black Forest. Now take a train up into the high forest to Titisee.
This is an alpine lake up in the mountains and always a little cooler than down in town, making it a getaway in the summer. The lake has several boat options for exploring it. Rent a paddle boat to get out on the water yourself or take a boat tour.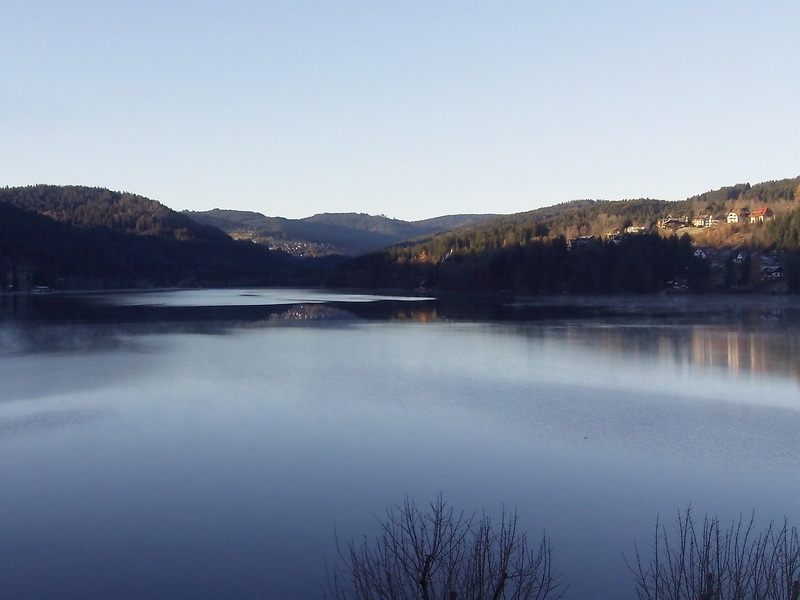 The Black Forest is known for the coo-coo clock. Titisee is as good a place as any to buy one if that is your thing.
The main street is lined with tourist shops offering everything from kitsch to clocks and sausage to liquor. They will ship to most anywhere for an extra fee. Think about this before you try to shove it in your bags to carry home.
If you want to get away from the tourist presence even more, there are options.
Take the train from Titisee higher to Schluchsee, an even bigger lake with hiking and biking trails all around it. Feldberg is also reachable from Titisee and is a ski-slope in the winter.
On your way between Freiburg and Titisee you will be going through the Hoehlental (Hell Valley), so named due to warm winds that come out of it in the summer. The small town at the bottom of the valley is called Himmelreich, which means Heaven, for a bit of German irony.
As you go up the valley try to keep your eyes open on the cliffs for a tight spot call the Hirschsprung (Deer jump). There is a statue of a deer perched at the top. It is so narrow that it is said that a deer could jump over it.
Transport tip: Titisee is in region 3 of the Freiburg transit system.
Transfer tip: Especially if you want to do a lot of activities in Baden-Baden or Strasbourg, consider checking out of your Freiburg hotel this morning, then leave your bags in a locker at the train station and catch a late afternoon train to your next destination for dinner in a new place and a fresh start the next morning.
Day 6 – Baden-Baden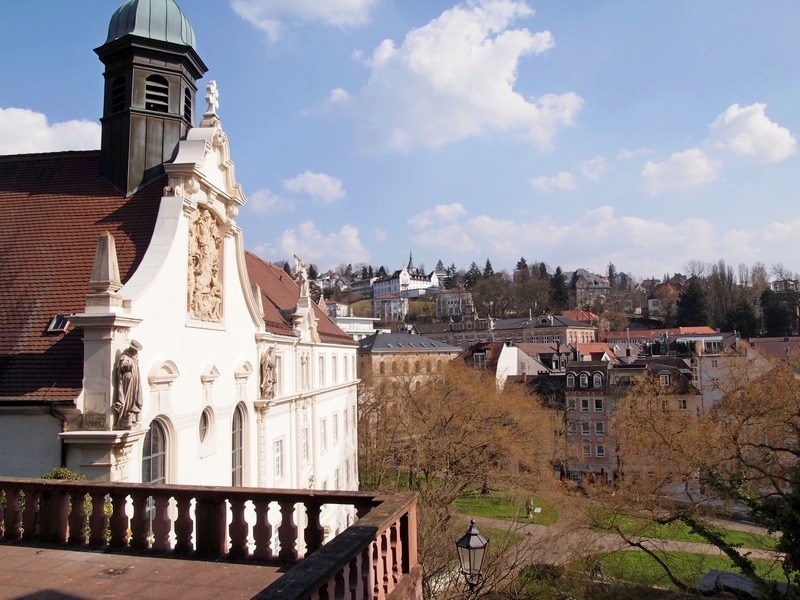 Baden-Baden has been a spa town since the Roman era. Soldiers were sent to recuperate and "take the waters" in this quiet Black Forest town. In the 1800s it was the favorite escape of the European nobility.
It was the place to see and be seen during the hot summers and that feel has permeated the town as it is today. So the spa town flair is still there, but there is history as well.
Trinkhalle
The arcades of the pump house is typical architecture for spa towns of these era. It is also home to the town's tourist info.
Roman Baths
The remains of the soldier's bath from the Roman times are still available to visit. The opening times are a bit short (an hour just before midday and an hour in the afternoon and closed in the winter), so check them out if this is important to you.
Info and opening times can be found here.
Merkur Mountain and Funicular
A short bus ride from the center of Baden-Baden is the bottom station of the Merkur Funicular which takes you to the top of the nearby mountain for views of the entire region.
Relaxing
The town has been a center of relaxation and leisure for its entire history. Don't stress yourself here. There is a green park along the river Oos just made for strolling and picnics.
If "taking the waters" is your thing, check out one of the spas in town. The four big ones are under the Carasana banner with info here.
A note about German spas and sauna areas: Many of them are nudist, meaning clothing isn't just optional, but forbidden. Definitely do some research and ask questions to know what to expect.
Day 7 – Daytrip to Strasbourg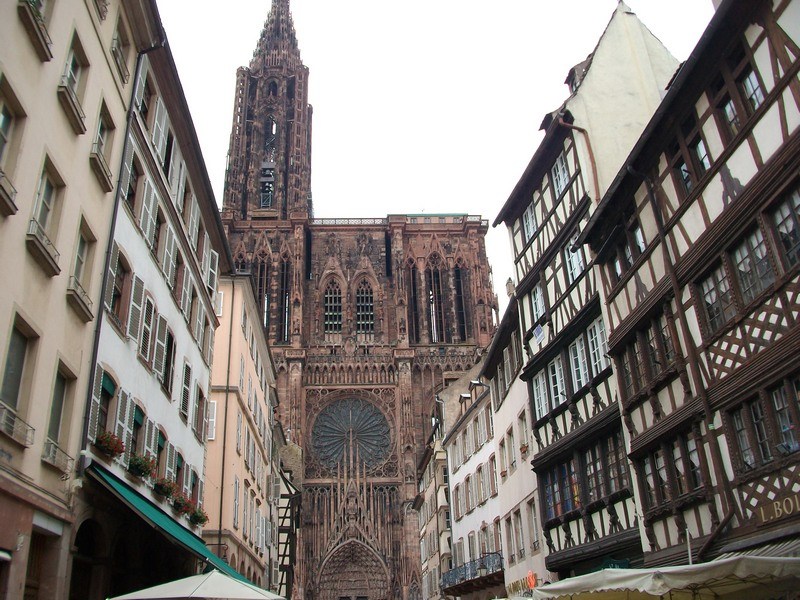 Strasbourg is in Alsace on the French side of the Rhine. Alsace once was a part of Germany, and then it was French, and then it was German again, and now back to France.
This flip-flop of national allegiance has given the region a bit of an independent sense.
Cathedral and Astronomical Clock
The most well known sight in town is the massive cathedral, including a tower to climb, and its astronomical clock. Info Website for prices and times here.
Boat Tour
For a view of the city from the water, check out a boat tour on the river. There are lots of options with commentary that tell you about the sights as you sail by.
Place Kleber & Petite France
Much of Strasbourg's charm can be enjoyed by just wandering the pedestrian streets. Place Kleber is a wide open square rings with cafes with people watching opportunities.
On the southwestern end of town is an area of canals and tiny winding streets called Petit France.
Wine, Charming Villages, and a Castle
: If you have no interest in Baden-Baden or just have more time to spend on the French side of the river, check out this full day tour from Strasbourg to some of the small wine towns in the region as well as one of Andy's favorite hilltop castles.
Do you have more than a week in the Black Forest?
Especially if you like hiking and nature exploration there are plenty of day hikes around any of these stops.
The Kaiserstuhl is an extinct volcano near Freiburg that is the region's wine growing area. Breisach near Freiburg overlooks the Rhine. Colmar is reachable from Freiburg by bus and gives a bit of a smaller town view of France.
If you are heading north from Heidelberg, check out our one week itinerary in the Rhine Valley.
Strasbourg can be a good jumping off point for some time in Paris. Check out our one week itinerary in Paris as well.
Have you been to Germany's southwest corner? What else would you include on a 1 week itinerary in the Black Forest?
Read more about Germany:
Looking for other great destinations?