Lederhosen? Yup. Giant pretzels? Check. Half-liter steins of beer? Of course. These are all things you've probably imagined while dreaming about a trip to Germany. They're all typical of Bavaria in southern Germany, and you'll find them in Munich.
Though the city is famous for Oktoberfest, there are a lot more things to do in Munich throughout the year. From World War II history to a proud beer culture and daytrips to castles, Munich won't disappoint. This one week itinerary in Munich will give you a taste of what the Bavarian capital has to offer and a variety of day trips to explore surrounding areas.
Please note that some posts contain links that earn me a small commission at no extra cost to you.
Munich Tours
Tours can be a wonderful way to learn about Munich while seeing the sights, and they can make things easier since a guide will take care of the logistics. Here are some tours we recommend:
How many days in Munich?
3 Days in Munich is the minimum I would recommend here, if you are super disciplined at sightseeing or have a smaller list of things to see. That is enough for 2 days in the city and the trip out to the Castle.
4 or 5 Days in Munich is a little more relaxed and gives some time to see another museum or out to Dachau and just wander to soak in the city.
7 days in Munich should be plenty of time to really take in the city and maybe add a few more day trips, even as far away as Nuremberg. Much longer than this and I would think about adding another destination.
The Munich itinerary suggestions below are a very relaxed sort of trip with plenty of time to relax and not push yourself. This is how we travel.
If you were more active, you might be able compress the same activities into fewer days. No matter how many days you have check out our suggestions below and pick the activities that appeal for the time you have.
As an alternative, check out this 1 week Germany itinerary for Munich and Berlin.
When to visit Munich
When is the best time to go to Munich? You can get a lot out of Munich during any time of the year, but exactly what will shift across the seasons. Let's take a look.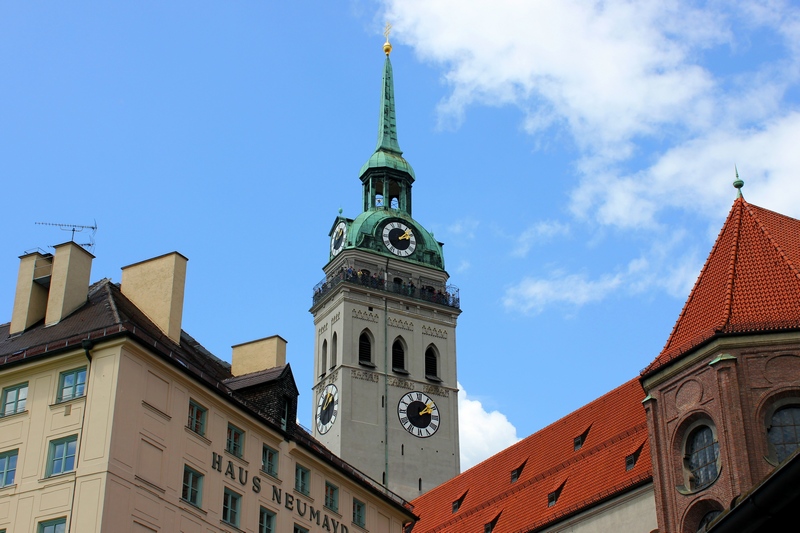 Summer is a time of long days and festivals. It is warm, but not usually super hot. There are more tourists, but the nicest weather.
Winter can be very cold and blustery. Outside things are limited, but if you come in late November up until Christmas, the Christmas markets are great, and there are still the indoor things to experience.
Spring and fall can be a crap shoot of weather. This is still a big living city, so it doesn't shut down, and there are plenty of museums to see and beer to drink. Just be aware that you will need to flexible with the weather.
Oktoberfest is one of the most well known festivals in the world, certainly for Germany. It actually starts in mid-September and fills the city to bursting with people. Hotel rooms are very scarce during the festival and I have heard stories about booking a year ahead to avoid sleeping on a bench.
The festival is definitely a Munich thing, but it might give you a skewed view of what the place is like the rest of the year. The crowds get larger every year and tents get more packed.
If this is your thing though, hunt for a hotel far ahead of time or look at one of the nearby cities knowing you will need to take a late train home. Also remember that German beer is strong and get enough to eat.
If you want to try a beer festival that isn't quite as crowded, look into the Starkbierfest which is a few weeks in February or March (it is based on Easter, so it shifts). The beer in this "strong beer festival" starts at 7.5% alcohol, so be aware of your drinking.
There is also an Munich Spring festival that happens on the same field as Oktoberfest, but to a smaller crowd.
Where To Stay in Munich
Hotels are plentiful in the city, but it is such a popular place that they can sell out easily and can also be a bit pricey at times depending on what is going on in town. Look for a place near a U-bahn stop. Munich is big enough that you are probably not walking everywhere anyway.
Next do some Google-Streetview-snooping and look at the neighborhood. Make sure there are restaurants nearby and at least one bakery. Also be aware that Google streetview in Germany is often very old due to privacy laws, so check the year in the bottom right corner. Often it's as old as 2008!
There are a lot of hotels near the train station, but I would avoid them if I had a choice. It is not an unsafe area, but it is less nice than other parts of town.
We stayed at the
New Orly Hotel
last time we were in Munich. It was only a few blocks from the U-Bahn and there were plenty of restaurants on the way.
Maxvorstadt is a neighborhood of town north of the train station bordering to the English Garden. It is home to two universities and plenty of restaurants, art galleries, and life.
The old town center has hotels that put you right in the middle of the sights there. If you do stay in the center, make it a point to get out to some of the neighborhoods around it as well. Munich is a fun city that isn't only its old center.
Getting There and Away
Munich has an international airport that serves larger flights. There are regular trains from the airport to the main train station. A small airport outside of town (1.5 hours on a bus) serves the European low-cost carrier Ryan Air if you want to get somewhere on the cheap in Europe.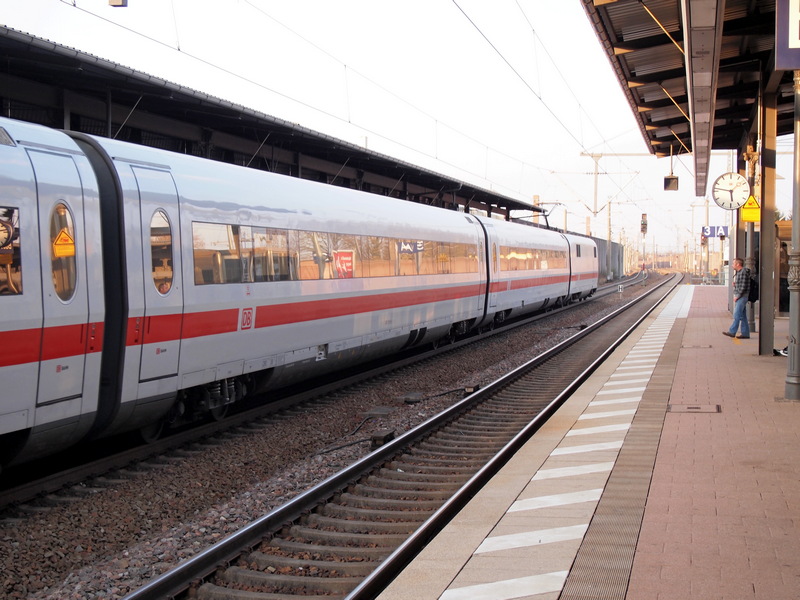 If you are spending more time in Europe than just this week, Munich is a large train hub. For destinations pretty much anywhere in Germany, Switzerland, Austria and east it is worth taking the train rather than a plane. It also has a bus station that serves a lot of destinations as well.
Read more about transportation in Germany here.
Getting Around
The public transport in Munich is excellent. There is a subway (U-bahn) and sub-urban trains (S-bahn) as well as trams and buses. Definitely look into getting a multiday ticket for the transport if you are in town for a while. It is less hassle and often cheaper than buying single tickets.
Day 1 – Get a feel for Munich
Getting oriented with the city is a great way to start your trip.
Highlights and a Walking Tour
Take transport to the center of Munich's old town, Marienplatz. Coming up from the U-bahn into the plaza is a grand feeling as the neo-gothic City Hall building takes all of your attention.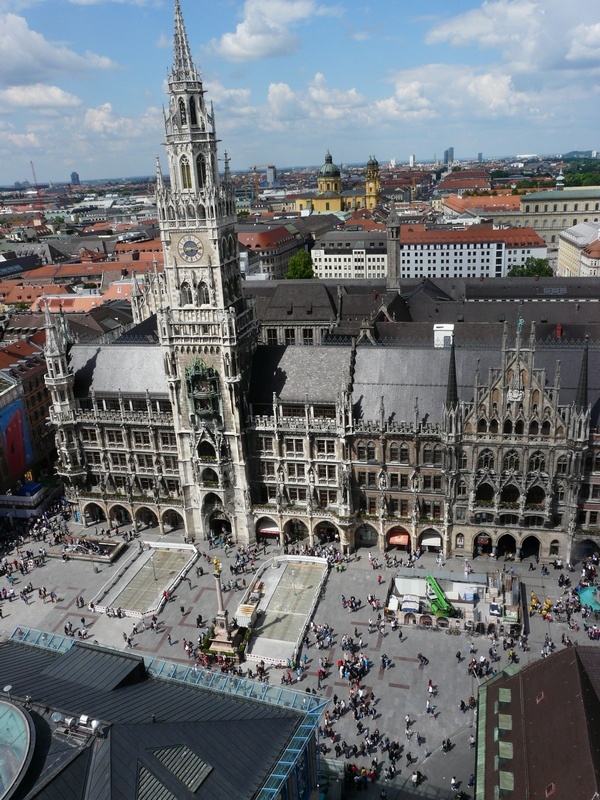 This is probably the most well known visual of Munich. Start your trip with a walking tour of Munich's city center. This will help you judge the rest of your time here and what things you want to see more of.
A note on free tours:
Many companies run free tours in Munich and a lot of other cities in Europe. They are usually good, but we have heard that come charge the freelance tour guides per head, meaning they might actually OWE the tour company if they don't earn enough tips.
A free tour is a wonderful way to see the city, but please tip your guide whatever your thought it was worth. Don't take a free tour if you can't afford to tip your guide.
Food Tour
We are both very into taking food tours in every city we can. They offer such an interesting view of a city as well as usually a nice amount of food.
It is good to do them earlier rather than later in the trip as often there is a place on the tour you will want to go back to later. Food tours also give you ideas for what kinds of food to look for throughout the rest of your trip.
Beer Evening in Munich
: This is an evening tour concentrating on beer and it's relationship to the city, including the Beer and Oktoberfest museum and the Hofbrauhaus.
Day 2 – Munich From Above
Andy and I love places in cities where you can get up high and look down. There are three towers that are climbable right in the center of Munich.
Munich Rathaus
City Hall has an observation balcony in the tower that can be reached by an elevator if you want a view from above without stairs. It is closed on Saturday and Sunday from October through April, but open 10am during the week in the winter and every day in the summer.
If you happen to be in the square at 11:00 or 12:00 it is worth stopping for a few minutes to watch the Glockenspiel play from the clock tower. A handful of figures parade the hour in a green roofed alcove on the tower. It is worth seeing if you happen to be there, but not worth missing other things to be there for it.
Frauenkirche
A few blocks from city hall is the Frauenkirche, Munich's largest church. There is another tower here reached by a mix of stairs and elevator.
The building was heavily damaged in the war and rebuilt afterwards. Munich made the decision to rebuild in a traditional style rather than going completely modern like Frankfurt. The cathedral's iconic pair of tall blocky towers are by law the tallest building in the city.
St Peter's Church
If you are up for one last tower climb, head toward the white tower of St Peter. This is Munich's oldest church and has the best view of the center in my opinion. I like that you can see the City Hall and Frauenkirche as well as looking down on Marienplaza and Viktuelenmarkt.
It is also all stairs, no elevator, and pretty tight at the top. Since some of the sets of stairs only have room for one person across, we often had to stop and wait for the people coming down to pass. It was like a forced break, which helped. It is a bit of a climb, but worth it.
Have a beer after all that climbing
Once you are done with the heights and it is decent weather, head back to the beer garden in the middle of the Viktuellenmarkt. It is city owned, which is unusual as most beer gardens are owned by specific breweries, and rotates beer from the city's biggest breweries. Check out the blue and white pillar commemorating Germany's Rheinheitsgebot (Beer Purity Laws), then hang out for a beer.
This expansive plaza is also a wonderful place to hunt food. Stalls and buildings offer a mix of fresh food and prepared food for eating on the go. There are a number of restaurants in the streets around market.
Day 3 – Deutsches Museum
The Deutsches Museum, as the world's largest technical and science museum, takes up nearly an entire island in the river Isar in Munich. It is really worth a good slice of time if you are into that kind of thing.
As with anything this big, don't expect to see everything, and look at the map to pick out what time you are willing to spend and what you want to see.
The museum encompasses almost anything you can think of for a science museum from astronomy to aircraft to pharmaceuticals to geology and most everything between. More info on the museum's site here.
There are a few places in the museum to eat if you do want to spend a whole day here.
Day 4 – Day trip to Dachau
Dachau concentration camp is not going to be the most happy day of your trip, but it could be one of the more memorable. The first Nazi concentration camp was placed in the small pleasant town of Dachau just outside Munich.
From here a lot of Jews were sent to their deaths in Poland. The camp visit is free, but offers audio guides for a fee.
Day 5 – Relax in the park day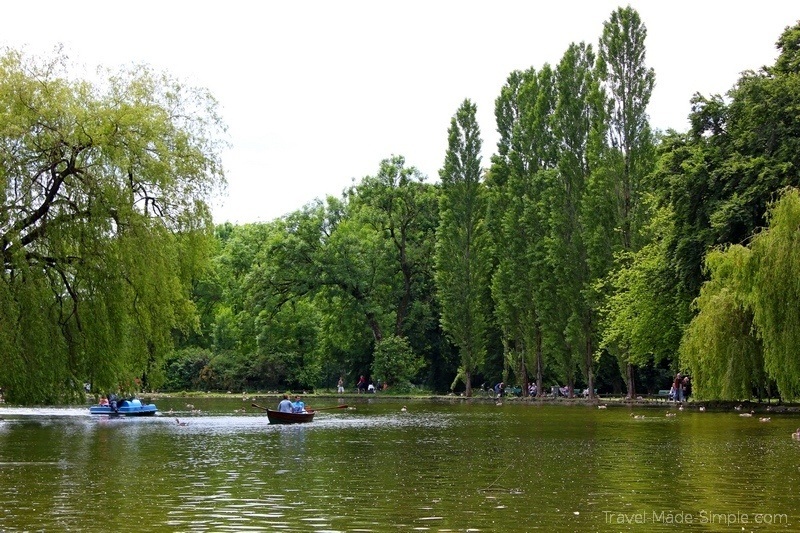 After Dachau yesterday, you probably need a lighter relaxing day today. If you are in Munich during the warm summer days, then there are plenty of things to do while still relaxing in the sun.
The English Garden is Munich's green center. The bottom end of it is just north of old town and extends north for a long way. This is a big park, folks. Spend some time walking and wandering or just sitting in the sun with a book.
If you want a destination, the Chinese Tower is a good one. Think about it: this is a Chinese Tower in an English Garden in the middle of a German city. And it serves beer and food. (German food, not Chinese food.)
A bit north from the Chinese Tower is a lake. On the edge of the lake is another beer garden and attached restaurant. Further up the park and along the outsides you'll find other beer places and restaurants scattered around.
There is absolutely no shame spending the whole day in the park wandering from one beer place to the next in a relaxing day.
Day 6 – Day trip to Neuschwanstein Castle and other nearby castles
If postcards are to be believed, the true picture of Germany is the castle at Neuschwanstein, and it is just a day trip from Munich. There are several ways to get from Munich to Neuschwanstein Castle depending on your preferences.
Neuschwanstein Castle
Neuschwanstein is the creation of the Mad King Ludwig who nearly bankrupted Bavaria building it. This is the fairy tale castle that apparently was the inspiration for Disney's signature castle in Florida. Taking a tour is the only way to see the inside of the castle and you buy a specific time on your ticket, so be aware of that.
Hohenschwangau Castle
Hohenschwangau is a yellow castle built by the Mad King's father on a hill top further down the hill from the more famous castle. You can get combination tickets to tour both castles, but again make sure you pay attention to the times especially as there is a quite a walk uphill (40 minutes) from Hohenschwangau to Neuschwanstein.
Enjoying the castles from the outside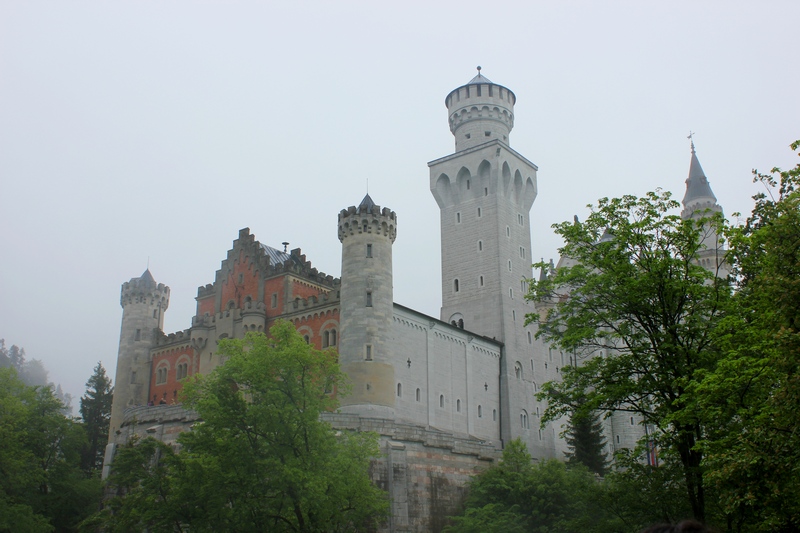 If you like the outside of castles better than the inside (especially as photos inside the castles are forbidden), this is still a great area to wander around. The gardens of Hohenschwanngau are open without a ticket.
Also head up to the Marienbrücke (St Mary's Bridge) which is up in the hills above Neuschwanstein and gives you the postcard view if it isn't foggy. There is a bus from near Hohenschwangau that goes to near the bridge, but you can certainly walk up if you want.
If you have some flexibility on your schedule, you want to choose a sunny day for this day trip. Also decide if you want to do it as a tour or on your own.
To tour…
There are plenty of day tour options to the castles from Munich, but read the itineraries to see how much time is available at the castles. Most will not give you enough time to do both castles and the bridge if that is what you want.
On the other hand, having a tour that does all of the transport and tickets can be a nice load off. Other stops on some tours include Lindenhof, another smaller one of King Ludwig's castles, and Oberammergau, a touristy town known for a Passion Play every few years and for being a stop on these tours.
…or not to tour
If a tour is not your thing or you want to spend as much time as possible wandering around, this is definitely a trip you can do on your own. The town of Füssen is about 2 hours by train from Munich and not super interesting other than as the gateway to the area.
Get a Bayern Ticket, which lets you on the regional trains (no white ICE/IC or EC trains) as well as most local transport, but is valid for the whole day and can be quite cheap for groups. Take a bus from Füssen to the castles.
Near where the bus drops off is a ticket building where you can book guided tours of the castles (the only way to see the insides). It can have long lines in the summer. You can book tickets ahead of time online, but you need to set your day and time ahead of time.
Day 7 – City Palaces and Museums
Back in Munich, check out the castles and palaces in the center of town.
Residenz
The Residenz is a sprawling museum complex snuggled in the old town only a few blocks from Marienplatz. It was once the home of Bavarian Dukes and is now home to art collections, a baroque theater, and several courtyards.
Nymphenburg Palace and Gardens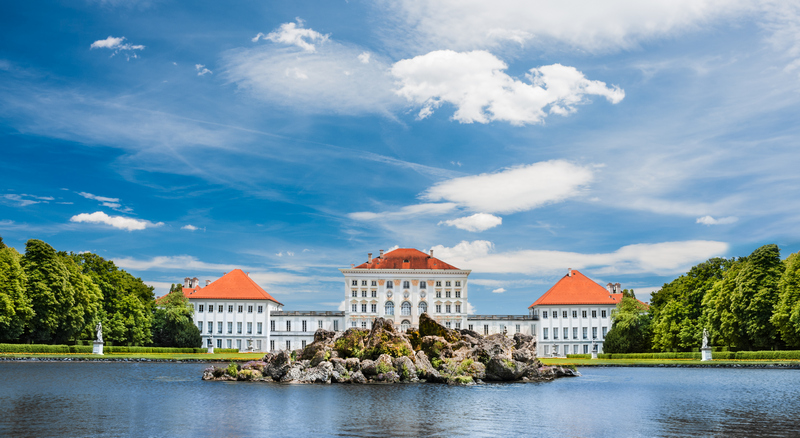 If Baroque is your thing, don't miss Nymphenburg Palace and the expansive gardens. It is a handful of stops out, but still easily reachable from the center.
Typically Munich at the City Museum
The permanent exhibition at Munich's city museum is a display of the development of the city's image and identity. Other changing exhibits and the permanent exhibit of National Socialism in Munich are also a draw.
Art Museums
Munich is a city of art as well. Plenty of museums showcase all styles across the city, though Maxvorstadt has a healthy share of them all clustered together. The Pinotheken are the best well known of the Munich Art Museums.
Do you have longer than a week?
If you have more than a week, or you're looking for more activities for your week, there are plenty more things to do in Munich.
Are you a car buff? Check out the BMW Museum to learn about one of Germany's most famous automobile manufacturers.
Interested in more museums? Munich has lots of them, including the Bavarian National Museum and the Beer and Oktoberfest Museum.
Other day trips from Munich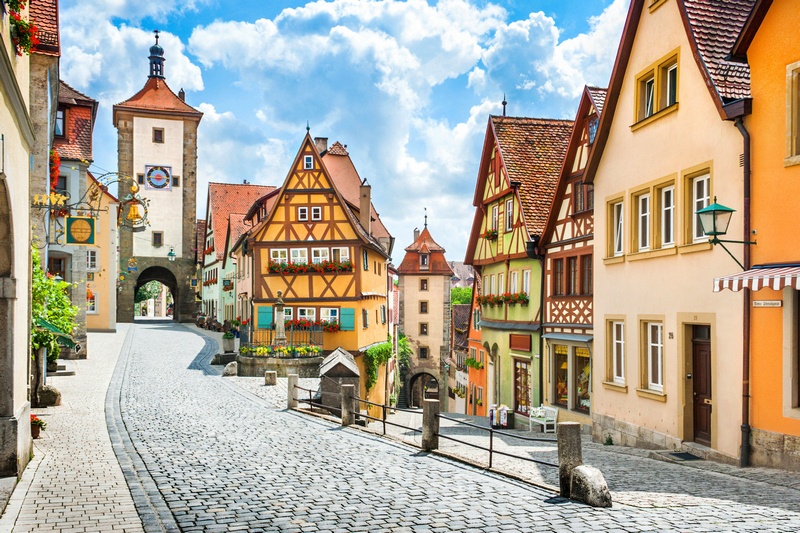 Looking for more of Germany's classic sights? Consider a day trip along the Romantic Road, including Rothenburg and Harburg.
Or try a day trip to Nuremberg, which was the center of Nazi rule. Nuremberg is a gorgeous city packed with history.
If you'd like to hop over the border to Austria, consider booking this tour to Salzburg, Austria from Munich. On the tour, you'll get to see the city where Mozart was born as well as some of the Sound of Music sights.
What else would you include in a Munich itinerary?
Read more about Germany:
Looking for other destinations?