While planning our recent trip to Prague, Andy and I looked for a few tours to enhance our trip. We seek out food tours in just about every city we travel to, and Prague was no exception. We tasted local Czech food on a Prague food tour, but we also signed up for a beer tour with Viator to learn about craft beer in Prague.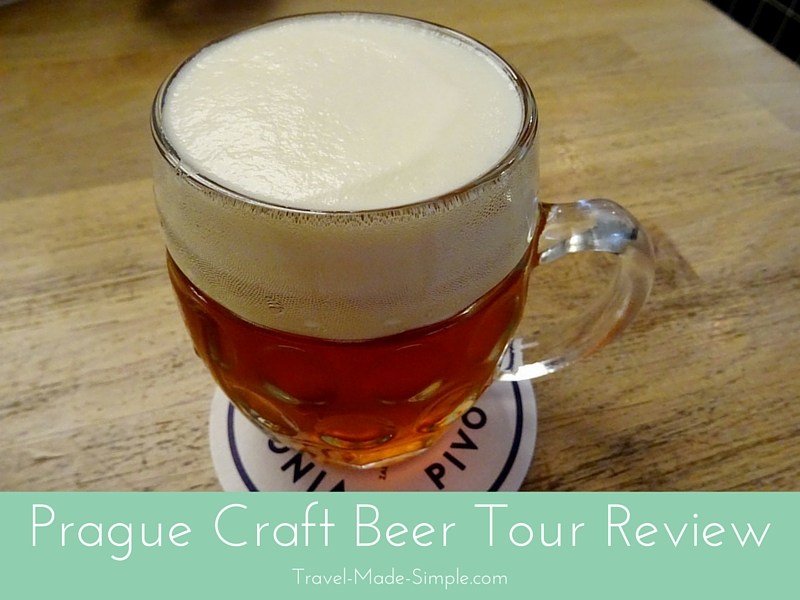 Please note that some posts contain links that earn me a small commission at no extra cost to you.
To start our craft beer tour, our guide, Travis, met us in Wenceslas Square, which has been an important place in Prague's history. It's where many historical events began, such as the peaceful protests that eventually led to the downfall of the Soviet's control over the Czech Republic. (Just ignore the scaffolding on the museum behind the statue.)
After telling us about the square's history, he took us to four of his favorite pubs in Prague. Along the way he told us about the beers we were drinking and some background about the pubs, and we ate tasty Czech food at each stop.
Vinohradsky Pivovar
Our first stop was Vinohradsky Pivovar. This brewery once provided beer for the entire neighborhood but it was shut down during World War II. It has since reopened in a former warehouse.
We had a choice of either an amber lager or a pale lager; Andy and I both choose the amber. We also snacked on some pork, cabbage, and potato dumplings.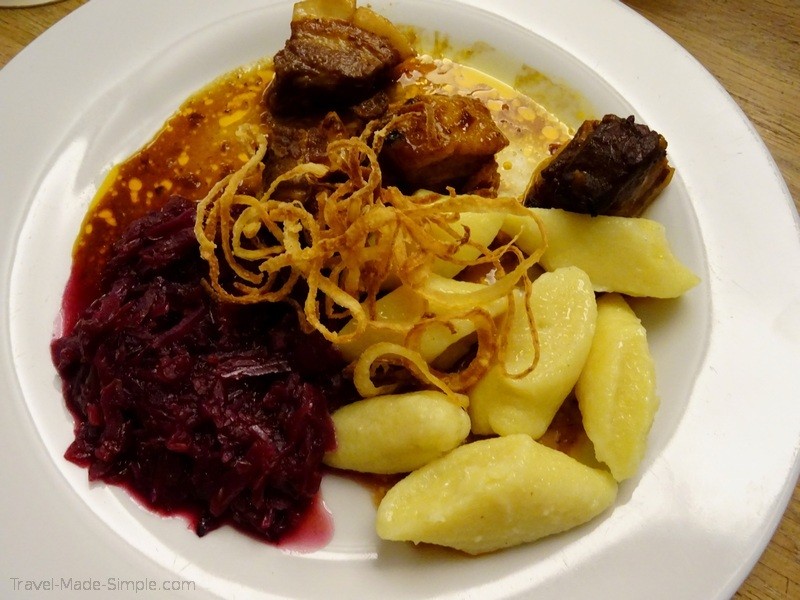 Kulovy Blesk
The next stop, Kulovy Blesk, had a rather long list of beers written on a chalkboard. I went with a cider from Rychnov, and Andy tried the Antoš Double IPA. Andy doesn't usually like IPAs, but this one was quite good.
For food we tried sausages and some amazing homemade potato chips with several dips. Our group of 11 must have eaten through three or four gigantic bowls of them.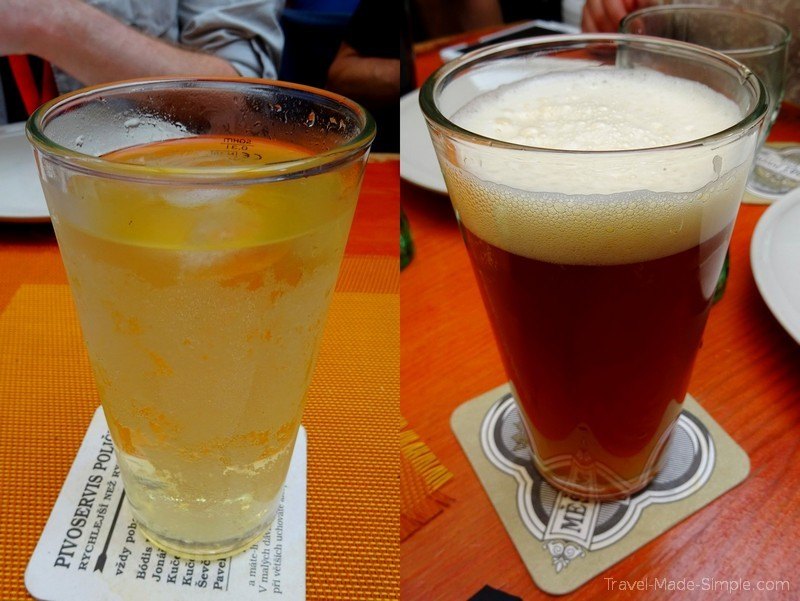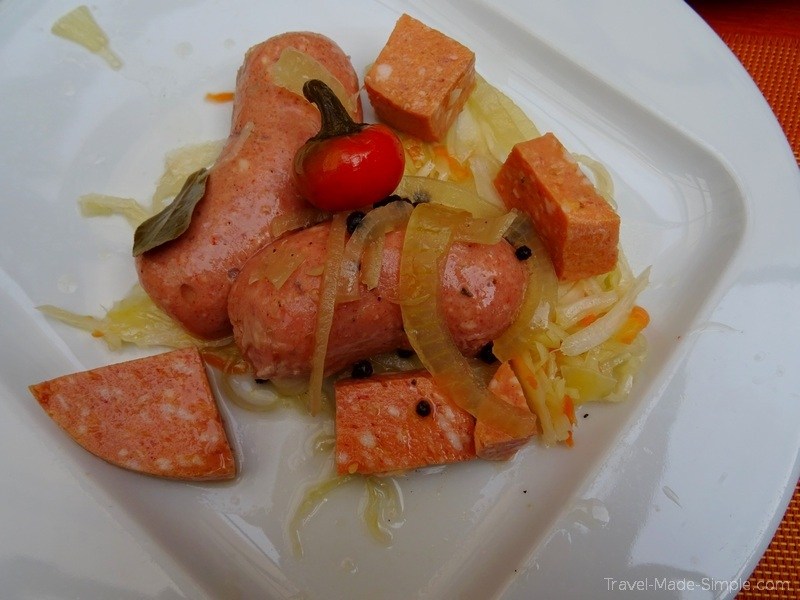 U Sumavy
Next up we went to U Sumavy where Andy and I both drank the porter. The pub was decorated with wheels and gears and old photos to look like an old country pub.
They had a full menu, and Travis ordered us this cheese that had been soaked in oil for more than a week. There were onions and chili peppers and a few other things in the mix along with Camembert cheese, and it was so delicious! I loved it so much, I asked Travis email me his personal recipe for it so I can try it out at home.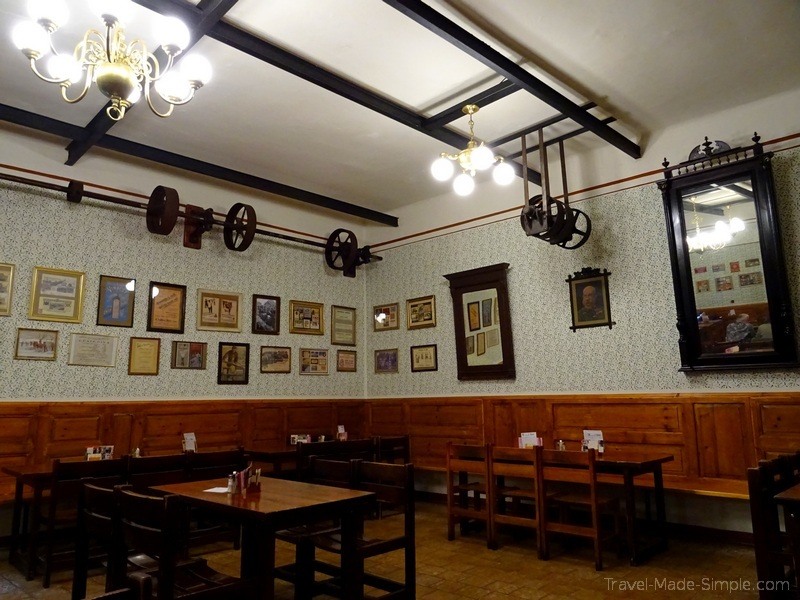 U Pinkasu
The final stop on our Prague beer tour was U Pinkasu where everyone got the traditional Pilsner Urquell along with pastries that were sort of like pancakes sprinkled with cinnamon and sugar. It was the perfect way to end the evening, with a sweet dessert.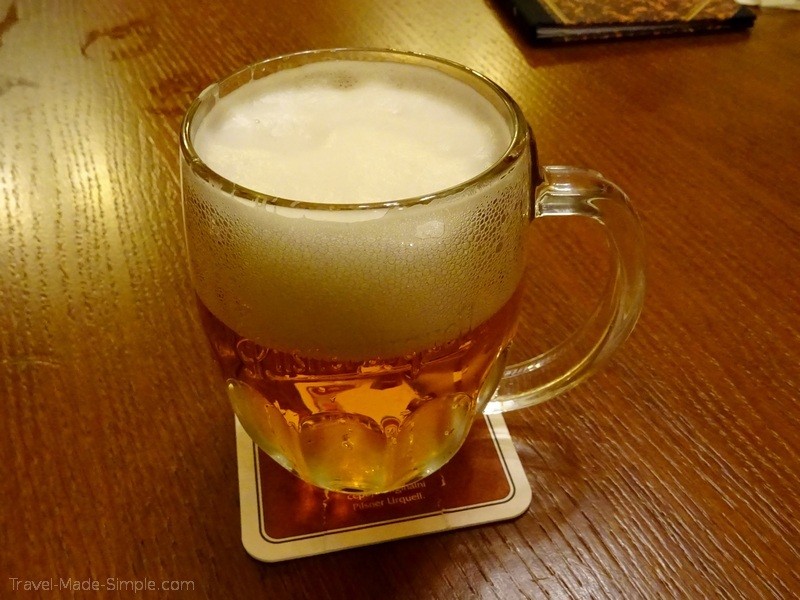 Why Viator
Viator isn't the actual tour company. They gather all kinds of tours from all over the world and put them in one place so you don't have to go hunting for them.
I like using Viator for this reason. They save me time, and I know that I can find good tours for just about any destination I'm traveling to.
Last year I booked a Loire Valley Castles and Wine Tasting Tour through Viator, and I used them to book tickets to see a cabaret show at Moulin Rouge.
I use their site quite often, and I highly recommend Viator for your next tour.
Taking the Prague craft beer tour
The exact locations vary from one tour to the next. Each guide goes to his or her favorite places, so no two tours are identical. This makes for a really unique and personal experience. Our guide definitely knew a lot about beer and even brews his own at home.
At the time, the cost was 63 euros (about US$71) and included at least one beer at each pub (several people had two beers at two of the stops) and Czech food shared among the group at each pub. The cost also included local transport tickets during the tour. (Prices are subject to change.)
This was an evening tour starting at 5pm and lasted about four hours. There was enough food throughout the tour to consider it your dinner for the night.
This was probably the best thing we did during our trip to Prague. The group was fun, the guide was interesting and knowledgeable, and we had the chance to taste beer and food we would not have known about otherwise. I definitely recommend adding this to your Prague itinerary.
Thank you to Viator for providing us with one complimentary tour. Andy paid for his tour. All opinions and decisions to eat too many potato chips are my own.
You might also enjoy: