Greece has long been associated with water and boats, and for good reason. The mainland of Greece cradles the Aegean Sea and its wealth of islands. These islands, with their distinctive white washed buildings, are often what people think of when you say "Greece."
There are a number of island groups, though the Cyclades is likely the most well known. This is the group where you'll find Mykonos at the north end and Santorini at the south. If you are interested in doing some island hopping in Greece, this is a great area to explore.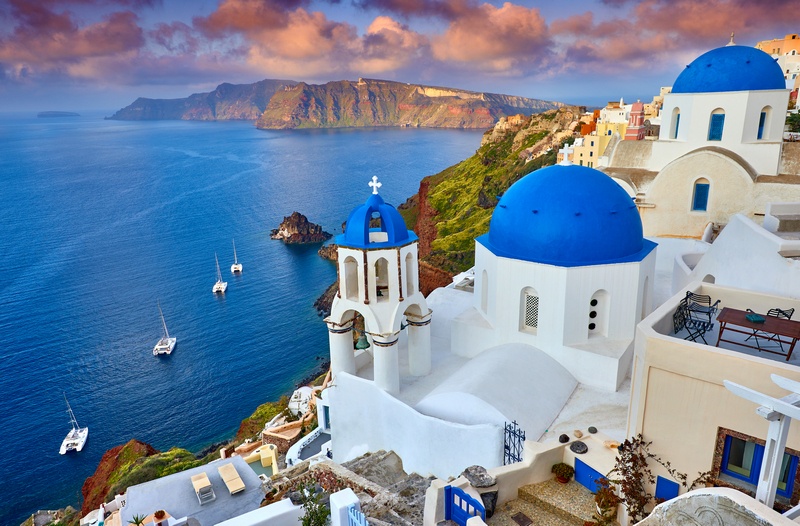 Please note that some posts contain links that earn me a small commission at no extra cost to you.
Getting There and Getting Around
If you're debating about Mykonos vs Santorini, you'll be happy to know they're both easy to reach from Athens.
The Cyclades are less than 100 miles from Athens in the Aegean sea. There are several small airports in the chain, with most flights originating in Athens.
The other way to get out to the islands, and the primary way to get around in the chain, are ferry boats. It is about 5 1/2 hours from Mykonos to Athens on a slow ferry.
To get from one island to the next, check ferry schedules and prices online. From my experience, they can get crowded in the high season and even the shoulder season, so it's worth booking ahead.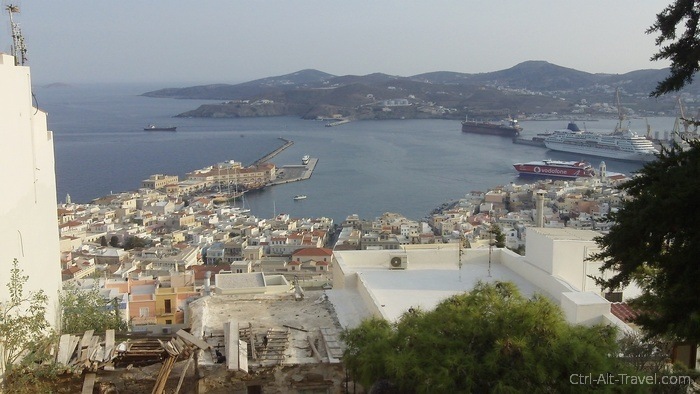 Tour of the Greek Islands
Another option is to book a tour for the islands. A number of companies offer sailing cruises which take a week from one end of the island chain to the other. This is what I did and enjoyed it.
Just be aware that the boats can be cramped and it will feel more like camping on the water than a cruise ship. We ended up in some of the lesser touristed islands which was fun. It may not be for everyone, but is something to consider.
However, if you want to go explore on your own, there are plenty of hotels and ferry options.
What to Do in the Greek Islands
From lesser known Greek islands to the more popular ones, the Greek Islands are diverse, and there is a lot to do that will fit all types of travelers. Whether you're into partying or laying on the beach, eating or exploring history, there really is something for everyone.
Make sure you know what to pack for Greece, especially if you're spending time in the Greek islands, and enjoy your time in this gorgeous region.
Party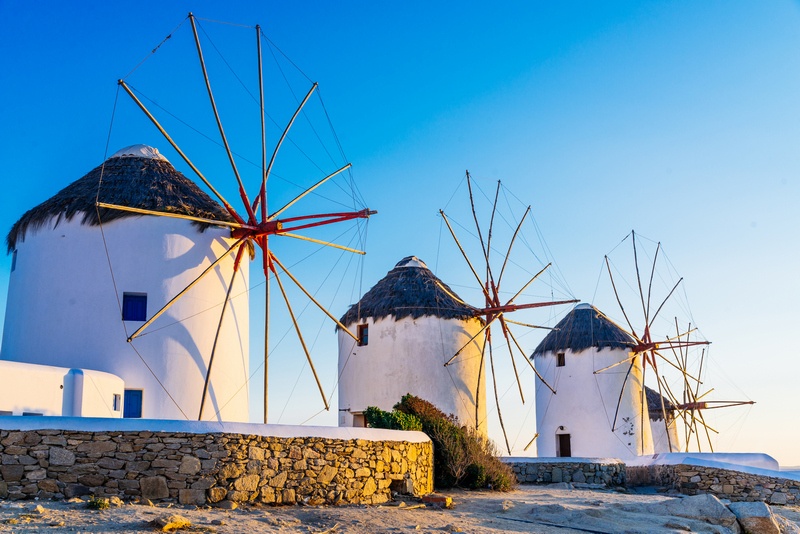 Some of the Greek Islands are party destinations. Mykonos town was a warren of streets of shopping interspersed with bars and cafes with outdoor seating. Drinking and dancing was easy to find.
Ios too is well known as a party locale. This is a late night place though, where most of the hardcore party-ers don't even wake up until dark and then go until dawn.
That said, I went through the islands in September and things were slowing down with not every club in Ios open. While I did enjoy some drinks, partying was also easy enough to avoid if I didn't want to deal with it. This was perfect for me, but be aware of the timing if this is your aim.
Eat
Greek food is pretty awesome. Taverna are everywhere. While many are closed during the afternoon, often they are open late into the evening.
Gyros, fish in all forms, Greek Salads ("duh") and even vegetarian things like stuffed peppers or fried zucchini are common on every island. Greek yogurt, wine, ouzo, olives and pretty much anything you can associate with Greece is there, and I could taste how fresh it was.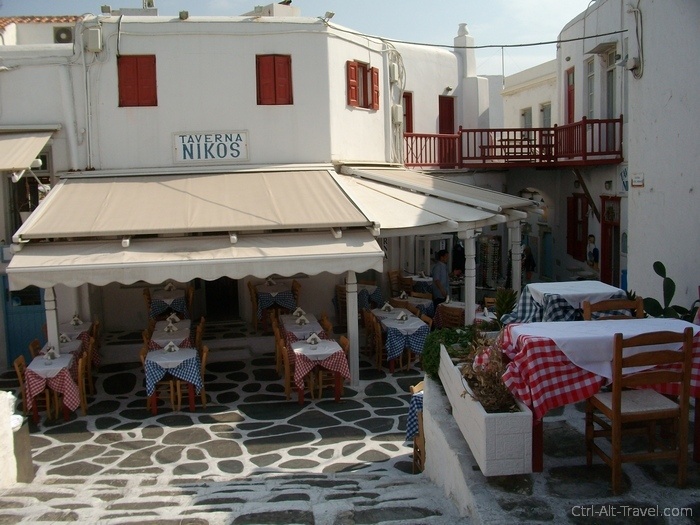 Relax
Even in September, it gets hot in the middle of the day. Restaurants and stores all close. It is definitely a time to sit at the pool at your hotel and relax.
Read a book, enjoy a frosty beer and just enjoy doing not much of anything. During my sailing cruise through the islands, one of the best times of day was just sitting in the shade in the afternoon with a book and a beer.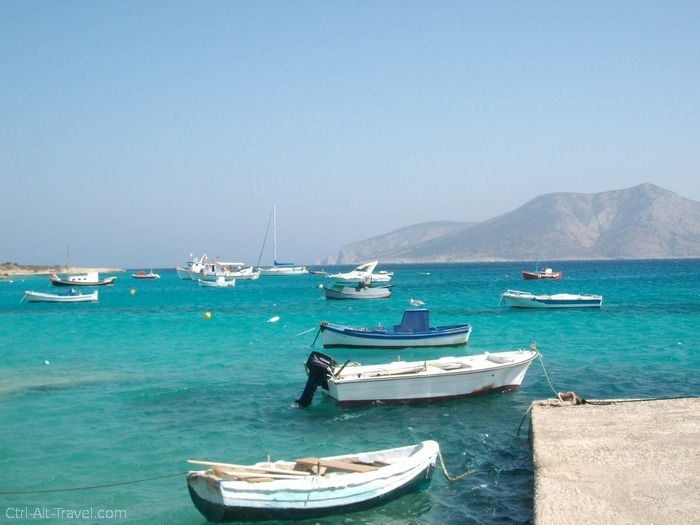 Explore
Each island in the chain has a town (or two, but rarely more than that). Some islands are small enough to walk around in an afternoon.
Almost all of the islands offer decent hiking, and on many you can rent four-wheelers to explore the island. There are hidden beaches to find and hilltops to surmount.
Much of this area of the world has tons of history. Ruins and temples once existed on all of these islands, and some islands still have ruins to visit. Do some research on your destination and see what is there.
When to go island hopping in Greece
Greece is a Mediterranean climate and can get very hot during the day in the summer. On smaller islands most things shut down during the afternoon due to this.
Winter, however, is not a touristy time and you may find that a lot of places are closed completely. The seas are rougher in the winter as well. Shoot for the shoulder times between the heat and crowds of the summer and the doldrums of the winter.
The tourism season in the Greek islands starts in mid April and runs until mid October. Towards the beginning and end of that period, you'll experience milder temperatures and smaller crowds.
July and August are generally the hottest, busiest months of the year. But on smaller islands, many restaurants and hotels aren't running until June and close by October, so do your research before you start island hopping in Greece.
Read more about Greece: