Your vacation days are limited. When you book a trip, you want to get the most out of it, and often that means seeing as many places as you can squeeze in. But have you ever considered spending a full week in one city as your whole vacation? When you focus on just one city, you'll see more of the city instead of just glimpses of a few cities. Here's why you should consider a city break for your next vacation.
There's more to a city than its monuments
The monuments and big attractions are great. They're often the reasons why people want to travel somewhere.
The Eiffel Tower attracts visitors to Paris, and the Colosseum draws tourists to Rome. The East Side Gallery is a bucket list attraction in Berlin.
But those sights aren't the essence of the city.
By staying for a full week, you'll have time to see some of the important sights, but you'll also have time to do other things.
You can spend an afternoon wandering through different neighborhoods to get a feel for the non-touristy side of the city. You can become a regular at the corner cafe and chat with the person behind the counter.
Taking a city break and spending more time in one place lets you sink in a little more and truly enjoy a city.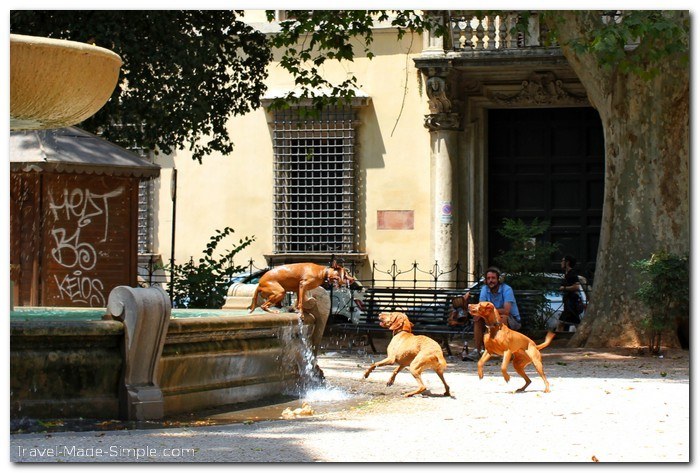 You'll have more time to relax
Vacations are a break from work, a chance to relax and recharge, right?
But rushing from one city to the next doesn't help you relax. All those transportation days can actually add stress.
>>See more about losing time in transit here.
If you spend your vacation in just one city, you'll have time to sit in a square with a book and something to drink, and you'll get that relaxation.
It'll also give you time to soak up some of the atmosphere and vibe of the city. You can accidentally (or intentionally!) get lost and not have to worry about a wasted morning.
Vacation can be a great time to ditch the schedule you normally keep at home, which allows time and space to loosen up and recharge your batteries.
Explore the local food
Food is a big part of any culture, and it can vary greatly from one part of the country to another.
If you only spent a couple of days in a city, you only have a few meals to experience the food.
But if you stay for a full week, you have much more time to try different dishes and learn what makes the food special in that one place.
Spend a week in Munich trying as many kinds of sausage as you can, or try a different pasta dish every night in Rome. Or just try a different flavor of gelato every night.
>>Check out why I think food tours are the perfect way to explore a city.
You can reduce costs
Going to one city for your vacation means you won't have extra transport costs to get from one destination to the next. Public transportation is often cheaper too, because you can buy day passes or weekly passes.
You can rent an apartment instead of a hotel room and buy breakfast food for a week at the grocery store for about what it would cost you to buy breakfast at a cafe in just one or two days.
Apartment rentals often come with WiFi (check before booking if this is important to you) so you won't have to pay for internet somewhere else to check in with your family back home. Sometimes you can even get a discount for booking a full week in a apartment (or some guesthouses).
If you plan on going to a lot of museums and other attractions, look for city passes that include reduced or free entry. These are more economical when you stay for more than a day or two.
It'll give you time to figure things out
It always takes some time to adjust to a new location. When you arrive, you have to figure out how the public transportation works, where to look for food, and you have to recoup from your travel day.
On a trip with multiple destinations, you'll have to adjust to each new city along the way, which can be disorienting.
On a city break trip, you have more time to make these adjustments. You won't have to jump right into sightseeing the moment you get off the plane, which can be exhausting.
Take it slow that first day, especially if you're experiencing jet lag, and simply take some time to explore your neighborhood and get a feel for things.
You'll have more flexibility
If you only have a few days in one city, unexpected rainy weather can ruin your outdoor plan for the day. But if you have more time, you can postpone your outdoor exploration in favor of a museum or a quiet day in a coffee shop.
You could also decide to skip the museums on a nice sunny day and hang out in a park or rent a bicycle. Some museums have free or reduced rates one day a week, and it's easier to take advantage of these if you're there the entire week.
It's also easier to work around the days certain attractions are closed. You might find out about an event going on that you didn't know about before arriving. Or maybe you're just sick of sightseeing and you need an unscheduled day off.
Having a full week in one place means you won't have to cram everything into just a couple of days, giving you more options to be spontaneous and decide what you're comfortable with each day.
There are so many reasons why taking a week-long city break vacation can be much more enjoyable than hopping from one city to the next. Slow down, take a deeper look at one place, soak up the ambiance, and experience the many layers of the city.
You might also enjoy: