This is part of a series of interviews with inspiring travelers. Today I'm interviewing myself. See more about tours and traveling with purpose here.
Tell us about yourself and your travel experience.
I'm Ali, travel addict and expat in Berlin. I'm also beginning to realize I'm addicted to food tours! I run Travel Made Simple, and I love showing you how to travel.
Where did you go on your tour and how long was it? How many food stops were there?
I recently took a food tour in the Pijp neighborhood of Amsterdam, one of my favorite cities. There were 6 food and drink stops on the tour.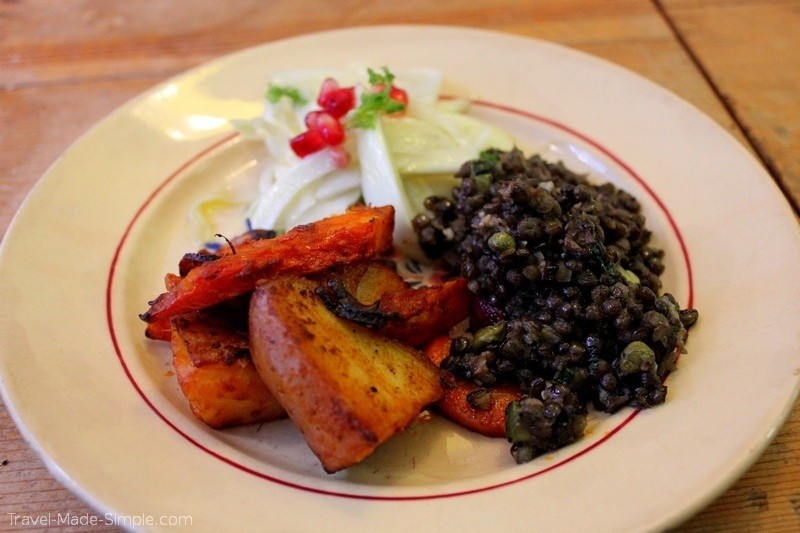 Please note that some posts contain links that earn me a small commission at no extra cost to you.
What tour company did you use and why?
The tour was with Eating Amsterdam Food Tours. I've taken two other tours with this company, a tour with Eating Italy and another one with Eating London, and I loved them both. So when I started planning my trip to Amsterdam, I knew I wanted to try one of their tours there.
Update: I've now taken their Prague food tour too! Read my review of the Prague food tour here.
Why did you choose a tour instead of traveling independently?
Food is a big part of travel, and I've come to realize that food tours are the best way to experience the cuisine in any city. There's no way I could've tried all this food on my own.
I've actually started looking for food tours in almost every city I visit because of this.
What did you like about the tour? What was your favorite part?
Obviously the food was a big part of the tour, and it was all delicious. But I really enjoyed the company of other travelers on the tour. I was there with my friend Gigi, and there were only two other travelers on the tour, plus the guide.
We all had such a good time talking and hanging out. It's hit or miss, but the people on your tour can be part of the fun right along with the food. I also liked wandering through an interesting neighborhood I never would've known to explore on my own.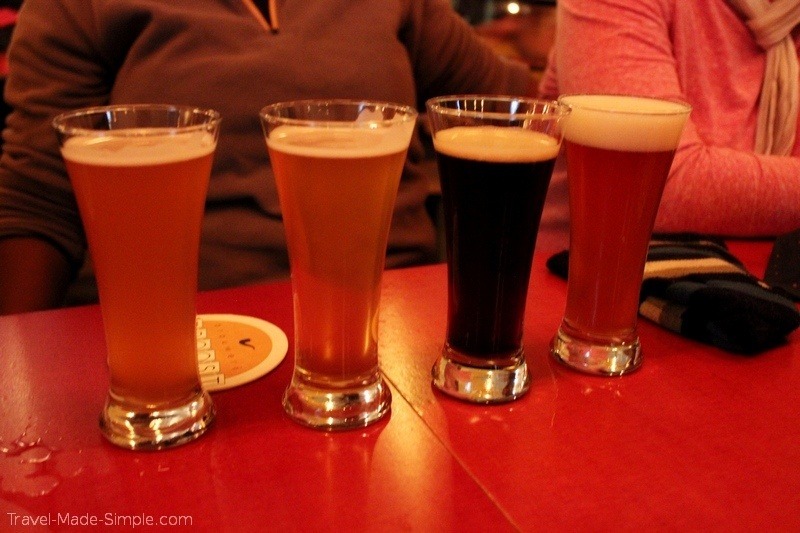 What did you learn about Amsterdam from the food tour?
I learned quirky little things: that all the streets in the De Pijp neighborhood are named after Dutch artists, that many Dutch homes don't have curtains in the front-facing windows because of their history with Calvinism, and that this neighborhood is home to people who have moved to the Netherlands from all over the world.
Was there anything you didn't like about the tour?
The only thing I didn't like had nothing to do with the tour itself. It was that I couldn't eat everything on offer.
I have a digestive disease that makes it difficult to digest gluten and diary, so I told the tour company that I couldn't eat those ingredients. They were really great and in most cases were able to get me alternatives to accommodate my dietary restrictions.
But I did try a little bite of my friend's chocolate cake, and it was soooo good! I wish I could've eaten an entire slice of that cake myself!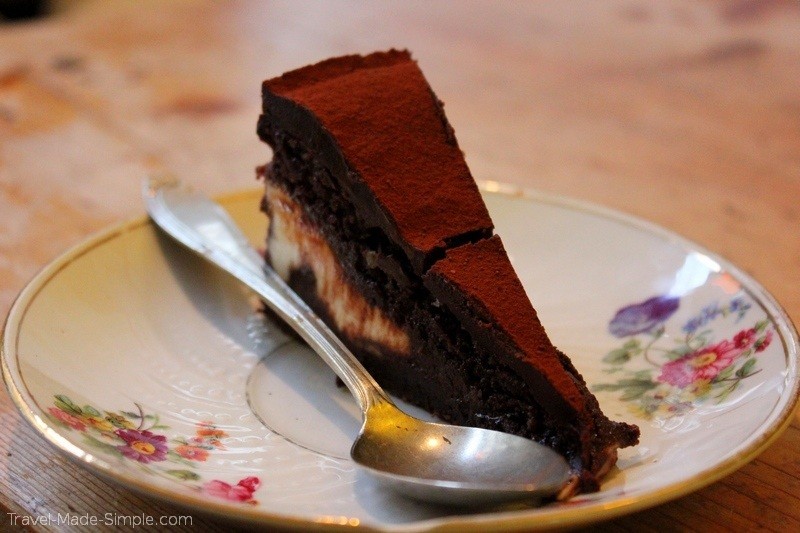 What was your favorite food on the Amsterdam food tour?
It's so hard to choose! Gigi's cake, that I wasn't supposed to eat, was delicious. We had an Indonesian meal with a few different meats, rice, and a bunch of veggies, which was tasty.
We ate what are supposedly Amsterdam's best fries, and they came with peanut sauce, which was surprising but I really liked it.
What inspired you to take this tour or travel to Amsterdam?
My friend Gigi was planning on being in Amsterdam for two weeks, and I hadn't seen her in over a year, so I went to spend time with her.
Amsterdam is also one of my favorite cities. There aren't too many places I like returning to (because traveling to new places is more tempting) but Amsterdam is one of them.
Something about the vibe really grabs me. I like the architecture and the canals. I like that I can almost decipher the language since it's sort of halfway between English and German. I like that it feels familiar and foreign at the same time.
Would you recommend this Amsterdam food tour? Would you change anything about it?
Yes, I'd definitely recommend this tour! I think food tours are an amazing way to learn about a city, and these guys do a great job of making it fun and providing interesting information.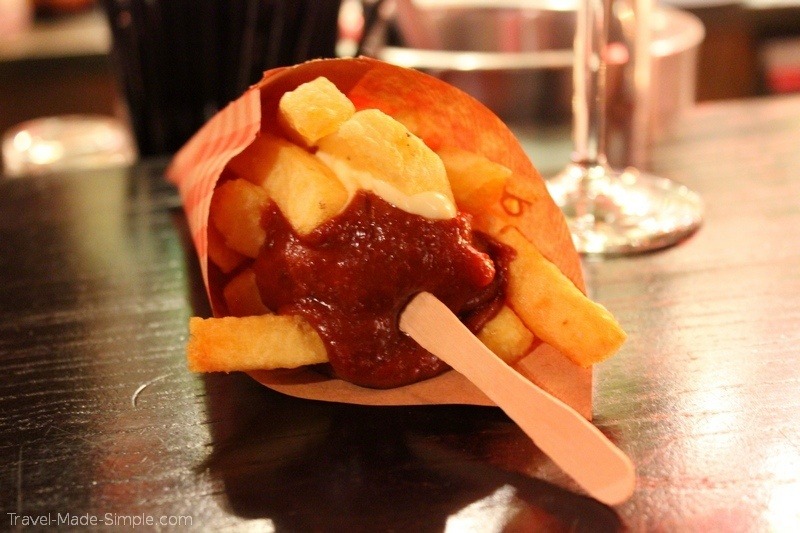 Do you think this tour would be good for a new traveler? Why or why not?
I do think this is a good tour for new travelers. Amsterdam is an easy city to explore with little to no travel experience, just about everyone speaks English, and there's good public transport.
Taking a food tour like this one gives travelers a look into another layer of the culture that they wouldn't otherwise experience.
My tour with Eating Amsterdam was complimentary, but all opinions and decisions to eat things I shouldn't are my own.
Sadly they are no longer offering this exact tour. But on a later trip, I took their food tour in the Jordaan district of Amsterdam, and it was just as delicious. It's even a little closer to the center of town.
Click here to book the Amsterdam Jordaan food tour.
You might also enjoy: