Amsterdam is a city that's often included on whirlwind tours of Europe, but there is so much to explore in this city of canals that I think it's worth dedicating your whole vacation to it. Slow down a bit and enjoy what Amsterdam has to offer. If you have time, there are even a few great day trips you can take while on your Amsterdam city break. Here are some of the highlights for you to explore in the Dutch capital.
Amsterdam City Break Highlights
There are some sights Amsterdam is famous for that attract people to the city. These are just a few of the highlights, but they're famous for a reason. Start your Amsterdam city break with the big attractions.
Please note that some posts contain links that earn me a small commission at no extra cost to you.
Canals
Take a boat tour on one of Amsterdam's famous canals. It's a great way to see the city from a different perspective while learning about the history. Book tickets ahead of time here to avoid the long lines.
Anne Frank House
One of the most well known victims of the Holocaust was Anne Frank. She and her family moved from Germany to the Netherlands to escape the Nazis, but eventually they had to go into hiding in Amsterdam. The house they hid in is now a museum, and the displays are powerful. Book your ticket online ahead of time to skip the line. I did, and I was so happy to not have to wait outside for an hour or longer.
Museums
There are quite a few well known museums in Amsterdam. The Rijksmuseum is one of the most popular ones, and it just reopened in 2013 after renovations. Other worthwhile museums include the Van Gogh Museum, the Stedelijk Museum, and the Rembrandt House Museum. The popular museums can have long lines, so look into skip-the-line museum tickets to save you some hassle.
Food Tour
Amsterdam has such a unique blend of food due to the diversity of cultures living there. Taking a food tour is such a fun way to get to know the local culture and try food you might not have known about before. Read about the food tour I took in Amsterdam here.
The Red Light District
Amsterdam's Red Light District is famous for its shock value. If you want to see brothels and coffee shops that sell pot, this is the place for it. Just remember, this is not what the entire city looks like.
Day Trips from Amsterdam
In such a small country, there are many cities within easy reach from Amsterdam. If you're visiting for a week or more, mix things up by taking a day trip or two. Check train schedules for the Netherlands here.
Amsterdam and the Netherlands are well know for tulips. A little ways outside the city are the Keukenhof Gardens, one of the best places to go see these gorgeous flowers. Tulip season is dependent on the weather, but usually you can see them in April or May.
Another typically Dutch attraction are windmills. Not too far from Amsterdam is the town of Zaanse Schans, which is a UNESCO-listed village with a row of windmills along the water. Some of them have been maintained for centuries. It's a 15-20 minute train ride from Amsterdam. If you don't want to go on your own, check out this tour of Zaanse Schans or this tour of Zaanse Schans and two other villages. Both tours leave from Amsterdam.
Other great options are Haarlem, Gouda, Deventer, and Alkmaar, which all give you a glimpse into Dutch history and culture as you wander down cobblestone roads, admire windmills, or taste local cheeses.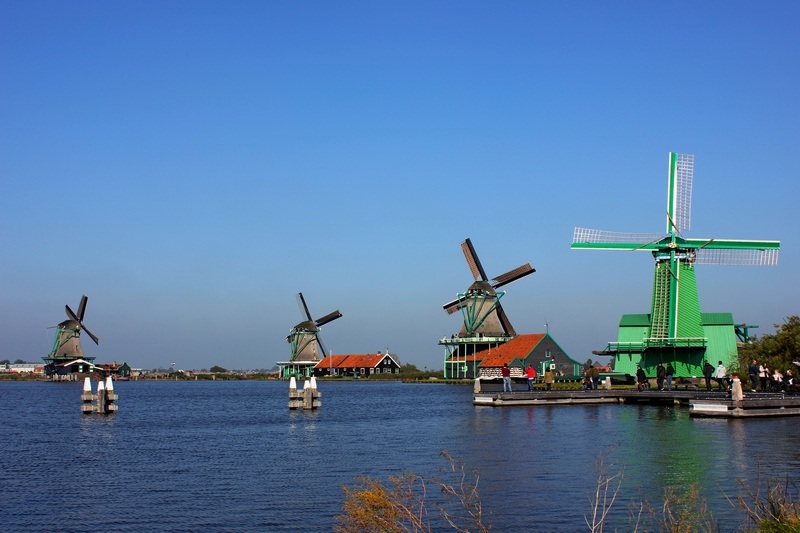 Digging deeper into Amsterdam
One of the wonderful things about taking a city break in a city like Amsterdam is that it gives you a little more time to see more than the highlights. Instead of going to the Heineken Experience, try Brouwerij t'Ij. What's not to like about a brewery in a windmill? Hop on a commuter ferry to get a taste of the surrounding areas. Seek out local markets. Check out the view of the city from the cafe at the top of the library a few blocks from the main train station.
Ask locals for advice. Where do they like to eat, drink and hang out? Wander a few blocks in from the main roads and tourist attractions. There's a lot to Amsterdam beyond the big sights, and it's worth taking your time to explore.
Amsterdam is the perfect place for a city break vacation. See the sights the city is known for, take a few day trips, slow down to get a feel for the non-touristy side of things, and enjoy your Amsterdam city break!
You might also enjoy: