Did you know certain vodkas have medicinal purposes? I didn't know that until I took a vodka tour in Warsaw. I had no idea how varied vodka can be, but I got a glimpse while I was on this tour. If you're looking for something interesting to add to your Poland itinerary, this is a good choice.
A few months ago, someone on our Prague food tour told us how much she enjoyed the vodka tour in Warsaw she recently took. Then a friend here in Berlin told us he also took that tour and loved it. So when Andy and I decided to take a long weekend to Warsaw, the Eat Polska Warsaw vodka tour was #1 on our must-do list.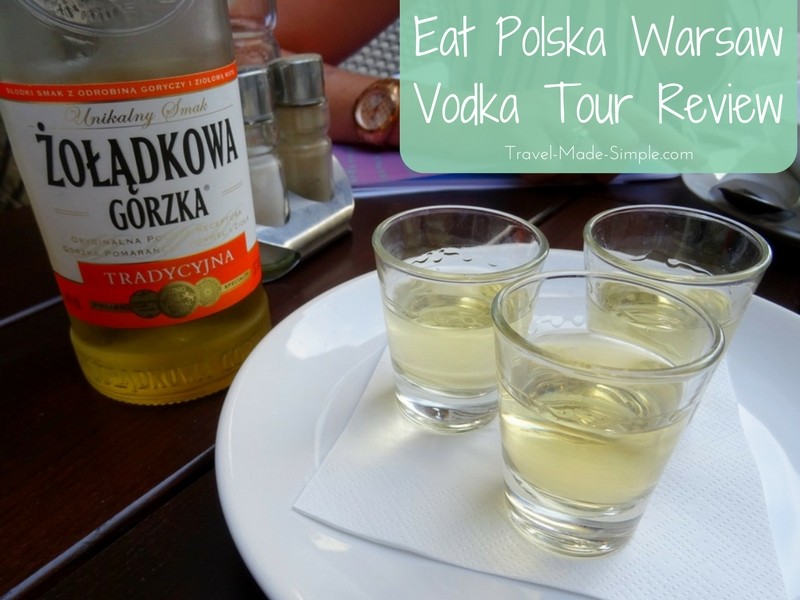 Polish vodka traditions
Our tour started out with one traditional vodka and one that's infused with herbs and is supposed to be good for digestion. Our guide, Anna, told us about vodka's popularity in Poland and how it went out of style in the 90s after the communists left. But it didn't last long, and today vodka is again an extremely popular drink.
She also told us how being part of the EU has affected vodka in Poland. EU regulations state that to be called vodka, the alcohol level has to be 37.5%, which means some types, like the one for digestion, can't have the word vodka on the label because they have less than 37.5% alcohol.
We learned that vodka is almost always served with food because the goal is not to get drunk.
At our first stop, we at traditional aspic, which is meat and sometimes vegetables in a gelatin form. It's like meat jello. Not my favorite food, and honestly it's one that I've been avoiding in Germany for years, but it turns out it wasn't as bad as I had imagined. I probably still won't be ordering it from the butcher though.
The other food we tasted at the first stop was called bigos. It's meat, usually pork sausage, with sauerkraut, and traditionally it gets stewed for days before you can eat it.
But again, the EU has changed this because they have rules against food cooking for days on end. It was quite delicious, and even Andy, who hates sauerkraut, enjoyed it.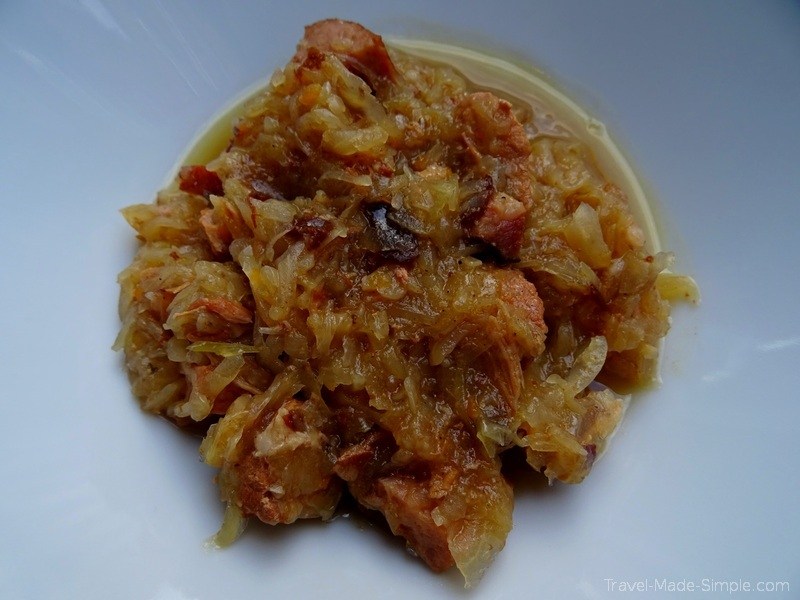 History of Polish vodka
Then we moved on to our second stop of the evening. This time we tasted…well, it was basically lard with a tiny bit of meat, served alongside some pickles and bread. I know it sounds a bit odd to eat straight lard, but it was good, and I loved the combination with the pickles.
We got to try several different kinds of vodka here. Anna showed us a map of Poland and surrounding countries, explaining how the borders have changed many times throughout history. As a result, there are places producing Polish vodka in locations that are no longer a part of Poland, such as one producer in Austria.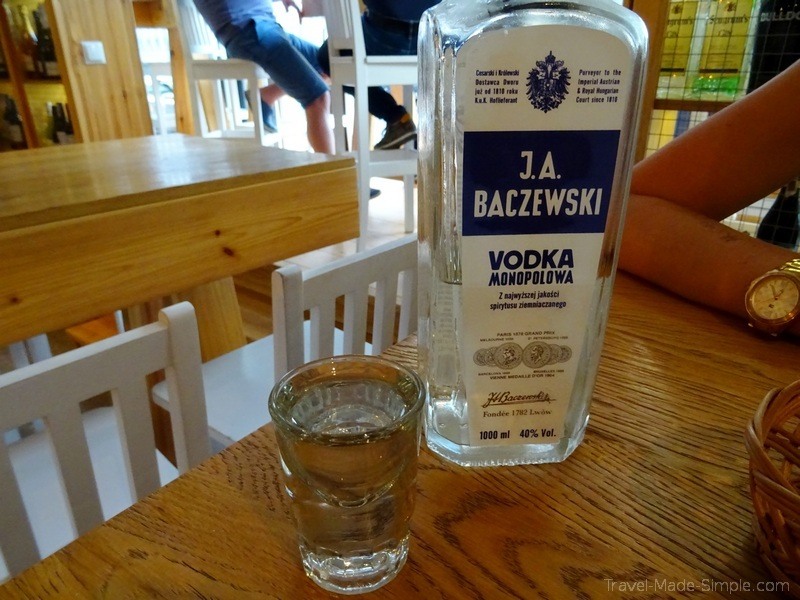 We also learned about fruit infused vodka, called nalewka, and how it's produced. Quince flavored vodka is one of the more popular ones, though I had never heard of this fruit before. It turned out to be our favorite one of the night.
We also enjoyed the espresso flavored vodka the owner brought out for us. We liked these two so much, and the herb infused digestion one from the beginning of the night, that we bought a few bottles to bring home before the end of our weekend in Warsaw.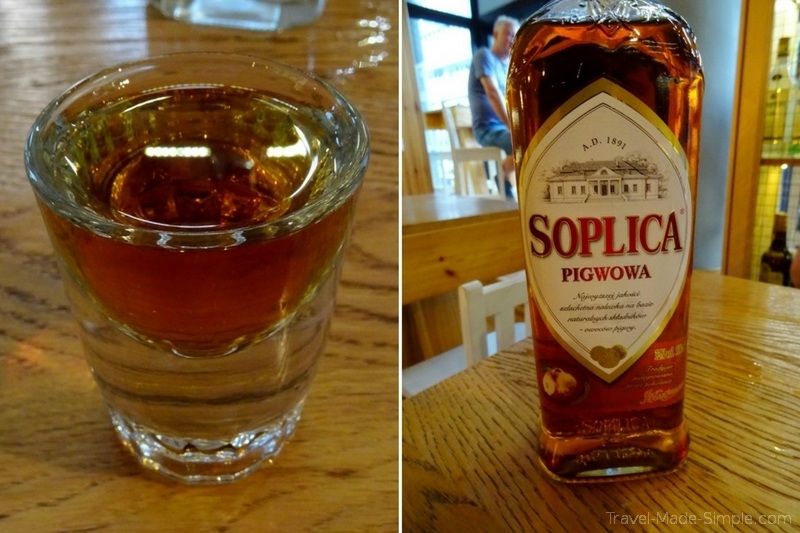 Fancy vodka
Our third stop was a little shorter than the previous two. We went to a popular bar in Warsaw where Anna told us about producers who are making high end vodka. Here we tried one made by a New Zealander who started making vodka after moving to Poland.
The bottles are limited, so we were drinking from one of only 9,200 bottles produced. Despite the exclusivity, this was probably our least favorite vodka on the tour. The food at this stop was sausage with pumpkin, lentils, and cabbage.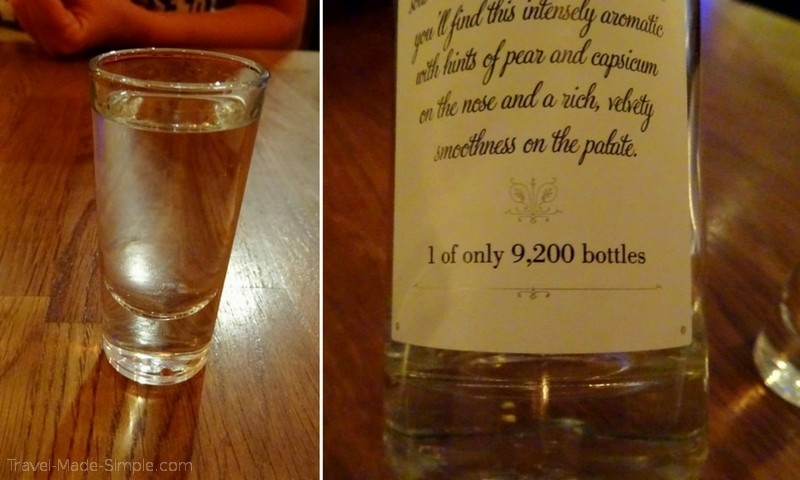 New vodka and cocktails
At the fourth and final bar, we learned about vodka made with bison grass. It was a subtle flavor, but quite nice. The bar had just recently opened, and Anna told us how they were trying new things.
Traditionally people drink vodka straight, but vodka culture is always evolving, and new ideas merge with old traditions. These days vodka cocktails are becoming more and more popular.
The bartender asked me and Andy what kinds of flavors we like, and then he mixed us custom cocktails. I have no idea what was in mine, but it was delicious.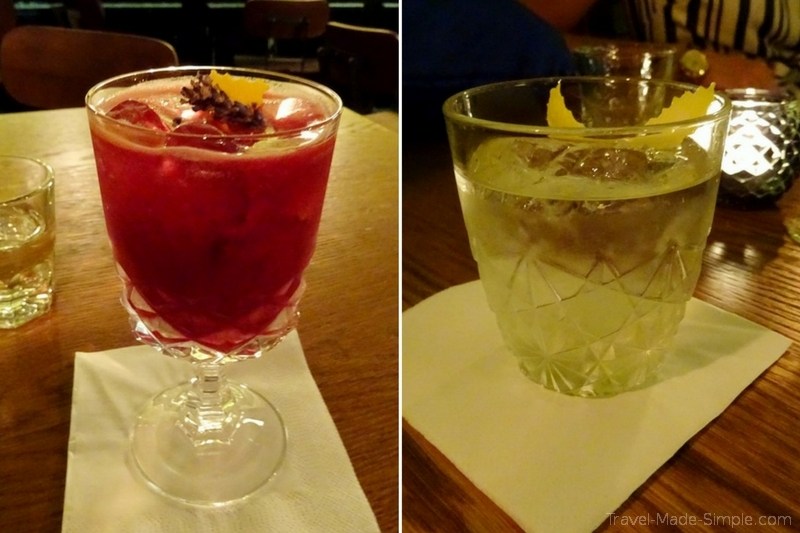 Even though we took this tour in the spring, I could see it as a fun thing to do in Warsaw in winter since you're inside most of the time. Plus the vodka might warm you up a bit.
Throughout the night, we had enough food to cushion the alcohol, so while we did have a bit of a buzz by the end, we did not leave drunk. We had seven shots of vodka (normally it's only six, but bar #2 gave us a bonus shot of espresso infused vodka) plus the cocktail at the end.
Anna really knew her vodka history, and she made the tour interesting and fun. The next day she sent us a summary of where we went, what we drank, and what we ate. She also included recommendations for other places to eat and drink around Warsaw, so I definitely recommend taking the tour early in your visit.
We love food tours because food and alcohol play such a huge part in a country's history and culture. They provide insight you just can't get on your own, and the Eat Polska vodka tour in Warsaw was no exception.
They also have tours in Krakow and Gdansk, and not only would I recommend them, but I'm hoping to sign up for another one of their tours when we visit one of the other cities. (Update: We took their vodka tour in Krakow, and it was just as wonderful!)
Thanks to Eat Polska for providing us with a discount on their Warsaw vodka tour. All opinions are our own.
Read more about food tours: