There are so many reasons to visit Berlin. Germany's capital city is packed with history, and there's no better place to learn about World War II and the Berlin Wall era. It's an international city with a wide array of cuisines to try. Berlin is also a cultural city with lots of museums featuring everything from World War II and the Berlin Wall to art, technology, and history. Whether you have a week to see the city or only 3 days in Berlin, here are some ideas to get you started.
How Many Days in Berlin?
Berlin is a big city and life is very spread across many neighborhoods. There isn't just a central "tourism district" to see all there is to see. So you can really spend a lot of time in Berlin experiencing each neighborhood and seeing all the sites.
3 days in Berlin gets you a day to do the tourist stuff and 2 to explore different neighborhoods. That is enough evenings to see some of the nightlife as well. It isn't a lot of time in such a rich city, but gives you a chance to see where you want to come back to.
7 days in Berlin is a week of exploring more museums and seeing more neighborhoods.
Berlin Neighborhoods
Berlin is organized in neighborhoods. Each area will have a different feeling of architecture, people on the street, and restaurants. Here is a small look at some of the more popular areas to visit.
Mitte – German for "Middle" it sits in the middle of the city and has Museum Island, the Governmental centers, Checkpoint Charlie, and Brandenburg Gate.
Prenzlauer Berg – North of Mitte, P'berg is one of the most developed of the former Eastern areas. Plenty of bars, restaurants, and nightlife here.
Kreuzberg – South of Mitte, this is large Bezirk that has a lot of different areas and feelings.
Charlottenburg – Home of the Zoo and Kurfurstendamm in the West.
Friedrichshain – East of P'berg along the river. Known as a more grungy Bohemian counter-culture area. Home to rapidly developing areas and the Eastside Gallery.
Dinner Hop!
Pick a different neighborhood than you did last night for dinner. Berlin has excellent international food and every neighborhood is going to have a different mix of places to try.
Getting Around in Berlin
Berlin has an extensive system of public transport using all manner of vehicle. The U-Bahn extends across the city with some lines elevated and some underground. SBahn are faster trains that run in a circle around the Ring that encircles the center as well as a North-South and East-West corridor. Trams run primarily in the former East with a large exchange point at Alexanderplatz, the transport center of the city. Buses fill in the gaps all around.
Everything runs on a single ticketing system. You can buy singles and day tickets from machines in every UBahn/SBahn stop and at some, but not all, tram stops. BVG, the transport company, has a reasonable website in English for information.
Only 3 days in Berlin??
If you only have three days in this city, here is an itinerary that should get you a good overview of the width of what Berlin has to offer. You are going to need more time to find the depth of this city.
Day One Morning: The Berlin Wall
So much of Berlin's recent history is linked with the Berlin Wall. As a result of WWII, the country and its capital were divided into four parts. Russia had control of East Germany and East Berlin, and on August 13, 1961, residents of East Berlin woke up to a barbed wire fence separating them from West Berlin. Eventually it was upgraded to a more permanent wall, and that wall shaped the city for nearly three decades.
One of the best ways to experience the real wall is at the Open Air Museum at Bernauerstrasse. This memorial provides history on an grassy strip where the wall divided a street and a neighborhood. Be sure to go see the short movies in the visitors center, located near Nordbahnhof, either before or after you walk the stretch to Bernauerstrasse UBahn stop and read the placards along the way. There is a tower at the midpoint to see into a portion of the wall that was preserved. Bernauerstrasse is my personal favorite for Berlin Wall history because it's so fascinating.
Some other places to learn more about the wall and what life was like inside the former East Germany include:
The Nazi Era was a dark time as well. Check out the Holocaust Memorial which honors the millions of Jews who were killed during this time period. But please, don't sit on the stones or take selfies here.
Please note that some posts contain links that earn me a small commission at no extra cost to you.
Day One Afternoon: Views of Berlin
Once you've had your fill of reading about the division of Berlin it is time to see the thriving city that it is now. There are several places depending on your desires.
Berlin's TV tower (Fernsehturm) is the highest building in the city, so it offers amazing views of the city. From here you can see Brandenburg Gate, the main train station, the Reichstag building, Tiergarten, Tempelhof, and so much more. It's well worth buying tickets online ahead of time to avoid long waits.
Near Potsdamer Platz is Panaroma 1, a tall office building with a terrace at the top. It's cheaper than the tower and with less of a line, but not right in the middle of everything.
For a different than typical view, hunt out the Victory Tower. It sits in the middle of the road a short distance from the Brandenburg Gate. Built by Napoleon and moved during WWII, the golden tower with winged statue has stairs inside and great views of the Tiergarten Park and Brandenburg Gate.
The Reichstag building is the seat of the German government. Take an audio tour of the glass dome and learn about German history and the present day government while taking in the scenery around you. Admission is free but you must register online ahead of time.
If heights make you dizzy and you want to see the city from the way, a boat tour on the Spree River will take you past many Berlin sights while providing lots of information about what you're seeing. They're more enjoyable when the weather is nice, and not many river tours run during the winter months anyway. Search for a Berlin river cruise here.
Another great way to see Berlin (or any city for that matter) is by taking a walking tour. Berlin has many to choose from depending on what your interests are. Here are just a few walking tours in Berlin to check out:
Day Two: Museums and Gates
Berlin is home to many museums honoring positive things in society, like art and technology. Take today to explore a museum or two depending on your feet.
Museum Island
Museum Island for five of the best, including Pergamon Museum, Bode Museum, Neues Museum, Altes Museum, and Alte Nationalgalerie. These house art and artifacts from different periods in history. The Pergamon Museum is the most visited museum in Berlin. Information on other art museums can be found here.
Also on Museum Island is theBerlin Cathedral (Berliner Dom). This is the largest church in Berlin and dates back to 1465, though not in its current form. Go inside for a tour or just admire it from the outside.
If you're interested in German history, check out the German Historical Museum. Here you'll find art and artifacts relating to Germany throughout centuries of history.
For technology enthusiasts, the Deutsches Technikmuseum can't be missed. It has exhibits that display aspects of aerospace, rail technology, navigation, the history of the Berlin airlift, and much more. It isn't on Museum, but only a short UBahn ride from Alexanderplatz
If you're planning on visiting several museums, consider getting a Berlin City Pass. It covers public transport, entrance to more museums than you could possibly visit in one trip, and more. Check it out here.
Brandenburg Gate
If you spend time on Museum Island, walk up the long tree lined street called Unter den Linden to the Brandenburg Gate to see one of the (rebuilt) old city gates. This is one of the most recognizable symbols of the city. It played an important role during many parts of Berlin's history and was inaccessible when the wall was up.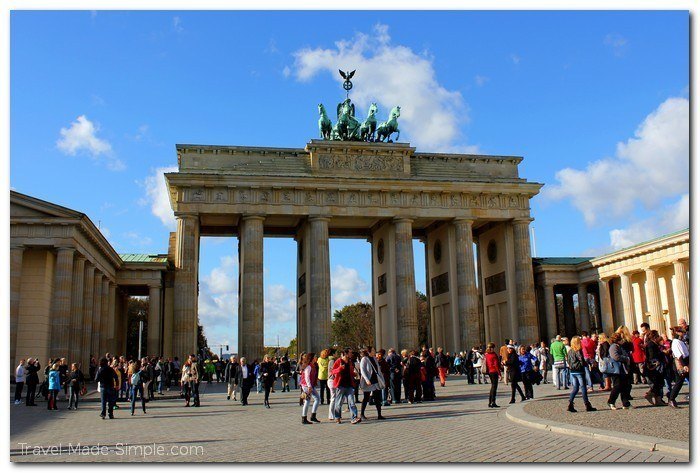 Day Three: Spend Time Outside
If you are in Berlin during the summer, make sure to spend at least one day outside. Winter can be long and dark, so summer is when the population spends as much time soaking up the sun as possible. There are plenty of options, whether you want activities or just want to lie in the grass with a beer.
Berlin has two zoos and an aquarium
Berlin actually has two zoos, one in the west and one in the east. These are great for a visit with kids, though enjoyable for people of all ages. Information about both zoos and the aquarium can be found here. The Western Zoo (near the appropriately named Zoo station on the SBahn) is larger. The small aquarium building is attached to this zoo, but requires additional admission. It is of a much older style than most big modern aquariums, but is nice for an hour out of the cold and rain if that happens.
If you're looking for a little nature inside the big city, take a stroll through Tiergarten Park, located just west of Brandenburg Gate.
For wide open spaces in a unique setting, check out Tempelhof Park in the southwest section of the city. This park was an airport during the Berlin Wall era, and you can still see the runways, control tower and more. Tempelhof is busy with people on the warm days in the summer, flying kites, windboarding, jogging, and grilling are popular activities. Well, so is sitting on the grass with a beer.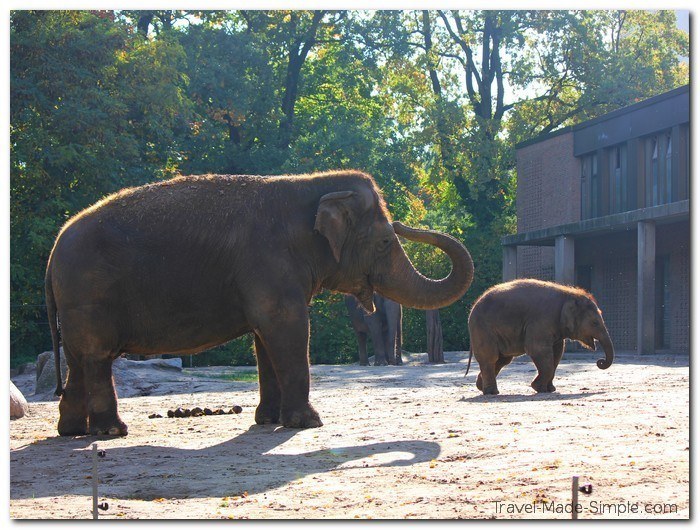 This list is not all encompassing. Certainly you can find dozens of activities and attractions in Berlin. Explore the different neighborhoods, try food from the different cultures that have shaped the city, and take in the history around every corner. There really are so many things to do in Berlin. The city is a must for any Germany itinerary, and it deserves plenty of time.
Check out these other great posts about Germany: