The Amalfi Coast is one of the most gorgeous coastlines in Italy. It's a series of villages clinging dramatically to the cliffs, with colorful buildings and amazing views of the sea.
The eastern point, and the only part of the coast with train access, is the city of Salerno. Salerno is roughly two hours south of Rome and just 35 to 40 minutes from Naples, so it's not hard to get to.
Here's some advice for exploring the Amalfi Coast on your Italy vacation.
Positano
Positano is one of the most popular and photogenic towns on the Amalfi Coast, so it's no wonder most people include it on their Amalfi Coast itinerary. It's the town you've probably seen in movies that have scenes along the Amalfi Coast.
Unfortunately this means it's also the most expensive town on the coast. If you want to splurge, staying here is a nice treat. Otherwise it's easy enough to explore Positano as a day trip from another town along the Amalfi Coast.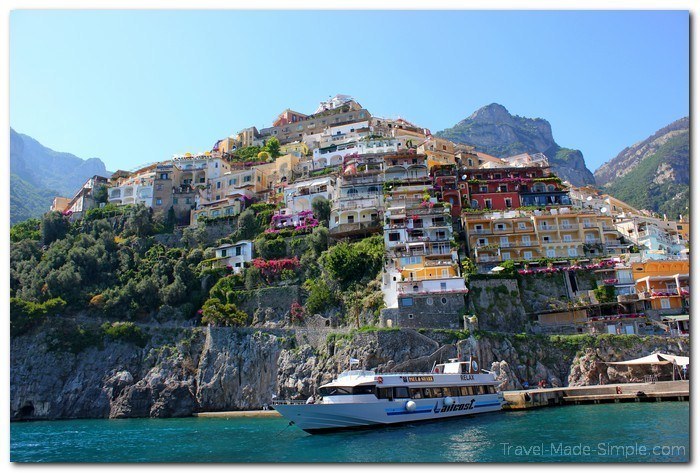 The only major sight in town is the Chiesa di Santa Maria Assunta, a domed church. Other activities include shopping and going to the beach. You can also take several different boat trips from Positano. (More details on boat trips later in this post.)
Positano is also one of the farthest towns from Salerno on the Amalfi Coast. To get there, take the train to Salerno and then take a boat (only if you're traveling in summer) to Positano. If you take the bus, you'll have to switch in Amalfi Town.
If you're visiting Naples, another option to reach Positano is to take the Circumvesuviana train from Naples to Sorrento, which is about an hour, and then take a bus or boat to Positano. Sorrento is a gorgeous town on the northern coast of the Sorrentine Peninsula, though technically not part of the Amalfi Coast.
Amalfi Town
Roughly halfway along the coast, Amalfi Town is another popular place to stay. It's just as beautiful as Positano and slightly less expensive, but still not cheap.
In the center of town, just a short walk from the port, you'll see the Cattedrale di Sant'Andrea. It's an impressive sight that dominates the Piazza del Duomo. For just a few euros you can go inside to see the art and artifacts housed there, as well as the tomb of St. Andrew.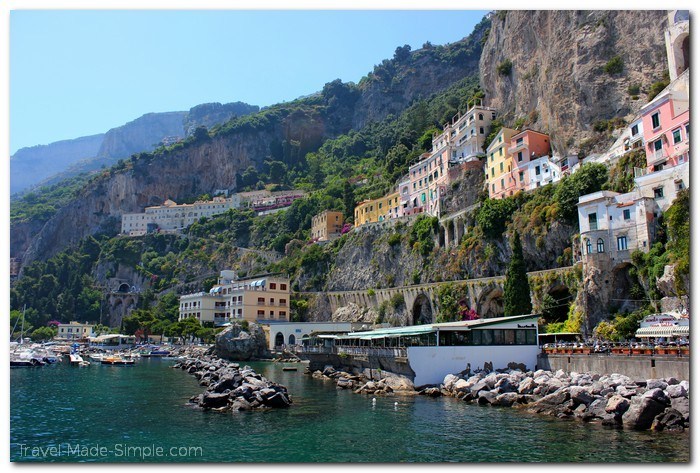 It was once a maritime superpower with a population of over 70,000 people. It's hard to imagine given how small the town is today, but you can still explore its history here.
There is a maritime museum called Museo Civico in city hall, and a museum called Museo della Carta in a 13th century paper mill (the oldest in Europe) where you can see the original paper presses, still in working order.
The easiest way to get to Amalfi is to take the train to Salerno, and then take a boat, if they're running, or take the bus. The bus from Salerno to Amalfi takes an hour and 15 minutes.
Other Amalfi Coast towns
While Positano and Amalfi are the popular towns to stay in while exploring this gorgeous region, there are plenty of other worthwhile Amalfi Coast towns. These towns offer smaller crowds and lower prices with just as much beauty, and you can easily hop on a bus or boat to visit Positano and Amalfi.
Ravello: Sitting high up the in the hills above Amalfi Town, this town offers incredible views and gorgeous gardens. It's a popular tourist spot but does not have beach access. I highly recommend adding Ravello to your Amalfi Coast itinerary.
Maiori: A few towns east of Amalfi, Maiori has plenty of hotels, resorts and restaurants and a long stretch of beach.
Minori: Minori is a tiny village located in between Maiori and Amalfi. It sees mostly Italian tourists and has a more sleepy feel and a smaller beach.
Praiano: Marina di Prai, one of the coast's most popular beaches, is located in Praiano. The town is east of Positano but west of Amalfi.
Salerno: The entry point to the Amalfi Coast, Salerno is a much bigger city. It doesn't have quite the same appeal as the small towns farther along the coast, but it's a good place to be if you want some city life.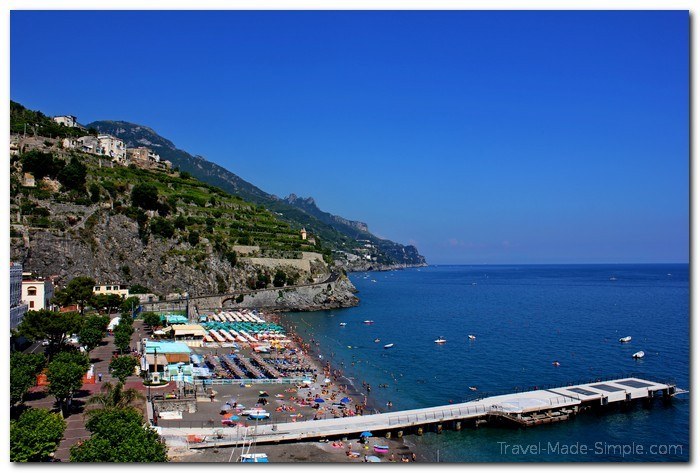 Please note that some posts contain links that earn me a small commission at no extra cost to you.
Day trips from the Amalfi Coast
Unless you were planning on a beach vacation, there are lots of day trips you can add to your Amalfi Coast itinerary. No matter where you base yourself, it's worth exploring a few different towns along the coast to see the contrasts.
There are several boat trips you can take while exploring the Amalfi Coast. If you just want to be out on the sea for awhile, take a ferry between Amalfi and Positano, and enjoy the views of the coastline.
For a little more than a boat ride, take a day trip to nearby Capri or Ischia. Travel agents and tour companies throughout the coast can set up a trip for you, so be sure to ask around to find a good price.
It's also possible to take a day trip to Pompeii from the Amalfi Coast. The easiest way to get there is to take a bus to Sorrento and then take the Circumvesuviana train to the Pompeii Scavi – Villa dei Misteri station. The bus from Amalfi to Sorrento takes about an hour and 40 minutes, and the train takes about 30 minutes.
If you're booking a tour to see Pompeii, make sure you look at the bus and train schedules before you commit to a tour to make sure you can reach it in time.
Another great option is to stay in Pompei instead of visiting as a day trip. This could be a good base if you want to explore several places in the area near Pompei.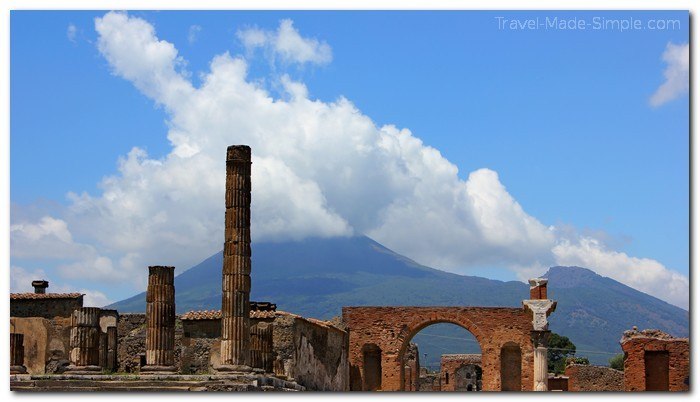 Day trips to the Amalfi Coast from Rome
While I truly believe you should spend at least a few days on the Amalfi Coast, I understand not everyone has enough time. It might feel easier to you to base yourself in Rome and do more day trips, rather than packing up and moving to a new hotel in another city.
If this sounds like a good compromise to you, check out one of these day trips from Rome to the Amalfi Coast and Pompeii from a company I love, Take Walks:
Getting around the Amalfi Coast
There are lots of options for getting around while exploring the Amalfi Coast. Buses go up and down the coastal roads throughout the day, and they can be an adventure all on their own.
For the best views, try to sit on the left side of the bus when traveling from east to west (Salerno to Amalfi, Amalfi to Positano) or on the right side of the bus when traveling from west to east (Positano to Amalfi, Amalfi to Salerno).
Bus tickets are cheap and must be purchased at a local tobacco store (tabacchi), not on the bus. See here for the bus schedules but keep in mind that traffic on those windy roads can easily delay the buses.
During summer months and parts of spring and fall, the ferry can be a scenic option as well. They don't run as often or stop in as many places, but they're more comfortable than the buses.
They're good for traveling between the bigger towns, such as Salerno to Amalfi, Salerno to Positano, and Amalfi to Positano. See here for the ferry schedules.
If you enjoy hiking, there are trails that take you through various parts of the Amalfi Coast. Before there were roads connecting the different Amalfi Coast towns, people walked from one town to another using paths and sets of stairs.
Those paths are still in existence and make interesting hiking trails today. For information on the different paths available, click here.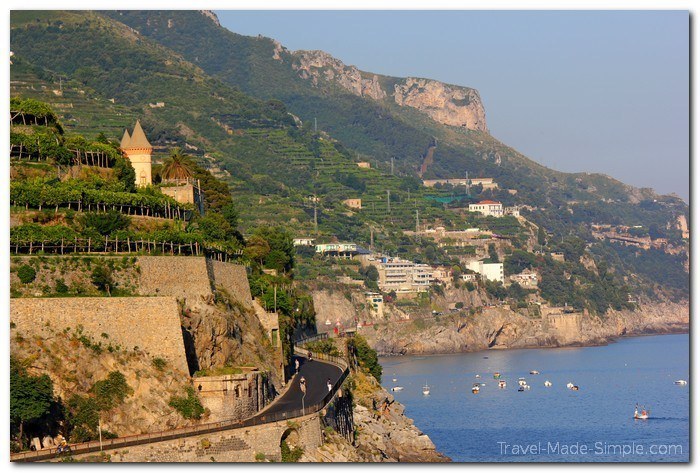 Exploring the Amalfi Coast will show you another side of Italy. You'll get to see dramatic landscapes, gorgeous blue seas, and the biggest lemons you've ever laid eyes on. Take a few days or a full week to relax and enjoy the atmosphere before returning to Italy's big cities.
Read more about Italy: