This is part of a series of interviews with inspiring travelers. Today's interview comes from Dalene Heck about her Tanzania safari tour. See more about tours and tour reviews here. All photos are by Dalene and Pete Heck, except Pinterest image.
Tell us about yourself and your travel experience.
My name is Dalene and I am a Travel Addict! My husband and I have been traveling the world nomadically since 2009 and have visited 54 countries together in our lifetime! We've seen most of South America, Europe, and little bits of just about everywhere else.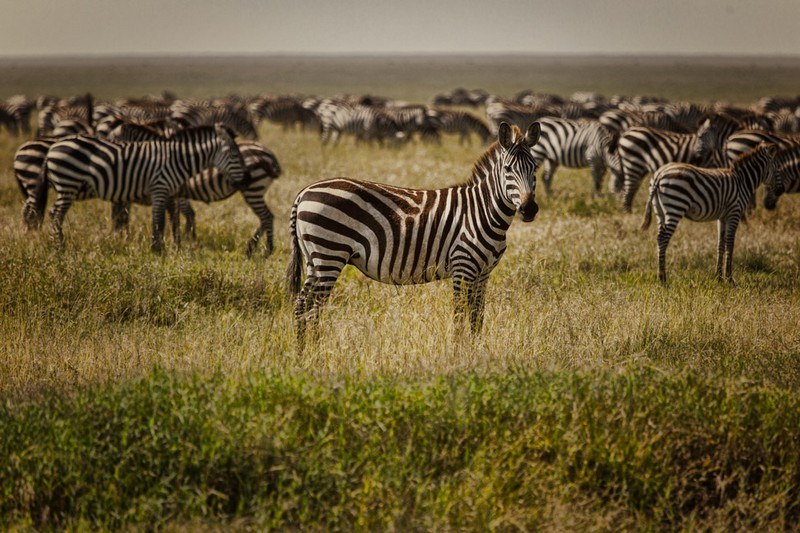 Where did you go on your tour and how long was it?
I've been on just a few tours over the past few years as my husband and I typically travel slowly and independently.
Most recently we completed a tour that started in Nairobi, Kenya, then took us throughout Tanzania (including the amazing Serengeti), and ended on a beach in Zanzibar. It took us just under two weeks to complete the trip.
Please note that some posts contain links that earn me a small commission at no extra cost to you.
What tour company did you use and why?
This tour was with Intrepid Travel, and we chose to work with them because of their strong commitment to responsible and sustainable travel. We weren't disappointed in that choice – they definitely walk the talk in that regard, and we were so pleased to see that.
Why did you choose a tour instead of traveling independently?
For much of what we wanted to see, we wouldn't be able to travel independently anyway (through the Ngorongoro Crater and Serengeti) as it is too highly regulated. And also because every once in awhile it's just nice to take a break and let someone else do all the planning for once!
What did you like about the Tanzania Safari tour? What was your favorite part?
The Intrepid crew that was with us were all top-notch – loved the guides and the food provided was diverse and delicious. Also, one of the more surprising aspects of the tour was how off-the-beaten-path they took us.
We dined in the homes of locals in small towns and passed around banana beer and wine in a straw hut. We loved the very local feel to much of the tour and that was something we did not expect.
What was the most memorable or eventful part of your trip?
Camping in the Serengeti! Listening to all of the wild animals around us at night and waking up to enjoy coffee in sight of a tower of giraffes were experiences that we will be talking about for years to come.
Was there anything you didn't like about the Tanzania Safari tour?
I am an introvert so did find it quite taxing at times to be constantly around so many people. Thankfully, the tour group was actually quite smaller than normal (there were only 12 of us where I think they can take up to 24), so it wasn't as bad for me as it could have been!
Overall we did have a really fun group though so I just had to find some time to steal away for myself when I could. Usually plugging in my headphones during the long travel days provided me with the seclusion I craved.
Did you eat anything amazing on your trip?
All of the food was really so good. A lot of savoury stews which I did not tire of! Tanzanians really know how to spice well.
What inspired you to take this safari tour or travel to Tanzania?
Africa has long been on our wish list and honestly, I am kind of embarrassed that it took us this long to get there! Images of Zanzibar's beaches are what drove us to Tanzania first, and getting to enjoy the Serengeti was another brilliant aspect of the particular tour we took. I really hope to go back one day.
Would you recommend this tour? Would you change anything about it?
I would absolutely recommend this tour, but with one important change. The tour calls for one night in Dar Es Salaam, but as a group, we implored our guides to skip it and take us straight to Zanzibar!
It made one travel day only slightly longer and everyone on the tour was so grateful that we did. We were not going to have much time in Dar anyways (and it is reported to be a bit dangerous), and it gave us some extra time in Stone Town which we adored!
Do you think the Tanzania Safari tour would be good for a new traveler? Why or why not?
Absolutely. Tanzania, being quite an impoverished nation, can be a bit too much to take for a new traveler. To do it in a tour would take that edge off a bit, and perhaps make a newbie feel a bit more secure.
Author Bio: Dalene and her husband Pete blog at HeckticTravels.com and were named 2014 National Geographic Travelers of the Year. You can follow them on Twitter, Facebook, and Instagram.
You might also enjoy these tour reviews: