When it comes to classic European getaways, Southern France is always on the top of the list. Perfect Mediterranean weather, idyllic beaches and iconic cities draw thousands of visitors to the French Riviera. From Nice to Marseille, there are plenty of unforgettable places to visit in Southern France.
Combine them all into one extended trip or opt to really get to know a single city. No matter how you plan it, your trip through Southern France is sure to satisfy.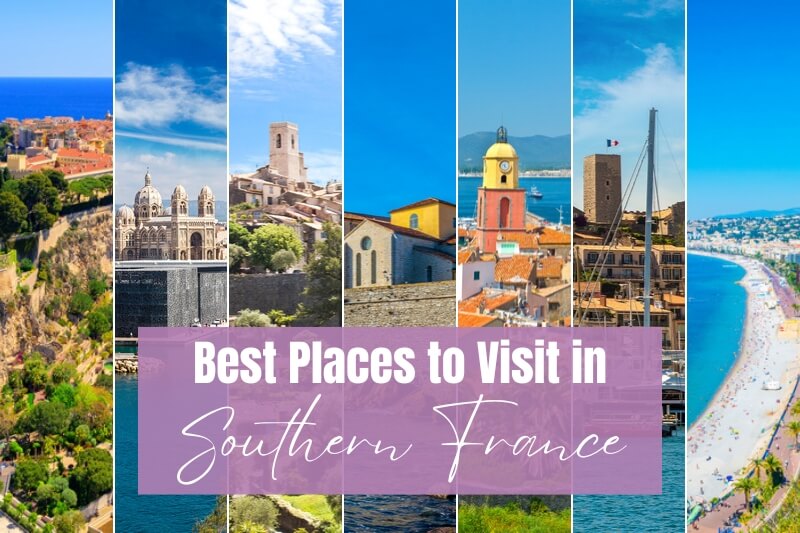 Best Places to Visit in Southern France
Let's take a look at some wonderful destinations in southern France that you should explore. Places to visit in Southern France include the larger cities of Marseille and Nice, as well as a smattering of much smaller towns, so there's something for everyone.
Please note that some posts contain links that earn me a small commission at no extra cost to you.
Top Tours in Southern France
Tours can be a really wonderful way of experiencing a destination. An expert local guide will tell you about the history and culture, or you can learn about and taste the delicious cuisine. Here are a few we recommend to explore southern France:
Nice
Located to the very east of the French Riviera, Nice is a warm-weather destination for both French and international travelers.
This large coastal city has it all- a charming old town, plenty of beaches, museums and cultural sites, and so much more. Summer is definitely the peak season to visit Nice, so consider visiting in spring or autumn to avoid the crowds.
Nice's main attraction is its Promenade des Anglais, which runs along the seashore. This busy walkway is always lively and makes it easy to access the city's pebbly public beaches.
Overlooking the waterfront, Old Nice is the city's historic quarter. The neighborhood's narrow streets and colorful buildings house some of Nice's top restaurants. Old Nice beckons any time of day, whether for morning brunch or evening drinks.
Museum lovers will have plenty to do in Nice. The city is home to the Modern and Contemporary Art Museum. Painters Henry Matisse and Marc Chagall both have museums dedicated to their work in the city.
Other museums of interest include the Musée du Palais Lascaris and the Musée des Beaux-Arts de Nice. The Musée du Palais Lascaris is housed in a 17th century palace. For those who love touring historic architecture, the Basilique Notre-Dame de l'Assomption and the Cathédrale Sainte-Réparate de Nice are both must-stops.
Along with its famed beaches, Nice is filled with green area, walkable neighborhoods, and local businesses. There are plenty of hotels in Nice, so every traveler will find something that fits their taste and budget.
Nice's convenient location makes it easy to travel to other French Riviera destinations. However, the city is a getaway all on its own, and it's easy to spend your whole trip discovering its secrets.
Cannes
Just 40 minutes down the coast from Nice, Cannes is an iconic French Riviera hotspot. The town is known for hosting the annual Cannes Film Festival- and the A-list celebrities who attend.
However, there's plenty to love about Cannes outside of the festival. In fact, visiting in the off season (Between October and June) is a great way to avoid both summer crowds and the heat.
If you don't mind sharing the beach, Cannes also makes an ideal destination during the warmer months.
Similarly to Nice, Cannes has a main promenade overlooking the sea. The Boulevard de la Croisette is the town's main seafront walkway, and likely where you'll begin exploring the town. The Palais des Festivales, where the Cannes Film Festival takes place, is nearby. If you're a film fan, the venue is open for tours and red-carpet photo ops.
Located a short walk from the Boulevard, Rue d' Antibes is Cannes' main shopping destination. The street is lined with high-end shops and local boutiques. If you're looking for a food-focused shopping experience, head to Marché Forville. This market is nearby and features local products from fresh fruit to cheeses, olive oils, and more.
From there, be sure to wander over to Le Suquet, Cannes' historic district. The neighborhood's alleyways and quaint architecture will draw you in, especially if you're looking to enjoy a delicious local meal.
The Musée de la Castre and Église Notre-Dame de l'Espérance Church are two of Cannes' most notable historic buildings. Both are located on Le Suquet's hilltop, which also offers magnificent views of the town and harbor below.
Cannes has multiple public beaches where you can enjoy the sun and the surf. The Lérins Islands, accessible via a short ferry ride from town, are another nearby destination. Covered in pine and eucalyptus, the islands are both a historical and natural attraction.
Antibes
Antibes is another popular destination on the French Riviera. Located just up the coast from Cannes, the town attracts beachgoers, art aficionados and history lovers.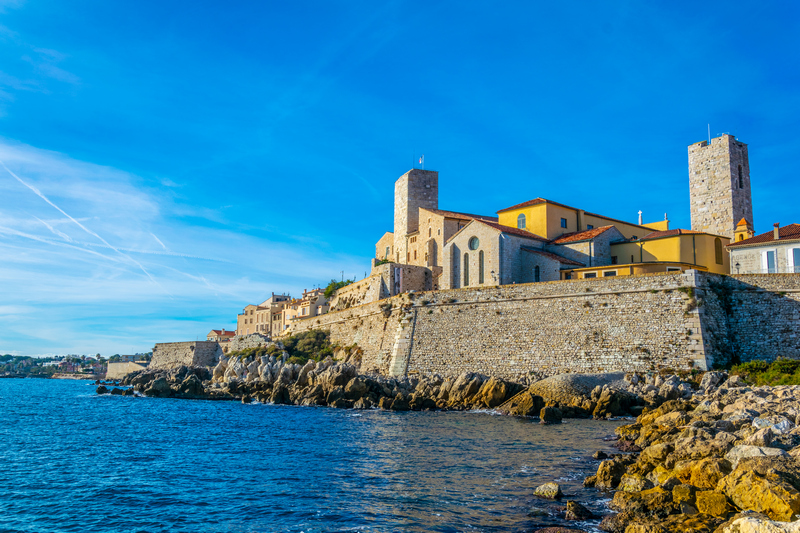 Antibes' historic old town is still surrounded by walls dating back to the 16th century. The Old Town is home to cultural sites like the Picasso Museum and the Archaeological Museum. Picasso spent a significant amount of time in Antibes, and the museum helps guests view the town through his eyes.
The Cap d' Antibes peninsula juts out into the sea just south of Old Town. Wooded and idyllic, this part of Antibes is home to secluded resorts and several beautiful beaches. Juan les Pins, a busy hotel, culinary, and nightlife district is located on the west shore of the peninsula.
St. Tropez
Known as one of the classiest places to visit in Southern France, St. Tropez is a top French Riviera destination. This cozy town sits about halfway between Cannes and Toulon, overlooking a small gulf.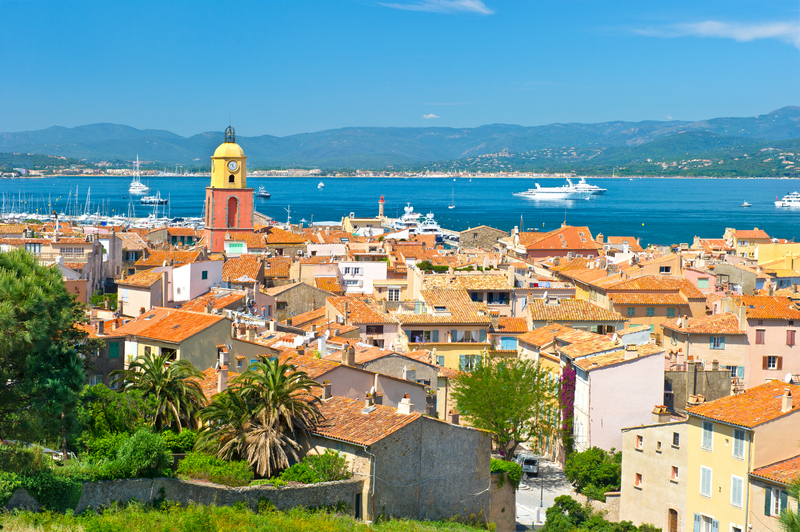 La Ponche, the historic district, has a variety of local eateries, bars, cafes, and shopping. Right next door, you'll find the St. Tropez citadel. The fortress dates back to the 17th century and also hosts a maritime-themed museum.
A visit to St. Tropez wouldn't be complete without catching some sun at one of the town's many beaches. From Bouillabaisse Beach to Canoubiers Beach, each one has its own personality and draw. St. Tropez has a long list of hotels to choose from, many of which are located steps from the seashore.
St. Paul de Vence
Located near Nice, the village of St. Paul de Vence was a favorite muse of artists including Picasso and Matisse. The town is home to structures dating back to the 16th century.
The medieval era town is not located directly on the sea, but a few kilometers away. The focus of St. Paul de Vence is not the beach culture of most other French Riviera towns, but instead the highlights are its historic churches, museums and 17th century fountain.
Marseille
Perched in the center of France's southern coast, Marseille is a large, bustling port city. It's easily to plan an entire trip around this vibrant city or make it a home base for exploring the region.
Dating back to the Ancient Greek era, Marseille has no shortage of historic sites. Architectural sites include the Notre-Dame de la Garde, La Catedral de la Major, and the Palais Longchamp. The Palais Longchamp is especially interesting as it is also home to two of Marseille's most popular museums and an expansive park.
The city's Vieux Port and Le Panier districts are both walkable historic neighborhoods on Marseille's waterfront. Le Panier is ideal for boutique shopping and local flair, while Vieux Port boasts gourmet dining and nightlife.
Marseille has many beaches to choose from, so it's best to do your research- or visit a different one every day of your trip! Some are smaller and more secluded, while others draw crowds long into the night.
Château d'If is another Marseille curiosity. This island fortress and former prison is now open as a museum. The ferry ride itself is a great way to take Marseille in from another angle.
Marseilles can be overwhelming, and taking a day trip from the city can introduce you to the rest of the region. Calanques National Park is a natural wonder that's easily reachable from Marseilles. Cassis, a seaside village just past the park, is also a great option if you want to explore at a slower pace.
Monaco
While not technically in France, Monaco is another destination to consider while on the French Riviera. The tiny nation is home to a walkable Old Town, architectural wonders and a yacht-filled harbor.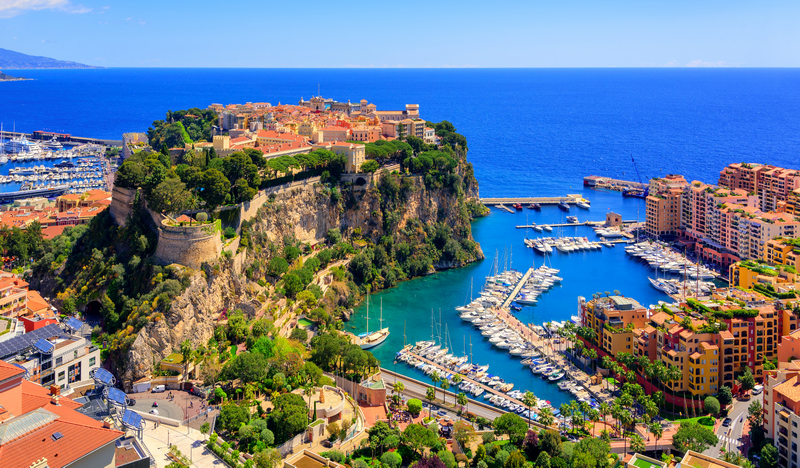 Must-see destinations include the Prince's Palace, the Monaco Cathedral, and the Exotic Gardens. The Oceanographic Museum is a great place to visit with kids, while movie lovers will enjoy the famed Monte Carle Casino. Formula 1 fans will enjoy tours of the Grand Prix racetrack.
Walking tours of the city are a great way to take in all the sites in a short period of time. As the sun goes down, enjoy dinner and or a picnic at Lavrotto Beach.
Best Places to Visit in Southern France via Cruise
While taking advantage of France's expansive train system is a great way to see the region, consider taking in the sights from aboard a ship.
Cruise itineraries often include the French Riviera's top sights, from St. Tropez and Cannes to Nice and Monaco.
Be sure to plan a shore excursion to Monaco, as you can see a lot of the tiny country in a day or two.
When choosing European destinations, consider the South of France any time of year. The French Riviera is filled with historic towns and cities overlooking the Mediterranean. You're sure to have an enjoyable vacation here.
About the author: Lucia is a passionate traveler who loves sharing her insights and local discoveries about destinations in Southern France on her blog Your Monaco.
You might also enjoy: