Cinque Terre means "five lands" in Italian and consists of five fishing villages clustered on the Ligurian coast in northern Italy roughly between Genoa and Pisa. Pesto and Foccacia are a part of the local range of food. This is part of the Italian Riviera, so beaches and small towns abound. Dramatic cliffs plunging into the waves and colorful towns clinging to rocky shores make for an engaging landscape to explore. Exploring Cinque Terre is quite interesting and worth more than just the visit to the famous five towns. Here's what you'll find if you decide to add Cinque Terre to your Italy itinerary.
Cinque Terre
These are the five picturesque towns known as the Cinque Terre. They are protected by a national park, and so have retained a lot of their old world charm.
From west to east the towns are:
Monterosso al Mare – This is the only one of the five towns with a beach, so if you also want to do some swimming or sun bathing while you're here, this is the place for it.
Vernazza – This town sits on a wide bay lined with multi-colored houses. Like many of the towns in Cinque Terre, cars are not allowed, so it's pleasantly quiet.
Corniglia – Perched on top of a cliff, this is the only town with no direct sea access. But there are great views from up there.
Manarola – There are so many things to do in Manarola, and it's one of the more photographed towns. It's also one end of the "love tunnel" portion of the hiking trails as it heads toward Riomaggiore.
Riomaggiore – Riomaggiore is another one you've probably seen many gorgeous photos of. It's easily reached from La Spezia.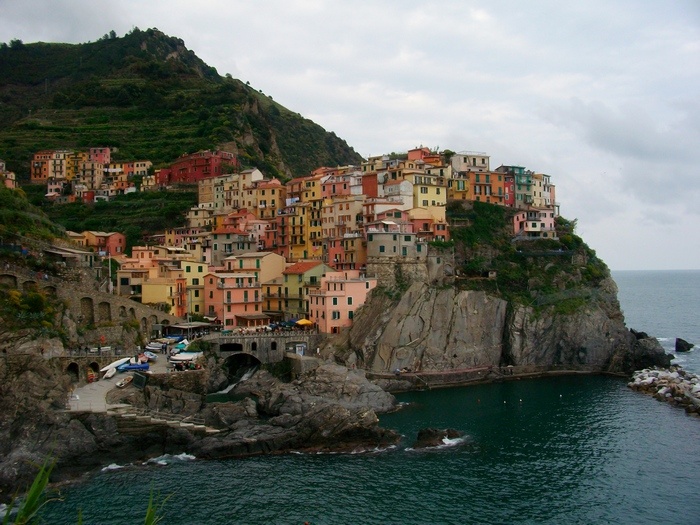 Please note that some posts contain links that earn me a small commission at no extra cost to you.
How to get around in Cinque Terre
The best way to see all of the towns in a day or two is by train. There is a train that runs through the national park from Levanto to La Spezia and stops at each town in Cinque Terre. Corniglia's train station is below the town and involves a hike up stairs or a short bus ride to reach the town.
Check out this site for more info on the train and the day tickets.
You can also hike on one of the hiking trails that connect the towns of Cinque Terre. Sometimes they may be closed due to weather or damage, so check ahead if you are dead set on hiking. The trails are steep in places as well.
Even if the trails as a whole are shut down, or you aren't interested in a lot of hiking, still check out the trails around each town. We walked a short loop near Manarola that gave excellent views into the town and down the coast.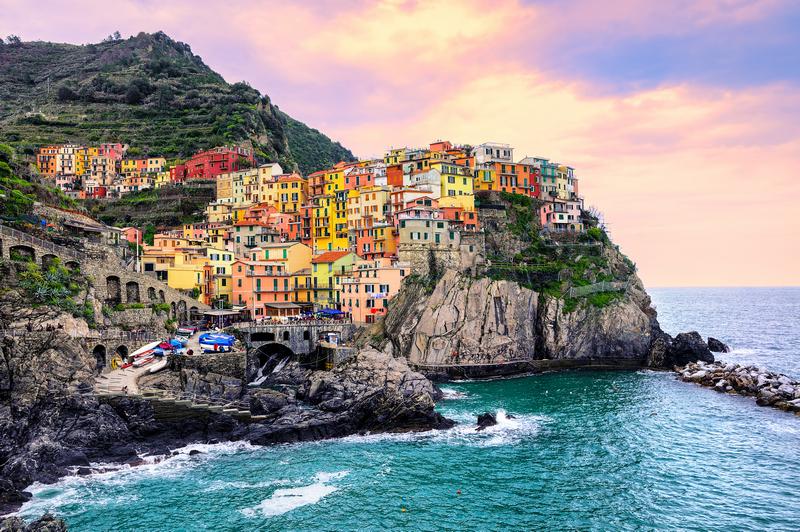 Day trips to Cinque Terre
Cinque Terre is pretty simple to visit on your own, and I think you can easily see all five of the cities in 1-2 days. But if you'd rather have someone else deal with the logistics and transport, there are tours you can take from other parts of Italy. These options might also be good if you're short on time.
Day trip from Rome: It would make for a lonng day, but you could see Cinque Terre on a day trip from Rome.
Day trip from Florence: Since Florence is closer, this kind of day trip will have a little less time spent in transit. This tour give you free time in the villages but removes the hassle of getting to and from the region, and from one village to the next.
Hiking day trip from Florence: Looking for something a little more active? This tour takes you from Florence to Cinque Terre and lets you explore on foot through some of the hiking trails in the area. The route is 3.4-mile (5.5-km) long and takes you to areas you can't get to by car.
Beyond Cinque Terre
La Spezia is the next largest town at the south-east of the the train line. It has a castle and a naval museum, but is otherwise just a city, though does make a decent base for exploring the area.
If you can't get enough of cute Italian towns, check out Portovenere. It is south of La Spezia (reachable by public bus) and has a castle, several church buildings and a grotto area that looks over the rugged coast. Across the strait is nature and hiking island of Palmaria.
Portofino Peninsula
Levanto is the north-western end of the Cinque Terre train line. Beyond it to the west on the volcanic peninsula of Portofino. This area has the decidedly upmarket town of Portofino reachable only by bus, boat or on foot from the train station at Santa Margherita.
Santa Margherita is worth a visit as well. On the western end of the peninsula is Camogli, and between them in a secluded San Fruttuoso Abbey, accessible by boat or foot. The whole peninsula is crossed by hiking trails.
Further Afield
An hour or so east from La Spezia is the town of Sarzana. It is inland, so not a fishing village, but gives you a different view of the area. The formerly walled town has a castle in town and one nearby on the hill as well as several of the towers.
If you have an urge to see even more Italy from your base near the Cinque Terre, Pisa is a doable day trip from La Spezia. It is a long day, but trains run to the town of the famous leaning tower.
Out the other side of Cinque Terre, if you are one your way to France, is the city of Genoa with its old town. Don't base yourself here if you want to explore Cinque Terre unless you fancy long train trips. Beyond Genoa toward France the Italian Riviera continues with all manner of fancy resort towns.
Read more about Italy: