Some women buy tons of purses. Others collect shoes. I, apparently, am addicted to travel backpacks. So when Tortuga reached out to me and asked me if I'd be interested in trying out their new 35L Setout backpack designed specifically for females, I couldn't resist.
A 35 liter backpack is perfect for carry-on travel, and I've always heard such good things about Tortuga backpacks. Here's my review of the Tortuga Setout 35L women's backpack.
Tortuga 35L Setout Women's Backpack at a glance
There's a lot to like about the Tortuga 35L Setout backpack. As I mentioned, it is carry-on sized, and it weighs 3.6 pounds when empty. The bag's measurements are 21.5" x 13.5" x 7.5" so it will work for most airlines. (Find your airline on our carry-on luggage size chart.)
This is a big deal for me since I never check luggage, and I took it as carry-on baggage on a Swiss Air flight from Berlin to Zurich and back with no issues.
This backpack is designed specifically for women. It has a female-specific suspension system, which means it's more comfortable than a standard men's backpack or unisex backpack.
The ergonomic design also has well-padded shoulder straps and hip belt to evenly distribute the weight of the bag. I found the shoulder straps to be very comfortable.
The Tortuga Setout 35L backpack has a dedicated laptop sleeve which can hold a 17 inch laptop. AND you can fit a 9.7 inch tablet and an e-reader in there. This definitely made it easier to stay organized and pull out my electronics at security.
Environmental bonus: It's made of recycled polyester.
Please note that some posts contain links that earn me a small commission at no extra cost to you.
To buy the Tortuga Setout 35L backpack for women,
click here
.
Tortuga Setout 35L backpack structure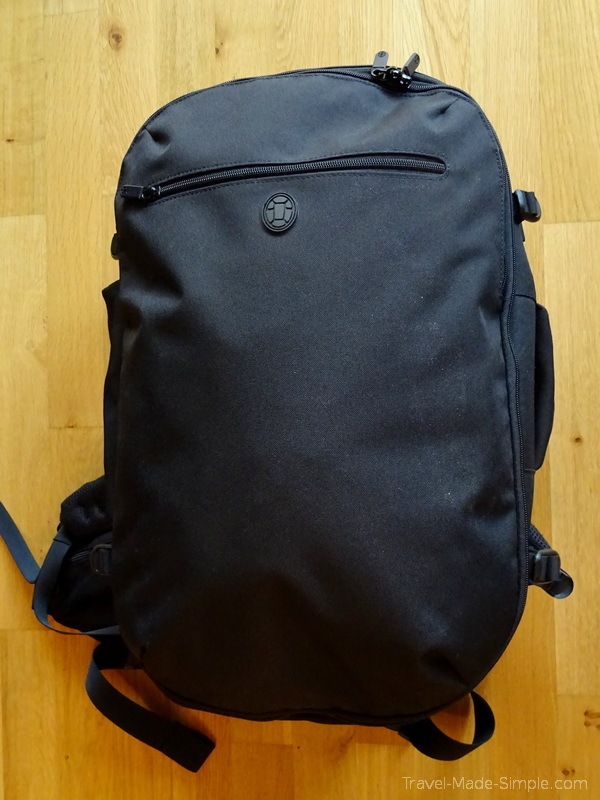 The backpack opens very similar to how a suitcase does, which means it's really easy to get into. I don't like top loading backpacks, so I look for top or panel loading backpacks.
This suitcase-type of opening is great because it's so easy to find what I'm looking for, no matter where things are in the bag. I don't have to unpack everything to get to the stuff at the bottom.
Since it opens like a suitcase, the bag holds more than it looks like at first.
Once I got most of my stuff packed in it, I zipped it up most of the way, leaving the top end open, stood it up, and everything shifted down. This gave me a little more space for a few more items at the top.
The backpack isn't quite as structured as a suitcase – which makes sense since it's NOT a suitcase – but it meant it wasn't quite as easy to pack. I definitely found it easier to pack up my clothing and any bigger items and then put in more items after zipping it part way and standing it up, as explained above.
Laptop compartment on the Tortuga Setout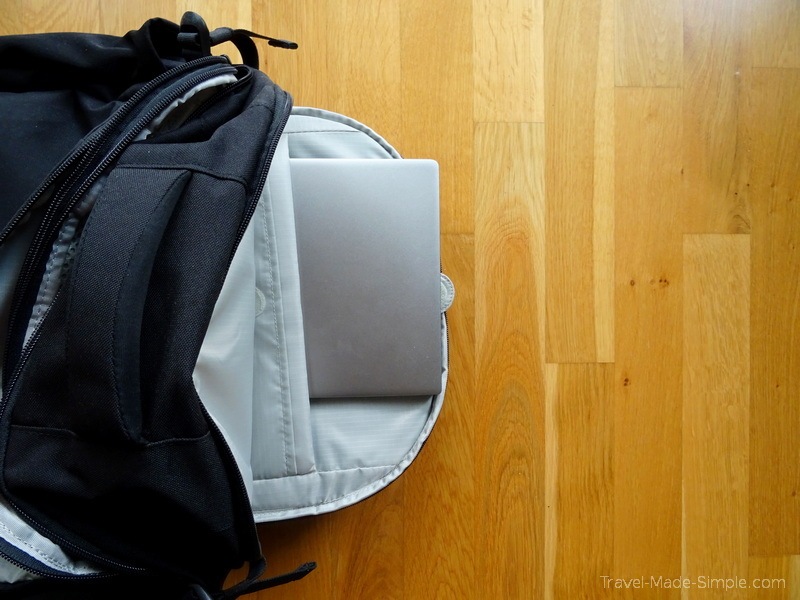 Having a designated laptop sleeve wasn't always a priority to me, but over the past year, I'm starting to warm up to them.
The Setout's laptop compartment is at the back of the backpack, so it sits against your back when you're wearing the backpack. This makes for good weight distribution.
The laptop sleeve meant it was super easy and fast for me to pull out my laptop at airport security. I was also able to pack it back up quickly, instead of trying to jam it back in behind my clothes, like I have to do with my REI Trail 40 backpack.
I think I'm a laptop sleeve convert now!
The whole compartment is large enough to also hold a tablet and a Kindle. Inside the whole compartment is one main pocket for the laptop and another smaller pocket.
I wouldn't pack my cords in there since the bulk would be uncomfortable against your back, but you could also put other flat things like a notebook in that area.
Tortuga 35L Setout backpack pockets
I LOVE pockets! It's one of the first things I look at on a backpack because pockets help me organize my stuff. The Setout women's backpack has loads of pockets, so I was happy about that.
Inside the main compartment of the backpack, there are two mesh zippered pockets on the panel that opens up. The front of the bag also has a large pocket, and inside that pocket are a few other pockets, pen/pencil slots, and a hook for keys. And there's a small pocket on the outside of the front of the bag.
I actually thought the big pocket on the front was a bit too big. I wasn't sure what to put in there that wouldn't put too much weight towards the outside of my bag, but I think it'll just take some adjustment to find the best places for all the stuff I normally pack.
The backpack also has one side pocket that would fit a water bottle or umbrella.
Read: Is There a Carry On Weight Limit? Everything You Need to Know
Waist strap/hip belt on the Tortuga backpack
My biggest hesitation before this backpack showed up at my door was the removable waist strap. Waist straps (sometimes referred to as hip belts) are really important for distributing the weight of your bag so your shoulders aren't carrying too much.
In my experience, removable waist straps are not nearly as good as permanently attached ones.
But my doubts on this were for nothing. The waist strap on the women's Tortuga Setout 35L backpack was great! I could definitely tell the bag felt better when I was using the waist strap.
In fact, the waist strap is so securely attached to the bag, it's almost like a permanent attachment. I think the only time I'd even bother to detach it is if I had to check the bag and I wanted to get the waist strap out of the way.
The buckle on the waist strap is a standard buckle found on most backpacks, which was good. No need for anything fancy there because I want it to be simple to get on and off.
The waist strap also has small pockets on it, so you could store a few small things there. I don't always use those pockets, but I like having the option.
Other straps
This backpack has really great shoulder straps. They are well cushioned, making it more comfortable to carry, and easy to adjust.
The shoulder straps can also be unhooked and tucked into a panel to get them out of the way if you do need to check your bag for some reason.
It also has compression straps on the sides, so if you don't quite fill up the bag, you can cinch it down.
What did I pack in the Tortuga Setout 35L women's backpack?
My packing list for traveling carry-on only is pretty similar from one destination to another, but there's always a little variation depending on the time of year, planned activities, and other factors.
I tried out the backpack on a 4 day trip to Bratislava and a one week trip to Switzerland's Bernese Oberland region. It's summer, so both destinations are hot, but I did pack for some cooler temperatures in Switzerland just in case I went to higher altitudes.
Here's what I packed in the Tortuga backpack for my trip to Switzerland:
8 short sleeve shirts
1 long sleeve shirt
1 pair of gym pants
1 pair of leggings
3 pairs of shorts
2 bras
1 small packing cube with 8 pairs of underwear and 6 pairs of socks
Toothbrush, hair brush
Liquids bag with contact solution, lotion, shower gel, toothpaste, etc.
Small makeup bag with solid shampoo and solid conditioner
Small makeup bag with miscellaneous items: nail files, nail clippers, paracetamol, Tiger Balm, etc.
Prescription medication
Glasses
Laptop and cord
Point and shoot camera
Empty water bottle, box of granola bars, tail mix
Umbrella
Stuff bag, hat
Kindle cord, iPhone cord (the actual Kindle and iPhone traveled in my purse)
(Note: This list does not include what I was wearing – jeans, shirt, etc.)
Who is the Tortuga 35L Setout Women's backpack for?
Overall, the 35L women's Setout backpack worked really well. It's great for women who prefer a backpack designed specifically for the female frame, rather than a generic unisex backpack.
This bag is also good for travelers who are frustrated with the traditional hiking style backpacks. You won't look so much like a backpacker using this bag.
Although the backpack is really comfortable, I wouldn't use it for hiking and camping trips. But it's a great bag for a city trip.
To buy the Tortuga Setout 35L backpack for women,
click here
.
Tortuga provided me with a complimentary 35L Setout women's backpack, but all opinions are my own.
You might also enjoy: