Do you want to eat where the locals eat when you travel? Do you want insider tips on things you can't find in traditional guidebooks? Then you want unconventional guidebooks. They give you insider information and provide tips that only locals who have lived there for years can tell you. This post explains how that secret advice can lead you to unique travel experiences you'll remember for a lifetime.
Unconventional Guidebooks
Gigi Griffis has written 10 unconventional guidebooks to help you experience a more authentic side of the destinations you visit. It's like traveling with a friend who lives there. Her books will help you find the best pizza in Rome, the best beer in Prague, the best wine in Paris, and the best tapas in Barcelona.
Gigi has interviewed well over 100 locals to provide you with this insider info. Her books describe how to travel more locally in general, along with the interviews from people who live there. The interviews provide specific information you won't find in your traditional guidebook.
Aside from the types of food you should try in each place, the interviewees let you know their favorite restaurants and pubs (along with the addresses) so you can get off the tourist trail and taste the real deal. They also tell you about little-known sights to see, their favorite day trips, and many other ways to experience their city.
The people in the interviews also give advice on how to fit in. Since every culture is different, sometimes it's hard to know what you should or shouldn't do. People in other countries might find it rude that you do something, but you'd never know. By reading about these customs before you visit, you can be more confident that you won't insult the locals or look foolish.
These guidebooks won't replace traditional guidebooks. They don't have maps or historical information or the nuts and bolts details you might want to plan your trip. But they will provide you with advice for restaurants, activities, and plenty of other things you won't find in a traditional guidebook.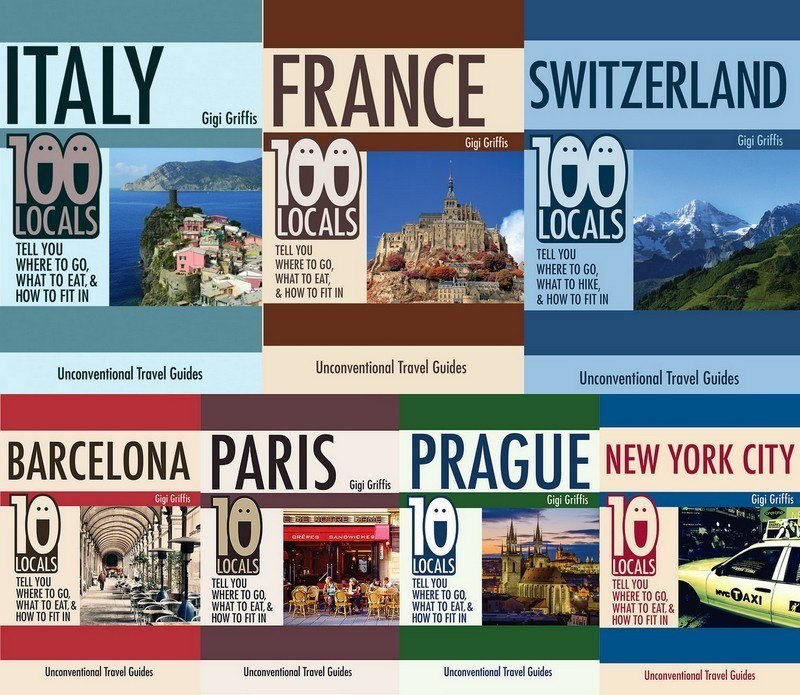 Please note that some posts contain links that earn me a small commission at no extra cost to you.
The Destinations
Currently the unconventional guidebooks include country guides to Italy, Switzerland, and France, and city guides to Paris, Prague, Barcelona and New York City. The country guides each have interviews with 100 locals, and the city guides each have interviews with 10 locals, all providing you with their top secret info about the place where they live so you can have a richer travel experience.
Pick one up today and start planning unforgettable experiences for your next trip!
>>Looking for itinerary suggestions? Check out our destinations and itineraries section here.