This is part of a series of interviews with inspiring travelers. Today's interview comes from Karen about her Scottish Highlands tour. See more about tours and tour reviews here. All photos are by Karen.
Tell us about yourself and your travel experience.
My name is Karen. I'm a full-time worker and travel blogger, and I enjoy showing people how to travel more with a job.
I'm originally from New York, but I live with my husband in the Netherlands now. I love traveling and visited 12 countries in the last 12 months, including Kosovo, the United Kingdom, Brunei, and Malaysia.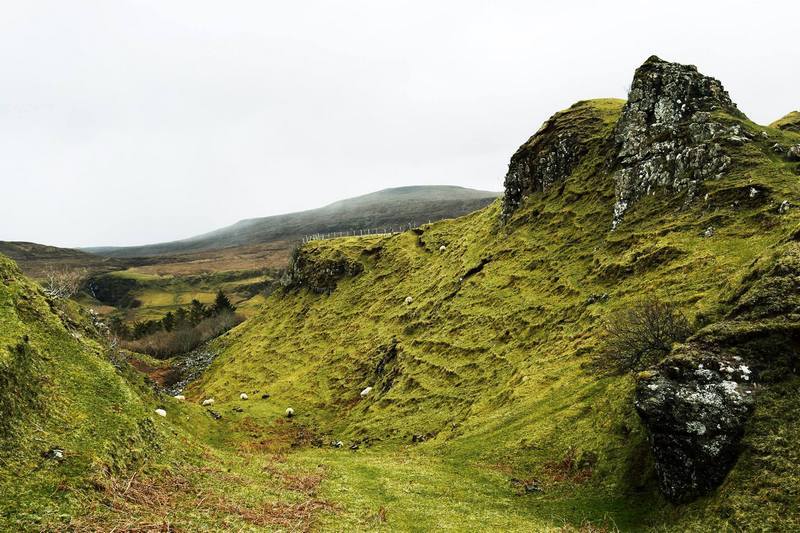 I traveled to Scotland with my partner and my parents last April. After watching many movies filmed in Scotland's Highlands, I really wanted to visit Scotland.
I live in the Netherlands and my parents live in the US, so we've started a new travel tradition of meeting abroad for a vacation. My dad really wanted to visit Iceland and somewhere else in Europe and I found a good fare to Glasgow, which seemed like a great starting point for visiting the Highlands.
Where did you go on your tour and how long was it?
We did a 3-day tour of the Scottish Highlands, including two nights on the Isle of Skye. The name of the tour was Skye, the Highlands, and Loch Ness 3 day combo tour from Glasgow.
This tour started in Glasgow and ended in Edinburgh although it was possible to adjust the starting/ending cities. Most tours were 1 or 2 days, which really limited what you could see with driving back to the cities, and I wanted to see as much as possible over my short trip to Scotland!
Please note that some posts contain links that earn me a small commission at no extra cost to you.
What tour company did you use and why?
We used Timberbush Tours. I did a lot of research into packages and Highland tours, and I was impressed with their small tours as I dislike big bus tours.
Similarly, I liked their good offer compared to other companies, flexibility in terms of pick-up, the diversity of attractions for all tastes/budgets (even with accommodations), and their ability to be booked through TourRadar. Timberbush had great independent reviews on several sites, including TourRadar and Tripadvisor.
Why did you choose a tour instead of traveling independently?
Driving in Scotland on the wrong side of the road was something that my dad wasn't comfortable with.
Similarly, it's really hard to plan a trip together with my parents. They have different preferences in terms of attractions, hotels, and how to spend a vacation. My dad and I usually end up reading for months ahead, which results in us clashing over what things we will do in a limited time period.
A small tour that ticks off most of the sites that both of us want to do is a perfect way to cater to both our tastes, without needing to argue about anything.
>>Read more about when it's worth booking a tour.
What did you like about the Scottish Highlands tour? What was your favorite part?
I loved how flexible they were about everything. A lot of tours set everything in stone and don't leave you many options in terms of food/drink, however this one was so considerate in double checking that they'd drop off somewhere with affordable food options and/or give personal recommendations.
Similarly, we are able to skip things that everyone wasn't excited about. Everyone but my parents were against going to the distillery (as they didn't drink), however they were flexible enough that we made a short stop off that was only 15 minutes.
This meant that my dad could try a little and everyone else could get a short bathroom break in while stopping off somewhere that interested the rest of us more!
I just loved the personal touch. The guides were truly personable and my dad hit it off immediately with our driver. Our guides truly knew their history, which meant that even the most boring stop could be made interesting via a good story.
Similarly, they were happy to engage with us, which meant that we had some great discussions about Scotland and Brexit while there! By the end, my parents were so sad to leave our tour.
What was the most memorable or eventful part of your trip to the Scottish Highlands?
The Isle of Skye. It was absolutely beautiful and I wish that we didn't have to leave.
I really loved hiking down to the Fairy Pools, which was technically not on the itinerary, but going there in the snow prior to it turning into a beautiful day was a bit wild. I wish I could have jumped in.
Was there anything you didn't like about the tour?
Not a real complaint, but I could have spent another two weeks in the Highlands.
Did you eat anything amazing on your trip?
Yes! I was sure that I'd hate haggis, but I really liked it.
>>Learn how to choose the perfect food tour.
What inspired you to take this tour or travel to the Scottish Highlands?
We just found a cheap flight and after watching so many movies filmed in the Highlands of Scotland, I was inspired to see the landscape for myself. I was afraid that we wouldn't have enough time to get out into this amazing nature, but I was impressed with how much was possible within 3 days!
Would you recommend this Scottish Highlands tour? Would you change anything about it?
Definitely. I wouldn't change a thing! I loved that our driver/guide were very flexible and always gave us options in terms of food, even when we had a free lunch.
They'd drive an extra 30 minutes if it meant that we'd have more choices or if they remembered there was a fantastic lunch place near by. That personal touch meant that we had some great meals in some adorable Scottish towns.
Do you think this tour would be good for a new traveler? Why or why not?
This tour would be perfect for new travelers as it is a great introduction to Scottish culture as well as Scotland's magnificent landscapes.
Having a Scottish tour guide that knows his/her way around the Highlands is a huge asset since it means that you're stopping off in scenic towns that might be missed on other tours–and eating at restaurants that weren't that touristic and had fantastic food!
About the author: Karen is originally from New York but currently lives and works in the Netherlands. She visited 12 countries in the last 12 months. Check out her site WanderlustingK and follow her on Pinterest and Instagram.
You might also enjoy: