Many countries require you to obtain a visa in order to travel there, and variations can be confusing, frustrating, and discouraging. Obtaining visas as a US citizen can take a lot of research to find out if you need a visa, how much it costs, how long you can stay in the country, and so much more. What if it was all a little bit easier to find out about obtaining visas as a US citizen?
Tourist visas for US citizens
Talon Windwalker, who writes the blog 1Dad1Kid, has been traveling with his daughter since May 2011. Through planning their travels, Talon has had to sort through loads of information about obtaining visas.
Realizing it would be helpful to have summarized information all in one place, he put together an ebook about visas. Since regulations vary depending on country of citizenship, his book focuses on getting visas as a US citizen.
Visas for every country
I asked Talon if I could review his book because I thought it would be helpful to my readers from the US. But I never expected it to list every country in the world!
He lists every country in the world, including overseas territories that you might not even realize are part of another country. For each country, he has researched the US Department of State, embassies and consulates, and first-had experience from other travelers.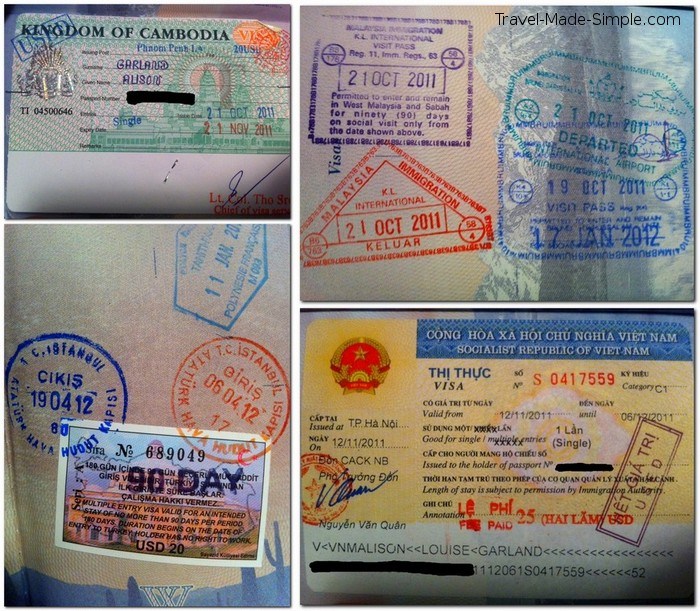 Here is the helpful information he provides:
Whether or not a visa is required
If the visa must be obtained ahead of time or if it can be obtained on arrival
How long you can stay in the country
If visa extensions or multiple entry options are available
How much the visa or entry fee is
Links to the US Department of State and embassy or consulate sites, if applicable
Safety/security warnings
Any other requirements or quirky rules you might not think of
Regulations for some countries change quickly and frequently, so it's always wise to verify before you go. Same goes for the safety warnings.
Talon took his safety warnings from the US Department of State, and while it is completely reasonable to heed these warnings, I want to remind you that traveling is generally safer than we are led to believe.
Researching the security situation from multiple sources will give you the best overview of what it's really like. Talon's Travel Safety section is a great compliment to the government warnings that might sometimes be overly cautious.
Please note that some posts contain links that earn me a small commission at no extra cost to you.
Beyond visa info
In addition to the visa information, the book also lists countries that require yellow fever vaccinations and countries where there is a risk of contracting yellow fever. There are also reference lists towards the end listing countries by visa cost and by visa length.
Traveling with kids? He's got you covered there too. Certain countries have additional documentation requirements for children, especially if only one parent is traveling with the child, and this book gives details on that as well.
There is country specific information about traveling with children in the sections for those countries. In addition there is a helpful section towards the end of the book about traveling with children.
This is a great book to reference when planning a trip. Having summaries of every single country's visa rules is extremely valuable. If you need to find out about obtaining visas as a US citizen, I highly recommend buying this ebook.
You might also enjoy: