This is part of a series of interviews with inspiring travelers. Today I'm interviewing Soraya about her Kuala Lumpur Malaysian cooking class. See more about traveling with tours here. All photos provided by Soraya.
Tell us about yourself and your travel experience.
I was born in Australia, but am Malaysian and Swiss by background, and I have been traveling for as long as I can remember.
In fact, I grew up living an expatriate lifestyle, which led to my family moving countries every 2-3 years throughout the Asia-Pacific and Middle East regions. Altogether, I have lived in 10 countries, and have traveled to many more countries.
We moved around because of my father's career in the hotel industry. And due to my father's role in hotels, my family actually lived in hotels.
This led to my passion for travel and hotels, which I now share through my own travel blog "Hello Raya." My blog focuses on luxury and boutique travel mainly in the Southeast Asian region.
Where did you take your cooking class and how long was it?
I joined the LaZat Cooking Class when I was in Kuala Lumpur (Malaysia). The class ran for half a day.
It first included a visit to the local market, where we learned more about different ingredients used in Malaysian cooking. We then were treated to a local breakfast of roti canai with curry, before we headed to the cooking school to start our class.
What company did you use and why?
I wanted to do my cooking class with LaZat Cooking School because they looked professional, they had been running their school for over 9 years, and the classes sounded very interesting. They also have been highly regarded on TripAdvisor.
The class is held in a traditional Malay style home on the fringe of Kuala Lumpur city. The classes are held in their open air kitchen (it is covered/shaded), which provides a more authentic experience to cooking Malay food.
You see, many Malaysian households have an 'outside' kitchen to cook dishes such as curries. Cooking in an outside kitchen helps to prevent the strong aromas from the spices to spread in the house and the smell to stick around.
Why did you choose to take a Malaysian cooking class?
I find that cooking classes are such a fantastic way to learn more about a country's culture, history and traditions. You see, Malaysia is a melting pot of 3 cultures – the Malays, the Indians, and the Chinese. And it is through Malaysian food that you get to see this fusion and harmony of cultures.
One of the things that I love most about traveling throughout Malaysia is the food. It is absolutely delicious, and I could seriously eat it every day.
So when I was researching things to do in Kuala Lumpur, I came by the LaZat Cooking School and thought to myself, "heck yes! I would love to learn how to cook a few authentic Malaysian style dishes."
Learn how to choose the perfect food tour.
What did you like about the Malaysian cooking class? What was your favorite part?
What I loved most about this cooking class was how hands on it was. You get to prepare all of your ingredients, you get to practice the techniques, and you get to cook your own dishes. This provided me with a more authentic experience because I got to learn from scratch the proper way to cook certain dishes.
We all received a recipe book and individual work stations, which gave us the space to put theory into practice. And our head teacher, Saadiyah, was very hands on and helped every single person perfect certain techniques. She even taught us things like how to crack an egg with one hand, and how to cut an onion without looking at it.
I also loved the staff who managed the class – they were so friendly, they were patience, and they were humorous. The class was light-hearted, and by the end of it, I felt like we had all become one big family.
What did you learn about Kuala Lumpur or Malaysia from the cooking class?
From the cooking class, I learned more about the fusion of cultures that make up Malaysia. You see the influences of the Malays, Indians, and Chinese in Malaysian cooking, which I found so fascinating.
During the market tour, our tour guide Laty went into detail about the importance of various ingredients used in Malaysian cooking and various health benefits, as well as typical tropical fruits and vegetables that are grown in the region.
Here's a fun fact that I learned about the Mangosteen – Underneath a Mangosteen you'll find a 'flower' shape, and the number of 'petals' on the 'flower' tells you how many slices of fruit are inside the Mangosteen. The more petals, the more fruit slices…and this is the technique locals use to select the best Mangosteen to buy.
Was there anything you didn't like about the cooking class?
It did get a little bit hot in the class, because of the humid weather you get in Malaysia. I know that for some this can become quite uncomfortable.
As it started getting hot, the LaZat team prepared for us "Ice Kacang," which is a dessert made up of shaved ice, pandan jelly and palm sugar syrup. It was delicious and really helped to cool us all down. I also recommend wearing light and comfortable clothing to help with the hot weather.
Check out this Krabi, Thailand 4 Islands tour review.
What was your favorite food from the cooking class?
My favorite was the Malaysian Chicken Curry – it was so delicious! And I have already made it so many times now since, and the flavor just keeps getting better and better.
I also loved learning how to make Otak Otak, which is marinated fish steamed in a banana leaf. I have tried this during my travels in Malaysia, but never got to actually learn how to make it.
I truly was so proud of myself when I was able to fold the marinated fish into the banana leaf and steam it. It looked so pretty in the end, and it tasted delicious.
What inspired you to take this cooking class or travel to Malaysia?
I have always loved Malaysian food so much, and really crave it when I am back at home. And so when I was visiting in Kuala Lumpur, I wanted to learn how to cook Malaysian food more authentically.
Whenever I am in Malaysia, I am constantly traveling around and trying new foods, new restaurants, etc. all in search for amazing tasting Malaysian food. So I felt that it was the right time to actually learn how to cook even more Malaysian dishes.
Would you recommend this class? Would you change anything about it?
I would 100% recommend the LaZat Cooking Classes – all of their classes are hands on, which I think is so important when you are trying to learn how to cook. Anyone can follow a recipe, but if the wrong techniques are used, then this changes the way the dish turns out.
I got to learn the exact techniques needed to perfect certain dishes…and today I am so proud of my Malaysian Chicken Curry. Each time I cook it, it becomes better and better, and it is because of the LaZat Cooking Class that I have been able to perfect this dish.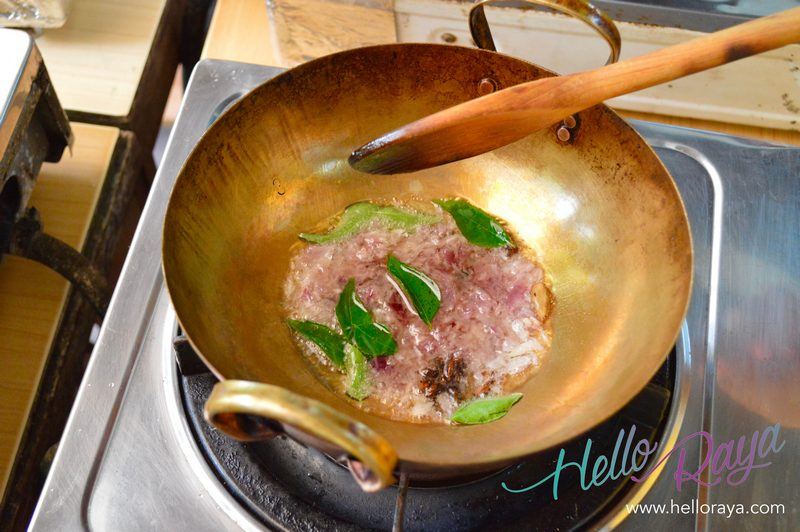 Please note that some posts contain links that earn me a small commission at no extra cost to you.
Do you think this would be good for a new traveler? Why or why not?
I highly recommend this cooking class for any traveler to Kuala Lumpur. It is a great way to learn more about the Malaysian culture, to learn (and eat) delicious food, and also to meet both locals and travelers.
Author bio: Hello Raya is a travel blog, that focuses on luxury and boutique travel mainly around Southeast Asia. I believe that every day is another opportunity to learn something new – that through experiences in travel and food, we can grow as individuals and expand our connections as a global community. And so I hope to share these experiences with my readers through Hello Raya. You can follow me on Facebook, Instagram, and Pinterest.
You might also enjoy: