Are you wondering, can you bring matches on a plane? They're flammable, so I can understand the confusion. Whether you use matches to light cigarettes or you're bringing them on a camping trip, there are many reasons why you might want to pack matches on your trip.
The quick answer to this question is sometimes yes, sometimes no. TSA's rules about taking matches on a plane are different for carry on luggage vs checked baggage, so keep reading to find out the difference.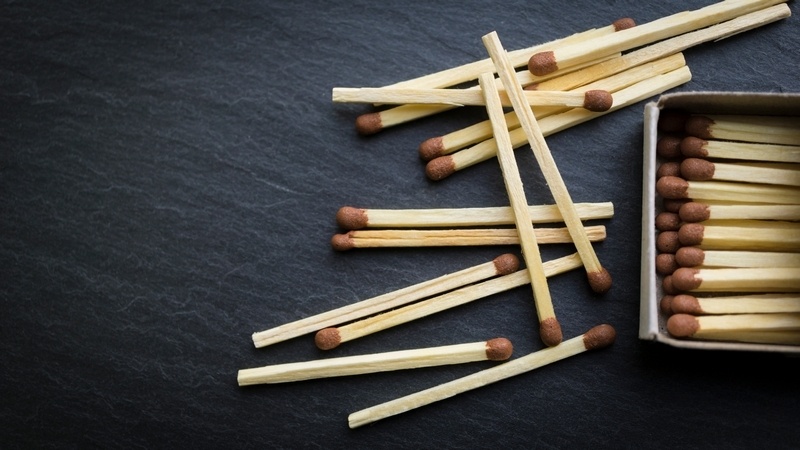 Note: This post is written referencing TSA rules for travel from airports in the USA. Some countries may have different rules, so if you're flying from an airport in another country, please look up the rules for the authority in that country.
Are matches allowed on airplanes?
Since matches can start fires, and no one wants a fire on an airplane, this is a legitimate concern. So if you're wondering about taking matches on a plane, it depends on the type of matches and where you're packing them. Let's take a look.
Can you bring matches on a plane in carry on luggage?
TSA allows one book of safety matches in your carry on bag. Don't pack more than that though, or they are likely to be confiscated at the security checkpoint.
For safety reasons, you are not allowed to take the matches out of your bag or pocket while on the plane. Leave these packed away in your bag while on the plane to avoid any problems. You can't use them on board anyway, and you don't want someone getting the wrong idea.
Matches that are not allowed
Strike-anywhere matches are not permitted in your carry on, so leave those at home.
Can matches go in checked luggage?
Since matches pose a fire threat, they are not permitted in your checked luggage at all. This includes both safety matches and strike-anywhere matches.
So if you want to bring them on your trip, either pack the matches in your carry on bag or leave them at home and buy some when you arrive at your destination.
Flying internationally with matches
As I noted at the beginning of this blog post, I'm talking about rules for bringing matches on a plane in the USA. These are TSA rules, and the rules are not necessarily the same in other countries. Some countries could have stricter rules about flying with matches. Research the security rules if you will be on a flight departing from somewhere else.
Hopefully this answers all of your questions about taking matches on a plane.
You might also enjoy: