I'm always looking for better ways to pack carry-on only. I want to pack fewer things, take a smaller bag, and leave all the unnecessary things at home. So when Tropicfeel contacted me about trying out their new lightweight travel shoes, I was intrigued. Not only are they lightweight, but they're versatile. Could these been the best travel shoes for carry-on travelers?
Please note that some posts contain links that earn me a small commission at no extra cost to you.
Features of the Tropicfeel travel shoes
The Tropicfeel shoes have many features that make them one of the best travel shoes for carry-on travelers. I'm not one of those women who has 1,000 shoes in her closet. I usually travel with only one or two pairs of shoes, depending on the trip. So a good travel shoe has to have a lot going for it. Here are the features of the Tropicfeel shoes: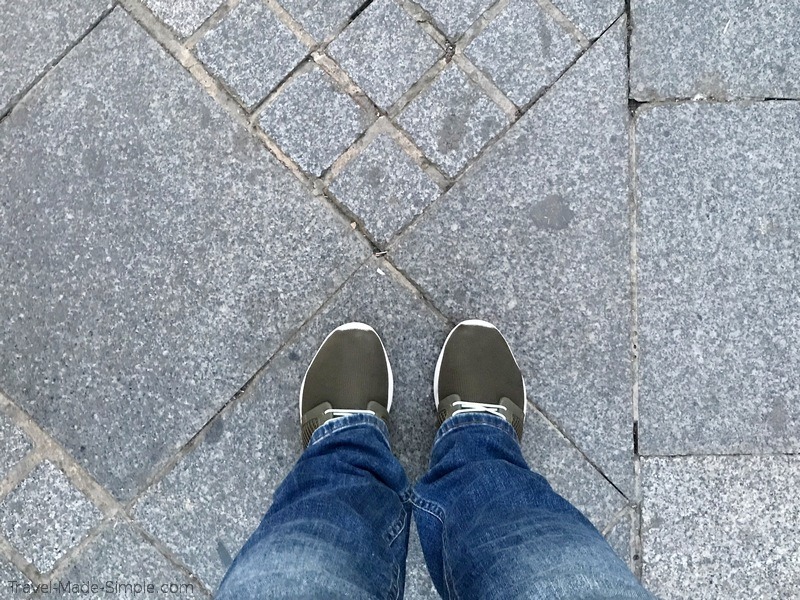 Lightweight
Weighing in at just 7 ounces (about 198 grams) I knew these shoes wouldn't add much weight to my carry-on luggage. One of the airlines on our most recent trip had a strict 8 kg weight limit, and even adding these shoes into the mix didn't put me over the limit.
Quick drying
These shoes can replace normal water shoes because they are made of quick drying materials. I haven't had the chance to test this out (I've been traveling in cities) but it's definitely a perk for those of you who might be hiking in some wet areas.
Breathable
Most of the body of the shoe is mesh, which was great in warm weather. My feet didn't feel as sweaty as they normally would while wearing shoes without socks. Always nice to have some air flow for your feet when you're active.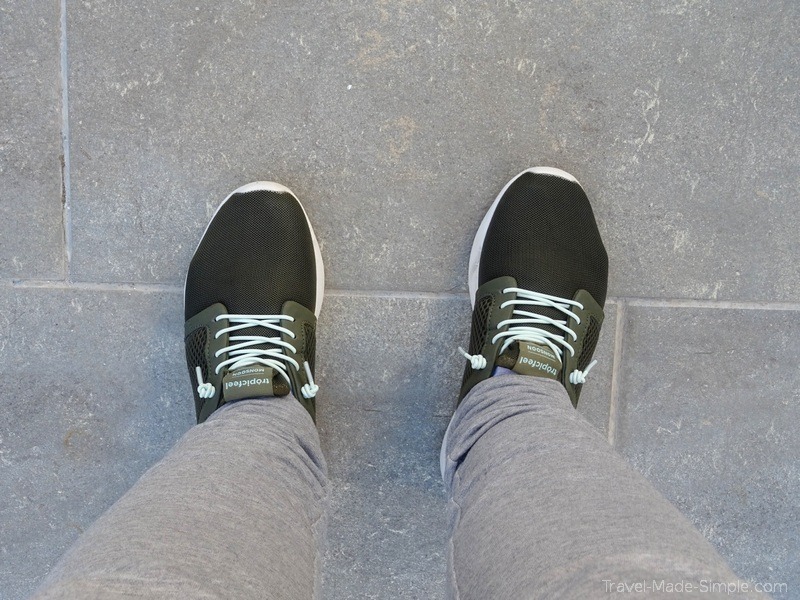 Machine washable
The shoes were designed so you can put them in washing machine. I haven't gotten mine dirty enough to try this out, but the recommended temperature is 30C (about 86F) so just don't wash them too hot, and they should be fine.
Slip-on
The laces are either normal tie-up laces or elastic laces that don't tie. This makes them super easy to just slip on and go. I often slipped mine on when I wanted to go sit on the roof terrace of our Airbnb or walk down the street for a few errands.
Comfortable with or without socks
You can easily wear the shoes with or without socks. I normally don't like wearing shoes without socks, but the breathable mesh made it comfortable to skip the socks. Decide if you're more likely to wear them with or without socks as a factor when choosing a size. (More on sizing below.)
Versatile
The Topic Feel shoes can be casual for city wear or a bit more rugged for outdoor activities. I wouldn't wear them for serious hiking, but for an easy hike through the woods, they'd be great. They come in 5 different colors, which you can see in the banner just below. I think they're stylish enough to wear when you don't want to look like a slouch, but also casual enough to be your walking shoes for sightseeing. They're also unisex, so all colors are designed for men or women.
What we thought of Tropicfeel Shoes
Andy and I each got a pair to test out. I got khaki, he got all black. We've worn them throughout our current trip in Italy and Spain, and overall we agree that they are good shoes for travel. I love that they don't weigh much since I always travel carry-on only.
Andy wears boots almost exclusively, so it was a bit of an adjustment for him to wear the Tropicfeel shoes. He still wouldn't wear them for long walking days or big hikes, but he likes them for shorter, more casual walks.
I'm also not used to wearing shoes like these for lots of walking. But I thought they were really comfortable, and they make a good second option for when I don't want to wear my normal walking shoes.
We both agree these would've been perfect for our recent campervan trip in the US southwest. After a long day of hiking and exploring, it would've been great to change into Tropicfeel shoes for hanging out at our campsite. Andy even says he'd wear these as his shower shoes instead of flip flops. He HATES flips flops.
We also both have a bad habit of wearing the same pair of shoes day after day, so it's great to finally have another comfortable pair to mix things up.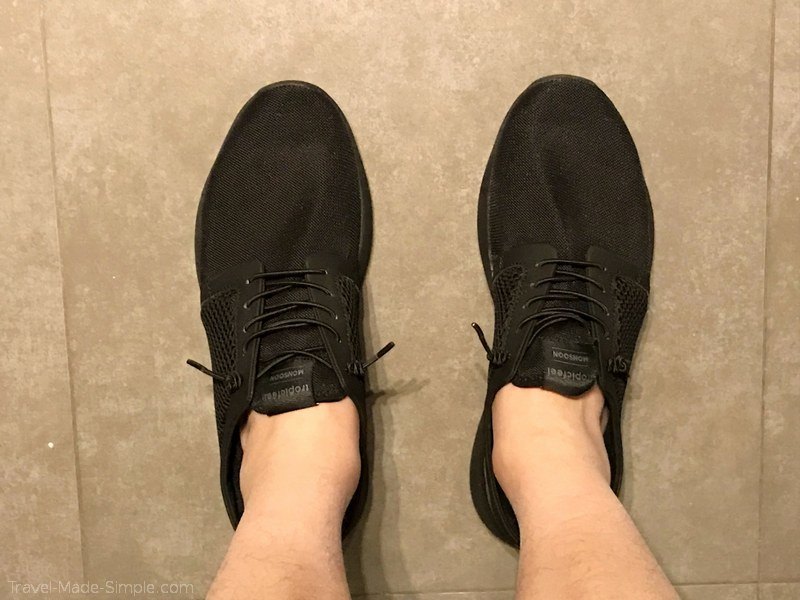 A word about sizing: The sizing chart Tropicfeel provided seemed off to us. We measured our feet several times and came up with sizes well below what we normally wear. I wear an 8 in US sizes or usually a 38.5 in European sizes, and Andy wears a European 45, but their size chart put us both well below those sizes. I ended up ordering a 38, so slightly smaller than my normal European size, and Andy ordered a 44. They fit fine without socks, but they're a bit snug with socks. In hindsight, we both wish we had stuck with my normal sizing, but it's not a big issue.
Best shoes for carry on travelers?
Shoes are such a personal thing. One person's best is another person's worst. But I think the Tropicfeel shoes can make a good run for one of the best shoes for travel, especially for carry-on travelers who want to stick with a minimal amount of items.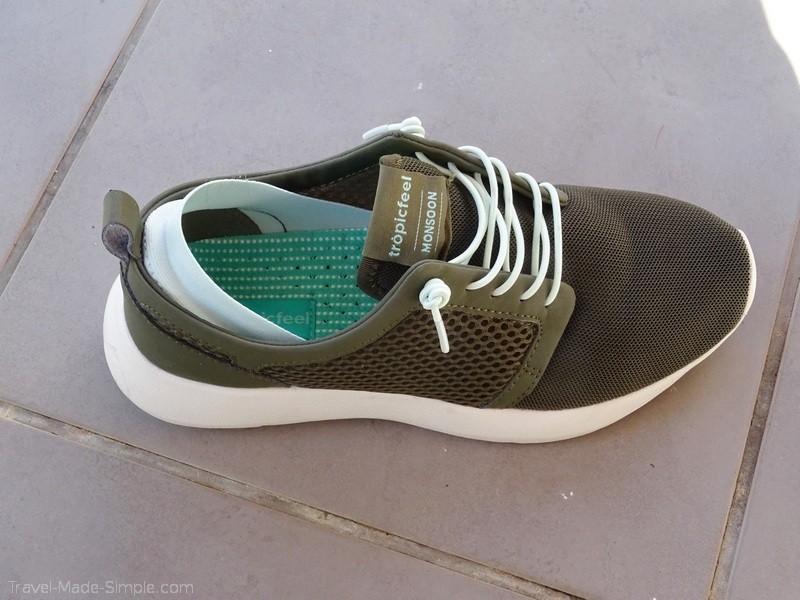 For those of you who can walk around all day in flip flops or Converse or similar type shoes, these would be great for you. And they're versatile enough to potentially replace two shoes with just the one pair. They're nice enough to replace your casual-but-not-athletic shoes. They're durable enough for walking, light hiking, beachwear, and more. And they weigh less than half a pound.
I won't be throwing out my bulkier walking shoes, but I'm happy to have these for those trips when I need a second, lighter, cuter pair of shoes.
For more info or to buy a pair of Tropicfeel shoes for yourself,
click here
. Or check out their latest model,
the Canyon
.
Tropicfeel provided us with two pairs of complimentary shoes, but all opinions are our own.
You might also enjoy: