This is part of a series of interviews with inspiring travelers. Today's Belize Mayan ruins tour interview comes from Steph Harrison. See more about tours and traveling with purpose here. All photos provided by Steph and Tony, except Pinterest image.
Tell us about yourself and your travel experience.
My name is Steph, and I run the travel blog, 20 Years Hence. My husband, Tony, and I have been traveling pretty much full-time since August 2012 — so, nearly 3.5 years at this point!
When we initially left on our travels, we thought we'd be lucky if we made it 18 months, but now we've been gone over double that amount of time.
We started our trip in Japan and spent the first 20 months of our travels slowly making our way around Asia; then we did a quick six weeks in Western Europe, before returning to Canada and the States for a while.
Now we are in Mexico, which we are traveling by car, this time with our two dogs along for the ride!
Where did you go on your tour and how long was it?
We recently spent a long weekend in Belize, specifically in a little city in the north called Orange Walk. During our stay, we booked a day tour that took us on a river cruise down to the largest Mayan ruins in Belize called Lamanai.
Please note that some posts contain links that earn me a small commission at no extra cost to you.
What tour company did you use and why?
We actually booked through our hotel — Hotel de la Fuente — as they were listed in several guidebooks as having excellent tours.
Their tours were priced on par with everything else we saw (Orange Walk isn't a huge tourist destination, but the people who do visit all tend to want to do the same tour), so it seemed easiest to just go with our hotel.
On the day of the tour, there weren't enough people signed up to go with the hotel's standard company they deal with, so they got us added to a tour that Reyes and Sons (another local company) was running.
Why did you choose a tour instead of traveling independently?
We tend to be fiercely independent travelers who like to have complete control of every situation, including our transport, wherever possible. However, although I think it is technically possible to drive to Lamanai, all accounts we had read said that in this case, the journey by boat was half of what made the trip so pleasurable.
Since we wanted to arrive by boat, it just made sense to book a tour rather than attempting to arrange everything ourselves.
What did you like about the Belize Mayan Ruins tour? What was your favorite part?
Honestly, we thoroughly enjoyed our tour from start to finish. The boat ride was lovely (and wound up being much longer than we had anticipated; I think it was about 1.5 hours each way down the river) and relaxing and we actually got to spot some of the local wildlife (from adorable little bats to birds that can literally walk on water) along the way.
It was definitely more relaxing and interesting than driving by ourselves for a few hours (and we didn't have to worry about getting lost!).
The best part of our tour was definitely our guide — he drove the boat from Lamanai and back, playing wildlife spotter along the way, and also telling us the history of Orange Walk and its river.
Then when we reached the ruins, he gave us a great in-depth tour, explaining what the site would have looked like back in 1500 BCE, as well as describing what life there would have been like.
He took us around the main sites, explained what they were as well as their significance, which greatly deepened our appreciation for the place.
If we had been there on our own, we would have wandered around impressed by what we were seeing but not having any idea of what we were looking at. He even found some wild growing All Spice in the forest gave us some to take home!
I'm sure we would have been in and out in under half an hour, but with a guide, we spent well over an hour and were sad when it was time to leave.
What was the most memorable or eventful part of your Belize Mayan Ruins tour?
During our tour of the Lamanai ruins, we visited three major temples: the Jaguar Temple, the Mask Temple, and the High Temple. Mask Temple was really cool because it has these huge faces carved upon its façade, which we learned are the biggest face engravings in the Mayan world.
High Temple was fantastic, because not only was it 33 m (108 ft) high, but our guide actually encouraged us to climb all the way to its top. It was awe-inspiring to stand at its base and crane our necks upward, but the view from the top really was spectacular (and worth the sweaty climb up!).
Was there anything you didn't like about the tour?
Nope! We were really happy with the tour and would happily recommend it to anyone who finds themselves in that part of Belize.
Did you eat anything amazing on your trip?
Coming from Mexico, the food in Belize wasn't really anything to write home about.
However, lunch was included on our tour, and took the form of massive chicken tamales (stewed chicken stuffed inside a cornmeal paste, wrapped in banana leaves and then steamed), which were some of the best we've ever had.
Our guide told us that his next-door neighbor actually made them, so it's no wonder they were so delicious: home cooking is always best!
What inspired you to take this Belize Mayan Ruins tour or travel to Belize?
We had popped over to Belize to renew our Mexican tourist visas, but decided we wanted to actually be able to say we had seen something of the country after we had left.
So, rather than just hanging out in Corozal, a kind of depressing border town, we researched alternative mainland destinations (since we were driving down in our car, a trip to the islands wasn't on the agenda this time) and stumbled upon Orange Walk.
It's the primary base for trips to Lamanai and, as we had never seen any Mayan ruins, and we liked the idea of taking a river cruise, it sounded perfect. We were only in Belize for 2.5 days, so the fact we could see everything the Orange Walk area had to offer in a single day was perfect.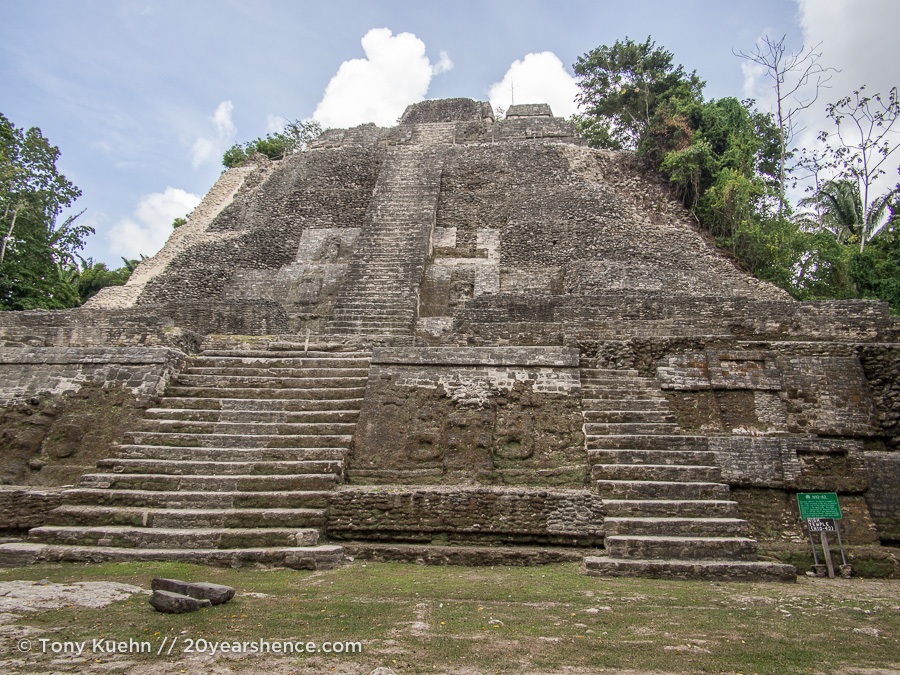 Would you recommend this tour? Would you change anything about it?
Yes, absolutely. It was fun, informative and also relaxing. Our guide was friendly and knowledgeable, and we enjoyed the food too.
Plus, the size was good — there were only four of us, plus the guide — and when you considered everything that was included (transport to the river, boat cruise there and back, lunch, admission to the ruins + guided tour), the cost of $50US per person seemed reasonable as well.
Do you think this tour would be good for a new traveler? Why or why not?
Definitely. This one definitely has a difficulty rating of 0. You're picked up and dropped off at your hotel, so the hardest part would probably be getting to Orange Walk itself.
However, Belize isn't a very large country and there's really only one main road, and English is the main language, so even that wouldn't be very challenging!
Bio: In another life, I moved from Toronto, Canada to Nashville, TN to pursue my PhD degree in Psychology. After seven years running experiments on undergrads, I finally completed my thesis, thereby earning the right to demand you call me Dr. Steph. I then promptly fled the ivory tower of academia, exchanging my life in the South for a one-way ticket to Japan. Since leaving to travel the world, my husband and I have now visited 24 countries in 3 different continents and have shifted to a "digital nomad" lifestyle where we earn our living from the road. We blog about our adventures at 20 Years Hence, and you can also follow us on Facebook, Instagram and Twitter.
You might also enjoy: